Versatile Silicone Cup Covers and Holders:
How often has it happened to you: You brew yourself a nice hot cup of Java, first thing on a cold, crispy morning. Just as you sit at your desk to take your first sip…the phone rings! By the time you're done talking to the caller, your cup of coffee is cold and tasteless. Oh, if only there was something you could have done to avoid tossing the beverage away. Well, there is:
It's called a silicone cup cover!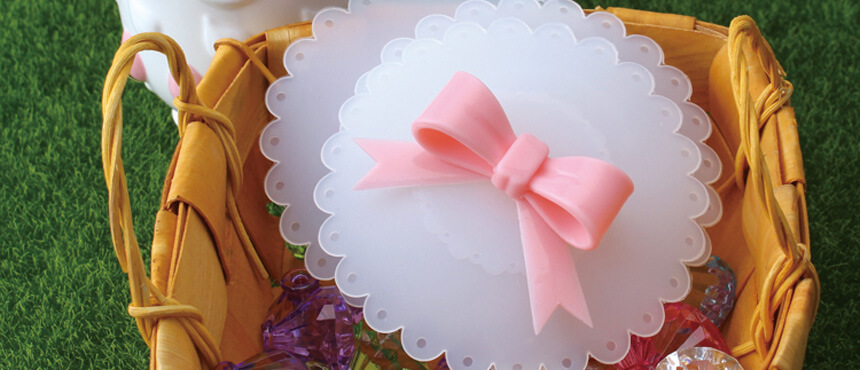 One Product. Multiple Uses
These handy cups and lids are extremely versatile and handy to use for every occasion.
INDOORS
When you go to a coffee shop or a restaurant, you're often presented with a cup cover or lid, especially for hot beverages. Unfortunately, that plastic (or sometimes cardboard) covers quickly disintegrate during use. The liquid you are consuming might spill on it, or repeated handling may make it loose and ineffective. But now, you have a solution.
A silicone cup cover lip is the most effective solution. Simply place it on top of your cup, and voila – you have an instant seal to your cup!
OUTDOORS
There are other times when all your doing is enjoying a nice cold beverage – perhaps a lemonade or iced tea – and reclining on a lounge chair in your backyard. The problem with having a drink outdoors, especially in the summer, is insects that buzz around. Some of these creatures are drawn to sweet drinks. Very soon, you'll see a swim of flies or other tiny insects floating in your cup.
A convenient way to enjoy your beverage in your backyard, without flies taking a sip or a dip, is to place a silicone cup lid cover on it to keep away the insects. The insects remain out. Your drink – be it a hot chocolate, cold water, or warm tea – remains in, and safe!
IN THE PARK
One place where you most often wish you had a cover for your cups and liquid drinks, is at a park or in a wooded area. Often, instead of enjoying a walk in the park or appreciating nature around you, you spend half the time protecting your drink from falling leaves, dust, and pollen.
Imagine if you had a silicone cup lid that you could place on your cup. Now, you can walk around. Enjoy the natural beauty of the park, its flowers, and trees – and never worry about your drink or beverage having debris or dust in it!
KIDS PARTIES
Kids love to play and enjoy themselves at parties and events. Unfortunately, they're often not too concerned about consuming a healthy drink or eating something healthy. They'd rather eat a bag full of chips or candy and play all day. How can you entice them to have a healthy chocolate drink?
One way to do it is to cover the cup with a colorful, animated, and picturesque silicone tea cup cover. Kids love anything that looks pretty and novel – unlike a drab plastic cover! They'll instantly gravitate to the healthy drinks you put before them, while also playing with and enjoying the covers.
IN THE KITCHEN
When in the kitchen, whether it's cooking, baking, serving your treats or measuring portions for a favorite recipe; there's always so much "stuff" in bowls, mugs, cups, and plates, that sometimes it's hard to keep them fresh, or from spilling, getting cold or getting spoilt.
Why not use a handy silicone coffee cup cover to cover your ingredients so they don't get stale before you use them for cooking? You can also cover your freshly-baked cakes and pies with a silicone cup cover to keep them fresh until you are ready to serve them up.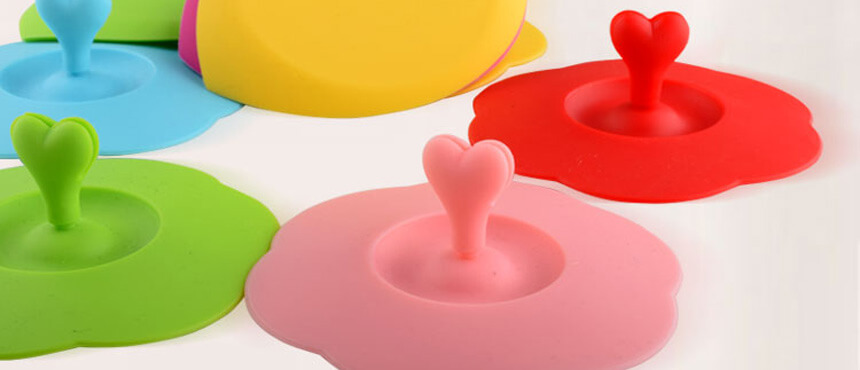 Specifications and Characteristics
Unlike the drab, lifeless readymade covers that typically come with bowls and mugs, custom gift manufacturer OYI Gifts produces versatile silicone lids and covers with unique characteristics:
They're made from food grade silicone and are therefore BPA-free and safe to use for covering food items, cold and hot beverages, and edible products
Silicone is a strong material, which means – unlike paper lids or flimsy plastic covers, silicone-made lids and covers won't bend, wilt or disintegrate
The lids are hardy and durable and can withstand temperatures between -40 to 230 °C. This means your silicone cup cover lip won't have a problem protecting baked or frozen food – it'll remain undeformed, soft and retain its shape throughout
They're highly customizable, which means you can order them in various designs, shapes and colors. The handles can also be custom designed, with little figures of cartoon characters or images of products or goods on them
These products meet the highest standards – FDA Food Grade Inspection Standards: 21CFR 177.2600 – for safety and use. You can trust that they'll keep your kids, family and friends, and business colleagues safe even through repeated use
The silicone tea cup cover is a low-maintenance product. Because it's made from silicone, it's easy to clean and machine washable. Best of all, you require no special cleaning tools or products. Mostly, you'll just use soap and water, or simply rinse it under a tap and let it air dry or wipe it with a dry cloth. That's it – your silicone cup lid cover is ready for its next use!
And finally, this product is highly resistant: It's Oil Resistant, Corrosion Resistant, Microwave Radiation Resistant, Dishwasher Resistant, Heat Resistant, Freeze Resistant…and more!
When you order your silicone cup lid, you not only get a versatile, multi-use product, but also one that's extremely hardy and long-lasting. So, what does that mean for you? Well, if you are in the restaurant business, switching from disposable lids and cup covers can save you a lot of money. Best of all, you'll be doing your part to protect the environment by washing and reusing thousands of lids every year.
Innovative Uses and Gift Ideas
Corporate gifts are in vogue these days, with many businesses producing custom-designed gifts as giveaways and rewards. However, today's gifts have one major difference from, say, the gifts handed out in prior years. Today, corporate gift-givers and gift recipients both want functional items as gifts. A decorative dagger or golden eagle is nice – but how many gift recipients will use those gifts every day?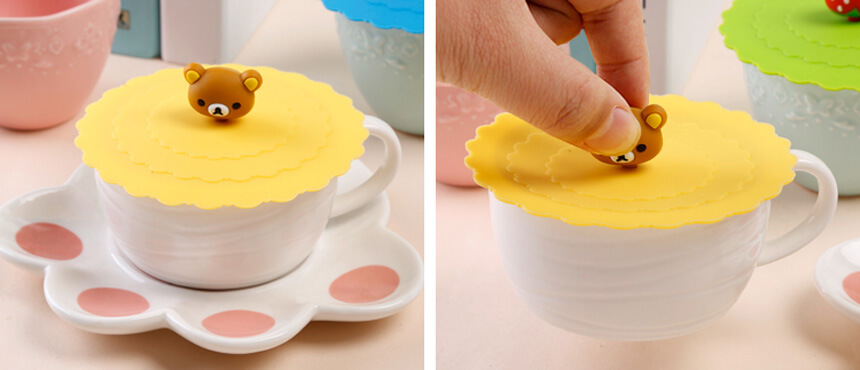 MARKETING IDEAS
A custom-made silicone cup cover is an ideal daily-use product that everyone – whether they are retail customers, wholesale clients or commercial partners – can easily use. These lids and covers are equally handy in the home, as they are in businesses and industries. And, because they are cost-effective to produce, businesses often order them in wholesale and use them for multiple marketing and sales events.
Use them to send to clients in the mail
Make them available to employees and visitors in your offices and business premises
Give them to your distributors and suppliers to hand out to their own clients
Put them in 'goodie bags' at sales events
Because the silicone cup cover lip is compact and light, you can use it in multiple marketing campaigns. Mail them. Add them in product packages. Place them on counters and desks. Have them available at reception counters or check-out stations.
PRACTICAL USES
We've just told you how you might use your silicone coffee cup cover at a bar or restaurant if you were in the food serving business. You could easily have your custom gift maker have your company's logo printed on the lids and cups – just to add a personalized touch to them. But you can do more with these handy, customizable lids and cups:
As a restauranter, why not order them in multiple colors, and use them for different purposes? Cover that hot coffee with a red colored silicone coffee cup cover, and use a blue silicone tea cup cover for an iced tea served on your patio or outdoor dining area
To attract customers back to your food or dining business, hand out these covers as gifts to patrons and customers as a "Thank you for coming" gift. Of course, you can work with our experts here at OYI Gifts to add suitable marketing and sales messages to them, so your customers will remember you whenever they use their gifts
Have your gift produced with a unique handle, so it is more attractive and representative of your brand. For example, if you deal in kid's toys, why not create a silicone cup lid cover with a Teddy bear or Mickey mouse shape? Not only will kids love it, but their parents will too! And with your company contact details printed on the lids, they'll be sure to contact your company when it comes time to place their next order!
Putting Your Lids to Use
As you can see, these lids are not just functional, they're practical, useful, and cost-effective. If you are ready to unleash the power of a custom-designed corporate silicone cup lid to market your brand, then contact our gift experts at OYI Gifts to discuss your requirements. We've been producing creative corporate gifts for many years, and our designers may even be able to advise you on some unique gift-giving ideas.