Custom Cartoon Plastic 3D character figure Toys
Feature:
1) Material: PVC or Vinyl.
2) Colors and sizes are according to customers' requirements.
3) OEM orders highly welcome.
4) Fast sample supply and standard export packing.
5) Reasonable price and high quality.
6) Logo and pictures available.
7) Suitable for gifts, premiums,  accessories, or others.
8) Reusable, washable.
9)MOQ: 3000-5000pcs.
Disclaimer:
The picture relevant to this product has been provided for reference only.
We do not have any intellectual property rights over the trademark(s) displayed and are not selling any products containing/these marks.
What is PVC?
Plastics are also called synthetic resins and are broadly classified into two categories: thermosetting resins and thermoplastic resins.
The thermosetting resins include phenol resin and melamine resin, which are thermally hardened and never become soft again.
Thermoplastic resins include PVC, polyethylene(PE), polystyrene(PS), and polypropylene(PP), which can be re-softened by heating.
Usually, thermoplastics are supplied in the form of pelletized material(compounds) with additives (antioxidants, etc.)already blended in it. However, PVC resin is often supplied in powder form and long term storage is possible since the material is resistant to oxidation and degradation. Various additives and pigments are added to PVC during the processing stage, and the blend is then converted into PVC products.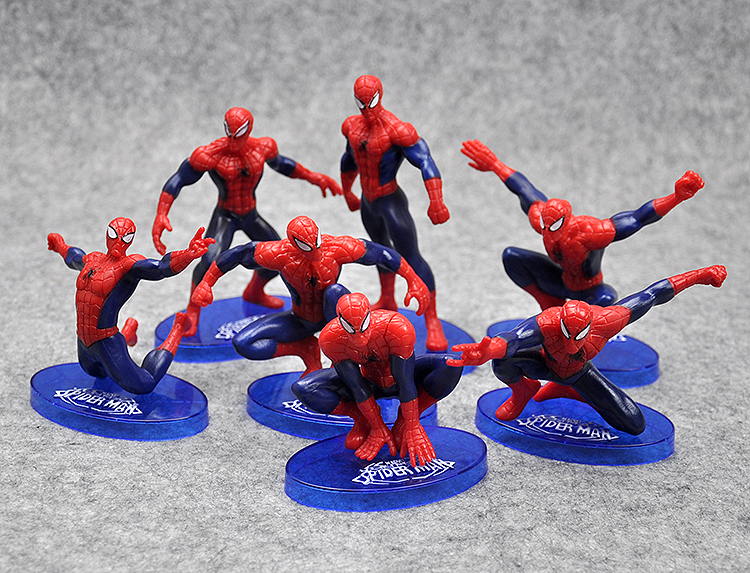 Basic History of PVC for figure toys
PVC is sometimes known as 'vinyl' in Europe and predominantly so in North America. In Europe, 'Vinyl' usually refers to certain specific flexible applications, such as flooring, decorative sheets, and artificial leather.
PVC is a thermoplastic made of 57% chlorine(derived from industrial grade salt) and 43% carbon(derived predominantly from oil/gas via ethylene). It is less dependent than other polymers on crude oil or natural gas, which are nonrenewable, and hence can be regarded as a natural resource saving plastic, in contrast to plastics such as PE, PP, PET, and PS, which are totally dependent on oil or gas. This chlorine gives PVC excellent fire resistance.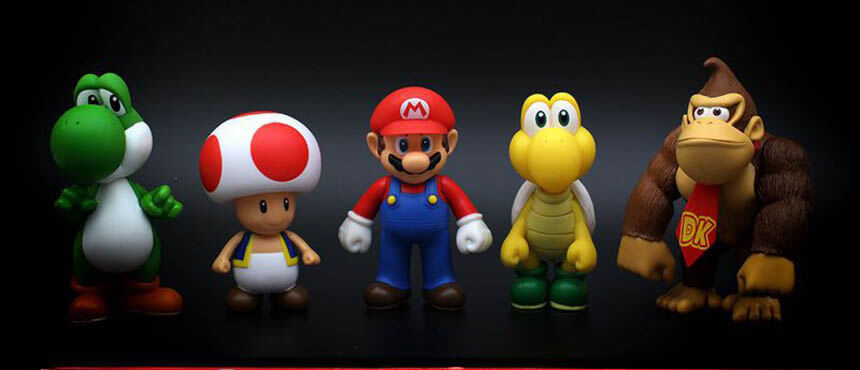 Uses of PVC(Figure toys materials)
PVC is predominant in the construction industry due to its low production cost, malleability, and lightweight. It is used as a replacement for metal in many applications where corrosion can compromise functionality and escalate maintenance costs. Many of the world's pipes are made from PVC and these are used in industrial and municipal applications. It is also used to make pipe fitting and pipe conduits. It does not have to be welded and can be connected with the use of joints, solvent cement, and special glues-key points that highlight its installation flexibility. The material is also present in the electrical components such as electrical insulation, wires, and cable coatings.
In the healthcare industry, it is used to make feeding tubes, blood bags, intravenous(IV) bags, parts of dialysis devices, and many other items. This is only possible when phthalates are added to it. Phthalates are used as plasticizers to produce flexible grades of PVC(and other plastics), thus making it better suited for the aforementioned applications due to improved performance characteristics.
Common consumer products such as raincoats, plastic bags, figure toys, credit cards, hoses, doors and window frames, and shower curtains are also made from PVC. This is not an exhaustive list of the many products that can be found around the household with PVC as its main constituent.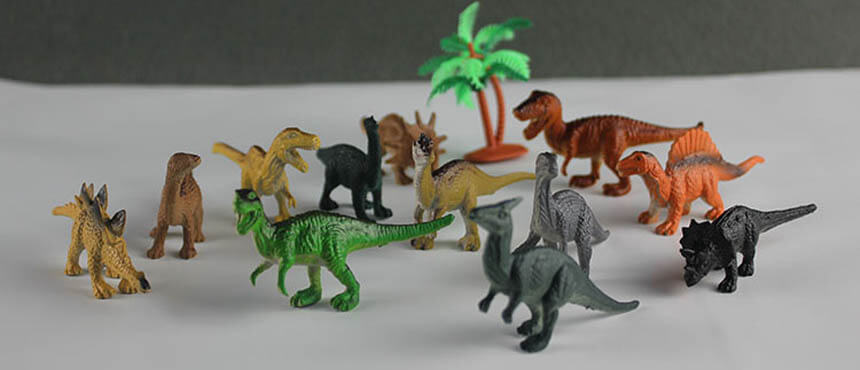 How to Clean PVC Plastic(figure toys materials)
PVC or its chemical name, polyvinyl chloride, is a popular thermoplastic(a plastic that becomes liquid when heated and brittle and glassy when cooled) polymer.PVC is one of the most valuable products in the chemical industry. It is cheap, durable, and easy to use.PVC is used in a wide variety of products, such as building material(instead of wood, concrete, or steel), vinyl siding, magnetic stripe cards, window profiles, vinyl records, figurines, figure toys, pipes, furniture, and more. In its softer forms, it is used in products such as clothing, upholstery, flexible hoses, tubing, flooring, roofing, and electrical cable insulation.PVC was first discovered accidentally in 1835 by French chemist and physicist, Henri Victor Regnault.PVC had no useful purposes because it was too brittle. It was not until 1926 when Waldo Semon and the B.F. Goodrich Company developed a method to soften PVC by blending it with other substances to make it flexible and allow its use in many commercial products.
Step 1
Mix 1/2 cup dish soap and 1 quart of bleach in a bucket until foamy.
Step 2
Pour the mixture on the PVC or use a mop or sponge. If using a sponge, be sure to wear rubber gloves to avoid the bleach contacting the skin.
Step 3
Let is sit for about 30 minutes.
Step 4
Wash the PVC off with water with a mop, sponge or hose.
Step 5
Wipe the PVC with a white cloth or paper towel. Use a nylon scouring pad if the stains are too strong.
Step 6
Rub non-gel toothpaste on the PVC with a paper towel and buff with a clean white cloth if the PVC needs to be shined or have minor scratches removed.
Step 7
Lightly sand the PVC with 100 grit sandpaper for really ground in stains.
Advantages of Plastic Material
Plastic bags, plastic cutlery, plastic bottles, plastic food storage containers, and more than have been in the doghouse in recent years, often for good reason. Plastic overwhelms landfills and seems to last forever. Now we worry about its detrimental effect on human health, especially when it's heated. Is there any redeeming quality to plastic? In spite of its associated health risks, plastic has revolutionized many areas of medicine and made living easier, cheaper, and brighter in many ways.
Flexible and Strong
The word plastic originally meant pliable and strong. Plastic is a polymer, a word that means "made of many parts." Each type of plastic is made up of different ingredients, including some found naturally in nature, including fossil fuels. It's these ingredients that give the polymer its flexibility, strength, and other properties.
Plastic is indispensable in many of the items we use every day. It can be molded into many shapes and holds up well. We see it in cars, kayaks, and parts of bikes, trains, and airplanes. If we replaced these parts with metal, they would rust, and leather would be very expensive and not as durable. Think of how important computers are to our lives today. Every computer has many plastic parts. Plastic can be made tough enough to hold the mechanics that make computers work, yet small enough to keep the whole machine smaller and lighter. That translates to being more portable and cheaper than the old computers.
Cost-Effective Longevity
Plastic has enriched the way we live in our homes in both large and small ways. Houses are a major expenditure, but they would be even more expensive without plastic:
Vinyl siding vs. brick: Brick can add $ 10,000 or more to the price of a new or pre-owned home.
Vinyl vs. wood windows and trim: Vinyl is cheaper and maintenance-free. Even with the best of care, wood eventually rots.
Storage items: Plastic bins cost more than cardboard boxes but are more durable and don't attract insects. Plastic shelves are cheaper and lighter in weight than wood and metal.
Plastic has been a stand-in for other materials from its very beginning. The first known appearance was in 1869 when a New York company offered $10,000 to anyone who could come up with a substitute for ivory, which was becoming scarce. John Wesley Hyatt found that treating cellulose with camphor produced a substance that imitated ivory, horn, and tortoiseshell. When plastic is used in place of natural resources like ivory and wood, it helps prevent scarcity of these materials.
Amazing Innovations
In the field of medicine, plastic has been responsible for many life-lengthening and even lifesaving inventions. Think about the artificial heart. It can replace a real heart, ventricles, and valves and last for years while a patient waits for an available heart transplant. Plastic has improved the ability to keep medical environments sterile through the use of plastic exam gloves, syringes, and IV bags. Highly durable plastic is used for parts of knee and hip replacements, pacemakers, and other innovations.
In 2014, engineers at Stanford University developed an earthquake-resistant house by partially using plastic. Earthquakes cause a lot of expensive structural damage to houses because they move when the ground shakes. So engineers developed sliders made of steel and plastic that sit atop steel plates and dishes. The house sits on this structure, rather than being attached to a foundation, and slides back and forth instead of being shaken during an earthquake.
Everlasting in Landfills and Waters
On the other hand, plastic's durability and longevity mean it doesn't break down easily in landfills. Convenience items that are intended for limited use, like plastic utensils, are meant to be tossed out. Those that can be recycled or reused, like flimsy water bottles and grocery plastic bags, are often thrown always instead. Reusable items like bowls, food storage containers, and plastic mixing spoons and turners, melt or wear away with use, which doesn't occur with metal or glass. So those are thrown away, too.
And it isn't only landfills that are overflowing with plastic. Discarded plastic ends up in the oceans, as evidenced in the Pacific Ocean, which contains a garbage dump the size of Texas swirling offshore. Discarded plastic also harms sea creatures that eat it or get stuck in it.
Vinyl Figure Toys Are Safe
Boy playing with ball As a parent or a consumer, you may have read or heard reports casting doubt on the safety of soft plastic figure toys made of polyvinyl chloride(PVC), or vinyl. Claims have been made that when children suck and chew on soft vinyl figure toys, such as tethers or pacifiers, they are being exposed to "hazardous materials."International Council of figure Toy Industries (ICTI), the worldwide association of the character toys industry, along with many other organizations and scientific groups, would like to set the record straight.
The figure toys industry has an absolute commitment to ensuring that its products are safe. Along with voluntary standards established by the industry, we conform to stringent government standards for the safety and health of all individuals, especially children. The safety of character toys is, without question, the industry's top priority, and it supports any scientific investigation which can help improve or reinforce the safety of its products.
What is polyvinyl chloride?
Polyvinyl chloride, often referred to as PVC or vinyl, has been around for more than fifty years, and is one of the world's most widely used and researched plastics. It is found in every home in a variety of consumer products ranging from water pipes to shower curtains. It's approved use in food packaging as well as its wide spread applications in the health care filed demonstrate the safety of PVC. Vinyl is used for the storage of national blood supplies throughout the world as well as in numerous surgical applications.
Is Vinyl Safe?
Recently, some groups have raised concerns about phthalates, an ingredient that makes vinl soft and pliable. Critics have taken a potpourri of scientific half-truths and developed a campaign alleging that vinyl products containing phthalates(pronounced th-al-ates) pose a danger, especially when used to make products such as children's figure toys. They claim that harmful chemicals migrate from the soft plastic and accumulate in the human body causing serious health treats. These allegations are simply not true and do not stand up to scientific scrutiny.
The figure toy industry is concerned that parents and consumers are being unfairly targeted and frightened by extremist environmental groups. We would like to take this opportunity to clarify misinformation about vinyl and any potential threats to the health and well-being of children. None of the claims made by critics have been supported by reliable scientific evidence. If there were any truth to these claims, we would be the first to eliminate any hazardous ingredients. We would never compromise children's safety. After all, we have children too.
Vinyl figure Toys are Safe character Toys
Vinyl is one of the world's most widely used and most researched plastics with a safety record of more than 50 years.
Vinyl is a material used in many figure toys, and despite sensationalized and irresponsible claims made recently by some groups, figure toys manufacturers are confident that it is safe. This confidence in vinyl is based on the findings and opinions of national regulatory agencies and some of the most respected scientists in the world.
Soft vinyl contains a substance called phthalates. Research into the effects of phthalates does not show that phthalates themselves are in any way hazardous to children's health. In fact, there is no scientific evidence that these chemicals put people of any age at risk.
While vinyl is the principal component in a wide range of products for consumers, the healthcare industry, and other highly regulated industries, some organizations have targeted products for children due to the high visibility of figure toys and the opportunities they offer for media coverage. Their research methods are at best questionable and their claims unfounded. The allegations against the safety of vinyl figure toys cannot be substantiated by scientific fact. They simply are not true.
Vinyl and phthalates have been used in the manufacture of figure toys and baby products for 40 years. Generations of children have played with, and sucked on, character toys made from pliable vinyl, and there is no evidence of any adverse effects. Indeed, the widespread use of phthalates in number of non-toy products has led to extensive research verifying its safety.
Future of PVC Plastics
PVC plastics account for an lot of plastics that are used in the world today. This material is ranked as the third most used plastic falling behind polyethylene and polypropylene. The concerns regarding its threat to human health have prompted research around the use of sugarcane ethanol as the feedstock for PVC instead of naphtha. Additional research is also being conducted on bio-based plasticizers as a solution for phthalate-free plasticizers. These experiments are still in their initial stages, but the hope is to develop more sustainable forms of PVC that do not affect human health or threaten the environment during the manufacture, use and disposal stages. With the many excellent characteristics that PVC presents, it continues to be a widely used plastic across various industries.