Silicone Ice Cube Trays — 100% Silicone, BPA-free, Soft & Flexible
Specifications of Silicone Ice Cube Trays
| | |
| --- | --- |
| Name | Silicone Ice Cube Trays |
| Material: | Food grade silicone |
| Temperature withstanding capacity | Heat resistance: up to 230° C, Cold Resistance: up to -20° C |
| Dishwasher safe | YES |
| Refrigerator safe | YES |
| Hygienic | BPA-free |
| Design | Unique and fashion |
| MOQ | Exist design 100 or 200pcs |
| Logo | Can be screen printing, MOQ 1000pcs |
| Colors available | Exist or customized |
| Packing | An opp bag/pc |
Why Choose Silicone Ice Cube Trays?
Silicone ice cube trays are much better than plastic and metal ones as they are flexible, soft, and safe.
Removing ice cubes from a plastic ice tray is no less than a struggle. Ice sticks on the bottom of the plastic tray when water expands in contact with lower temperatures. Unless you pour water on the tray and smash it multiple times on the counter, there's no way ice cubes are easy to take out.
Contrary to that, silicone ice cube trays are soft and flexible, which helps remove the ice cubes easily. There is no need to use water or spend ten minutes breaking the ice cubes, as silicone ice trays are easy to handle.
Further, it is nearly impossible to get the whole ice cube out in plastic trays. Our silicone ice molds feature no ice wastage, as one finger is enough to pop out the ice cube.
Silicone trays are also easy on the hands compared to metal ice trays. Metal trays have a maneuver to pop out ice cubes, but there is no way to remove individual ice cubes. Yet, silicone ice trays can easily pop out even one ice cube.
Materials like plastic are also at risk of BPA, a toxin released in contact with extreme temperatures. Metal ice trays are also at risk of getting rusty. Even a stainless steel ice tray in a freezer can rust if the chromium coating is worn off. Consuming rust can cause ingestion and other health problems.
Our silicone ice cube trays are made of food-grade silicone (non-toxic and BPA-free). They cannot get rusty, so they are a safe and hygienic alternative to traditional plastic metal trays.
Silicone Ice Cube Trays Design & Features
Looking for the best silicone ice cube trays? Check our premium silicone ice cube molds, made with safe and hygienic food-grade silicone:
Single Silicone Big Diamond Ice Cube Trays with lid: Home and homemade ice trays, diamond gemstone models, wine cold drink ice cubes with LIDS, silicone food grade ice box molds to add color to your life.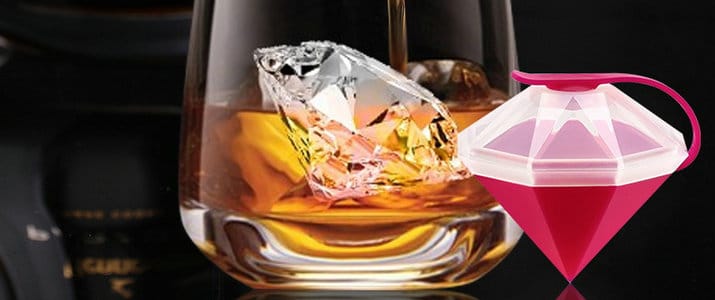 Silicone Ice Cube Trays: These are space-saving and come with a silicone top cover to avoid leakage. The sealed clips ensure the water remains inside and doesn't leak even if you tilt the tray.
Moreover, our silicone ice cube trays are odor-proof, safe, and healthy. The diamond-shaped ice pockets are unique and feature quick demoulding. Each tray has six cube pockets and makes 3-cm diameter ice cubes.
Silicone Diamond Ice Cube Trays: Want to make fun summer drinks? Just pour some water or juice into our diamond ice trays, cover them with the lid, and store them in the fridge. Once frozen, all it takes is one press on the bottom to take out uniquely shaped ice cubes. They are made of flexible and soft silicone and also have a handle to carry the ice cube mold easily.
Silicone Circle Ice Cube Trays: These are like diamond-shaped ice cube molds but in circular molds. Ideal for preparing fun ice drinks, you can add fruits, flowers, and herbs to the water to spice up your ice cubes.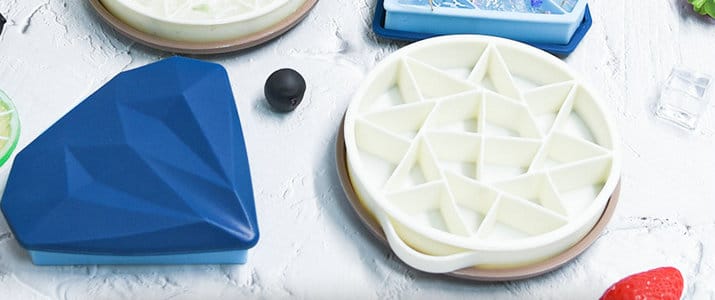 Silicone Ice Cube Trays Wholesale Bulk Supply
We are silicone ice cube tray manufacturers on a mission to provide stress-free, smash-free, no-wastage ice cubes. We prepare our trays with food-grade, BPA-free, safe silicone.
Visit our silicone ice cube trays site here. You can also buy our silicone ice cube trays for sale in bulk at wholesale rates. Contact us at and tell us your concern, we'll help you with all your queries.
Product Video for silicone ice molds: