100% Custom Shaped 3D cartoon USB Flash memory
We can affordably create a 100% custom cartoon USB flash drive design just for you. Your imagination is the only limit.
1) Materials:  Soft PVC case with the different capacity drive.
2)Various colors are available.
3)Customized logos are accepted.
The covers can emboss, debossing or printing the logo for promotion gifts, advertising, souvenir gifts, and premium gifts, etc.
Creative Soft PVC Cartoon USB flash memory
A USB flash drive, also known as a thumb drive, pen drive, gig stick, flash stick, jump drive, disk key, disk on key(after the original M-Systems Disk On Key drive from 2000 flash-drive, memory stick(not to be confused with the Sony Memory Stick), USB stick or USB memory, is a data storage device that includes flash memory with an integrated USB interface. It is typically removable, rewritable, and much smaller than an optical disc. Most weigh less than 30g(1 ounce). Since first appearing on the market in late 2000, as with virtually all other computer memory devices, storage capacities have risen while prices have dropped. As of March 2016, flash drives with anywhere from 8 to 256GB were frequently sold, while 512GB and 1TB units were less frequent. As of 2018,2TB flash, drives were the largest available in terms of storage capacity. Some allow up to 100,000 writes/erase cycles, depending on the exact type of memory chip used, and are thought to last between 10 and 100 years under normal circumstances(shelf storage time).
USB flash drives are often used for storage, data back-up, and transfer of computer files. Compared with floppy disks or CDs, they are smaller, faster, have significantly more capacity, and are more durable due to a lack of moving parts. Additionally, they are immune to electromagnetic interference(unlike floppy disks) and are unharmed by surface scratches(unlike CDs). Until about 2005, most desktop and laptop computers were supplied with floppy disk drives in addition to USB ports, but floppy disk drives became obsolete after the widespread adoption of USB ports and the larger USB drive capacity compared to the 1.44MB 3.5-inch floppy disk.
USB flash drives use the USB mass storage device class standard, supported natively by modern operating systems such as Windows, Linux, macOS, and other Unix-like systems, as well as many BIOS boot ROMs.USB drives with USB 2.0 support can store more data and transfer faster than much larger optical disc drives like CD-RW or DVD-RW drives and can be read by many other systems such as the Xbox One, Play station 4, DVD players, automobile entertainment systems, and in a number of handheld devices such as Smartphone and tablet computers, though the electronically similar SD card is better suited for those devices.
A flash drive consists of a small printed circuit board carrying the circuit elements and a USB connector, insulated electrically and protected inside a plastic, metal, or rubberized case, which can be carried in a pocket or on a key chain, for example. The USB connector may be protected by a removable cap or by retracting into the body of the drive, although it is not likely to be damaged if unprotected. Most flash drives use a standard type-A USB connection allowing connection with a port on a personal computer, but drives for other interfaces also exist.USB flash drives draw power from the computer via the USB connection. Some devices combine the functionality of a portable media player with USB flash storage; they require a battery only when used to play music on the go.
Custom Design PVC Cartoon USB Flash Memory USB disk custom chart effect show:
Fun gift ideas set for reference: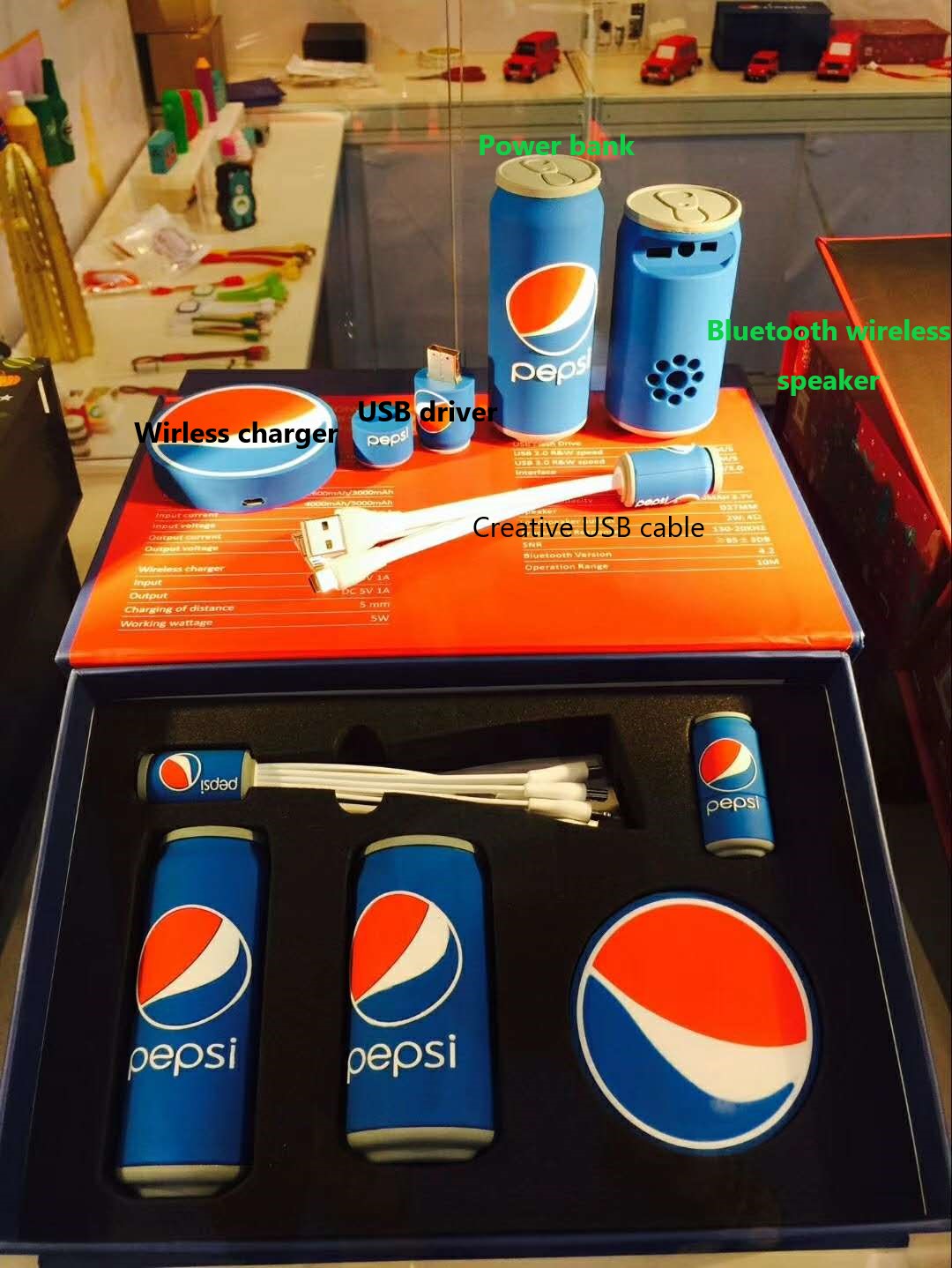 Essential components
There are typically five parts to a flash drive:
Standard-A USB plug-provides a physical interface to the host computer. Some USB flash drives use USB plug that does not protect the 4 contacts, with the possibility of plugging it into the USB port the other way around.
USB mass storage controller-a small microcontroller with a small amount of on-chip ROM and RAM.
NAND flash memory chip(s)-stores data(NAND flash is typically also used in digital cameras).
Crystal oscillator-produces the device's main 12 MHz clock signal and controls the device's data output through a phase-locked loop.
Cover-typically made of plastic or metal, protecting the electronics against mechanical stress and even possible short circuits.
Additional components
The typical device may also include:
Jumpers and test pins-for testing during the flash drive's manufacturing or loading code into its microcontroller.
LEDs-indicate data transfers or data reads and writes.
Write-protect switches-Enable or disable writing of data into memory.
Unpopulated space-provides space to include a second memory chip. Having this second space allows the manufacturer to use a single printed circuit board for more than one storage size device.
USB connector cover or cap-reduces the risk of damage, prevents the entry of dirt or other contaminants, and improves overall device appearance. Some flash drives use retractable USB connectors instead. Others have a swivel arrangement so that the connector can be protected without removing anything.
Transport aid-the cap or the body often contains a hole suitable for connection to a keychain or lanyard. Connecting the cap, rather than the body, can allow the drive itself to be lost.
Some drives offer expandable storage via an internal memory card slot, much like a memory card reader
Cartoon USB Flash Memory flash Drive, New Solution for Storage
The basic criteria determining the choice of a USB flash drive.
The size and weight of the flash drive are the first criteria to consider. Its essence lies in its small size and lightweight. Designed to fit the keychain, some models have an attachment pad or ring and can easily be dipped in your pocket. Real objects in the trend, the USB key are placed in the same rank as mobile phones. They come in all shapes and colors. In short, the design of these materials develops daily. The choice is varied, depending on taste. Technically, the range of variation in the capacity of USB drives on the market is quite wide, ranging from 256MB to 16GB.Because of its popularity in most cases, the USB key must be robust. The USB can twist over time. So, before purchasing you should always check if it is securely attached to the remainder of the key. Sports models are also available with the shell padded shockproof.
The first technical criteria determining the choice of the USB.
Speed is essential for a quality USB key because, despite high storage capacity, some USB sticks are too slow for data transfer. It is advisable to choose a 2.0 High-Speed USB for high transfer speeds(approximately equal to 10MB per second),not to be confused with the USB 2.0 that it is not as fast. Also with the High-Speed USB, the port to which the key will be connected must support USB 2.0 High-speed transfer rate, otherwise how fast it is, but it would not be optimal. Besides the need for a computer to have the option of a USB port, the key should also be compatible with the operating system. For newer operating systems like Windows 7,Vista,XP,2000 and the latest Linux, recognizing the USB is not a problem. The problem lies in machines with outdated operating systems like Windows 98 or Windows Me. With the earlier operating system, the installation of drivers is needed for the USB key to be recognized by the machine. In this case, it is best to change the operating system or download the driver software for the USB key on the site of its manufacturer, as most USB drives on the market are not accompanied with the driver's CD.
To choose your USB key
For a complete satisfaction after buying a USB key, determine in advance the storage capacity according to the criteria of uses that you anticipate. For carrying office files, a key having a capacity of 16MB to 64MB is already more than sufficient as compared to what is offered by a 1.44 MB floppy. For storage of certain programs such as MP3 or a light video, you need to look for a key having a capacity greater than 128 MB, fortunately, actually, there are some models can store up to the capacity of 32GB.
Prior to purchase, you have also to determine the operation interface of the USB key. The question is whether it is a USB 1.0 or USB 2.0.The older version, that is to say,1.0,although slower, it can easily perform data transfer of low capacity, but while the larger the data being transferred the more the transfer time is extended. For example, to transfer 256MB on a given USB 1.0,it will take 4 minutes and 15 seconds or 255 seconds, whereas with a USB 2.0,it will just take 37 seconds or 6 times faster. In general, the maximum output of USB 1.0 transfer is 1 MB per second and against 7 MB per second for USB 2.0. Moreover, there is not a huge difference in the cost between these two. For compatibility, if all USB function without driver installation on machines running Windows 7,vista,XP and others, it is not the same for those on Windows 98,which require installation to operate. In this case, always check the installation CD that comes in the packaging of the key or it can be downloaded. For those who use the ancestor Windows 95,forget the use of a USB key unless you change the operating system.
The latest generation of USB flash drives comes with U3 technology, which allows the use of certain software compatible directly on the USB.As a result, the installation of software is no longer necessary. Everything is done on the key. An mobile office is now at your fingertips.
Best Buy Cartoon USB Flash Memory
A USB drive is a plug and plays storage device. It uses flash memory and is very lightweight. It can be used in place of a CD or a zip drive disk. It is recognized as an removable drive by computer. Custom USB Flash drives do not require rebooting after it's attached, does not require batteries or an external power supply, and is not platform dependent.
With a US drive, data can be retained for long periods when the device is unplugged from the computer, or when the computer is powered-down with the drive left in. It is very convenient to transfer data with the use of a USB.
Their capacity ranges from 256MB,512MB,1GB,2GB, and 4GB and there are many forms of USB drives available in the market.
They are more compact, generally faster, hold more data, and are more reliable(due to both their lack of moving parts and their more durable design) than floppy disks. These types of drives use the USB mass storage standard, supported natively by modern operating systems such as Linux, Mac OS X, UNIX, and Windows.
Some of the Best cartoon USB flash memory are imitation flash wristband, very stylish, Corsair flash voyager wraps their Flash Voyager, including the cap, with rubber. This makes the USB flash drive a true water-resistant portable storage. The 256MB flash drive with fingerprint authentication can encrypt up to 10 different thumbprints,200 website logins, and all the bookmarks.
Sony Ultra Mini Micro Vault 256MB is approximately the same length as the little finger, the miniature version of the Micro Vault comes with an array of software to keep the data synchronized and protected. The 256MB USB flash drive may look just like any other commodity drive out there, but this one offers Active Disk technology that allows you to run free applications like Open Office, Music Match and Poco Mail Portable on the Micro Mini.
Flash drive capacities on the market are continuously increasing.64MB and smaller capacity flash memory have been largely discontinued and 128 MB capacity flash memory is being phased out. Flash drives implement the USB mass storage device class, meaning that most modern operating systems can read and write to flash drives without any additional device drivers.
Flash drives can sustain only a limited number of write and erase cycles before failure. Mid-range flash drives under normal conditions will support several hundred thousand cycles, although write operations will gradually slow as the device ages.
Customized Cartoon USB Flash Memory Are a Long-Lasting Promotional Gift
In previous times, the only method of data transmission from one port to another for the people was the usage of floppy disks. The data storage packed by a floppy disk was a maximum of 1.44 MB. However, when the sizes of files and hard disks began to increase, the people needed a medium, which could accommodate files of an larger size. Hence, the compact disk came into being. However, because of the problems that were faced by people in writing their data to the disk, something new and much more convenient had to be manufactured. Hence, customized USB flash drivers came in being.
A USB device is a small, highly compatible device that fits in the USB port of your laptop or computer. You can easily store large amounts of data in your flash drive, and the process is extremely simple as well. You do not need to be buying a special writer as in the case of a compact disk, and all you have to do is insert the USB device in the port and wait for the computer to detect it. Once it is detected, an icon appears in your "My computer" with the name of the removable device. Then, you can simply copy and paste all your data. Once done, you can just take the USB out of the port safely. However, diversity is uniqueness is prominent is every field, and customized USB flash drives offer both of these and all for the user's convenience.
Customized flash drives would be rendered just the way the user wants them. There are several manufacturers that sell flash drivers, which they customize according to the requirements of the buyer. However, the prices that are charged by such manufacturers are higher than those of USB drives, which are not customized. This is because the customization charges are also included on the USB drive, and there are several ways in which you can customize your USB flash drive. These numerous always are enlisted below:
-The most prominent option that is offered in customized USB flash drives is that of the imprinting of one's name. You can easily have your name imprinted, and this is highly good because the best way of customizing your Cartoon USB flash memory to your own needs is by having your name on it.
-Another great option that you can use to customize your USB device is by having it colored just the way you want with a design that suits your personality. For instance, if you like, it funky and cool, you can just get a colorful design on your customizable USB and this is going to go great with your personality.
-Not everyone has a customized USB flash drive; hence, the general audience is bound to be impressed by your audaciousness and might just opt to buy a USB flash drive that can be customized according to their favorite ways.
These devices are a great way of portraying your personality through your possessions.
Conclusion
Want to bring some joy to your digital file delivery? Our amazing SOFT PVC Cartoon USB flash drive could be your top choice to store personal data, keep your network configuration and share information with your friends. Each design is available with various capacitates from 64MB to 10GB. The custom logo could be silkscreen printed or laser engraved(only for some types of flash drives)on open-designed or filled colors soft PVC on new mold design cartoon USB flash memory. A small quantity of bespoke flash drives is also welcome with a mound charge required.