Custom Soft PVC Key Chain
· Made of soft PVC
· Our key ring also offers in both 2D flat designs and 3D effect
· Specific design and logo can be put on both sides
· We had also produced some of the cartoon characters in 3D figures
· Customized design is also available upon request
*MOQ: 1000pcs.
DISCLAIMER: All trademarks are used for reference purposes only. We are not authorized to sell any items bearing such trademarks.
pvc keyring,good for business,company gifts,advertisement,souvenir,festival,promotion and other.
More about Soft PVC Key chain
A PVC keychain, or key ring, is a small chain, usually made from metal or plastic that connects a small item to a key ring. The length of a key chain allows an item to be used more easily than if connected directly to a key ring. Some PVC key chains allow one or both ends the ability to rotate, keeping the keychain from becoming twisted, while the item is being used.
A PVC key chain can also be a connecting link between a key ring and the belt of an individual. It is usually employed by personnel whose job demands frequent use of keys, such as a security guard, prison officer, janitor, or retail store manager. The chain is often retractable, and therefore may be a nylon rope, instead of an actual metal chain. The chain ensures that the keys remain attached to the individual using them, makes accidental loss less likely, and saves on wear and tear on the pockets of the user.

Use of PVC Key chains
PVC Key chains are one of the most common souvenirs and advertising items. Key chains are commonly used to promote businesses. A standard advertising keychain will carry the business's name and contact information and often a logo.
In the 1950s and 1960s, with the improvement of plastic manufacturing techniques, promotional items including PVC key chains became unique. The business could place their names on promotional key chains that were three-dimensional for less cost than the standard metal key chains.
PVC Key chains are small and inexpensive enough to become promotional items for larger national companies that might give them out by the millions. For example, with the launch of a new movie or television show, those companies might partner with food companies to provide a character keychain in each box of cereal.
PVC Key chains that currently hold keys are an item that is never long misplaced by the owner. People sometimes attach their keychain to their belt(or belt loop) to avoid the loss or to allow quick access to it. Many key chains also offer functions that the owner wants easily accessible as well. These include an army knife, bottle opener, an electronic organizer, scissors, address book, family photos, nail clipper, pill case, and even pepper spray. Modern cars often include a keychain that serves as a remote to lock/unlock the car or even start the engine. An electronic key finder is also a useful found on many keys that will beep when summoned for quick finding when misplaced.

Fun Attachments and Charms for Your Keychain
PVC Key chain accessories and charms can reveal a lot of things about you. Having one can mean that you are very expressive and you tend to personalize everything about you. It can also mean that you know your way around fashion and accessories, and it can reveal your hobbies, affiliations, interests, and other things about you.
There are many designs that you can choose from when it comes to keychain accessory design. Or if you do not want to choose just one, there is no limit to what accessories you can have. Just change them every time you feel like it. Here are some of the most popular keychain charm designs that you can also use.
Shoe-inspired accessories and charms-These are popular key chain attachments, particularly for some women. There are keychain charms in the shape of clogs, slippers, and boots. They are usually made of PVC material and come in many colors.
Food-inspired accessories and charms-Now you can bring your favorite food wherever, inedible but still mouthwatering, keychain accessories shaped like burgers, fries, shakes, pizzas, donuts, or cupcakes can appeal to people of all ages.
Music-inspired accessories and charms-If music is a big part of your life, PVC key chain charms shaped as music sheets, notes, guitar, violin, and other musical instruments can be found in fashion accessories stores.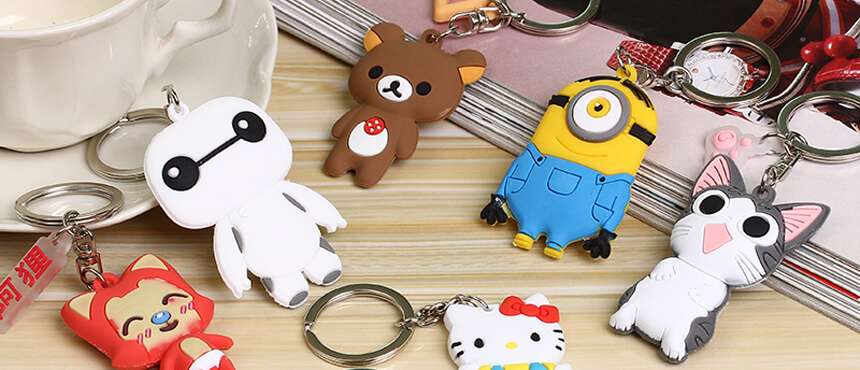 Garden-inspired accessories and charms-For a softer appeal on keychain charms, there are butterfly, flower, pail, and other garden-inspired accessories.
Cartoon characters-inspired accessories and charms-Your love for these characters will truly show when you bring out your Sesame Street-inspired charms with Elmo, Kermit, or other fun characters like Woody, Buzz, Snow White, Winnie the Pooh, among others.
Fashion-inspired accessories and charms-These charms can complement your probably already obvious love for fashion. Perfume bottles, shirts, or skirts are some of the designs that you can find.
Sports-inspired accessories and charms-What better way to show off your love for your sport by sporting your sports attire, matching shirt and shoes, perhaps even your bag along with keychain accessories shaped like a golf club, a baseball bat, a tennis shoe, a football, or any other sport-inspired image.
School-inspired accessories and charms-Carry your school logo with you wherever you go. Whether it's the school's basketball team logo, the science club logo, or the glee club loge, you can always be proud of your affiliation and show it in every single way. These items can be specially designed, made, and ordered just for your team or for your school. Do not expect to buy just off the rack everywhere.
Photo attachments- A popular attachment is a clear attachment that will allow you to insert your favorite photo.
Other fun and useful attachments include miniature water guns, laser pointers, and change pouches. You can purchase these charms from your local department store, a fashion accessory shop or you can also go online and find eBay stores that offer different keychain charms and key rings. They usually have different styles in their inventory to cater to the different preferences of customers. You can have flair and use key chains that have special designs and accessories so even the simplest item can still be personalized to your liking.

Soft PVC Key chains: A Promotional Product That Words
Looking for an affordable and powerful promotional product for your next marketing campaign? Promotional PVC key chains are creative, practical, and versatile for any company or business. Eye-catching PVC key chains will be the perfect advertising tool that will give any onlooker an instant idea of what your business is all about.
As a business owner, you're always looking for new ways to promote your brand and draw customers in. You're probably already tried pens with the company name and logo on them. But PVC key chains can be a much more effective choice. While pens are useful, key chains are both practical and attractive. While pens may be misplaced and lost forever, a PVC key chain will stay with an individual along with his important house or car keys.
The very fact that a potential customer would place your promotional PVC key chain on his keys shows an interest in your products. Every time that individual grabs his keys on the way out the door, he will see your logo or message and think about your business. In the car hanging from the ignition, on the desk, in a pocket, or fished out of a purse-every time this person looks at his keys he will immediately think about your company and recall his experience at your place of business.
Also, anyone else who notices them will be indirectly informed of your company. The more unique your design, the better the chances of it becoming a conversation starter where customers can even turn into promoters of your business. As is well know, word of mouth is the best marketing strategy of all.
pvc Key chains are a very versatile marketing option as well. They can be made to accommodate any business, from car washes to doctor's offices. Colors, fonts, logos, and shapes can all be customized to reflect the tone and character of your company and the products you sell. A key chain can be made to look fun and whimsical or sleek and professional. Also, some people love to collect them, therefore, it might be a good idea to create a couple of different styles to cater to differing tastes.
Soft PVC Key chains in particular offer an entirely new world of possibilities. This kind of key chains are far more attractive because they can be created in any 2D or 3D shape and unlike other materials, longevity and wear are not issues. Soft rubber PVC, is a very durable material that allows intricate artistic designs with a high degree of resolution. Color options are limitless. These choices allow you to be extremely creative to design a key chain that is one-of-a-kind so that customers will not be able to resist adding it to their keys.
Give your customers and potential clients a keepsake they will use every day. A promotional PVC key chains is a unique and memorable way to remind them of their great experience with your company.

DIFFERENT TYPES OF KEYCHAINS: EVERYDAY USE COST EFFECTIVE CORPORATE GIFTS-PVC KEY CHAIN
PVC Key chains are everyday use cost effective corporate gifts given by almost all the outlets big and small to their customers to ensure enhanced brand recall. Earlier one used to see only the metal key-chains but over the years now you have the choice of various materials like acrylic, leather, metals, plastic, silicone rubber, wood and even fabrics. Fabrics enables you to use embroidery and be different from the market by using your own shape and design keeping the specific promotional purpose in mind. Branding choices are unlimited starting with screen printing, pad printing, photo quality printing, paper insert, and embossing, debussing, laser engraving, etching, and customized plastic mold to multi-color silicone rubber mold for both one and two sided key chains. The key chains can have multiple features and utilities to impress our target audience including replica of your products to ensure maximum mileage for higher brand recall. They are also available in choice of colors to suit both your house color and brand logo.
KEYCHAIN WITH TORCH:-
PVC Key chain with torch, key chain with 2 LED torch and lamp, light box key chain with torch and LED lamp,no.1 keychain with torch, round flashlight style keychain with torch containing 5 LED.
PVC KEY CHAIN WITH OPENERS:-
PVC Key chain in thumbs up shape with opener, leatherette strip keychain with bottle opener, universal bottle and can opener. Wine bottle shape metal body 5 in 1 keychain with knife, bottle opener, cork opener and filer. Please also check another 4 in 1 keychain with mobile stand and both bottle & can opener.
PVC KEY CHAIN WITH BOTH TORCH AND THE BOTTLE OPENER
PVC Keychain with both torch and the bottle opener with 6 LED, key ring torch with opener,3 in 1 key chain with opener and torch, big foot keychain with torch and bottle opener. Please also check below key chains with tool kits for another choice of opener.
PVC KEY CHAIN WITH MAGNIFIER, TORCH, WHISTLE AND EVEN HOOK WITH LARGE CARABINER:-
Key ring with folding magnifier & LED light, Ezee-push keychain with magnifier with double LEDs, flash tag with whistle and torch, easy carry keychain with hook with large carabineer.
Keychain with magnifier, torch, whistle, and even hook with a large carabineer.
PVC KEYCHAIN WITH MOBILE SCREEN CLEANER,BOTTLE SHAPE AND FOLD OUT STYLUS,PEN AND STAND:-
PVC Key chain with concealed mobile and screen cleaner, in bottle shape with stylus and screen cleaner, with fold out stylus, pen and mobile stand, keychain with folding earphone and mobile stand to ensure tangle free experience. Please also check above key chains with openers for another choice of mobile stand.
Key chain with mobile screen cleaner, bottle shape, and fold-out stylus, pen, and stand.
PVC Key chains with Tool Kits
The above series covers various types of ready stock key chains with various additional features to help you impress your audience with the wow factor. The minimum order quantity is only 50 numbers which can be branded with your logo in the available colors and comes in outer white box individual packing which too can be branded. Please refer to our next series of everyday use cost effective corporate gifts-key chains for higher quantities at low cost customized key chains.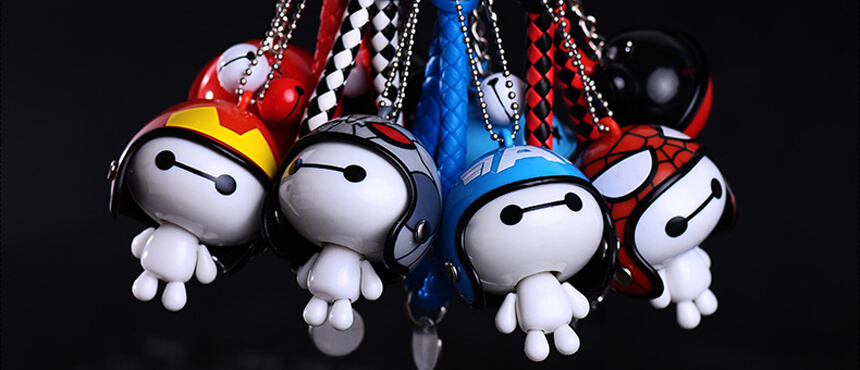 Conclusion
Promotional key rings are a great idea as business gifts. It is a low on budget and has a larger reach. If you need promotional key rings for your business, Oyigift is the best choice to get your keychain online. Find inexpensive plastic PVC key rings. Cartoon characters, games, calculators clocks and pens-add a punch to the ordinary key rings and make them the building blocks of your business growth. Select your promotional key rings from a large collection of promotional gifts website like Oyigift company.