Custom Halloween face mask
| | |
| --- | --- |
| Product Name: | custom design PVC plastic Halloween mask |
| Occasion: | Halloween/Theme Party/Fancy Ball, etc |
| Material: | PVC |
| Color: | Custom |
| Size: | custom |
| OEM&ODM: | Acceptable |
MOQ: 3000-5000pcs.
The product is widely used in masquerade parties, Halloween, Christmas, and various holiday decorations or local activities.
Mask
A form of disguise. It is an object that is frequently worn over or in front of the face to hide the identity of a person and by its own features to establish another being. This essential characteristic of hiding and revealing personalities or moods is common to all masks. As cultural objects, they have been used throughout the world in all periods since the Stone Age and have been as varied in appearance as in their use and symbolism.
General Characteristics
Halloween face Masks have been designed in innumerable varieties, from the simplest of crude "false faces" held by a handle to complete head coverings with ingenious movable parts and hidden faces. Halloween faces Mask makers have shown great resourcefulness in selecting and combining available materials. Among the substances utilized are woods,metals,shells,fibers,ivory,clay,horn,stone,feathers,leather,furs,and paper, cloth, and corn husks. Surface treatments have ranged from rugged simplicity to intricate carving and from polished woods and mosaics to gaudy adornments.
Masks generally are worn with a costume, often so complete that it entirely covers the body of the wearer. Fundamentally the costume completes the new identity represented by the mask, and usually, tradition prescribes its appearance and construction to the same extent as the mask itself. Costumes, like the masks, are made of a great variety of materials, all of which have a symbolic connection with the mask's total imagery. Ideally, the costume should be seen with the mask while the wearer is in action.
The morphological elements of the mask are with few exceptions derived from natural forms. Masks with human features are classified as anthropomorphic and those with animal characteristics as theomorphic. In some instances, the mask form is a replication of natural features or closely follows the lineaments of reality, and in other instances, it is an abstraction. Masks usually represent supernatural beings, ancestors, and fanciful or imagined figures and can also be portraits. The localization of a particular spirit in a specific mask must be considered a highly significant reason for its existence.
The change in the identity of the wearer for that of the mask is vital, for if the spirit represented does not reside in the image of the mask, the ritual petitions, supplications, and offerings made to it would be ineffectual and meaningless. The mask, therefore, most often functions as a means of contact with various spirit powers, thereby protecting against the unknown forces of the universe by prevailing upon their potential beneficence in all matters relative to live.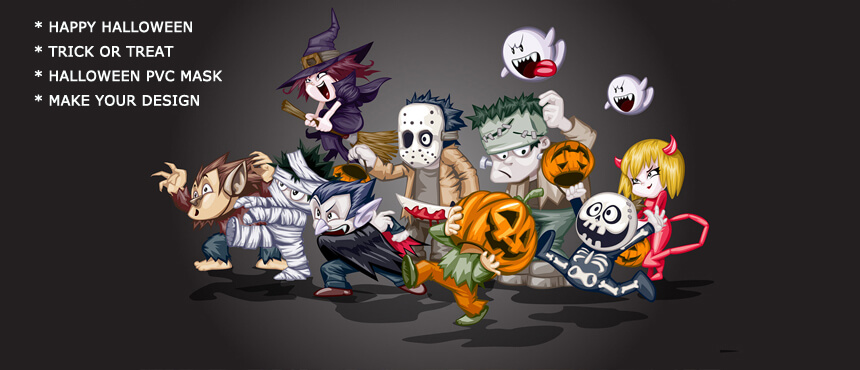 The Making of Halloween face Masks
With few exceptions, masks have been made by professionals who were either expert in this particular craft or were noted, sculptors or artisans. In societies in which masks of supernatural beings have played a significant ceremonial role, it is presumed that the spirit power of the created image usually is strongly felt by the artist. A primary belief involved in both the conception and the rendering of these objects was that spirit power dwelled in all organic and inorganic matter, and therefore the mask will contain the spirit power of whatever material was used to make it.
This power is considered a volatile, active force that is surrounded by various taboos and restrictions for the protection of those handling it. Certain prescribed rituals frequently have to be followed in the process of the mask's creation. Spirit power is also often believed to inhabit the artist's tools so that even these have to be handled in a prescribed manner. As the form of the mask develops it is usually believed to acquire power increasingly in its own right, and again various procedures are prescribed to protect the craftsman and to ensure the potency of the object.
If all the conventions have been adhered to, the completed mask, when worn or displayed, is regarded as an object suffused with great supernatural or spiritual power. In some cultures, it is believed that because of the close association between the mask maker and the spirit of the mask, the artist absorbs some of its magic power. A few West African tribal groups in Mali believe, in fact, that the creators of masks are even potentially capable of using the object's supernatural powers to cause harm to others.
Aesthetically, the mask marker has usually been restricted in the forms he can use since masks generally have traditional imagery with formal conventions. If they are not followed, the artist can bring upon himself the severe censure of his social group and the displeasure or even wrath of the spiritual power inherent in the mask. This requirement for accuracy, however, does not restrict artistic expressiveness.
The mask maker can and does give his own creative interpretation to the traditionally prescribed general forms, attributes, and devices. The artist, in fact, is usually sought out as a maker of masks because of his known ability to give a vitally expressive or aesthetically pleasing presentation of the required image.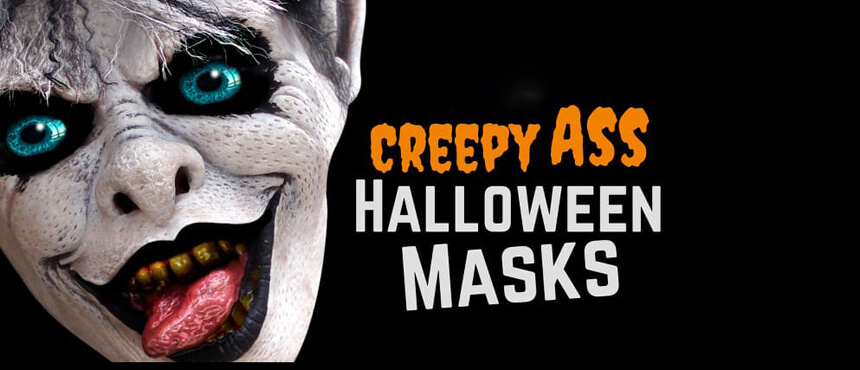 The Wearing Of Halloween face Masks
The wearer is also considered to be in direct association with the spirit force of the mask and is consequently exposed to like personal danger of being affected by it. For his protection, the wearer, like the mask maker, is required to follow certain sanctioned procedures in his use of the mask. In some respects, he plays the role of an actor in cooperation or collaboration with the mask. Without his performing dance and posturing routines, which are often accompanied by certain sounds of music, the mask would remain a representation without a full life-force.
The real drama and power of its form is the important contribution of the wearer. When he is attired in the mask, there is a loss of his previous identity and the assuming of a new one. Upon donning the mask, the wearer sometimes undergoes a psychic change and as in a trance assumes the spirit character depicted by the mask.
Usually, however, the wearer skillfully becomes a "partner" of the character he is impersonating, giving to the mask not only an important spark of vitality by the light flashing from his own eyes but also bringing it alive by his movements and poses. But it would seem that the wearer often becomes psychologically completely attached to the character he is helping to create. He loses his own identity and becomes like automation, without his own will, which has become subservient to that of the personage of the mask. It appears, however, that at all times there remains some important, even if sub rosa, the association between the mask and its wearer.
Preservation and Collecting
The preservation or disposal of masks is often decreed by tradition. Many masks and often their form and function are passed down through clans, families, special societies, or from individual to individual. They are usually spiritually reactivated or aesthetically restored by repainting and redecorating, without destroying the basic form and symbolism. In many instances, however, the mask is used only for one ceremony or occasion and then is discarded or destroyed, sometimes by burning.
The collecting of masks has largely been of recent origin. Not until the late 19th and early 20th century were they seriously appreciated as art objects or studied as cultural artifacts. Most masks have been obtained through archaeological excavations or in field expeditions, that is, in their place of origin.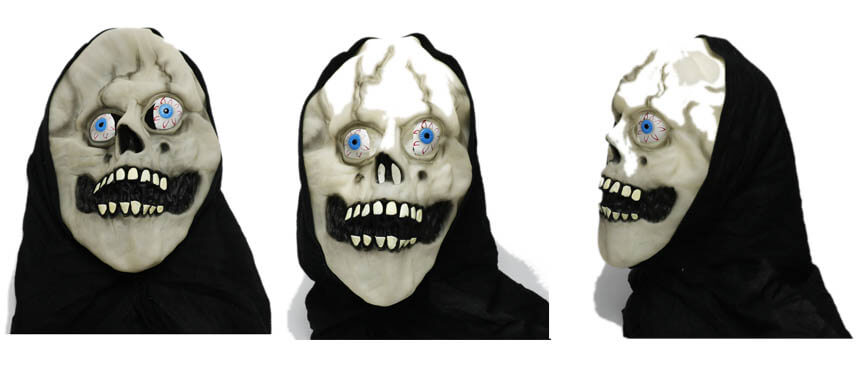 The Functions and Forms of Masks
Masks are as extraordinarily varied in appearance as they are in function or fundamental meaning. Many masks are primarily associated with ceremonies that religious and social significance or are concerned with funerary customs, fertility rites, or curing sickness. Other masks are used on festive occasions or to portray characters in a dramatic performance and in re-enactments of mythological events. Masks are also used for warfare and as protective devices in certain sports, as well as frequently being employed as architectural ornament.
Social and Religious Uses
Masks representing potentially harmful spirits were often used to keep a required balance of power of a traditional relationship of inherited positions within a culture. The forms of these masks invariably were prescribed by tradition, as were their uses. This type of mask was often associated with secret societies, especially in Africa, where the greatest range of types and functions can be found. They were also widely used among Oceanic peoples of the South Pacific and the American Indians and are even used in some of the folk rites still performed in Europe.
Masks have served an important role as a means of discipline and have been used to admonish women, children, and criminals. Common in China, Africa, Oceania, and North America, admonitory masks usually completely cover the features of the wearer. It is believed among some of the African Negro tribes that the first mask was an admonitory one. A child, repeatedly told not to, persisted in following its mother to fetch water. To frighten and discipline the child, the mother painted a hideous face on the bottom of her water gourd.
Others say the mask was invented by a secret African society to escape recognition while punishing marauders. In New Britain, members of a secret terroristic society called the Dukduk to appear in monstrous five-foot masks to police, to judge, and to execute offenders. Aggressive supernatural spirits of an almost demonic nature are represented by these masks, which are constructed from a variety of materials, usually including tapa, or bark cloth, and the pith of certain reeds. These materials are painted in brilliant colors, with brick red and acid green predominating.
In many cultures throughout the world, a judge wears a mask to protect him from future recriminations. In this instance, the mask represents a traditionally sanctioned spirit from the past who assumes responsibility for the decision levied on the culprit.
Rituals, often nocturnal, by members of secret societies wearing ancestor masks are reminders of the ancient sanction of their conduct. In many cultures, these masked ceremonials are intended to prevent miscreant acts and to maintain the circumscribed activities of the tribe. Along the Guinea coast of West Africa, for instance, many highly realistic masks represent ancestors who enjoyed specific cultural roles; the masks symbolize sanction and control when donned by the wearer.
Among some of the Dan and Ngere tribes of Liberia and Ivory Coast, ancestor masks with generic features act as intermediaries for the transmission of petitions or offerings of respect to the gods. These traditional ancestral emissaries exert by their spirit power a social control for the community.
Particularly among Oceanic peoples, American Indians, and Negro tribes of Africa, certain times of the year are set aside to honor spirits or ancestors. Among no literate peoples who cannot record their own histories, masked rituals act as an important link between past and present, giving a sense of historic continuity that strengthens their social bond. On these occasions, masks usually recognizable as dead chieftains, relatives, friends, or even foes are worn or exhibited. Gifts are made to the spirits incarnated in the masks, while in other instances dancers wearing stylized mourning masks perform the prescribed ceremony.
In western Melanesia, the ancestral ceremonial mask occurs in a great variety of forms and materials. The Sepik River area in north central New Guinea is the source of an extremely rich array of these mask forms mostly carved in wood, ranging from small faces to large fantastic forms with a variety of appendages affixed to the wood, including shell, fiber, animal skins, seed, flowers, and feathers. These masks are highly polychrome with earth colors of red and yellow, lime white, and charcoal black. They often represent supernatural spirits as well as ancestors and therefore have both a religious and a social significance.
Members of secret societies usually conduct the rituals of initiation, when a young man is instructed in his future role as an adult and is acquainted with the rules controlling the social stability of the tribe. Totem and spiritualistic masks are donned by the elders at these ceremonies. Sometimes the masks used are reserved only for initiations. Among the most impressive of the initiation masks are the exquisitely carved human faces of west coast African Negro tribes.
In western and central Congo (Kinshasa), in Africa, large, colorful helmet-like masks are used as a masquerading device when the youth emerges from the initiation area and is introduced to the villagers as an adult of the tribe. After a long ordeal of teaching and initiation rites, for instance, a youth of the Pende tribe appears in a distinctive colorful mask indicative of his new role as an adult. The mask is later cast aside and replaced by a small ivory duplicate, worn as a charm against misfortune and as a symbol of his manhood.
Believing everything in nature to possess a spirit, man found authority for himself and his family by identifying with a specific nonhuman spirit. He adopted an object nature; then he myth logically traced his ancestry back to the chosen object; he preempted the animals as the emblem of himself and his clan. This is the practice of totem, which consolidates family pride and distinguishes social lines. Masks are made to house the totem spirit. The totem ancestor is believed actually to materialize in its mask; thus masks are of the utmost importance in securing protection and bringing comfort to the totem clan.
The Papuans of New Guinea build mammoth masks called hevehe, attaining 20 feet in height. They are constructed of a palm wood armature covered in bark cloth; geometric designs are stitched on with painted cane strips. These fantastic man-animal masks are given a frightening aspect. When they emerge from the men's secret clubhouse, they serve to protect the members of the clan.
The so-called "totem" pole of the Alaskan and British Columbian Indian fulfills the same function. The African totem mask is often carved from ebony or other hardwoods, designed with graceful lines and showing a highly polished surface. Animal masks, their features elongated and beautifully formalized, are common in western Africa. Dried grass, woven palm fibers, coconuts, and shells, as well as wood, are employed in the masks of New Guinea, New Ireland, and New Caledonia. Represented are fanciful birds, fishes, and animals with distorted or exaggerated features.
The high priest and medicine man, or the shaman, frequently had his own very powerful totem, in whose mask he could exorcise evil spirits, punish enemies, locate game or fish, predict the weather, and, most importantly, cure disease.
The Northwest Coast Indians of North America in particular devised mechanical masks with movable parts to reveal a second face-generally a human image. Believing that the human spirit could take animal form and vice versa, the markers of these masks fused man and bird or man and animal into one mask. Some of these articulating masks acted out entire legends as their parts moved.
A great opportunity for kids and grownups alike to have fun and get caught up in the spirit of spook is Halloween! Want to go crazy with your costume and be original? A Gene Simmons Halloween costume would be smashing! The rock icon and the lead singer of Kiss are known for sporting an eccentric sense of fashion but playing great music, in fact, one of the greatest in music history so if you are an ardent groupie then wouldn't it be cool to dress up in the best Gene Simmons costume for Halloween?
Gene Simmons costumes for sale are everywhere on stores or online but if you are a little short on the budget, you can definitely create your own Simmons Halloween costumes and it will be a lot of fun! Just do your homework and search online for great patterns and illustrations that you can use for your Gene Simmons costume and if you have a great tailor to boot, you know you'll be the belle of the ball at the Halloween party!
Basic face painting is one great idea for a Simmons Halloween costume and it is as simple as using black and white face paint but if you are not comfortable with wearing paint on your face, you can get a mask instead. Invest in a good wig as well so that you can recreate the right hairstyle as well so you can really look the part! What you need for this type of Halloween costume is a lot of leather-but if you don't own any leather or simply cannot afford it then PVC will work just as well.
If you think putting up the costume all by yourself would be such a hassle, you can also check the Internet for Simmons costume for sale, just do a little bit of researching until you find a site that sells Simmons Halloween costumes for a very affordable price. So if you are a big Kiss fan or simply want something a little bit different this year, then why not get the whole family or a group of your friends to dress up as the bank and then you can really let your hair down and have some well-deserved Halloween fun! So why wait? When you can start now in creating your Halloween costume!
Conclusion
Halloween face masks are a Halloween classic. Most are completely rigid and only cover the front of the face. Many Halloween enthusiasts write off this type of Halloween face mask as being cheap or childish but think again. These low-tech masks have a few major points going for them.
One, they're extremely affordable, making them a great choice for low-budget consumption or to buy in numbers for large groups. Two, they can be put on and taken off super quick, which makes them perfect for kids(and for anyone who can't stand having something on their head all night). Three, they have a huge nostalgia factor! How many of us fondly remember our very first Halloween wearing one of these? That's why we have them in both kids' and adults' sizes!