Custom Soft PVC Key Cover|key cap
1) Material: Soft PVC.
2) Colors and sizes are according to customers' requirements.
3) OEM orders highly welcome.
4) Fast sample supply and standard export packing.
5) Reasonable price and high quality.
6) Logo-debossed and embossed available.
7) Suitable for gifts, premiums, accessories, or others.
8) 2D and 3D effects are available for your choice.
9) Reusable, washable.
10)MOQ: 1000PCS.
PVC keycap use for key holder and case, good for souvenirs, promotion, advertising and other.
More about Custom Soft PVC key cover key cap
PVC is a very versatile material, we use it to manufacture soft rubber PVC emblems, PVC labels, PVC key chains, PVC magnets, PVC luggage tags, PVC coasters, sew-on patches, lapel pins, and beer mats…to name just a few. It can be made into almost any shape,2D or 3D, or even in miniature figures. Soft PVC key chains include PVC key covers, rubber key chains in 2D/3D, or miniature figure key chains. Keychain is the most popular and easiest application of soft PVC material.
All of these key chains & PVC key covers are lightweight and will retain their shape and not distort or break. Standard fitting is a nickel-plated key ring or key chains, QQ coils in various colors are available too.
Give your PVC key covers a unique personality with a 3D design. (Or fake a 3D look with 2D layers).
One of the reasons people love PVC is the almost infinite design possibilities, being able to have layers on top of layers, or below layers, can give your PVC key cover an outstanding look. A sort of 3-dimensional look.
And some people might think that's what we are referring to when we ask about a 2D or 3D mold style. But it's not.
When we talk about a 2D mold we talk about 2D layers, which are layers that flat on top, picture sharp corners on a side view, and a "solid" look to them.
When we talk about a 3D mold we talk about 3D layers, which are layers that are "puffy" looking. They have a curved top so there is no sharp corners, they "flow" a little.

Custom Shaped at any Size Soft PVC Key cover|cap
Why do people choose PVC instead of plastic or printed key cover? Design flexibility and adaptability.
We can make them in any size and any shape. We say no to standard sizes and shapes.
No more 2" circles or rectangles(unless you want to).
Most of our soft PVC key covers are made in a custom shape, outlining your design.
Key chains are usually between 2" and 5".You're tag, Your Size. Use a standard shape or have the patch adjust to your design

Any Thickness
Soft PVC Key cover run a little thicker than patches or labels, they are usually between 3.5mm-5.0mm. (Standard is 4.0mm)
Backside Printing
The backside of your PVC key cover is the perfect place to add your business information: email address, website, phone number, or even a call to action to a special promotion.
We use silkscreening printing and one color should be more than enough to convey your message. Don't forget to choose a highly contrasting color for the best visibility.
Soft Rubber vs. Silicone
Our standard Key Tags are made out of Soft Rubber PVC, which is a material that combines very pleasing aesthetic qualities along with durability.
We also offer Silicone key chains, which are a bit more expensive but they have the advantage of being safer for the environment.
PVC vs. Metal Key cover
Both PVC and metal manufacturing will work great for PVC key covers, especially when they are used as promotional gifts, while metal key covers will give a classic feel, a soft PVC key cover appeals are better to a more relaxed, youthful market. Such as law enforcement officers will probably prefer a metal key cover and a youth camp, or a custom car shop will probably like a rubber PVC key cover better.
Keep in mind that just as custom metal key chains, soft PVC key covers can be highly customized: they can be dual-sided,2 or 3-dimensional look and offset-printing on the front and silkscreen printed on the back.
Pricing
When we talk about the custom Soft PVC key cover, every project is different.
Size, Shape, Thickness, Layers, Colors, there are too many factors that can affect the price, therefore all of our key chains are quoted on a case by case basis, and we will need your artwork/design/sketch and a detailed description of your project for accurate quoting.
Ask your Rep about ways of making your product unique:
2 and 3 Dimensional designs
Cut-Outs
Base Layer color: Black is standard but any color is possible.
Backside Printing: Silk-screening in one color
Oyigift Enterprise is a leading PVC Key COVERS & Key CHAINS manufacturer and exporter for lapel pins, key chains, silicone purse, silicone travel bottle, soft case power bank, wireless charger and Bluetooth speaker, and custom gifts. We surpass our competitors in delivery time, quality, and service, especially for the large quantity required shortly or complicated designs needed experienced workers, Oyigift is the number one choice as we are equipped to offer integral service.
With more than 10 years of Gift and Premiums Items manufacture and export experience, Oyigift is a specialized manufacturer and exporter for custom plastic gifs, silicone gifts, electric gifts as well as other promotional giveaway items.
Oyigift has been offering high-quality gifts and premium items with satisfaction guaranteed. If you are looking for a trustworthy supplier with a solid reputation, look no further than oyigift company.
With so many elements in life requiring a key, your key ring could have 20 different ones, and finding the right one can sometimes seem like a daunting task. By utilizing key covers, you fumble a little less and get on with your life. Covers for your keys are created with a silicone stretch material in a wide array of different styles and color choices. Grab a set of covers in various colors and dedicate a certain color to your car, home, and office so you are never left guessing. You can even show off your personal sense of style and attitude with covers designed to look like favorite characters, animals, or objects. If you want a luxury cover for your high-end car, items like Mercedes key covers are easy to find on oyigift company, and Ford key covers make finding your car key easier than ever. These car key covers boast solid leather and quality materials that slip right over your existing automobile key. Check out all of the key covers available on the vast inventory on eBay and never be left fumbling for the right key again.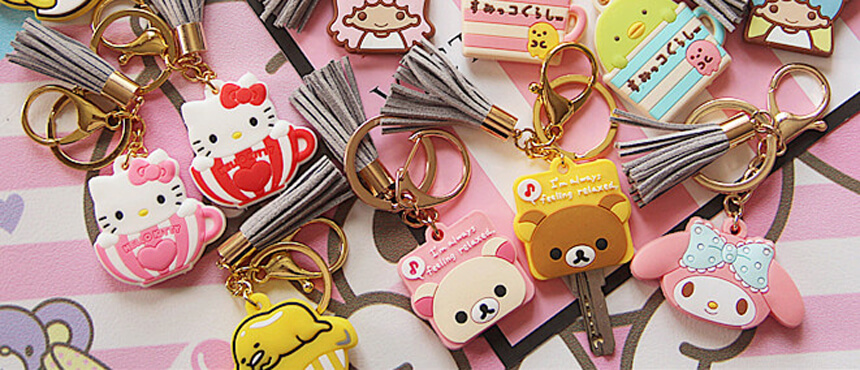 PVC Promotional Ideas For Your Business
Are you a thriving business owner who is looking for some creative out-of-the-box ways to advertise your products or brands to expand your business and increase sales?
There are many unique and creative ways for you to do so, and one of them is by taking full advantage of soft PVC promotional products.
Soft PVC products can work great as promotional items because they can either be made in 2D or 3D, moreover, they can be made in any color and they're weather resistant. This means that they won't fade or get discolored in the sun or hot climate. For that reason, PVC labels, for example, are commonly used to label outdoor gear such as boat covers, tents, backpacks, or any product made of canvas that is designed to be used outside.
PVC products are for the most part perfect for the purpose of product advertising and company promotion. The shape and size can be customized to your specifications, and among the most popular you can include PVC labels, patches, dog tags, luggage tags, key chains, and lapel pins.
For instance, a soft PVC key cover can be used to be displayed on the cars, or any other metal surface. They are a subtle way of advertising our business without being too obvious. Plus, these products have a high degree of resolution which gives a sharp, crisp, and colorful message that everybody will notice.
If you don't have the slightest ideas of how to start using PVC products to advertise your business, your can begin by having a really original and pop up logo and a message or slogan. It's advisable to have your logo properly designed and make sure that your message is catchy enough to grab people's attention. If you aren't good at this, consider asking a friend or hiring a professional graphic designer or marketing professional to help you with these tasks. This will be the most important part of your venture, as our logo and message are what will make people take notice of you and your product.
Next, find a really good manufacturer of soft PVC products that can help you with your project. You can provide them with your needs and specifications and have them assist you in generating ideas for your campaign. Finally, be sure to allow enough time for your promotional products to be done, you don't want to rush the process, and usually, the standard production time can be three to four weeks.
You can get advice for your custom soft PVC project from Oyigift company, manufacturer and importer of soft PVC items, specializing in small quantity orders in promotional products of the highest quality. The most popular item being PVC key cover and PVC key chains. Their experienced graphic designers will work with you to create the perfect design for your campaign.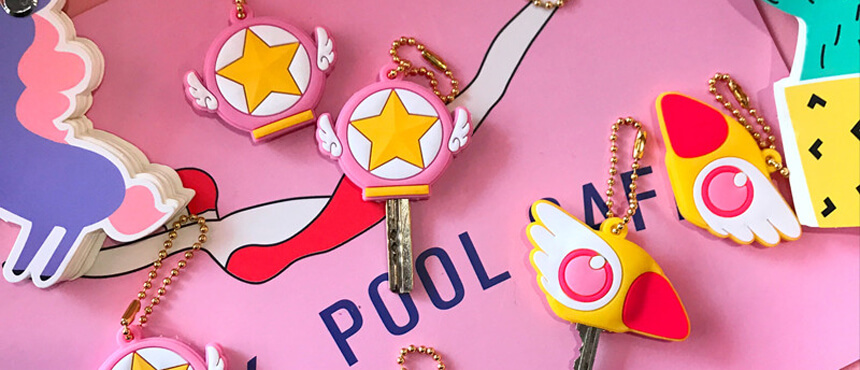 How to Use Branded Promotional Items to Boost Your Business
Using branded promotional items to further your organization's standing and business has never been so easy. There is a vast range of promotional goods available, and that very variety makes it easy to target your clientele.
INFLUENCING THE INFLUENTIAL: Are your client's high-powered executives and owners of their own companies? There is a range of promotional goods available that even they will treasure-exquisite branded pens in silver; beautiful, high-quality branded watches-even superb leather cases and handbags in the finest hand-tooled material.
On this level of operation, a branded item is more than a reminder of your company-it becomes a statement about your company. In this case, the quality and excellence of the branded promotional items you give out reflect the quality and excellence of your company itself…and the style and good taste reflected in the gift are also sure to be appreciated. These powerful and influential men and women will think of your company-and of you-with favor and remember you when the time comes to send business your way.
GRASSROOTS STRATEGIES: But perhaps your company needs a grassroots strategy-perhaps what you need is not the favor of the select few, but the loyalty of the people on the street. This calls for a completely different strategy. You need to hand out branded promotional items while promoting local activities-the school play, for example, or community sports…or the local music group.
And hand out branded items on different levels to different people at these gatherings. To the actual performers, hand out stylish branded clothing, shoes, belts, and other items. Do not stint on expense-these are just a few people, but highly influential and admired by their peers-they're wearing your company's logo will have a vast impact on the community.
INFLUENCING THE COMMUNITY: At these same community meetings, hand out various interesting branded gifts at random to those who attend-t-shirts with your logo on them, belts, key-chains, wallets-even caps. Make sure these branded promotional items are well designed and of reasonable quality, and make sure you have a lot of them available for distribution. Nobody will refuse to get a nice-looking thing that can be used in everyday life for different purposes, whether it will be used in the home, in the office or when they are traveling.
Bulk orders will keep the cost down, and if you handle this just right, for the next few weeks, everyone in the neighborhood will be displaying your logo in one way or another. This is superb brand exposure-and that is always something that translates into excellent sales.
OTHER INTERESTING IDEAS: Promotional adverting using branded promotional items does not have to stop there-the random visitor to your organization could be treated to a gift with the company logo on it. People who attend promotional and sales events could get the same. Vary the gift to suit the occasion it is the variety of branded goods available that makes this easy, so take advantage of this.
Give out a set of branded items to your employees when they join the company-and another, different set when they go on vacation.
Balance cost and visibility-sometimes something as low cost as a paper bag can vastly boost your company's brand visibility if you manage to give out enough of them. Then consider gifts that last a long time, like the clothing-a person who wears a pair of branded jeans handed out by your company, will be advertising for the company for a very long time.
Branded promotional items offer you a marketing strategy that has so many options. Here lies a whole horizon of opportunity, just waiting for your genius and intellect to choose just how best to take advantage of it all!