It's time to make your life easier by swapping dull, slippery surfaces with a non-slip mat to keep your glasses and bottles steady.
The custom bar mats help protect the bar's surface and prevent glasses and bottles from slipping. They also allow for easier cleanup by catching spills. Once the party is over, all you have to do is empty the bar mat's contents into the sink and put it through the dishwasher.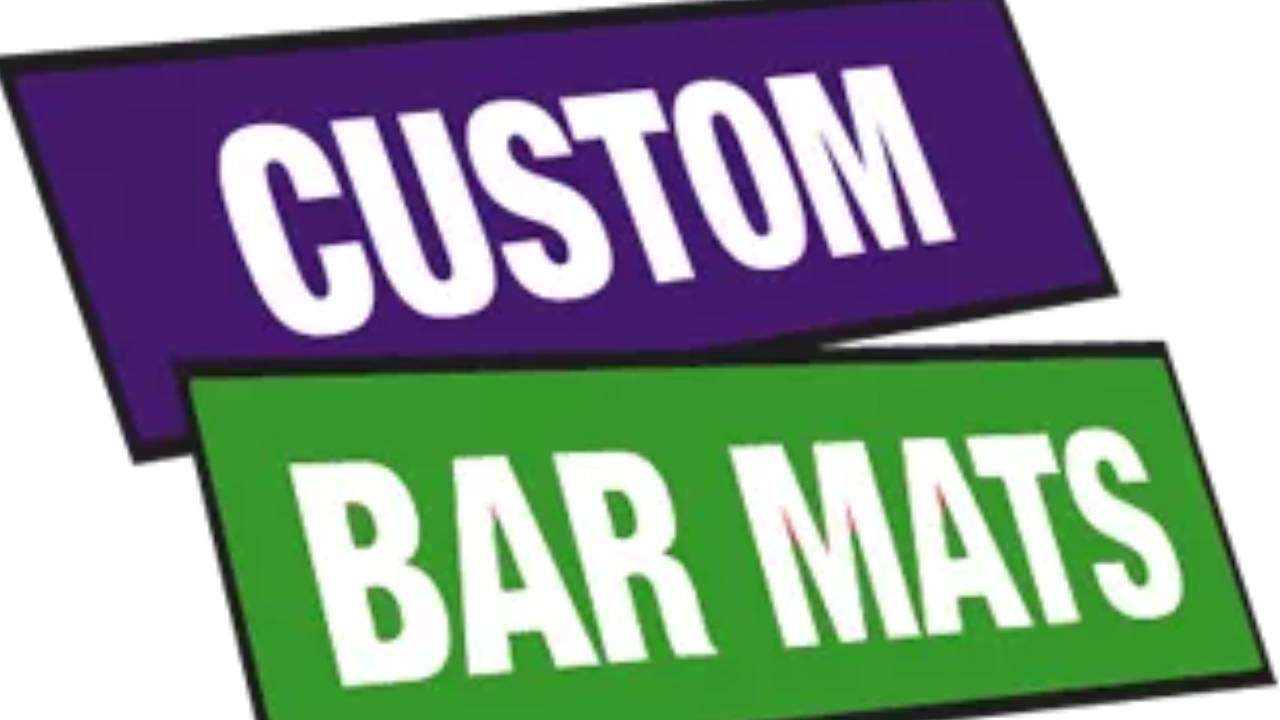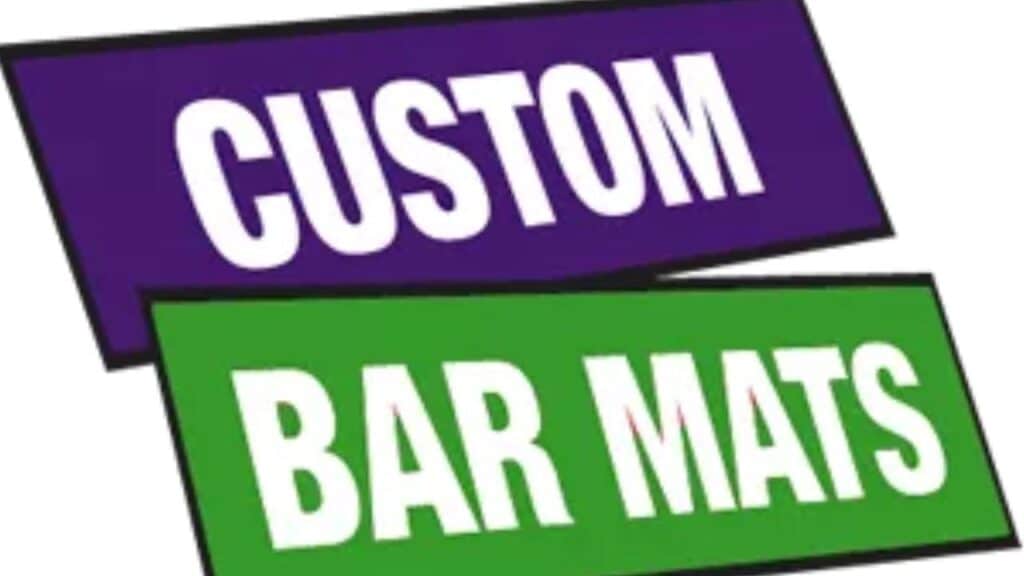 The advantages of silicone bar mats are endless. Yet, before we continue, let's discuss what this article will leave you with. You'll know how to choose the perfect bar mat for your company. You'll also learn about the features that make custom bar mats stand out. So, let's get started.
Factors to Consider When Choosing a Custom Bar Mat
The advantages of custom bar mats multiply once you know how to choose the right one for yourself. Here are 4 must-have factors you must look into a bar mat:
1.   Size & Shape
The bar mat's size and form must match the dimensions of your bar. Some bar mats are made to fit particular spaces, such as the gap between glasses or bottles. Others are designed to cover the bar completely. It is crucial to choose a bar mat that is the proper size and shape by measuring the space where you place it.
2.   Type of Material
Custom bar mats are available in various materials, including silicone, rubber, and vinyl. Rubber bar mats are robust, long-lasting, and excellent for heavy use. Bar mats made of vinyl are also sturdy but might not be as slip-resistant as rubber ones.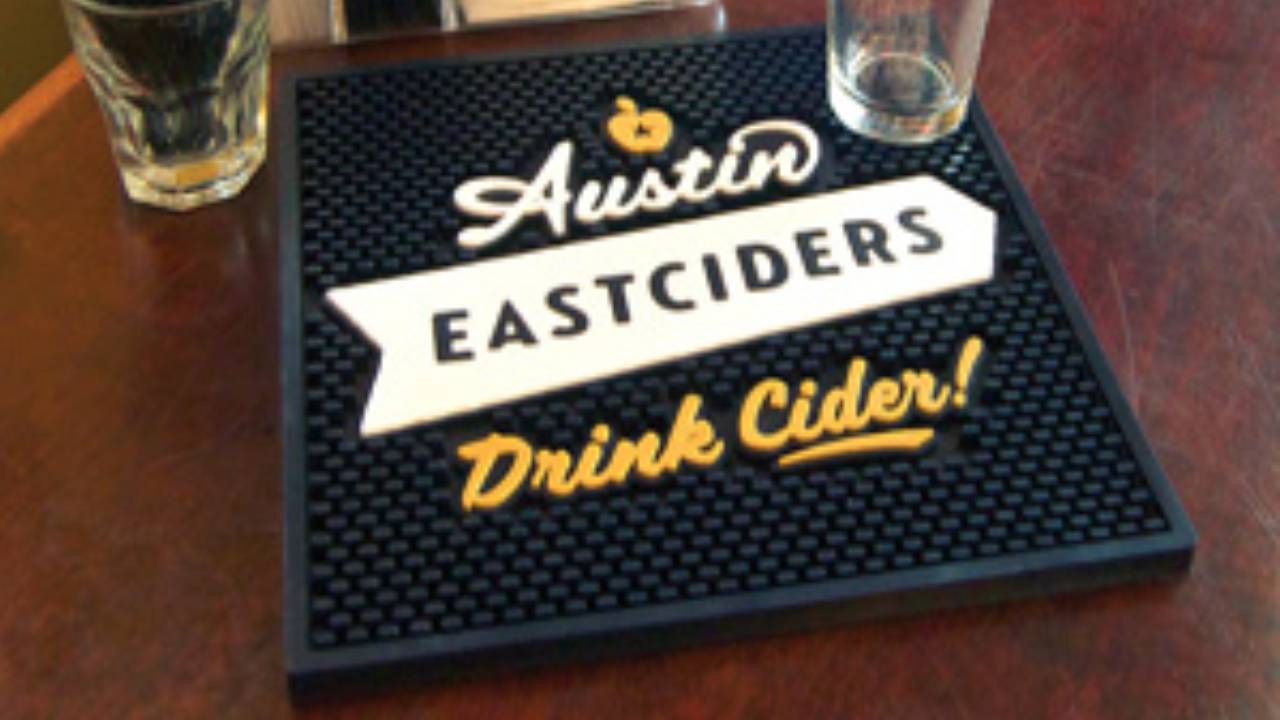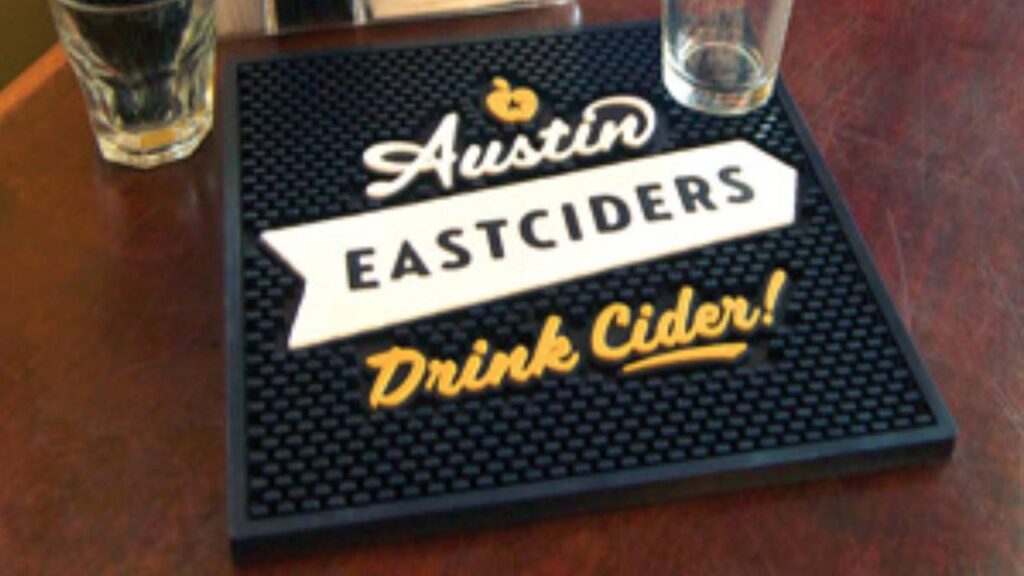 Yet, the best option is silicone bar mats. Why so? Because they are durable, flexible, heat-resistant, and simple to maintain. They are an excellent choice for coffee shops and cocktail bars.
3.   Durability & Cleaning
Bar mats are subjected to many spills and wear and tear. Therefore, it's crucial to pick one that's resilient and simple to clean. Look for mats made of durable fabrics that are easy to clean and can withstand much use. An example would be silicone, which is easy to maintain and clean.
4.   Brand Reputation & Warranty
Selecting a bar mat from a reliable company with a solid guarantee is crucial. This helps ensure the mat's high quality and gives you protection in the event of defects. Also, you save yourself from a bad product.
Superior Features of Silicone Bar Mats
What makes silicone bar mats the best? Here are the main features that make custom bar mats the best. Let's take a look at them.
1.   Flexibility
A silicone bar mat is highly flexible, conforming to different surfaces and contours. This ensures they fit well on various bar countertops without any awkward gaps. Even when you press it or fold it in a several ways, it returns to its original shape!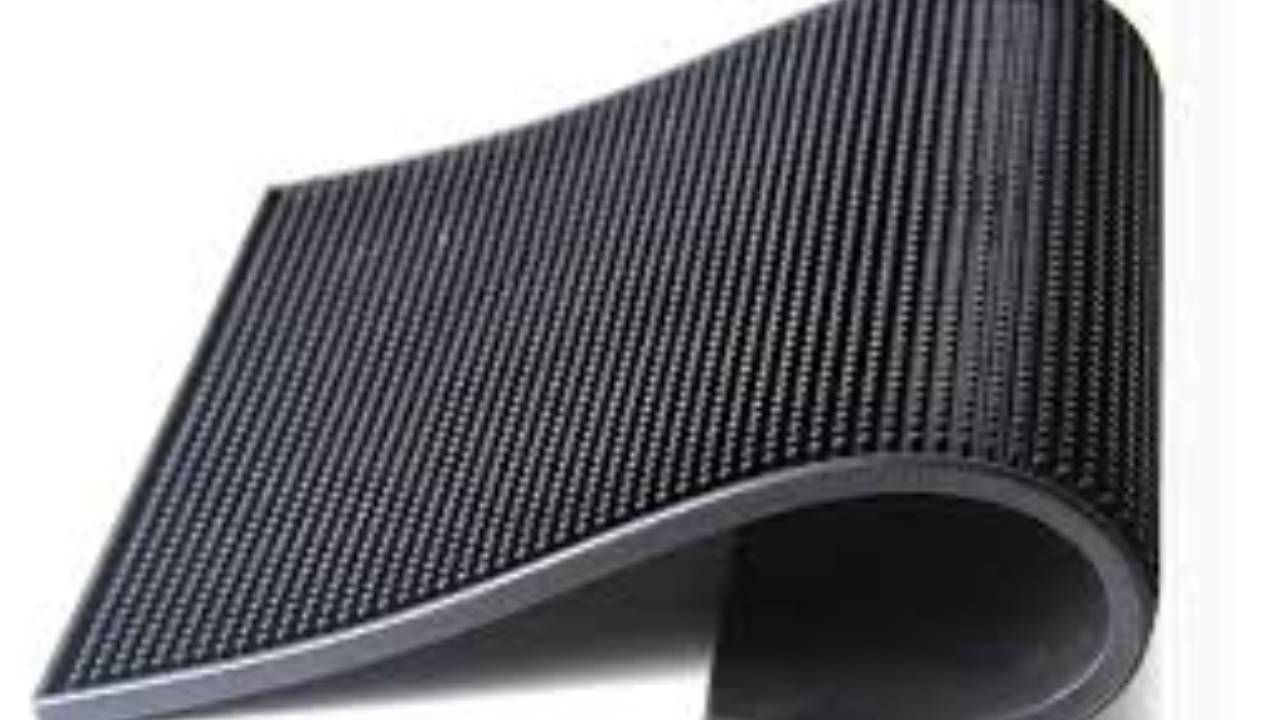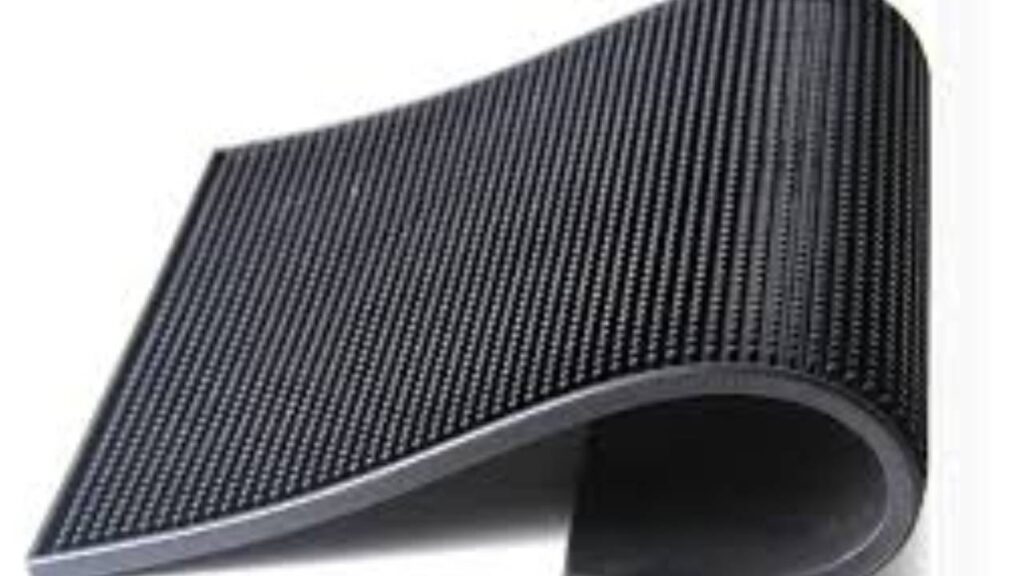 2.   Compressibility
Compressibility will make your bar mats last for years. Silicone's excellent compressibility means it can easily absorb pressure without losing shape. So now, even if you place heavy glasses or other things, the bar mat promises to remain unaffected.
3.   High Insulation
Silicone is known for its exceptional insulation properties. It protects the bar surface from heat and cold, preventing damage to the bar countertop or delicate glassware. Plus, our custom bar mats prevent spills while insulating your favorite countertops.
4.   Durability
Imagine having a custom bar mat you love and seeing it wither away within months. Not a good feeling, right?
So, presenting bar mats that are resistant to wear, tear, and degradation over time. These remain in excellent condition for an extended period. Also, the mats won't warp, curl, crack, or bubble over time, staying in presentable condition for years.
5.   Affordability
Affordability and quality in the same place. We provide the highest quality custom bar mats while providing wholesale rates. Thus, allowing you to invest in quality bar mats without straining your budget.
6.   Natural Viscosity
No one wants their glass slip or fall because of a mat sliding, right? Luckily, the high viscosity of custom silicone mats allows them to stick securely to countertops. This prevents it from sliding or shifting when you place glasses or other items on it.
7.   Great Aesthetics
The best part about these bar mats is their customization. You can customize every detail, from size and color to design. Interestingly, these customized bar mats are for homes and businesses alike. So whether you want to elevate your home's look or create brand awareness, a silicone bar mat is the way to go.
8.   Dishwasher Safe
Silicone is non-porous and resistant to staining, making it effortless to clean. All you have to do is toss your custom bar mats in the dishwasher and call it a day. This ensures a hygienic bar environment and saves time on maintenance.
9.   Safe
Safety is our top priority. So, we've selected food-grade silicone to uphold our reputation. It's safe to come into contact with food and food-related items such as garnishes, knives, or jiggers.
Custom Bar Mats; Why do People Love Them
Aside from offering these advantages, custom bar mats provide broad functionality. Let's discuss how you can use them for various purposes.
1.   Wide usage
These custom made bar mats offer many uses. Whether you're a charitable organization, an industry, or a company, you can use our custom bar mats.
Surprisingly, there is more to the story. You can customize them for special family occasions like anniversaries or birthdays. Moreover, you can personalize these mats by adding a graduation message or writing "Happy New Year 2022" on them.
Furthermore, you can keep them in the den, study, workroom, garage, basement, party room, or anywhere else. It can be used in practically every environment in the house and elevate its look.
2.   Great Marketing Opportunity
If there is one golden rule that corporate marketers adhere to, it is this: Go where there is a big audience! By sticking to that rule, your marketing message can reach hundreds for a minimal cost. And that's precisely the kind of chance that these custom bar mats present.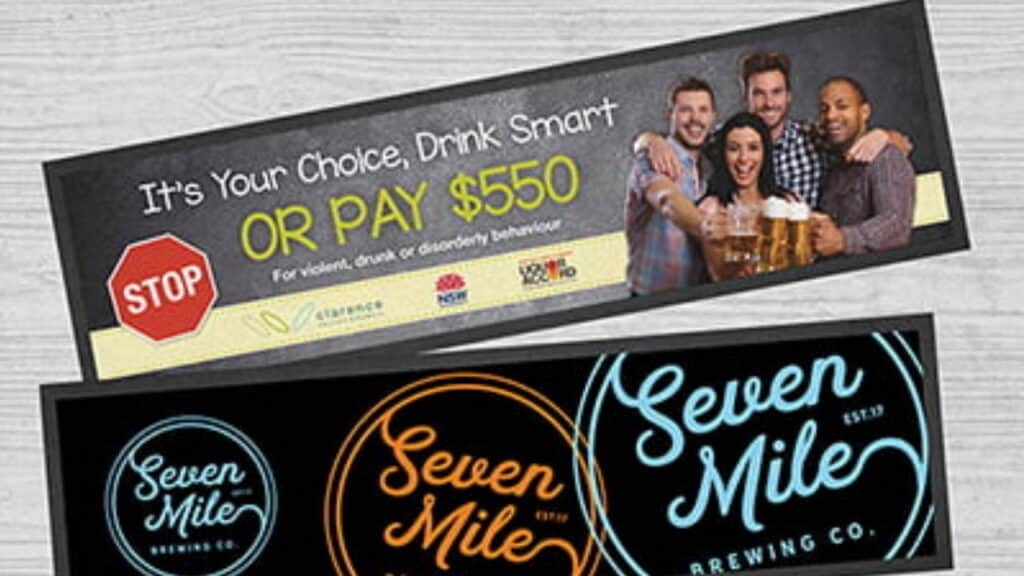 Unlike a TV or sponsored website ad that displays a few times, these mats are always visible. For instance, when many of your mats are present at a school event or business convention, people will see them for the whole event—3 or 5 hours.
This makes them stick in people's minds, helping you achieve your purpose. Unlike many options, these items are perfect for utilizing a marketing opportunity. The best part is that it's one of the cheapest marketing options.
3.   A Perfect Gift for Your Loved Ones
The best part about these custom bar mats is their customization. You can customize everything about these mats while remaining within your budget. So next time you want to gift someone, emboss their picture, or mention some inside jokes, go for custom bar mats.
4.   Easy Personalization
Now this is the part where you're going to unleash your imagination. You can choose hues that match your brand or design preferences. They can range from vibrant color to a subtle and sophisticated tone.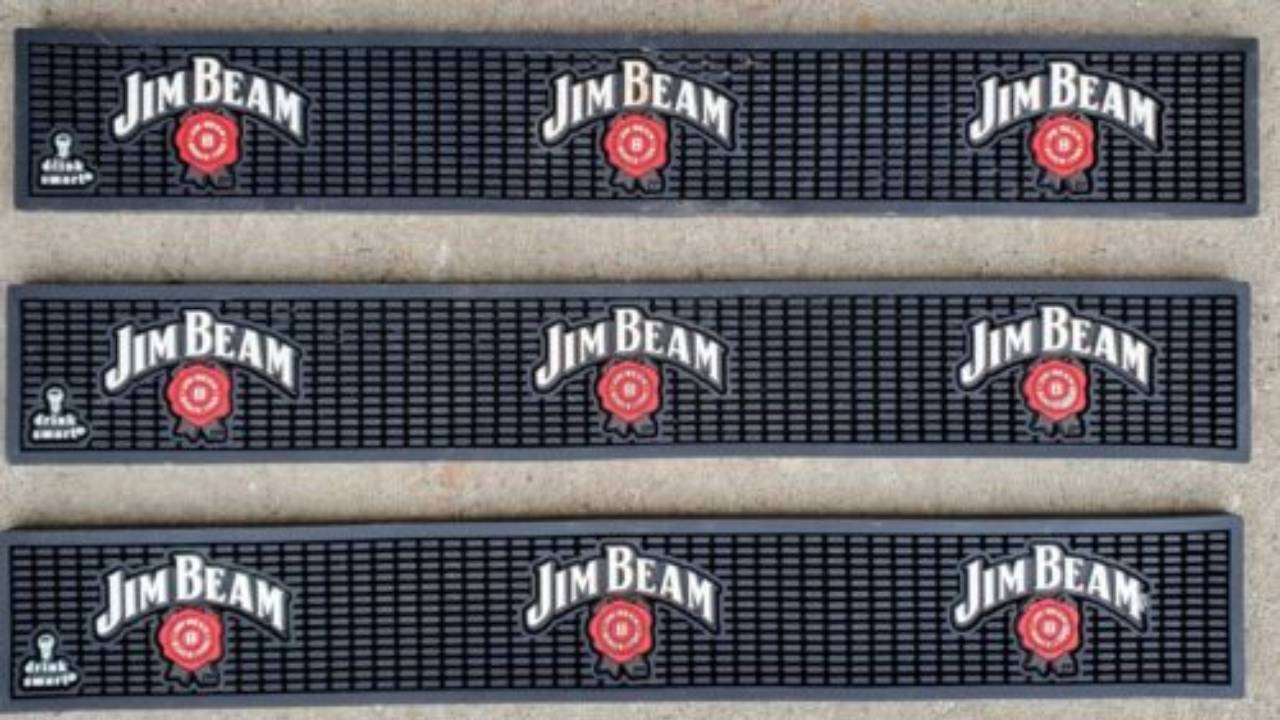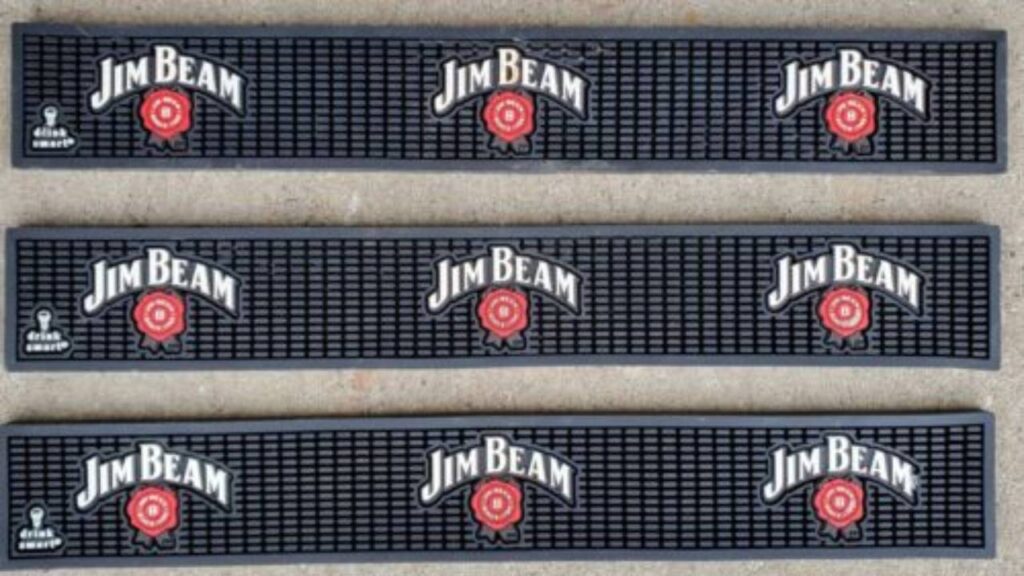 Silicone mats offer the flexibility to incorporate logos or custom graphics onto the mat. This ensures that your brand is seen and helps increase brand recognition.
What's best is that you can add personalized text to them, such as taglines or customized messages. This allows you to convey a marketing message and important information to customers.
5.   Additional Features
You can add additional features to silicone bar mats to make them more appealing. You can choose scented options for a pleasant aroma in the bar. Also, you can create a visual effect in low-light environments with glow-in-the-dark mats. This will make your custom bar mats appear unique and eye-catching.
Where to Buy Custom Bar Mats?
Internet is full of scammers, while the ones selling authentic items are expensive. So what's the solution? Doing your research and finding a manufacturer that you can trust.
Luckily, you can check out our page for custom molded bar mats. Our team excels at providing the highest quality, affordable custom bar mats. Not only this, but you can also order every size, design, and color. Also, you can choose to emboss or deboss your company logo and brand initials. The possibilities and options are endless.
Verdict
To sum it up, custom bar mats are an ideal choice if you're looking to build your brand's image. We understand how the details and intricacies matter here. So, we promise to craft a design that's unique to your brand or product. Customize these bar mats as much as you want and see your publicity campaign reap the benefits.
In addition, custom bar mats make the best gift for your loved ones. Emboss their picture, write a joke or something, and strengthen your bond with them. Even better is that these mats are durable, safe, and affordable. Hence, no worries when it comes to quality. So what stops you from buying our perfect mats? Place your order now!