Cartoon Soft PVC magnets cute fridge magnets
· Liquefied PVC in different colors are applied by syringe into  molds
· Flexible molded PVC is soft and has the feel of rubber
· Available with two levels or 3-D detail
· Customized designs are welcome
· Backside can be fixed with rubber magnets (or with rigid magnet inserts)
*MOQ: 1000pcs.
The pictures just for reference.
We can create custom rubberized PVC magnets for your logo or design. Choose from solid or transparent PMS colors, neon, sparkled, or glow-in-the-dark. This process can be created in flat, 2D, 3D full sculpture. Custom-designed PVC magnets are a great way to be sure your name or message is easily and frequently seen by your customers or other target audience. As a way to increase brand awareness, PVC magnets are a great tool. Many people enjoy using magnets to either decorate their refrigerator or for more practical uses like holding grocery lists, children's artwork, reminder notes, and other information. The backside usually fitted with a rubber magnet or solid magnets.
Custom Soft PVC magnets cute fridge magnet
Fridge magnets are well known as the promotion and advertising items, as well as an effective and low-cost way to attract new and existing customers, as a factory, we're well known for our ability to develop and design new, recreational magnetic articles, especially on customize the different types of PVC magnetic products on basis of the customer's special requirement in the world. We're mainly engaged in flat fridge magnet, magnetic writing board, magnetic bookmark, magnetic memo pad, magnetic photo frames, magnetic puzzles, magnetic calendar,3D Lenticular Magnet, epoxy magnets, ribbon magnets,2D injection magnets,2D soft PVC magnets,3D soft PVC magnets, metallic sheet fridge magnets, etc. With the efforts of our team, we'll bring more fun and beautiful, applicable magnetic products to every office and family, and guarantee the quality of the magnetic products from our factory are first-class in China.
The structure of the fridge magnet is printing matter on the top and a rubber magnet at the back. (see detail),refrigerator magnet, magnetic photo frame, magnetic calendar, magnetic puzzle, magnetic writing board, and magnetic poetry are also the same products because the structure or production process is the same, the only difference is on the die-cut or graphic design. Our quote is based on your order size and quantity, no matter what information you want to print. His PVC magnets are flexible, and the most popular thickness is 0.5mm or 20mil, normally 0.4mm-1.0mm, just up to the customers.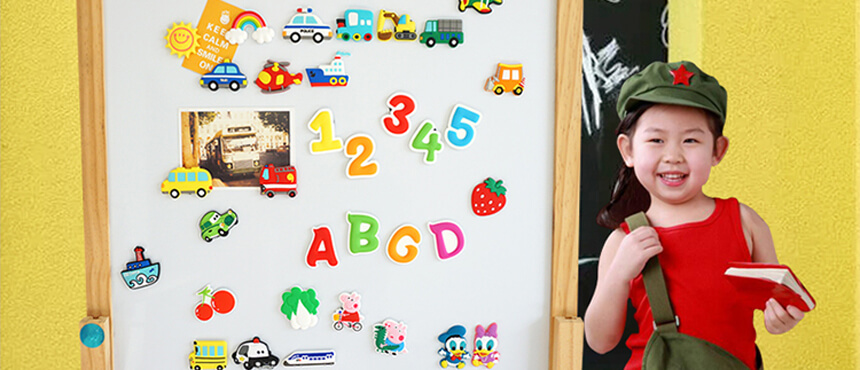 Why choose PVC Rubber as a material for the fridge magnet?
Beautiful shape fashion Can use PVC material to make any shape and colors for PVC promotional gifts. Bright in color, it is can be a 2d/3d design. A three-dimensional sense, make your logo stand out.
Fast and easy, from design, make mold, productions, shipping, just need few time than other materials, The craft is molding.
Safe and secure. We Eco-friendly PVC material, accept any other third party company or individual to our factory to inspect the quality during sample making, mold making, and production process, as well as to inspect the finished products.

What's do we need to know for a custom PVC magnets?
Refrigerator magnet style: 2D & 3D design
Give your fridge magnets a unique personality with a 3D design (or fake look with 2D layers) 2d design means 2d layers,3d design means 3d layers.
Why do refrigerator PVC magnets only stick on one side?
If there is one thing I know about PVC magnets it's that they have poles. That's basic magnet theory; you simply can't have a north side without a south side. So you can imagine my confusion when I encountered a PVC magnet that only attracted metal on one side.
If you've ever played with a refrigerator magnet you may have noticed how you can't stick the side with the printed label against the fridge. In fact, that face has almost no detectable magnetic field at all.
It also displays another interesting quirk: When you rub the PVC magnetic faces together with the right way the surfaces jump from position to position, but only on one axis.
So what's going on here? How does this little thing even exist? Turns out that a refrigerator PVC magnet is a Halbach array, which is a special arrangement of magnets that uses superposition to strengthen the magnetic field on one side of the array while canceling the field on the other side.
The lines I drew on the PVC magnets face in the video show the direction of small PVC magnets strips, each oriented in a deliberate pattern so that the field directions supplement each other on one side and cancel each other on the back.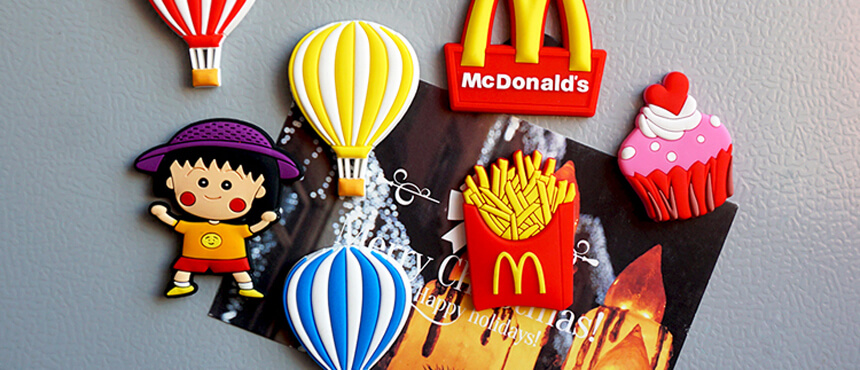 Soft PVC magnets Production Line
PVC soft good flexibility, easy molding, not brittle, low toxicity, and no pollution, save for a long time, so the development and application of great value.
Soft PVC product development is simple, novel style, new products mold cheaper;
Soft PVC molding products, LOGO 3D effect, stereo sense is strong;
Product design can be varied, fashion, high-end, color, feel, the visual effect is good;
Advertising promotion, PVC soft gifts more easily and to the decoration and advertising effect!
How it's made:
A refrigerator PVC magnet is made of powdered ferrite(iron rust) and a liquid binding agent of plastic or rubber. The two are heated, mixed together, and poured into a sheet mold which is then exposed to a strong magnetic field. This field alternates in a direction along the length of the PVC magnet orienting the poles of the powered mix to line up with the magnetic field. That field is permanently locked in place when the mixture is cooled off.
Why bother making a fridge PVC magnet into a Halbach? Doing so allows manufacturers to use less material to make a functioning magnet and also ensures that the information on the label side of the PVC magnets is never covered up.
Outside the world of refrigerator magnets, Halbach arrays are used in AC motors, generators, and magnetic couplings. The first Halbach was originally designed for focusing the beams of particle accelerators.

PVC Promotional Ideas for Your Business
Are you a thriving business owner who is looking for some creative out-of-the-box ways to advertise your products or brands to expand your business and increase sales?
There are many unique and creative ways for you to do so, and one of them is by taking full advantage of soft PVC promotional products.
Soft PVC products can work great as promotional items because they can either be made in 2D or 3D, moreover, they can be made in any color and they're weather resistant. This means that they won't fade or get discolored in the sun or hot climate. For that reason, PVC labels, for example, are commonly used to label outdoor gear such as boat covers, tents, backpacks, or any product made of canvas that is designed to be used outside.
PVC products are for the most part perfect for the purpose of product advertising and company promotion. The shape and size can be customized at your specifications, and among the most popular you can include PVC labels, patches, dog tags, luggage tags, key chains, lapel pins, and PVC magnets.
For instance, soft PVC magnets-PVC patches with magnetic backing-can are used to be displayed on the fridge, cars, or any other metal surface. They are a subtle way of advertising your business without being too obvious. Plus, these products have a high degree of resolution which gives a sharp, crisp, and colorful message that everybody will notice.
If you don't have the slightest ideas of how to start using PVC products to advertise our business, you can begin by having a really original and pop-up logo and a message or slogan. It's advisable to have your logo properly designed and make sure that your message is catchy enough to grab people's attention. If you aren't good at this, consider asking a friend or hiring a professional graphic designer or marketing professional to help you in these tasks. This will be the most important part of your venture, as your logo and message are what will make people take notice of you and your product.
Next, find a really good manufacturer of soft PVC products that can help you with your project. You can provide them with your needs and specifications and have them assist you in generating ideas for your campaign. Finally, be sure to allow enough time for your promotional products to be done, you don't want to rush the process, and usually the standard production time can be three to four weeks.

Types of Magnetic Badges
The use of magnetic badges is a popular way to advertise any product, service, and place. Persuading people to try a company's product or service can be a very challenging task for any marketing staff.
Over the years, businesses have come up with various marketing strategies to manipulate their target market into trying their products and services. Some of the most common forms of advertising techniques are: media advertising (TV, radio, newspaper, magazines), giving away pamphlets and flyers, product samples, and the use of promotional products(umbrellas, fans, towels, lanyards.)
The use of badges to promote any product or service is a very cost-effective advertisement. They are not very expensive to produce; there are several credible suppliers in the market who can offer tons of cost-effective packages for any type of magnetic badges. Below are some types of badges which can be used for promotional purposes:
Name badges-This can be worn by company employees during work or during a corporate event(exhibits, galas, conference, and promotional party). This type of badge can be attached to the outermost clothing of a person as proof of identity of affiliation in the company. A name badge is also useful during corporate events(exhibits, fairs, concerts, galas): this can be custom-made with a printed name to make identification easy and faster.
Printed badges with company logo, seal, or banner-This can be used as a promotional give-away or gift during product launches, exhibits, fairs, galas, and other corporate events. A company can use this product to make people aware of the existence of their business' product or service.
Fridge badges-A very practical way to promote one's product is by giving away a fridge badge. A fridge badge is something people would intend to keep inside their houses; this item is very useful in holding important notes and bills.
The use of badges is a very economical way to promote any product or service. Today, there are numerous supplies that are welcome to produce high-quality and tailor-made magnetic badges. Badges can be made from various superior quality raw materials to ensure its durability and credibility. Below are some of the most common materials used for magnetic badges:
Plastics
Cardboards
Lightweight metals
Aluminum
PVC's
Leather
Textiles
Rubber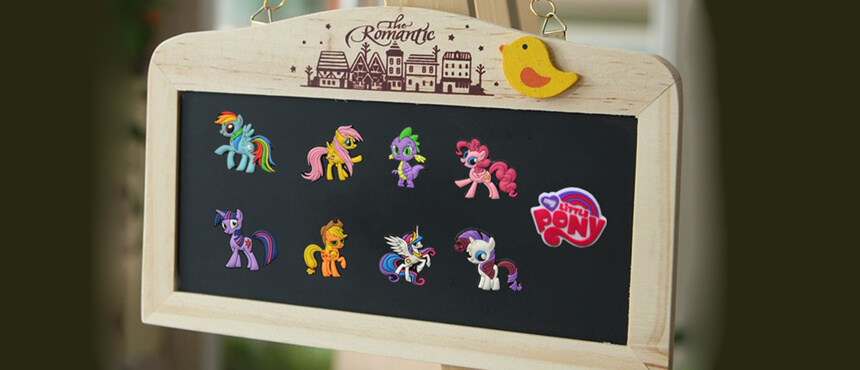 Most badges are made out of lightweight materials to ensure convenience and comfort to the user or wearer. Custom-made badges can directly create a positive impression of a company's reliability. The use of these promotional products will make any product or service recognized easily.
For high-quality custom-made badges, make sure to choose a supplier who can create badges of all sizes, designs, colors, and shapes. A reliable supplier can make any type of badge at the precise wish of his client. An outstanding promotional magnetic badge has it made in a very attractive design and fine finish to create a long-lasting positive impression.