Baby Silicone Bibs — 100% Silicone, BPA-free, 6 Button Closures
Specifications of Baby Silicone Bibs
| | |
| --- | --- |
| Name | Silicone baby bibs |
| Material: | Food grade silicone |
| Temperature withstanding capacity | Heat resistance: up to 230° C,Cold Resistance: up to -20° C |
| Dishwasher safe | YES |
| Refrigerator safe | YES |
| Hygienic | BPA-free |
| Practical Design | Food catching,Non-slip,adjustable design |
| Closure Type | Buttons,6 adjustable positions supported. |
| Logo | Can be screen printing,moq 1000pcs |
| Colors available | Stock: Pink,Yellow,Green or customized |
| Packing | An opp bag/pc |
Why Choose Silicone Bibs For the Baby?
Messy mealtimes are normal for the baby but exhausting for parents. Do cleaning stains and food crumbs from your baby's clothes make you exhausted? Do you want to save time and energy feeding the baby and cleaning afterward? Presenting you our silicone bib for babies — a better choice for your toddler than cloth bibs!
Most cloth bibs do not have a friendly design. Even if they have a pocket, they don't fully open. It results in drool and food crumbs falling everywhere but the pocket!
Silicone bibs are the perfect solution to save a messy day. Our bibs have large pockets and smooth, poreless surfaces. Cloth seams absorb drool or food crumbs, making them home to bacteria growth. Unless you wash them every time, feeding your baby with the same cloth bib has increased risks of germs.
Another reason for investing in silicone bib is their easy-to-clean material. No more wasting water for repetitive laundry, as our best silicone bibs have low maintenance. Moreover, you don't need to invest in many cloth bibs for your baby. Our premium silicone bib are a one-time investment, thanks to their quality material and easy handling.
Silicone Baby Bibs Design & Features
Common materials used for baby bibs are silicone, plastic and cotton, but silicone is the safest. As silicone bibs manufacturers, we use 100% silicone to make soft, flexible bibs for your toddler.
Unlike plastic, with risks of BPA and other toxins in contact with extreme temperatures, our silicone bib have high-temperature endurance. They are BPA-free and dishwasher and refrigerator-safe. Plus, you can also boil them to sterilize them.
Further, our silicone bibs have large pockets to ensure you don't have to clean them afterward. The large pockets in our baby bibs are excellent food catchers, saving you from all the hectic. Food crumbs and drool fall into the pocket and are not absorbed into silicone, making it safe for your baby's health.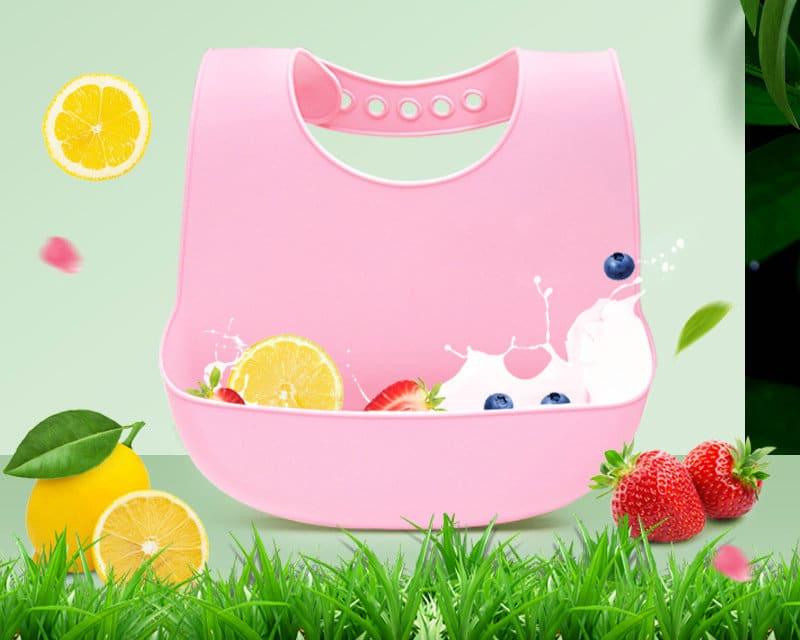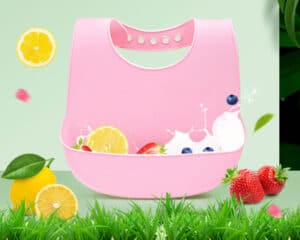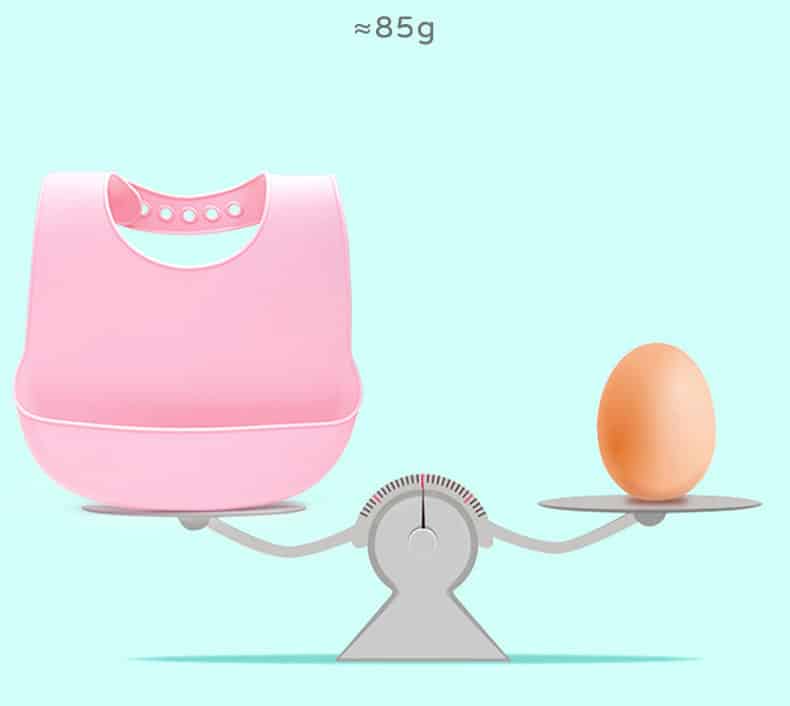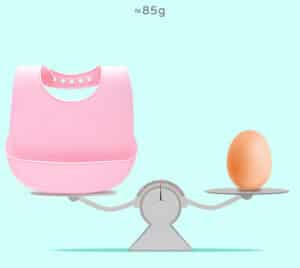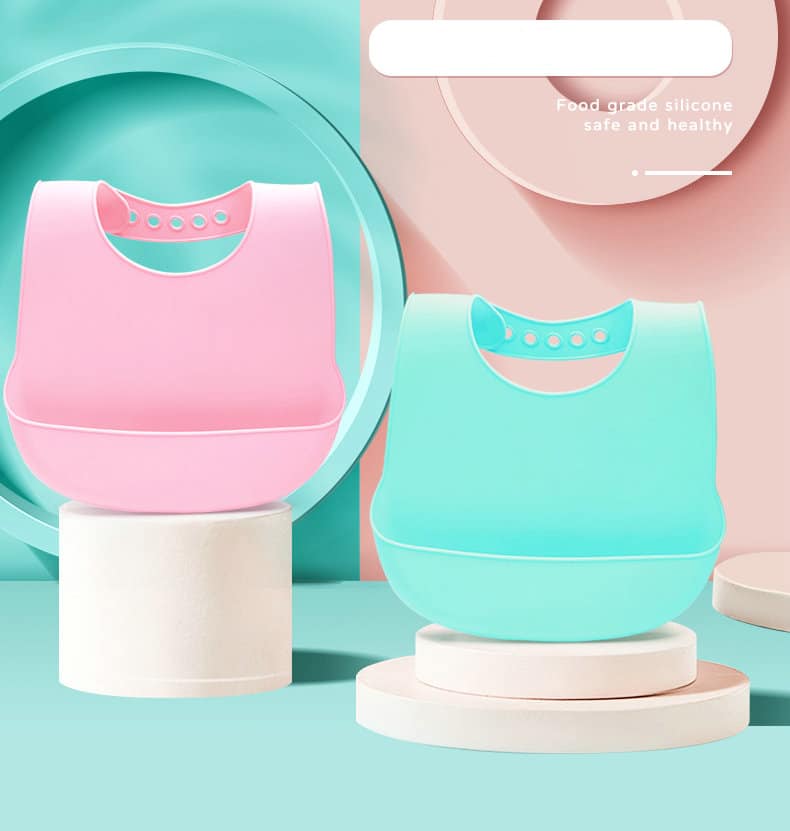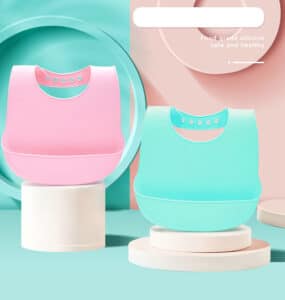 What's more, our bibs have six adjustable closure positions. No need to worry about loose cloth bibs as our six closure buttons offer the right bib binding for your toddler. Plus, our bibs are ready to use and wash. They are durable, remain odor- and stain-free, and the colors do not fade.
Baby Silicone Bibs Wholesale Bulk Supply
We are a baby silicone bibs manufacturer on a mission to provide safe bibs for your baby and a hectic-free feeding experience for you. Visit our baby silicone bib site to find 100% silicone baby bibs for your toddler.
And if you are looking to buy baby silicone bibs at wholesale prices, contact us and get silicone baby bibs at the best wholesale rates!
Product video for silicone bibs:
More silicone feeding items: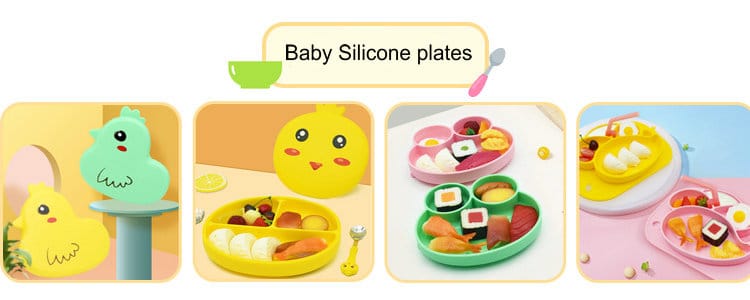 Production Process: