Custom Soft PVC promotion bar mat
1) Material: Soft PVC
2)Colors, logos, and sizes are as per the customer's requests.
3)Different items for your interest: Scented/ Glowing-in-dark
4)Logo printing or embossed, debossed.
5)Customers' designs are welcome.
6)MOQ: 500pcs
Disclaimer:
The picture relevant to this product has been provided for reference only.
We do not have any intellectual property rights over the trademark(s) displayed and are not selling any products containing/these marks.
More about Custom Soft PVC promotion bar mat
Bar mats ensure a great market set up for your business and allow uncomplicated ways of advertising and promoting your brand name. They are specially designed to make a favorable impact on your potential clients and customers. They will help you to retain your existing customers, enabling you to grab people's attention on a regular basis. This will also allow you to identify the needs of your customers and to communicate with them and also to provide them with useful information and details about the products. They are great low cost, highly influential items, which will lead you to build up a good reputation for your company.
Bar mats are ideal for your precious home bars and tabletops, which you really want to keep stain free and dry. You can change them into a true luxury gift to cherish your special guests. They are ideal for your personal use and provide an astonishing way for maximizing your marketing budget. They provide a great combination of marketing, advertising as well as customer outreach.
Soft PVC Bar Mat use show: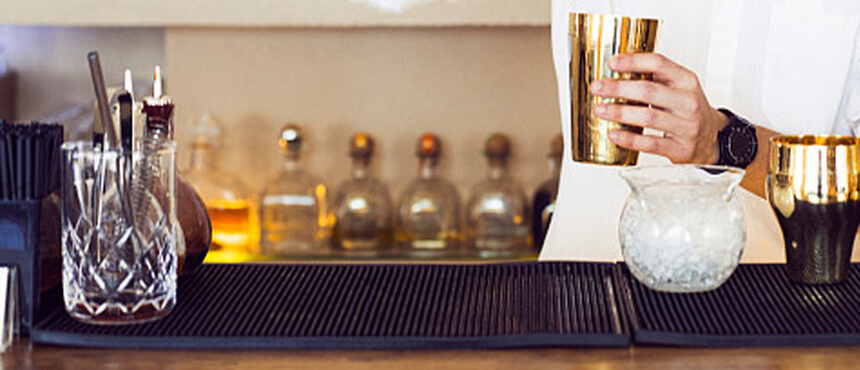 They will help you to keep your posh wooden bar top free of any drink spillages. You can hand them out to your customers, colleagues or clients. They can be embossed with an image of your own choice, which will highlight your gratitude. These mats can really help you fulfill the necessary requirements of the market.
They are anti-slip, safe with a glossy finish. Bar mats are available in many different styles and sizes and make a wonderful gift for your colleagues, friends or loved ones. They are inexpensive and useful products, which will guarantee a high marketing appeal for your company and brand. Of all the promotional items, they are the right one for you.
They are completely environment-friendly and harmless and made out of soft PVC, which can be easily recyclable. With the help of good quality print, you can overprint them with your own bespoke design and make them look really attractive and stunning. Your clients would always want to come back to you with repeat orders and new projects.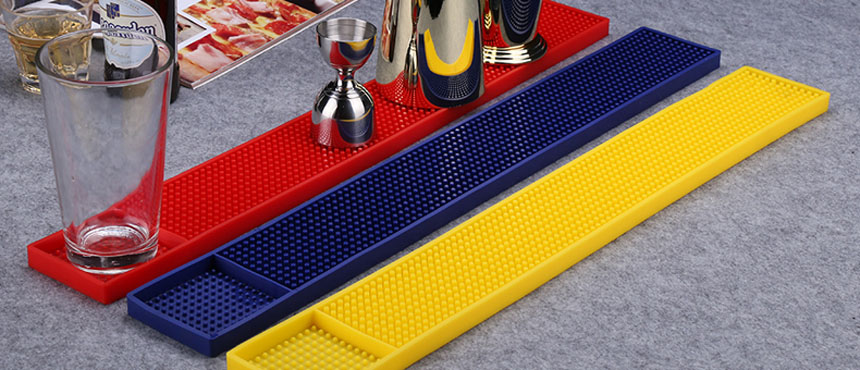 They come in various colors and designs and highly suitable for sales promotion. They are ideal for embossing your personalized initials or logo. They have a long lasting life and durability and can really advertise your brand name for years to come. They can produce much better results for you than many of their other counterparts.
Bar mats can really increase your visibility and offer an excellent way to create brand awareness. They offer a great way of discovering a new market for your brand. They will help you keep good relations with your customers, and also to find out exactly how well your business can serve them. Apart from all that, they can also save you a lot of money. They will give a huge boost to your business or organization and also play an essential role in making your business to grow and succeed in the competitive global market.

Any man that has his own man cave should consider himself privileged-but regardless of how privileged he may be, there is one thing his man cave probably doesn't feature-his own personalized bar mats!
It seems bizarre that an inexpensive item like a personalized bar mat is missing-it's obviously not the cost-it's just a common oversight that most men make when they are planning their dream retreat.
So if you are looking for a unique gift idea for the man who has everything, you could do far worse than making him a custom personalized bar mat.
Let's step back for a minute and consider what makes his man cave such a special place.
It may have a sports theme to it-Football, Basketball, Ice Hockey, Baseball, Soccer; or maybe it has a hobby theme such as golf, fishing or bowling-whatever the theme, you can guarantee it is something he enjoys-so if you are going to create a custom bar mat, you already know what to personalize it with.
Although there are probably an few out there somewhere, it is hard to imagine an man cave without a bar, so you can be really confident that a customized bar mat will nearly always have the perfect home ready and waiting for it.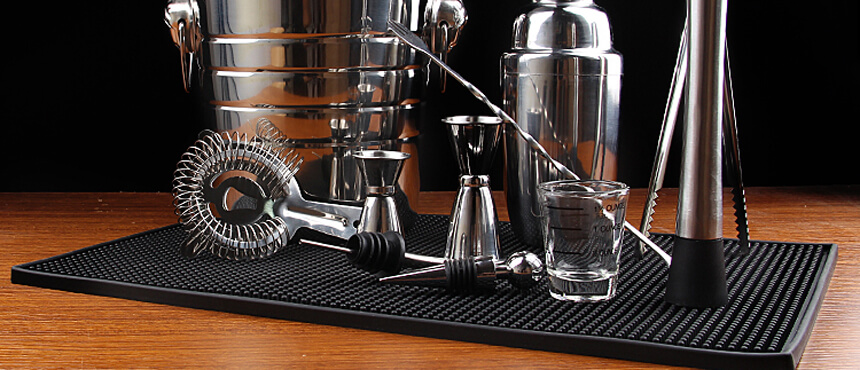 So in addition to the bar, his man cave may have a card or pool table, no doubt a big screen TV and a luscious reclining sofa to lounge back in while he's watching it, probably a computer games console, maybe a jukebox, a karaoke system and for the really spoiled ones, his own bowling alley!
Getting back to the bar mats, regardless of what you are going to personalize them with, there is one thing you should always include-his name.
For example Dave's Man Cave-Barry's Bar-Ronny's Retreat-Den's Den-Charlie's Corner
You get my drift, customizing it with his name identifies it as an integral part of his special room.
If his man cave has a distinct theme, as mentioned earlier, the best thing to do is follow that theme as closely as you can.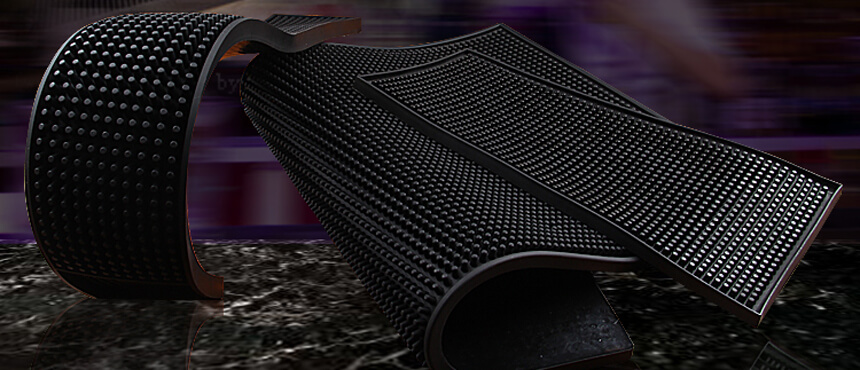 For example, if his theme centers around a particular sport, use photos of that sport to customize the bar mat; if the theme is a specific team within a particular sport, then it becomes almost a necessity to design it using images focused on that team-you do this and he will love you for it!
If the theme of his cave is based on a hobby, your goal should be to get your hands on photos of him participating-for example, if he's a fisherman, a photo of him holding up a big fish; if he's a bowler, a photo of him celebrating after bowling a strike; if he's a golfer, maybe a photo of him in mid-swing or a picture of him on the putting green.
By customizing the bar mat with something he loves, you are almost assured of him viewing it as one of the best gift ideas he has ever come across, and that, after all, is your goal.
If his room does not have a theme you are looking at a Greenfield site, in other words, you can create any custom design you like-humorous, rude, cars, family members or anything else you can think of. Custom bar mats can be personalized with any photos, designs, logos, and text you choose, but it's always worth remembering that the best design ideas will always be related to something that's close to his heart, whatever that might be?
On a closing note there's one more idea I thought was worth a mention-if you are going to design a custom bar mat, you may want to consider making some matching personalized coasters-they will compliment the bar mat perfectly.

Beer Mat Advertising Will Support Your Current Marketing Campaigns
There are many opportunities and occasions for beer mat advertising. You can use beer mat as your primary device for an interesting and effective advertising campaign. This will provide an additional benefit of building up a reputation for your company, which will provide a great way of attracting more new customers, on regular basis. This type of advertising is one of the most popular ways of targeting your valued customers and clients. You will be able to deliver your messages almost every day and work towards the needs of your clients and customer, and also for the other requirements of the market. This will help you improve communications with your many other business, too.
Beer mat advertising can complement all other existing forms of advertising. It works really well in association with many other types of advertising and is quite ideal for both large corporations and small businesses. The type and quality of the item you use for adverting campaign will reflect directly on your company or brand.
Beer mat can be printed double-sided in full or spot color. It can be branded and personalized with your company logo or message and can be printed according to your requirements. This item is familiar to anyone who has spent a bit of time in restaurants, pubs or bars. It is almost perfect for advertising or as a business/corporate gift and your gesture will be remembered for years to come.
Beer mat advertising can really help you increase your sales and revenue. It is a great way to make a good first impression and will get your company message across quite effectively. This will also help you resolve your problems quite proficiently and economically.
A beer mat is made out from one of the best super absorbent pullp board and printed to the highest standard and finish. This substantial, high perceived value gift will always make an instant impact on your valued customers. It has many uses and is excellent for promoting your brand.
Beer mat is a long-lasting, practical and good value-for-money product, with an enormous marketing potential. This item can be made according to your specific size, with your company logo printed on the front. Your marketing imprint, with your unique artwork, will look really impressive on this exciting promotional item. It works quite well as giveaways at tradeshow.
Companies using beer mat as an advertising medium are having an ever-increasing success in their businesses. This item can provide an ideal opportunity for promotion and advertising and is ideal for a successful advertising campaign, which is really important for your business identity development. You will be able to achieve a lot. This type of advertising is less time consuming, saving an ample amount of your time to create and co-ordinate campaigns. This will also help you assess your financial budget and expenses beforehand and keep them under control. This type of advertising will boost your sales, enabling you to make good profits for your business and to reinvest further.

A Beer Mat Gives Your Brand Great Exposure
A beer mat will allow a great exposure for exhibiting and promoting your company name and leading you towards growth and success. It looks stylish and elegant and is quite suitable for many businesses or organizations. Whether you are celebrating a company birthday, office part, exhibition, or a product launch, this item will always offer great opportunities for marketing our brand. This will help you set up a good market position for your business, thus making you more popular among your wider community. You will be able to attract more new customers in the global market as well as compete with other established businesses, with great confidence and enthusiasm.
A beer mat is made up of good quality extra absorbent material. It is quite durable and can withstand light use and high temperature. You can get our business details and company logo printed or engraved on top of this item to grab maximum attention. It is the perfect way to express your individuality, and help you create brand awareness, within your local community.
This item is quite excellent as a unique promotional product. You can make it into a unique and special gift by presenting it in a box. This item can really help you to impress your valued customers and will be able to keep your business name in front of everyone' minds. It serves quite well for discovering new customers and help you develop a good relationship them.
A beer mat is high-quality item, which can really help you generate the sales and revenue, and maximize profits for your business. It looks creative and offers you the perfect marketing solution. It can also make a perfect corporate gift, incentive award or as branded promotional merchandise. This will help you create brand recognition and a generous image of your valuable customers.
This item with a variety of designs, sizes, styles, and colors, will help you to add a touch to your table settings and is great for your own use or as a gift idea. It is of excellent quality, with a great feel and appearance and is quite ideal for bars, pubs, and restaurants. You can make an impact by handling it out to your special guests, clients, employees or friends. You can use this product to spread the word about your big event.
Apart from being a simple promotional tool, it will always keep your glass dry and help you keep your tables and bar tops in good condition. This item looks really impressive and can increase your visibility, with a variety of different styles and colors, to match your company logo.
A beer mat can help you set up a successful marketing campaign and build up a good reputation. Many companies still use this item as the main medium for advertising. It will lead them towards their identity development and strengthening up their business. This will motivate them to succeed in the competitive market and generate some great results for their company.