Custom Silicone travel bottles
Make your brand stand out by customizing unique silicone travel bottles for your company or clients.
【

Name

】

Silicone Travel Bottles

【

Custom

】

Yes

【

SPEC

】

37ml

、

60ml

、

89ml

【

Materials

】

FDA silicone+FDA PP

【

Colors

】

Exist or customized as your request.

【N.G.

】

Different items will different, usually, the weight is less than 100g.

【

MOQ

】

100pcs for the stock,3000pcs for customized.

【

Package

】

OPP/pc or as your request.

【

Shipping

】

Express delivery or as your request.

【

Delivery time

】

5days for stock

【

Introduction

】

Great for a business trip, travel or gym shower and so on, meet all the needs, easy to carry anywhere.

♥ The silicone travel bottle in line with TSA can carry the liquid range, so you can carry it on the airplane


【

selling points

】

①

Patent products, price reasonable.                             

②Fashion look, colorful, soft.                                       

③Good touch and easy carry.
Silicone Travel bottles UG drawing 3D Figure and samples show:
More about Silicone Travel Bottles
Bendable, easy-to-refill carry-on containers
Unlike most travel bottles which must be turned upside down to squeeze out their contents, these are designed in a light bulb shape with the opening at the base of the container. No shaking or waiting for contents to be accessible on account of gravity. Better yet, the use of flexible silicone-instead of hard plastic-allows you to depress the container easily, getting out every last drop of its contents, like a tube of toothpaste.
The extra-wide mouth makes filling the bottles much easier and quicker. Best of all, the bottles were designed in accordance with TSA standards: they are transparent enough to be considered clear and hold 2 oz each. I have flown with these several times with great results. I simply put them in a clear plastic zipper bag and drop them in the security bucket with my shoes and am on my way. They're on the pricey side but are so easy to use that I won't be switching back to those hard plastic travel bottles(even if the TSA eases up).
The Benefits of Using Silicone Products
Silicone vs Plastic
Chemicals such as BPA in plastic have received an enormous amount of media exposure because of their harmful effects on our bodies and the environment, but it's even more important now to look for safer alternatives.
A recent study suggests that the long-held assumption that BPA breaks down safely in the body is inaccurate, and researchers now believe that the body transforms the chemical into a compound that may cause further health issues such as obesity.
One safe alternative you can look to is silicone, a chemically non-reactive and heat-resistant material that is considered to be significantly safer, as it doesn't leach into food and water as plastic does.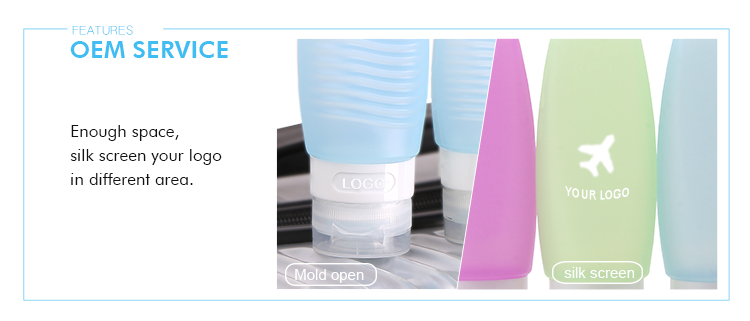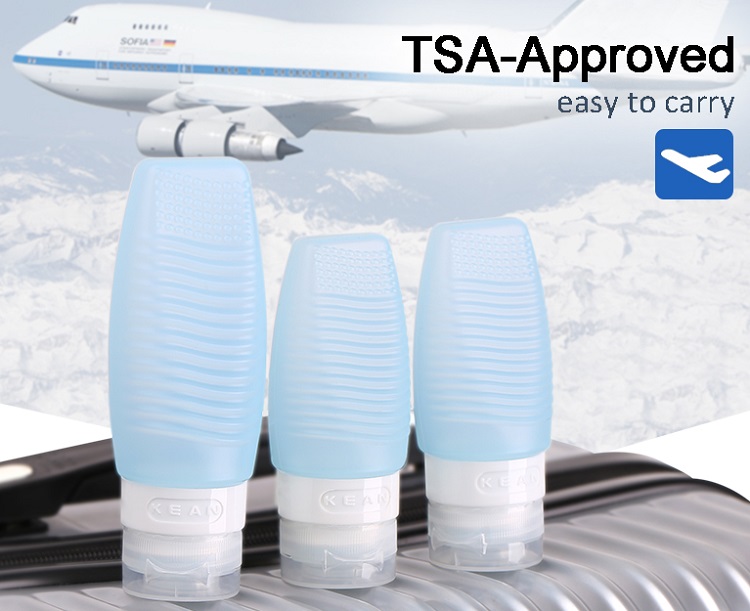 What Is Silicone?
Silicone is a synthetic polymer that is made of silicon and oxygen. It's extremely versatile and is used in everything from beauty products to electronics it's also quite useful in the form of kitchenware such as cake pans, baking mats, and food storage containers because it's nonstick and has a great track record when it comes to food safety.
Should I Make the Switch?
Plastic bottles, bags, and even plastic wrap can be found everywhere around our homes, and for some, it's difficult to avoid using them. Plastic, however, is damaging our bodies as we absorb BPA and other chemicals into our systems, which can lead to many health issues.
With roughly 22 billion plastic water bottles discarded around the world every year, those same toxic chemicals are being released into the environment as well, and are endangering marine life, ending up in landfills, and polluting our beautiful oceans.
Plastic may be more convenient at times, but making a simple switch like replacing plastic water bottles with reusable silicone water bottles, or using silicone food storage containers instead of plastic containers, can be very beneficial to your health, your family's health, and to the environment, both now and in the long run.


Silicone travel bottles advantages
Environmental protection
Silicone travel bottles more durable
Moisture-proof mildew prevent falls
Corrosion resistance, high and low temperature can reach to 60° C to 200 ° C
Compared with the plastic travel bottles?
Plastic travel bottles easy damaged, take up the space is large, carry not convenient
Silicone travel bottles easy to carry and drop can be recycled
According to news reports, plastic products containing BPA(biphenyl A) can lead to a precocious puberty, silicone travel bottles do not contain BPA, safe non-toxic.
Best Reusable Travel Size Toiletry Bottles
Days of carrying on any sized liquid are long gone. And who really wants to pack full-size bottles anyway? The average length of most Americans' vacation is just four days, so you'll never need a full-size bottle of shampoo, conditioner, or any other products that fall under the TSA's definition of liquids and gels(think lotions, face wash, shaving gel for the fellas, foundation and even mascara). Thankfully there are reusable travel-size toiletry bottles that you can just refill with your own favorite products right from home.
If you're anything like me, you've visited the aisle with the travel-size toiletries and heaved a big sigh. Your favorite products probably don't come in travel size. At least mine don't. I don't know how much I spent on tiny little bottles of shampoo and conditioner that would often leave my hair dry and less manageable on trips before I finally invested in a set of travel bottles. I've had that very same set of reusable travel bottles since 2003 and they've been on countless trips around the world with me. I'm confident in stating they are the best reusable travel-size toiletry bottles out thereafter never even leaking once in over a decade of use.
I honestly don't know why I didn't get a set of reusable travel-size toiletry bottles sooner. They are more environmentally friendly, you can stop wasting money on travel-size products and you don't have to worry about whether your hotel will have everything you need(like the bottle of conditioner that almost never exists in the hotel amenity kit).
You want to make sure you select a set that will last, so you don't just replace regularly buying travel-size toiletries with regularly buying travel-size toiletry bottles. Let's take a look at the most important features when selecting your own set of reusable travel size toiletry bottles:
Lids
Lids are the most important feature to consider when shopping for reusable travel-size toiletry bottles. There are generally three types of lids: screw top, flip top and pump with a cap. You'll probably need a combination of these lids depending on what you plan to put in the bottles.
I like Oyigift Silicone Travel Containers for shampoo, conditioner, and my face wash. They have a screw-top cap with a flip-top lid that makes them easy to refill. The flip-top lid controls the amount of liquid that pours out. I've had my very same Go-Gear containers for over 13 years now and the flip-top lid had never broken off, which is a common problem with other similar travel bottles.
I like to put my astringent, foundation, and moisturizer in pump bottles. I tried the travel size pump bottles that are inexpensive at Sephora, but I've had two different ones leak and the little plastic pots crack. The pots also expose products like moisturizers and foundation to the air and bacteria from your hands. I like this airless pump bottle, which is refillable and leak-proof. A lid snaps over the pump dispenser, making it perfect for tossing in your quart-size bag or even your purse for touch-ups on the go.
Material and Durability
Another thing to consider when purchasing travel bottles is the material that they are made from. Another feature I really like about my Go-Gear tubes is that they are made from a very flexible silicone material, which makes them easy to squeeze and get every last bit of product out of them. The silicone is also great because you don't have to worry about dropping or tossing these travel bottles around; they're unbreakable. I've never had an issue with any of the products I put in my Go-Gear tubes, but their website does warn to test out your products first since some chemicals can have a reaction with the silicone. Essentially, the silicone could expand or shrink from a reaction, causing a leak.
The airless pump dispenser is made of clear acrylic plastic and is durable, leak-proof, and shatterproof. I can't tell you how many times my bag has been dropped or knocked off the conveyor belt going through security. The shatterproof plastic eases my mind that expensive products like foundation or moisturizer won't get broken and leak all over everything else in my bag. The airless pump also keeps products bacteria-free and free from air oxidation. The plastic means you can't squeeze them and that they're a little heavier than the silicone tubes, but they're perfect for certain products.


Best Promotional Products for Limited Marketing Budgets
Having promotional products imprinted with your corporate logo and contact info is a cost-effective way to advertise your brand. Perhaps the biggest hurdle owners will face is narrowing down selections as there are literally thousands of items to choose from.
Owners with limited budgets should select promotional products that are used frequently or in places where they will get a lot of public exposure. For instance, people like to use reusable travel bottles while they are traveling or running errands.
Creating interesting artwork or using a catchy slogan for apparel bottles can get people engaged in conversation about your company. This generates word-of-mouth advertising that can bring new customers to your door for no additional cost.
One thing to keep in mind when buying travel bottles is adults prefer solid colors of white, black, and blue while teens and children like brighter colors of red, green, and yellow. Another thing to consider is the type of material. Most people prefer silicone bottles.
In regard to the travel bottle, the most preferred choice is silicone. Its Eco-friendly shopping reusable bottle has become very popular; particularly amongst women. These silicone bottles can be used for much more than traveling.
Imprinted writing pens, notepads, and silicone wristbands are ideal for companies with limited budgets. Everyone needs pens and notepads. Having these items imprinted with logos and contact info is very inexpensive. Furthermore, these items offer a good return on investment because they last a long time.
Silicone reusable travel bottles have become very popular amongst the younger crowd. These travel bottles are often used by charities as a way to promote their message or raise funds for their cause. However, companies can bran them with marketing messages and offer them as trade show giveaways.
A few more popular, yet inexpensive items are bottle openers, bookmarks, key chains, lanyards, and tins filled with mints, chocolates, and hard candies. It isn't necessary to spend a lot of money on promotional items, but they ought to be good quality merchandise that recipients can get a lot of use from.
A lot of people are becoming concerned with environmental issues pertaining to plastic water bottles. A great way to show people you are a good Earth steward is to provide eco-friendly drinkware that does not include harmful chemicals such as silicone.
Environmentally-friendly drinkware choices include travel water bottles, as well as those manufactured from recycled products. These types of bottles cost a few dollars each but will provide recipients with years of use. Better yet, each time a person takes their water bottle along they expose your brand to everyone around them.
Last, but not least, consider investing in promotional merchandise that is a valuable necessity. For instance, travel medical or roadside kits can be a real lifesaver. Having a first aid or emergency road kit can make a huge difference to a person's well-being. You can bet they will remember your company for helping them out.
No matter what kind of business you need to promote, there are unlimited promotional products available that can make your brand stand apart from others. The selection process can be simplified by working with an experienced company that specializes in promo gifts like Oyigift and trade show giveaways.
Conclusion
Are you still troubled that you need to carry many bottles when you travel? Are you still troubled that your shampoo is not allowed to bring to the airline? This Silicone Travel Bottles Set will fix all these problems. Take it with you and go travel! Set of small bottles, perfect for shampoo, conditioner, body wash, lotion, and more. Being packed with a zippered clear toiletry bag, saving space, easy to carry, TSA airline carry-on approved.
FEEL LIKE A FIRST CLASS TRAVELER NO MATTER WHAT CLASS YOU TRAVEL! With the Oyigift custom silicone bottle travelers set you will arrive at the airport with your lotions and shampoos neatly packed and organized! TSA carry-on approved! There is no greater frustration than arriving at the airport and having to repack your liquids!
GOODBYE LEAKAGE! No person in the class should travel with bottles that will leave your hands oily and smelly because they are not properly sealed! Oyigift custom silicone travelers bottles are designed with a silicone stretchy film in the smallmouth and a 3-layer anti-leakage cap design! Wide mouth for easy refilling with small mouth for user-friendly controlled flow! Kit dine made sure that these are the easiest and safest bottles a traveler can use!
FANTASTIC COLOR AND SIZE CHOICE!- Oyigift travel bottle sets are available in 2oz,3oz, and 3.3 ounces with different colors. Choose the colors and size that best match your style or the color theme of your gift recipient!
FOOD GRADE BPA FREE SILICONE! Designed with safety first and convenience a close second. Our silicone travel bottles are made of FDA-approved and 100% BPA-free food-grade silicone, making it safe for other liquids like sauce, salad dressing, or even baby food.