Smartphones are everywhere these days. You'll see them on the street, on busses, on airplanes, and on the subway. In fact, hardly anyone you see is without a cell phone. Some people even have multiple phones – a work phone and a personal device- for example. And many use a customized plastic cell phone case to differentiate between multiple devices.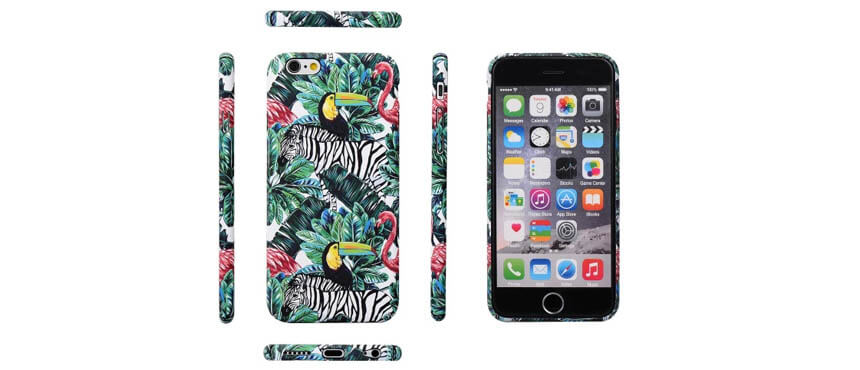 Why give a plastic cell phone case as a gift?
But a cell phone case isn't just a great way to differentiate between personal and office phones – although that's a great way to make use of a hard plastic phone case. No, these phone cases also make for great gifts. So, why would someone give a phone case as a gift?
Investment protection: With typical all-in costs for smartphones running as high as $1,000+ (like some iPhone models), phones represent a huge corporate and personal investment. It's therefore understandable that individuals and companies consider a customized plastic waterproof phone case a great investment protection gift
Durability: Even if you have great protection plans from your cellphone provider, exchanging or trading-in a broken or damaged cellphone isn't something people enjoy. That's why giving someone a plastic cell phone case as a gift is a great idea. It'll ensure the durability of their device, and prevent them from exercising a cellphone exchange program too frequently
Beautification: If you've noticed some of the newer smartphones, they all look the same! Silver. Black. White. And you may get some special-run pieces – like pink or sky-blue ones – but they sell out quickly, or only are available at a premium. A custom-made plastic phone case is a great way to personalize and beautify your cell phone so that it stands out among the hundreds of other similar devices in use among your group of friends and colleagues
Because cell phones are extremely important to our day-to-day lives today, personalizing them so they blend in with our personalities is important. And because they are so expensive, protecting them so they aren't easily damaged is essential. A hard plastic phone case is a great gift that accomplishes both of those objectives!
What makes a hard plastic cell phone case such a great gift idea?
Because cell phones are so ubiquitous, anything associated with those devices makes a great gift idea. But most especially, because a plastic cell phone case is the most visible component of any mobile phone, it makes a great gift-giving item.
But that's not the only thing that makes a hard plastic phone case such a great gift idea:
Great gifts are typically those that are guaranteed to be used by the recipient. While a bottle of expensive wine might be enjoyed for a couple of days, or an expensive perfume might be used for special occasions, a personalized plastic waterproof phone case is guaranteed to be used every day!
A great gift is something that the gift receiver finds useful and functional. And since no one wants their expensive personal communication device to be damaged, scratched, or dented, they'll appreciate your gift of a plastic cell phone case for a very long time!
Variety: A great gift is one that blends in with the gift recipient's mood and personality. Because a plastic phone case is cost-effective, you can order and gift multiple cases to the people you want to appreciate and acknowledge. Since cost is never a barrier, you can customize personal, professional, sporty, somber, happy, or serious versions of your cases to ensure gift receivers have a variety of cases to use!
Today, cell phones have several buttons, nobs, ports, and expansion slots. Because renowned plastic waterproof phone case manufacturers build their cases so access to these features is unhindered, these cases are great for almost any type of phone – whether it's an iPhone, Blackberry, or an Android device. And that flexibility alone makes giving a plastic cell phone case a great gift idea!
Ten gift ideas for a plastic waterproof cell phone case that you'll love!
At Oyi Gift, we have one of the largest collections of suggestions that you can use to create your very own custom-made hard plastic phone case gift ideas. Most of these ideas come from satisfied clients who have given our tailor-made phone cases as gifts to others.
Here are just a few of our plastic cell phone case gift ideas. Feel free to get inspired by them:
Corporate identity: Many corporate clients use customized cell phone cases to portray their company's identity. When gift receivers use their tailor-made phone cases in public, everyone will get exposed to the company's brand!
Employee standards: Today, almost every company equips its employees with cell phones. Giving each staff member a device with a custom-made hard plastic phone case will not only protect your company's investment in cell phones, but it will serve to differentiate company-provided devices from personal ones.
Marketing idea: Many corporations will produce a customized plastic waterproof phone case to give away at marketing and sales events. These items will usually have the company name and contact details inscribed on them. So, when someone who sees it has a need for your company's product or service – they'll immediately know who to call!
Performance reward: If your company employs hundreds (or even thousands!) of people, it might be costly to give each one of them a hefty pay raise each time they meet or exceed their performance targets. But a custom-made plastic cell phone case, with a "Thank You!" message, is a very cost-effective performance reward that any company – large or small – can very easily afford!
Celebrate product or service launches: If you are preparing to unveil a new product to the market, or planning on introducing a new service for clients, why not do so with a custom-designed plastic waterproof phone case? You can give these out weeks before the event, and add commemorative notes – such as date, time, and venue – so that people using your plastic phone case will know exactly where and when to turn up to learn more about the launch!
Corporate retreats: This is the age of teamwork, and many businesses assemble their staff from all over to hold corporate retreats. The gathering is a great time to tell staff about company plans and strategy. These events usually culminate with "gift bags" with useful items – like corporate-branded note pads, calendars, and pens.
Why not include a custom-made hard plastic phone case in this year's "goodie bag"? Your staff will love it – PLUS, they'll actually use it to protect their company-provided cell phone. That's a win-win for you and your staff!
Sponsorship ideas: If you are sponsoring a community event – like a youth club or senior center – then you need to get the word out about your corporate outreach efforts. Not because it's good to brag about the good work you do, but to inspire other like-minded corporate citizens to come forward and do the same.
Now would be a great time to design a personalized plastic cell phone case and hand it out to participants at each event. This will be a great way for your company brand to be associated with a noble cause!
Company messaging: Young people – especially millennials – are among the largest users of cell phones. If you want your company messaging to be effective, why not design a cool and catchy plastic waterproof phone case, complete with your corporate color scheme and branding, and hand them out at places where millennials and youth groups hang out?
College campuses, gyms, and sports arenas would make a great place to get your company messaging out to crowds that matter. And a cool plastic cell phone case would be the ideal novelty item to get their attention!
Personal gifts: If you own or operate a gift shop or thrift store, then you'll know how your customers love truly functional gifts. Why not create a unique hard plastic phone case in different colors and designs, to fit various popular cell phones, and offer them to your customers?
A plastic phone case is something extremely useful that almost every person will want to buy. Many thrift shops and novelty gift chains have these manufactured with their company logos and brand images on them. Typically, these items are a hit with gift shoppers and sell out within days!
Special day memories: If you are in the business of celebrating "special days" by offering your customers gifts for those purposes, why not have "special day" gifts available in your store?
We can create a custom-made plastic cell phone case for almost any event – like Valentine's Day, Mother's Day or Wedding Anniversaries – and personalize them with event-specific motifs and designs. All you need to do is pick your design and we'll customize the phone case of your choice with your image, background, or color!
Feeling inspired yet? If you want to learn more about the benefits and features of a great plastic phone case, then check out our website. Better yet, if you have additional questions or wish to discuss more placing an order, just contact us online. We can even give you a quick quote so you can get an idea of what it will cost to produce your very own plastic cell phone case to hand out as corporate gifts to clients and visitors.
Where to get the best plastic cell phone case for gifts?
If you have a special application for a plastic waterproof phone case gift idea, then we've got the ability to turn that idea into reality. Oyi Gift, one of the largest one-stop shops for custom-made gifts and novelty items on the planet, is your one-stop for any type of plastic phone case that you want to give as a gift. Our phone cases don't just look good, but they are designed to make your phone look good too…And, they'll protect your phone from any damage, dent, or fall imaginable – guaranteed!
When you buy your hard plastic phone case from us, you're also assured of having some of the best-engineered protection to your phones that money can buy. We use high-grade materials and high-quality talent and precision technology to design and manufacture each and every plastic phone case that we offer.
No order is too large or small for our team to handle. You'll receive the same uncompromising standards and service regardless of the quantity of your plastic cell phone case order – whether it's a hundred or a thousand pieces! Best of all, because we've perfected the art of high-precision bulk manufacturing, your cost per plastic waterproof phone case will be the lowest you can find anywhere – and that's our guarantee!
So, why not head online now to place your order today! You'll be glad that you choose us to create your gift ideas, and the people receiving your customized plastic cell phone case will be thrilled too!