According to a recent report, humans use a million plastic bottles each minute around the world. As if that wasn't a startling figure, the scary thought is that by 2021 the annual consumption of such bottles will rise to half a trillion units. Do you want to hear something scarier than that? Most of those bottles will not be recycled! Except for silicone folding water bottles.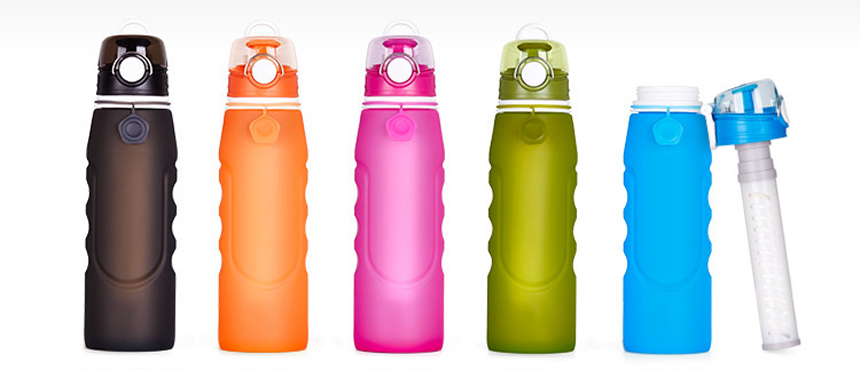 Switching to a reusable folding water bottle can easily prevent us from taking our planet one step closer to an environmental nightmare. Better still, they make great gift items too!
Why give personalized folding water bottles as a gift?
When thinking of gift-giving ideas, the first question that you probably ask is: Will the recipient of my gift find the item useful? Well, a silicone folding water bottle is one gift that anyone – young old, professional or student, office worker or traveler – will definitely find useful. That's because it serves a biological need that we all have – the urge to quench our thirst!
But you don't need to give a bottle as a gift just because someone can drink from it. A folding water bottle can also be given to mark special occasions, like birthdays, anniversaries, or even graduations. Many gift recipients will carry their gift from you all over, reminding them of their bond to you. And that's why many gift-givers give personalized folding water bottles as gifts!
And speaking about why: Wouldn't it make great sense to give someone a gift that is so convenient to carry around? A portable folding water bottle is light to take with you and has a small form factor that makes it easy to store. That's why they make great gifts for people that travel or move around frequently.
One great reason that you should consider giving a silicone folding water bottle as a gift, is because of the safety factor. If you know adults or older people in your life, you'll know how concerned they can get about their health. Your gift of folding water bottles will reassure them because it is BPA-free! That's why these lightweight bottles make great gifts for seniors.
And yet another reason why personalized folding water bottles can be given to groups of family, friends, acquaintances, and employees, is because they can be individualized for each person in the group. Unlike a perfume bottle or a pair of jeans, you can write or stick personal identification marks on each folding water bottle. In a crowd, where everyone has a water bottle, your customized gifts will uniquely stand out. And that makes them more personal than other impersonal gifts!
People in hospitals and hospices often move from one treatment theatre to another. It is because of that, they often hesitate to take bulky items – like heavy stainless steel or ceramic or glass bottles with them. In this situation, giving an ill friend or relative a portable folding water bottle as a gift makes perfect sense.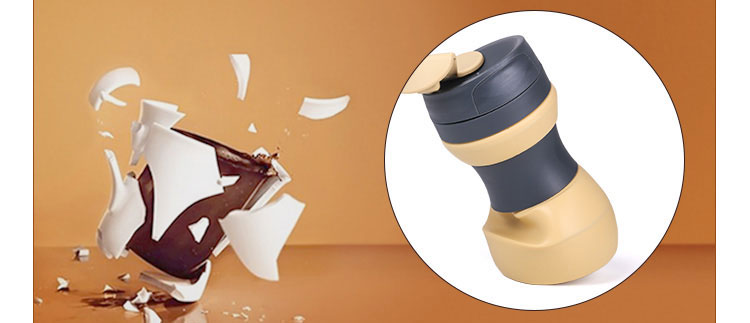 What makes silicone folding water bottles a great gift idea?
Not everyone appreciates receiving a shiny, heavy, stainless steel mug or water bottle as a gift. Many environmentally responsible individuals would rather get a personalized folding water bottle instead.
So, what is it about silicone folding water bottles that make them such a great gift?
Hard bottles, like glass, stainless steel, and aluminum ones, take up a lot of space, even when empty. A portable folding water bottle can be squeezed down to 20% of its size when empty. And that makes it a great gift idea.
For anyone that wants to reduce his/her carbon footprint, personalized folding water bottles make a logical gift idea.  They can be reused and recycled, making them a much more environmentally friendly gift than stainless steel or metal bottles.
When it comes to cost savings, nothing can beat the low price of a collapsible water bottle. And if you order folding water bottles at wholesale prices, they'll save you big time! That's why these bottles make great corporate gift ideas.
A folding water bottle is a low-maintenance gift – more so than the traditional heavier metallic containers. Plus, they won't dent, scratch, or break! It is precisely because of this endearing quality that they make perfect gifts for even young kids.
Anyone who has used a silicone folding water bottle will know how light it can be to carry around. In fact, these bottles can weigh almost 80% less than their hard plastic peers. And that's yet another reason why people love receiving them as gifts.
Giving someone you aren't too intimate with a highly "personal" gift – like lipstick or aftershave – could be very awkward. Because a gift of a portable folding water bottle isn't overly "personal" (which is different from "personalized"!), people won't mind receiving them as recognition gifts or tokens of thanks. And that's what makes these hardy, durable bottles great gift ideas.
For these and many other practical, functional, and commonsense reasons, the world is turning away from the traditional, clunky stainless-steel bottle, and embracing the portable folding water bottle as their beverage container of choice.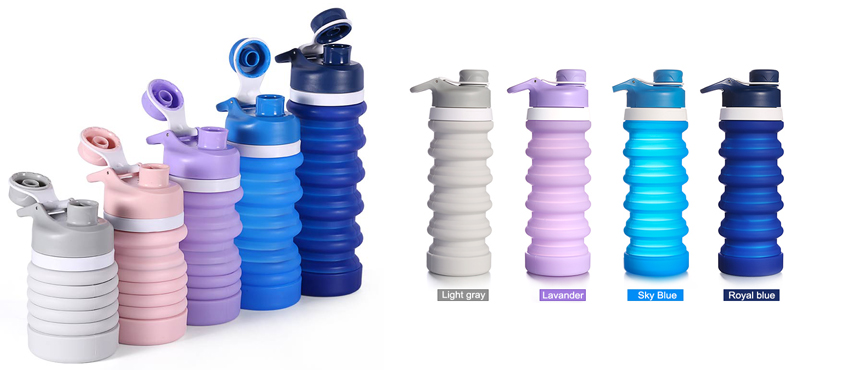 Ten portable folding water bottle gift ideas that you'll love!
Here at Oyi Gift, we specialize in creating some of the most amazing gift ideas, including those that involve personalized folding water bottles. So, sit back and read on as we suggest ten occasions, ways, events, and situations where you could customize a folding water bottle and use it as an amazing gift to give someone that you love or care about:
Traveling light: If you have friends and family members who are always on the go, taking trains, busses, and cabs between locations. On a hot sweltering day, it's hard for them to stop a bus or train just to get a cooling drink. A customized silicone folding water bottle would make the ideal gift for them. It's very functional, always handy, and best of all – they can still travel light and enjoy a cool drink from the comfort of their seats!
Prone to dehydration: The great thing about a portable folding water bottle is that it doesn't necessarily need "special" occasions to give as gifts. If you know someone who is prone to dehydration, they'll love and thank you for giving them a truly useful gift!
The college kid: A folding water bottle is a great gift for school and college-age kids. When you have to carry your whole life in a satchel or shoulder bag and scurry – fast! – from one campus to another for lectures, the last thing you need to lug around is a shiny metallic water bottle!  So, why not gift a silicone folding water bottle to that favorite school or college kid in your life? Even gift them a couple more and encourage them to place them in their "survival" or "emergency" kits in their dorms. It makes good sense!
Couples jogging: Surely, we all know couples that are fitness-conscious and love to work out and jog together. Imagine what a grand surprise you could give your favorite athletic couple when they each receive personalized folding water bottles – perhaps with "his" or "her" motifs on them? They'll love making pit stops every now and again during a jog, just to enjoy a sip of water or juice together!
The outdoors worker: In today's highly competitive world, you must go where the job takes you. And for many of us, that's outdoors. Whether it's at a construction site, an excavation project, or a field trip with office colleagues – being outdoors can make you thirsty! So, what would someone in that position say to you when you gave them a tastefully customized folding water bottle as a gift? One guess: THANK YOU!
Group field trip: Are you in charge of organizing a field trip for your kids' class? Well, why not gift each of the kids a colorful portable folding water bottle before you set out? Better yet, fill their bottles with a healthy drink – water, orange juice, or chocolate milk. Your field trip will be the most memorable event that these kids have ever participated in – guaranteed!
The less fortunate: Do you want to do something extra special this summer? Something so noble that it will even inspire your friends and colleagues? Why not hand out a collapsible water bottle to every resident of a homeless shelter near you? You can order folding water bottles at wholesale prices and easily afford to make someone less fortunate happy. Better yet, get friends and family to chip in and make it a group event!
Brand promotion: If you are an athletics company holding a marketing event shortly, and are looking for a gift and giveaway ideas, then a silicone folding water bottle should be on top of that list. With today's technologies, these collapsible gifts can be personalized to incorporate colors, with company logos painted on them and even motivating slogans – like "save the planet" or "Go Team Goes!" – on them. Every time a recipient of your gift takes a sip from their folding water bottle, they'll think of your company brand…and perhaps even buy your product or service!
Motivate and encourage: What better way to motivate and encourage an entire school of children to recycle and reuse, than by giving them a handy tool with which to do exactly that – personalized folding water bottles with those words on the "Recycle and Reuse"! As a teacher or school principal, this gift is an investment worth making because it will demonstrate to young minds how committed your staff and faculty are to the idea of environmental protection.
Concert mementos: If you or someone you know has a band or an entertainment group, why not order customized folding water bottles at wholesale prices and distribute them at their next gig? Ordering in bulk will save a lot of money, and they'll receive free publicity wherever their fans go with their gifted water bottles.
And if you have other amazing gift ideas for a silicone folding water bottle, why not contact us and tell us all about it. Someone from our highly trained team will gladly discuss ways in which to bring your ideas to life!
Where to get the best folding water bottles wholesale for gifts?
Oyi Gift Gift – one of the world's largest suppliers of customized gifts, has the widest portable folding water bottle selections available anywhere. You'll find them in varying colors and sizes, including 8oz,12oz, and 16oz variants. These bottles are so versatile, they can be folded down to less than 20% of their original size.
So, if you know someone or have an occasion where custom-ordered folding water bottles will make a great gift idea, why not go online now and place your order today! Your gift receivers will love them – guaranteed!