Plastic and PVC are man-made polymers that we see everywhere. They are used in almost everything we build or manufacture – from homes and buildings to clothing, electronics and plastic mugs for kids and adults alike. And though plastic is man-made, it is similar to natural materials that have been used for thousands of years – like tortoise shells and animal horns.
Read on to find out why plastic is an ideal material to make gift items, such as personalized plastic mugs for kids.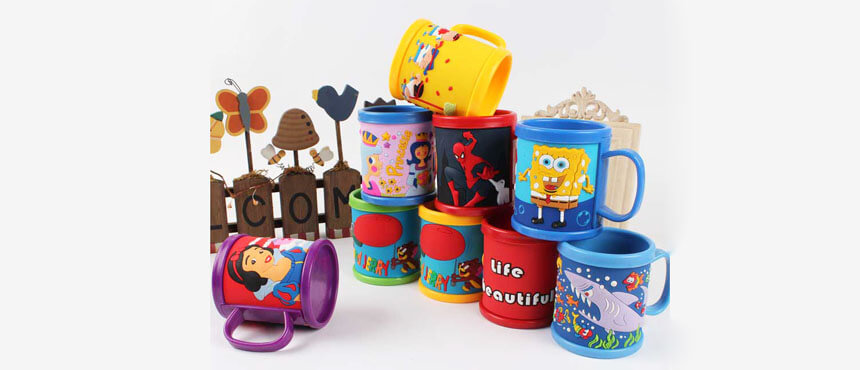 Why give personalized plastic mugs to kids as a gift?
Before we tell you what a great material plastic is to fabricate mugs for kids, let's understand why you should give a child a plastic mug as a gift. Why not give them something shiny and heavy – like a stainless-steel mug?
Well, mugs are an integral part of the life of kids growing up. So, it is for that reason alone that small mugs for kids make a great gift. However, that's not the only reason why a gift of personalized plastic mugs for kids is a great idea. You see, there's a scientific reason why mugs and gifts match each other!
Research suggests that most of us have an emotional attachment to our mugs. And that attachment often helps us in some of the most challenging times that we face in our lives. By helping kids identify with things, like a children's mug that's been customized, a gift can provide that bond that a kid can turn to when they need emotional support.
There's another psychological reason too that makes giving plastic mugs to children a very good idea. Customized gifts, like kids' plastic mugs with names on them, teach young minds deep lessons in self-worth and appreciation. Seeing their names on gifts that someone they love has given them makes children appreciate their own self-worth.
If you want to see a child value and appreciate themselves, and not have inferiority confidence when growing up, then personalized kids mugs make a great gift.
But there's more than emotional and psychological reasons why plastic mugs make such great gifts for children. One good reason is that they are such functional gifts, that almost every child and every parent will appreciate them.
Because they aren't very personal – like clothing or skin-care products, a customized children mug won't be frowned upon by parents of the child receiving the gift – even if you don't know the family too well.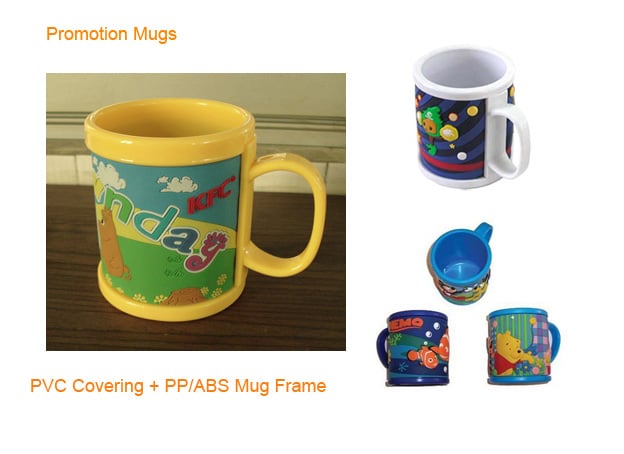 What makes personalized kids mugs a great gift idea?
The question, however, is why shiny stainless steel or ceramic mug can't work as well as plastic mugs for kids.  Well, there're several great reasons why that's so:
Soft and harmless: Plastic is a soft and flexible material that isn't likely to hurt or injure a kid. That's why kids' mugs made from it are such great gifts to give. If a child hits himself or herself with a plastic mug, it won't bruise or hurt them. With mugs made from tougher materials, like steel or ceramic, there's always the fear that your kid could injure themselves.
Easily shaped and molded: The process of producing personalized plastic mugs for kids gives it more flexibility than that which produces steel, ceramic or other metal mugs. Because of their versatility and flexibility, plastic mugs can be created to resemble a far wider number of shapes and objects. If a child loves an image or a motif – chances are that you can create a gift resembling what the child wants!
Durability: If kids plastic mugs with names on them drop or fall, they'll never bend or get dents. The names will always be visible and easy to read – despite numerous falls even from heights of tending of feet. Metal could chip and bend, making names and patterns harder to read. Worse still, ceramic or pottery mugs can crack or break. That's why small mugs for kids made from plastic make the best gift ideas!
Easy to maintain: By its very nature, plastic is not a high-maintenance material. If it stains or gets dirty, a simple wash, rinse and dry action is all that's needed. Unlike heavier and more delicate stainless steel or ceramic mugs, even kids can wash their own mugs! That's why plastic mugs for kids are a great gift idea!
Safe to use: Many metal containers are made from heavier materials and coated with paints and chemicals to make them look attractive. A personalized kid mug made from plastic, on the other hand, is chemical-free and safe to use. Even kids of the tenderest of age face no danger from drinking from plastic mugs.
Dual usage: If you are looking for a gift idea that can be used for both hot and cold applications, then a plastic children's mug fits the bill perfectly! In summer, you can fill it with cold drinks, and in winter you can serve hot chocolate or warm milk – they'll both taste delicious and stay warm/cold for a long time!
Ageless: As a gift idea, kids plastic mugs with names make a great choice to give to kids of any age. Whether it's a toddler of a few months old, or a young child running around, or a kid of school-going age – it doesn't matter. We all love to see our names in print – and kids' mugs with names on them will thrill children no end!
Because of all these characteristics a plastic children's mug, customized in a way that the child loves, makes a much better gift than mugs made from any other material.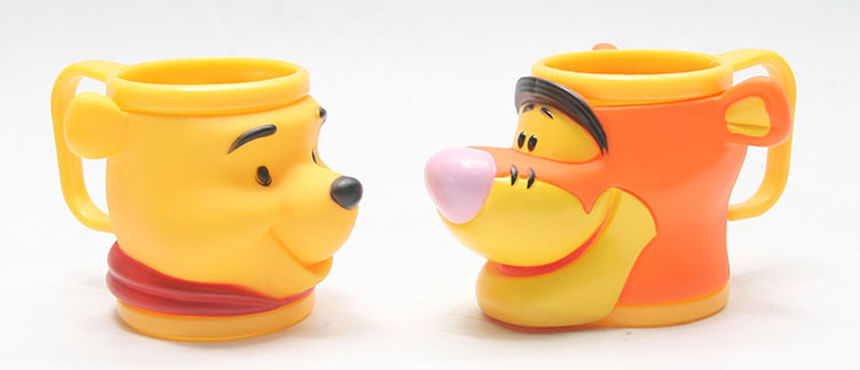 10 gift ideas for personalized plastic mugs for kids that you'll love!
Here at Oyi Gift, we have a million and one gift ideas for customized plastic mugs for kids. But here are our top 10 for you to consider:
For the toddler: Have a toddler at home? Do you babysit toddlers? If you think those children are too young to receive a children's mug as a gift – think again! Plastic mugs can be shaped into patterns and designs that make them more like playthings than utensils. Toddlers will just love them!
Baby's first steps: What better way to commemorate a baby's first steps than to give him or her a personalized kid mug for the occasion? Have their name and the unforgettable date etched on your gift so you – and your family and friends – will always remember the occasion!
Baby's first words: Names are not the only thing that you can print on your baby's plastic cup. The moment he or she says their first words put them on small mugs for kids and have the baby repeat those words over and over. It'll be a lesson of a lifetime!
Milestone events: You can create gift mugs for kids that celebrate an important milestone in the child's life – from their first day at school to their first whole food experience. Because plastic is such flexible and moldable, it makes a great gift to celebrate almost any milestone!
Child's favorite drink: Customizing gift mugs for kids with images or shapes of their favorite drink is a great way to encourage healthy dietary habits. For example, a plastic mug with a banana-shaped image will make kids love their banana juices or smoothies all the more!
School time: What better way to motivate kids to "get up and go", than to have personalized plastic mugs for kids waiting for them each morning, with their favorite drink or beverage? These will make perfect gift ideas for school-age kids!
Soccer team: Does your kid play soccer, hockey, or any other team sport? As a gift for winning their first game, why don't you give the entire team kids plastic mugs with names on them? It'll not only boost the entire team's spirits, but it will make your kid extremely popular among the group!
The hikers: Is there a special trip planned with a group of kids? Maybe it's a camping or hiking event? Why not give them all personalized kids' mugs to mark the event? Maybe have emergency contact numbers for an adult on the mugs – just in case any kid gets separated or lost? Now that will be a gift that even every parent will truly appreciate!
Appreciative boss: Do you have a team of dedicated employees working for you? Are some of them proud parents? What better way to show how much you appreciate them than by giving them plastic mugs for kids personalized with your company logo and a word of thanks to the parents? Even though the gifts are for their kids, your employees will be extremely grateful for your thoughtfulness!
Publicize your business: If you run a daycare center, an art class for kids or an after-school program for children, giving out small mugs for kids as part of a marketing event is a great idea. If you customize those mugs with your company name and contact details and give them as gifts to parents at a meet-greet event, it'll definitely drive up interest in your services!
These are just some ways that you can use plastic mugs for kids as gift ideas. Do you have other ideas for personalized kids' mugs with the name?   Are you considering giving customized small mugs for kids in your family, your school, or your daycare center? If so, why not contact us and tell us about your ideas? Our highly trained staff will gladly help!
Where to get the best plastic mugs for kids for gifts?
Oyi Gift is one place where you can get all your personalized kids' mugs under one roof. One of the largest makers of custom gifts on the planet, you can source plastic mugs of all types, designs, colors, and shapes from their online site. In fact, from small mugs for kids to customized kids' mugs with any motif, design, or cartoon character – you can get them all online at Oyi Gift.
And guess what? If there are special ideas for personalized plastic mugs for kids that you have in mind, but you can't find them anywhere else, then Oyi Gift is the place to look for them. You're bound to find it right here – guaranteed!
Whether it's a few kids' mugs with the name or a large order of plastic mugs for children at a school or daycare center, go online and place your order today! The kids receiving those gifts will love them!