Using Silicone Tote Bags
Promotional gifts have become a standard means of advertising these days. Organizations, both large and small, continue to print their advertisements on gift items, to give them away to clients, customers and visitors. For instance, it's common for many organizations to work with leading promo gift item makers to manufacture silicone tote bags wholesale and use the totes as part of a broader marketing initiative. This strategy rewards loyal customers entice interested prospects and acts as a walking signboard by using everyone that carries the bags around.
Promo Items by the Numbers
So, does it really pay to use promotional items to advertise your brand, product or service? The unsurprising answer is: YES! According to the 2020 Advertising Specialty Institute study, not only does marketing with promo items work…but it continues to deliver results for a long time after such promotional campaigns have ended. Don't believe that's true? Well, consider these stats from the study:
A significant number (50%) of people, who receive promo items, maintain their use for a minimum of 5-years. Many (40%) continue to use them for over a decade
Younger consumers (Gen X'ers), on average, own 34 promo gift items
Most gift recipients (69%) love their gifts because of their quality, followed by their usefulness (41%) and aesthetic appeal (16%)
These three factors confirm that using an item, such as silicone tote bags, as part of an advertising campaign, not only keeps customers (or gift recipients) happy and satisfied with the products they receive, but it also promotes and projects your brand positively for a long time. And, the longer period that your brand is in the recipient's mind, the more likely it is that they'll buy your product or service the next time they have a need for it.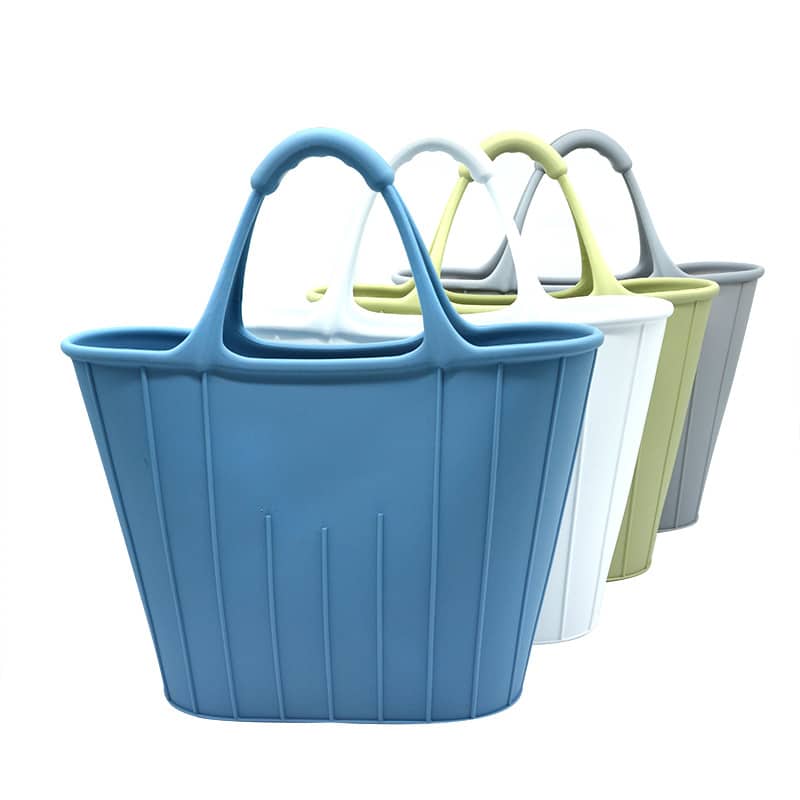 Ways to Advertise using Silicone Tote Bags
Gift bags, totes, and backpacks are a leading way to promote and advertise your brand. Here are seven innovative ideas to use as part of your advertising strategy:
If you are in the retail business, you can offer customers the option to buy large silicone tote bags during checkout. The tote can have your logo and other contact details printed on it. That way, anywhere that the customer goes – even to a competitor's store – your advertisements will go with them. Competitors' customers will view the ads and may even contact or visit your store to make inquiries.
TIP: If economically feasible, price the tote low, so that customers are encouraged to spend just a little and, in return, you get the opportunity to advertise to their contacts and people within their networks.
You can also use a silicone tote as a complementary gift item to promote your brand. Once again, if you are in the direct-to-consumer market, you could work with a promo gift item manufacturer, like OYI Gift, and produce totes and bags with special "Thank You" messaging, as well as your corporate branding. Those bags may be reserved for "special" orders – those that are over a certain value.
TIP: When handing out the "gift", make sure your gift-giving policy ensures the orders received not only cover the price of the tote but also make a profit over and above that.
Have your gift manufacturing partner produce silicone tote bags wholesale, and give them out at marketing events, trade shows, and conferences. Usually, visitors go from stall to stall, and from one booth to another, collecting brochures and literature from other event participants. Having your tote bag, with your advertisements printed on them, will expose your company to a broad set of prospective clients at such events.
TIP: If possible, position your booth at the entrance – at the beginning – of the event venue. That way, your silicone bag will be the first one that visitors will get, and maybe the only one they'll require. This gives your company the opportunity to be the dominant advertiser at the venue.
Sponsor a social event in partnership with a local organization – Food Bank, Youth Group, School, or Community organization – that will pass out kits to event participants. These may be toiletries, books, food items, etc. Offer to provide silicone rubber tote bags to hold the kit items for each participant. With your logo, contact details, and advertising messages inscribed on the totes, each recipient will act as a free advertising billboard – carrying your message everywhere they go.
TIP: Typically, charitable events might not be an ideal advertising venue for every type of company. So, study the event and prospective participants first. It might make sense also to have many lower-cost tote bags distributed at such events, as opposed to just a few high-cost ones.
If you are in the sports apparel business, or if your company is into healthcare products and services, then you can use silicone tote bags as an advertisement vehicle at Spas, Health Clubs, and Fitness Centers. With details of your products and services printed on the totes, you can hand them out to members and visitors at those venues. For instance, most daily members of a fitness club carry a change of clothing or personal grooming products – brush, comb, body spray, etc. – with them. Your tote bag can serve as the vehicle to contain those items, and also act as a moving advertisement for your company.
TIP: It may be a great idea to use your tote bag as a "starter kit" by including some of your own items – T-shirts, jogging shorts, Caps, Gloves, or whatever apparel or healthcare product you deal in. Perhaps, work with your novelty gift item producer to create a few promo items with your company branding, and include those in your silicone bag starter gift kit.
Want to give your promo advertisements a BIG boost? Why not use the totes to promote your organization as an environmental champion? When working with your gift item manufacturer, to order your silicone tote bags wholesale, make sure your advertising materials state the fact that the bags are eco-friendly and environmentally safe. Messages like "Be Kind to the Planet" or "Our Totes are good for You…Great for the Environment!", besides your own company branding, give your company a favorable image with customers and prospects.
TIP: When you position your tote bags as environmentally-friendly promo gifts, it might be a good idea to also include a small pamphlet or flyer – printed on recyclable materials – offering some tips on how to be environmentally friendly: Reuse your tote. Donate it to someone else if you no longer use it. Keep it in your car…just in case.
The most powerful advertising impact comes from media that's attractive to look at and stylish too. It's important, therefore, that when you do start discussions with a promo gift item manufacturer, to ensure the silicone rubber tote bags you give away as a gift looks chic and pleasing to the eye. Produce them in different colors and sizes, shape them differently, and always make sure your branding, marketing message, and call to action (phone, text, website, email, etc.) is clearly visible and in large, bold fonts.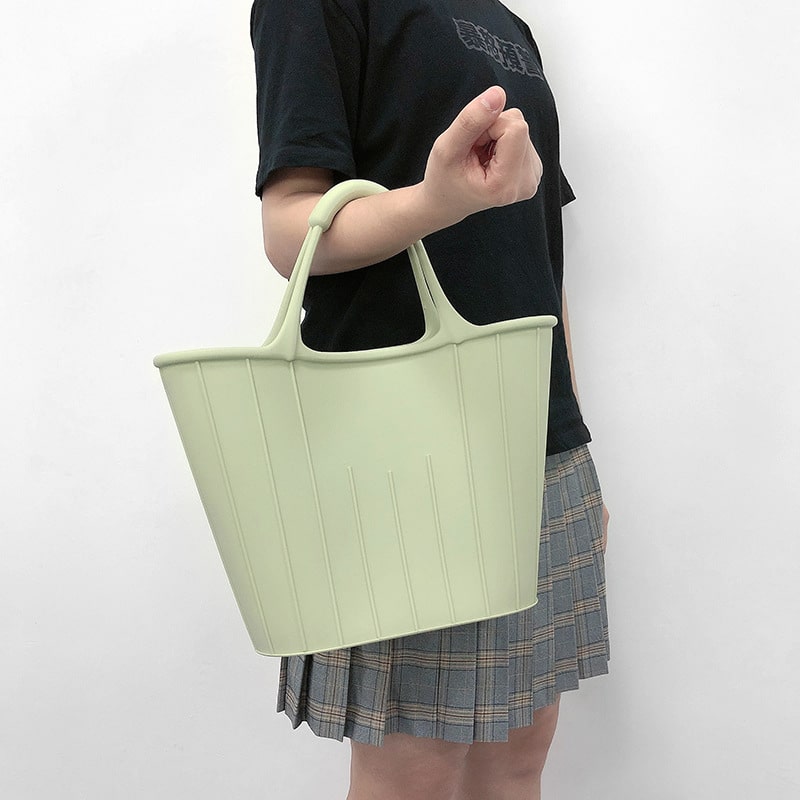 TIP: Make sure your gift tote bags are made from 100% safe materials, washable, and easy to store and use. Choose food-grade silicone that's BPA free. That way, your gift recipients can use their totes for any purpose, including grocery shopping, without worrying about the possible impact of harsh chemicals.
Making An Impression
Few customers or visitors will resist well-designed and attractive-looking large silicone tote bags when it's handed to them. Whether it's a giveaway item, a part of the packaging used to sell products, or a promotional gift at sales and marketing events – the impact is always the same: You'll receive favorable publicity!
Statistics show that a single promo bag produces significant numbers of favorable impressions – an average of 3,300. If you divide that by the unit cost to produce each silicone tote, it might just cost you a fraction of a cent for every impression (eyeball, view, notice) that the bags generate.
And, bag recipients are usually more impressed by bags with logos on them, prompting the recipient to hold on to the bags for an average period of 11 months. There's also evidence that 50% of those who revive a cool, well-designed silicone bag, are more likely to buy your product or service, or do business with your company.
There's no doubt, therefore, that using silicone tote bags as an advertising tool does pay huge rewards – both in the short as well as in the longer term. However, clearly, these statistics show that favorable impressions only come with well-designed and professionally produced gift items.
If you work with a professional promo gift item manufacturer like OYI Gift, your totes can serve as powerful advertising media for many years. But, there's also a note of caution to using tote bags and other promotional gifts as advertising vehicles: Do it wrong, and your bag will fail to get the marketing response you hoped it might deliver!