Remember About AirTag Keychain Holder
If you've ever lost a set of keys – perhaps to your car or a closet or a storage locker – and spent hours hunting for them (often without success!), then you know what frustration feels like! Well, now Apple has a solution for that. It's called Apple AirTag, and you can attach it to your keychain (or other things you are prone to misplace!). You can then use your Apple phone to quickly locate your AirTag keychain when it's lost.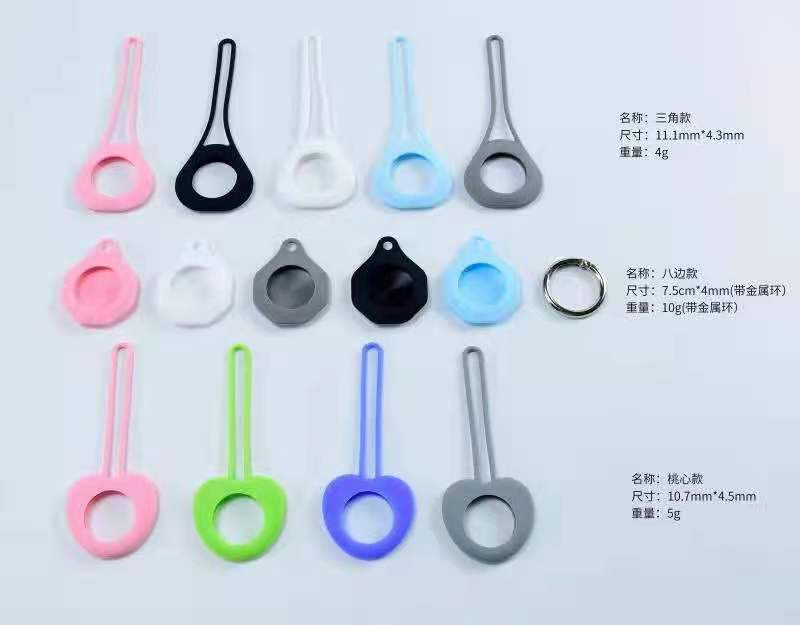 Losing and Finding Your 'stuff' Made Easy
We all lose "stuff" from time to time. A set of keys slides under the couch. A wallet slips out of our pocket and lands behind a chair. A book or CD binder is left in a friend's car. And sometimes we'll spend hours trying to find those items. If we're lucky, we'll ultimately find them – but it might take hours…or even days.
Sometimes, though, we may not be so lucky. For example, if your wallet fell behind in a friend's car, and he/she has left on vacation – it's unlikely you'll ever know where your wallet is until your friend gets back from vacation. If only there was a way to know that your wallet was somewhere safe – at your friend's house, locked safely in their car, which is safely behind a closed garage door! Well, that's what the ingenious AirTag keychain loop is all about!
For anyone new to Apple AirTag, the concept is really simple. It is a tiny tracking device weighing approximately 11 grams (0.39 ounces). It is 8 millimeters (0.31 inches) in height and has a diameter of approximately 1.26 inches. It is primarily meant to be used as a "lose it, track it, and find" device. Here's how it works:
You attach it to your keychain or hook it to your bookbinder, briefcase, purse, or backpack
Activate it using the "Find My" app
Your Apple AirTag keychain is now on Apple's radar
If you lose the item to which the AirTag is attached, use the "Find My" app to track it down
It's really that simple! The only thing that makes the difference between losing and worrying about a lost item; and losing it and finding it – or at least knowing where it is at – is a tiny disk-like homing device, attached to a keychain holder.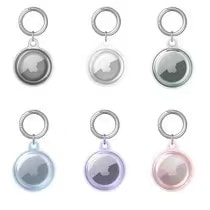 Five Important Things to Remember
But, like everything that looks "simple", there are some unique things about the AirTag that you should know about. Here are 5 simple, yet important, things to remember about the AirTag and the AirTag keychain holder:
Before attaching your AirTag to an item, the first thing you should know about it is that you'll find it difficult to attach the device to anything!
One would think that when you pay almost $40 to buy an Apple AirTag, it would come with come with a built-in AirTag keychain case, or some other form of the holder to harness and contain the miniature device. Alas, no! Remember, your Apple AirTag doesn't come with any loops, holes or holder either, that you can use to harness to the device you wish to track.
Fortunately, OYI Gift has an elegant solution for that. Available in multiple colors, the AirTag keychain loop is flexible, and made from high-grade silicone. You won't need to drill a hole or stick any other attachments to the AirTag. Simply slip the device inside the carefully produced "pocket" in the keychain holder, and it will remain safe and secure.
Another important feature to be aware of, about using the AirTag, is that you'll need the right phone or computer, equipped with the right software and operating system, to use it.
To make effective use of your Apple AirTag keychain holder, you must ensure that you are using a compatible iPad or iPhone. This means, to track the AirTag enabled item, you must be running iPadOS 15.5+ on your Apple tablet, or using an iPhone equipped with iOS 14.5. Compatible iPhones include iPhone 6s and above, as well as gen 1 and gen 2 of iPhone SE. Most iPads are compatible with AirTag technology.
A third thing that everyone who attaches an Apple AirTag keychain holder to an item or a device, must know is how the tracker functions.
Wondering how your AirTag keychain for Apple works? Well, once the flexible loop is fixed to the item, equipment or device you wish to track, locating your lost or missing items is easy! When you discover your wallet, backpack or purse is missing, simply fire up your Find My app, and say "Hey Siri, find my purse". Siri will obediently ping the attached AirTag, using Precision Finding, and try locating it. If the missing item is nearby (within the phone's range), the embedded AirTag will play a sound via its built-in speaker for you to follow.
But what if you misplaced it somewhere away from you – like the beach or on a train? Well, when you attach your AirTag keychain to an item, it (the AirTag) sends out a secure Bluetooth pulse to other Apple devices nearby, which are also on the Find My network. If your missing item is close to any of the millions of other devices on the network, a secure message is sent to iCloud with the location. You can log in to your Find My app and see exactly where your missing item is, and retrieve it.
Another important thing to remember, when using AirTag with keychain holders, is that you must ensure the holder is securely looped to the device you wish to track. Some keychain holders are rather challenging, and because the loops are made from inferior materials – like fabric or plastic – they snap easily. They are also challenging to attach to any item being tracked.
OYI Gift AirTag keychain holder is really easy to attach to any item or device you want tracked. Simply hook the silicone loop into any convenient anchor on the item…and you're ready to go! Once attached to your item, AirTag leverages ultra-wideband technology, along with Apple's network of global devices, and turns the AirTag into a crowdsourced beacon.
The keychain holder is designed with an easy-to-use loop, that's flexible, and durable, and conveniently goes around the tracked device. Ideally, once you hook the AirTag silicone loop around your set of keys, book folder, purse or luggage, you can track it from a distance and monitor its movements using the "Find My" app online. The AirTag runs off battery power. However, be mindful that according to Apple, the battery only lasts for about 1 year. You must replace the battery annually to ensure you continue to track your items.
Want to buy new batteries and don't know which one? Well, the AirTag batteries aren't proprietary Apple parts. It uses commercially available CR2032 batteries available at any watch maker or jeweler store.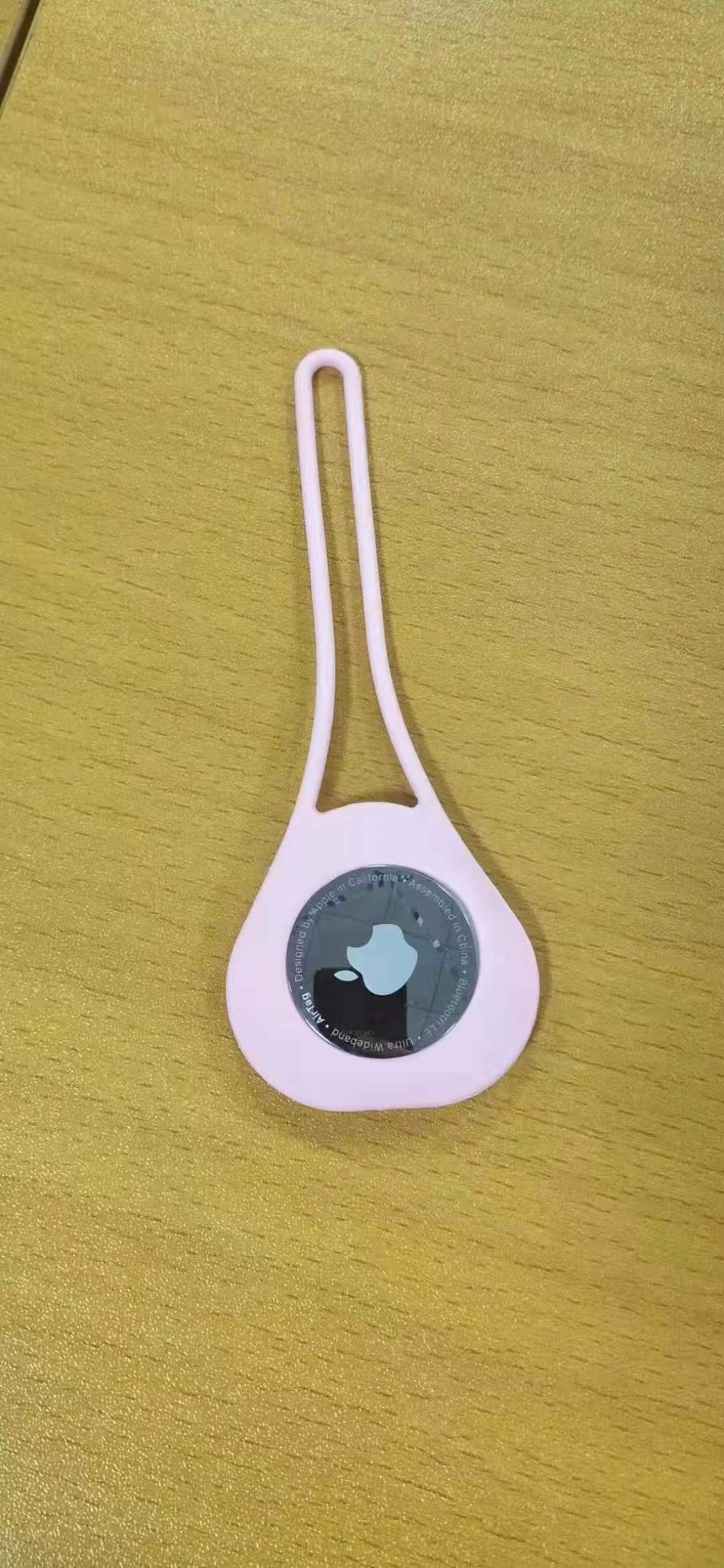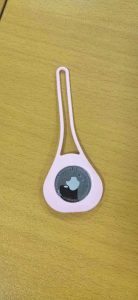 Your Apple AirTag Keychain Is Safe
For anyone worried about the safety of using AirTags with keychain holder – you need not worry. As always, Apple has kept user safety and privacy at the heart of its core design. All communications, from your Apple device to the "Find My" network, and even on iCloud, are encrypted. The tracking device, embedded in the OYI Gift AirTag keychain case sends out location data messages that only you, the owner of that device, has access to.
Another interesting thing to know is that unlike other shared services, such as Apple Books, iTunes, App Store usage and family-pack iCloud storage, AirTag use is not sharable. The way it works is that, each device to which an AirTag silicone loop is attached, is paired with only a single Apple ID. Apple has deliberately designed it that way so that only you, the person whose iPhone or iPad the AirTag is locked to, are the sole individual who can track location data for your AirTag.
With features such as these, using an AirTag is ideal for almost every person – whether you are in school, a professional travelling to a different location with expensive equipment, a vacationing family with multiple pieces of luggage, or an individual on holiday. It matters not! With your AirTag keychain for Apple looped or hoked around, or inserted into the item you want tracked, you'll always be able to securely and confidentially track where your items are.
Of course, the only way to ensure you find your items when they are lost, is to ensure the AirTag keychain that it is attached to doesn't break or fall off, or get damaged. That's why, working with a seasoned novelty gift manufacturer like OYI Gift is essential. Only materials like silicone, used in producing the keychains, are hardy enough to withstand the strongest stress when attached to items.
And the precision design of the AirTag holder ensures a tight, secure fit tightly within the keychain. Even the most rigorous jostling and jarring won't dislodge the AirTag, once it is firmly embedded into the keychain holder. The result: A securely held Airtag, that's securely looped and attached to your items. Tracking lost or missing items has never been this easy!