Silicone Tote Bag
As a business owner, you're always looking for opportunities to earn more money, both for yourself and your business. That's natural. But when you hear other peers and competitors saying things like "I earned a bag of money…" on this venture or that, you wonder whether there is such a thing as a "bag of money". Well, here's the good news: With a large silicone tote bag on your side, you too could earn bags of money. But there's more good news.
Read on to learn how it's easy for a tote bag to get you to make more money!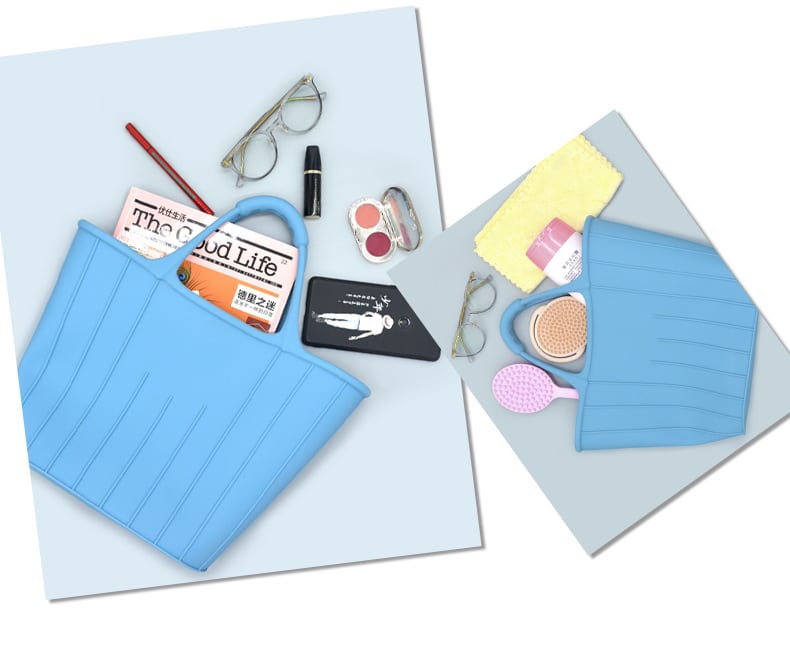 Bigger Than Just Bags
We live in a world of marketing and publicity today. The more you market yourself and your business, the bigger your opportunity for generating revenue. And that means, every method you leverage, to promote your business, must be used. If you don't do so, your competitors will – and that's the reality of today's marketing-driven business environment.
When it comes to using great marketing ideas, a silicone rubber tote bag is one way to promote your company, product, service, or brand. But these unique "tools" offer bigger money-making abilities than the typical bag or tote, and they offer advertising prospects like none of their peer totes or bags provide:
The material used in manufacturing them is 100% food-grade silicone – so you'll never need to fear chemicals or contamination
They're extremely chic and stylishly designed – which makes them more popular than traditional plastic or paper totes and bags
They're colorful, flexible, and pliable, which makes them easy to carry, use and store
Many shoppers and consumers are extremely eco-conscious today. The silicone tote bag is non-toxic, easy to maintain and clean, and eco-friendly
The aesthetic design supports an ergonomically sound handle, which makes it easy to carry and transport
In other words, these totes are larger (in terms of appeal and functionality) than any traditional totes and bags available today. But they are also a better choice when it comes to other features of totes and bags available today, such as design, colors, and durability. In the eyes of most consumers, that gives the silicone rubber tote bag a bigger competitive edge than traditional bags.
Game-changing Money Maker
Traditionally, businesses marketed their products, services, and brands, by printing advertisements and publicity materials on bags and totes made from paper, plastic, or fabric. When you go to a grocery store or a retailer's shop, most likely the product is placed in a unique store-printed bag. Unfortunately, once the customer exits the store, and goes home, those bags are discarded.
Your advertisement, brand promotional slogan, or sales pitch, printed on single-use paper or plastic bags, doesn't survive too long. Within a couple of hours, your marketing investment no longer works for you. However, ordering silicone tote bags wholesale, and using them as in-store totes, or as promotional or gift items, is a money-making game-changing marketing strategy. You'll save a lot and earn money in several ways:
Unlike marketing materials printed on paper, fabric, or plastic, promotional materials printed on silicone totes are clearer and of better quality. This makes your brand stand out better
Silicone is an extremely durable, hardy material. The totes made from silicone last for years – unlike a few days in the case of paper or plastic bags. This means, your investment in them will last much longer. You'll save lots of cost because you won't need to buy as many bags as you did for paper or plastic
Unlike traditional totes, made from bendable or foldable materials, marketing slogans and sales materials printed on a silicone tote bag is always visible. It won't be hidden, nor will it become invisible – like when paper or plastic bags fold or becomes misshaped
The longer these bags last, the more "eyeballs" they'll be exposed to; and that means more prospective customers and clients get to see your marketing message. And, as more people see your advertisements, there's a greater chance of converting casual interest into paying customers. The use of silicone totes not only saves you money through cost-cutting and expenditure reduction (less money spent on other shopping bags), but it also increases your revenue by expanding the amount of time your advertisements are viewed.
Putting Silicone Totes bag to Work
So, how can businesses use this game-changing, money-making marketing tool? Well, because of its versatility and usefulness, a large silicone tote bag offers multiple opportunities for improving revenue. Some of these opportunities indirectly add revenue to the company, while others are more direct money-makers.
DIRECT MONEY-MAKING IDEAS
Here are some ways to use silicone totes and bags to directly make more money:
If you are a business in the consumer products area, why not have silicone bags imprinted with your product or service images and brands, and give them away as gifts to your customers
Hold a marketing event, and offer silicone bags as promotional props to everyone who visits your stall and fills out a contact form. You can then use that information for targeted advertising
Work with a reputed promotional and gift item manufacturer, like OYI Gifts, to produce customized silicone tote bags wholesale. Include marketing slogans and brand promotional advertising materials on each bag. You can give these bags as gifts to loyal customers and clients. Everywhere they go, they'll use your bag, which gives you FREE advertising power!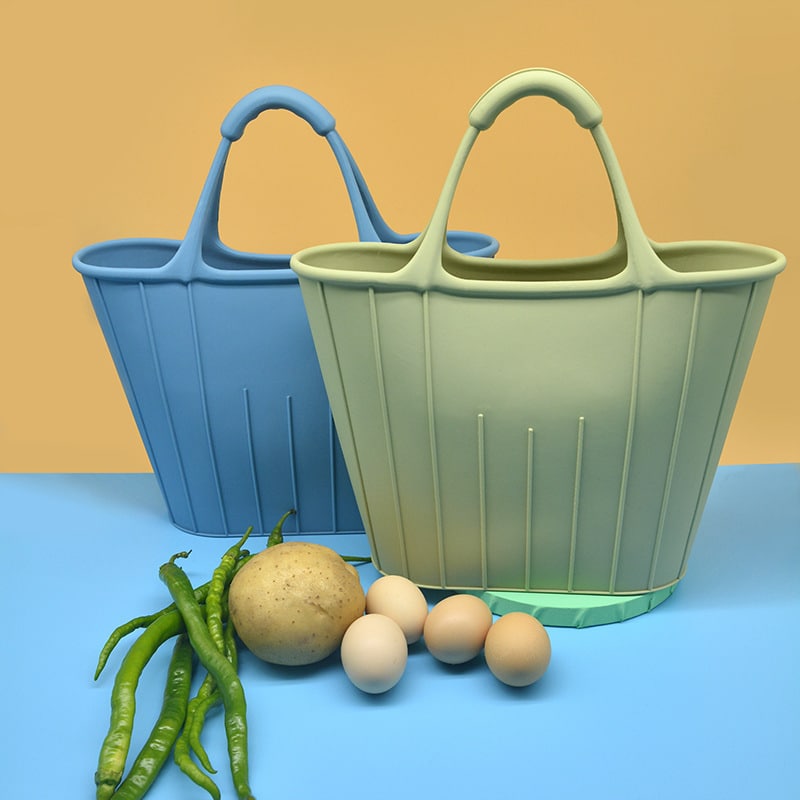 Start a BOGOF (buy-one-get-one-free) promotional drive. Customers who buy one (or five…or however many make economic sense) of your products, get one silicone bag FREE. Usually, consumers love "free" rewards and gifts. Receiving a well-designed, colorful, reusable, multi-use tote will make them (your customers) want to take advantage of the gift scheme. The more of your product/service they buy…the more money you'll make!
The above ideas target existing clients, and prospective new customers, with marketing slogans and advertisements. The strategy is to use the silicone tote bag, with corporate promotional materials, as the vehicle to sell more of your products and services. The result: Your business makes more money in the form of increased revenue – thanks to silicone bag-driven marketing and advertising.
The ideas discussed above are direct revenue generators. However, silicone totes and bags have other money-making capabilities – albeit they are indirect methods of increasing company revenue and sales.
INDIRECT REVENUE GENERATORS
As a business owner, you are probably aware that your success doesn't only come from your customers – although they directly pay you for your goods and services. Most businesses, although they might not realize it, owe their success to individuals and groups other than their clients, including employees, suppliers, distributors, and sub-contractors.
Here are some ways to use silicone totes and bags to indirectly make more money:
Good employees are hard to find. So, to keep your employees motivated and committed to your business goals, have your promotional gift manufacturer produce silicone tote bags wholesale, that contain uplifting slogans and messages: "Thank you for your hard work"; "Your support means a lot to us!" etc. You can give these bags to all your employees at an Employee Appreciation event
If you are a sales-oriented business, then why not use silicone bags to promote healthy competition among your sales team? Have your gift maker produce silicone totes of different colors – Gold, Silver, and Brown (for instance), with different recognition messages: "Gold Medal Winner!" or "Well done! 100% Target Achieved!", or "Runner-up 2021" etc. You can then award these totes as gifts to the teams based on performance
Work with your gift items producer to create a special silicone rubber tote bag that has your company branding, along with words of appreciation. These bags may then be given to your suppliers, distributors, and sub-contractors to thank them for their efficiency and good customer service. These are the organizations that are more directly in touch with your customers, so showing them your appreciation results in them serving your client base better
Pass on a large number of silicone bags, with your marketing and promotional slogans, to your network of retail outlets and distribution centers. Have them run promotional schemes on your behalf, and package your products inside a large silicone tote bag when customers buy a certain number of items, or place an order of a certain value
Partnering With the Right Gift Producer
Whether you use the direct method, indirect marketing, or a combination of both approaches, the center of your marketing strategy will be the silicone bag. And that's where quality matters. If your gift bags are of inferior quality, your customers won't like it. It can cause serious damage to your brand, image, and reputation.
Working with an experienced silicone tote bags wholesale producer guarantees not just the quality of your promotional gifts, but also the timeliness of your order. Additionally, because OYI Gifts have its own in-house production facilities, your order can be as large or as small as you like – they'll easily accommodate your request. The advantage of larger orders, however, is that you may receive price discounts – which is yet another opportunity for you to save money and make more money!