Mealtime is one of the most beautiful experiences we have with our infants. From playing with food to taking those small bites, we cherish every moment with them. But what if this experience gets hindered, and you only care about saving your infant from getting dirty? You wouldn't want that, right? Neither do we. That's why we have come up with a solution; a silicon baby bib.
Now, there are many reasons why you should consider silicon baby bibs. They save tons of your time, keep your infants clean, and, yes, allow you to spend that time with your child to create memories to cherish for a lifetime. So, bid farewell to your laundry nightmares because our silicon bibs will make your life easy.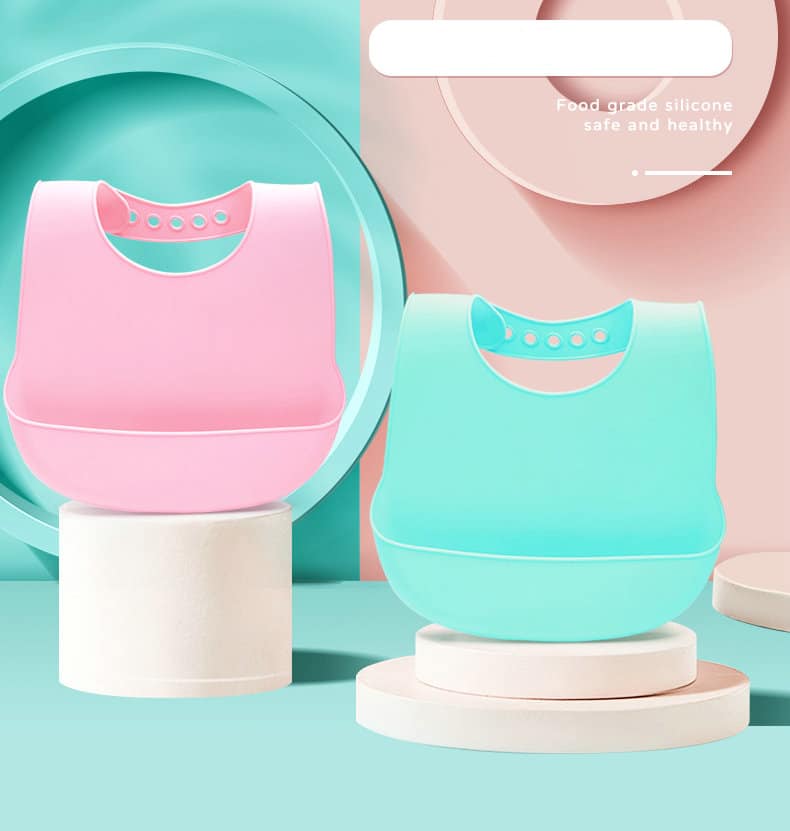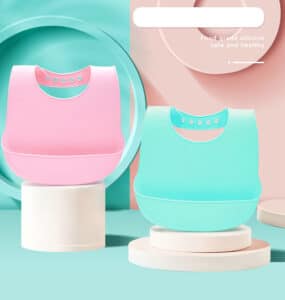 Need For Silicone Baby Bibs
If you still need to be convinced to use silicone baby bibs and want to know a little more about them, we've got you. Below are some points that will surely leave you convinced.
Our infants always spill milk, and toddlers always find a way to spat out their food. In these situations, cloth bibs usually offer little help. It would help if you had something better. In this situation, silicone baby bibs come into the picture. Feed them any liquid, solid, or fruit diet without worrying about them spilling it. So now, you have more time to enjoy with your child as these baby bibs do all the work for you.
New parents might anticipate using several bibs every day. Since our bibs don't get stains quickly and are easy to wash, you can use them repeatedly without worrying about their wear and tear. This characteristic makes these bibs stand out from the crowd and reach your hearts.
In addition, we provide parents with soft bibs that fit their preferences and can alter with a child's development. A good bib, just like ours, should be long-lasting, comfortable around your baby's neck, and absorbent. They are not itchy and give no rashes.
Besides helping parents, the silicone baby bibs serve as the safest material you would want around your kid. Want to know how it is the best? Here are some of the leading advantages:
Advantages Of Silicone Baby Bibs
Although silicon bibs can offer innumerable benefits when purchased from the right place, we're going to mention some.
Silicon baby bibs are safe for your baby.
Undoubtedly, your child's health comes first. That's why materials like silicone are best. It's 100% food-grade and doesn't leak harmful substances, even at extreme temperatures. Moreover, it doesn't contain toxic substances like formaldehyde, polyvinyl chloride, phthalates, PVS, nitrate, or other toxins that might contaminate your baby's food. What's even better is that it's BPA-free.
Before we proceed with the following advantage, let me take you into some depth about what BPA is and some other toxins.
BPA stands for bisphenol A. This chemical is found in household items, plastic, water containers, and metals. Despite its widespread use, many health threats have been associated with it. According to research, exposure to BPA can also affect the brain and prostate glands of children and their behavior. So, it's best to keep it as far as possible from your child.
Silicone baby bibs are PVC-free
Like BPA, PVC is found in our households, for example, in plumbing pipes. It contains many harmful substances like cadmium and organotins. These chemicals eventually evaporate into the environment and pose serious threats to your child's health. Therefore, it's best to avoid products that are PVC free.
Lead-Free
Since lead consumption can impact calcium absorption and blood cell synthesis, it is terrible for the body. Calcium is necessary for the healthy functioning of the bones, muscles, neurons, and blood vessels. Exposing children to this chemical can be terrible. That explains why you should always choose lead-free products.
Having discussed it, let's get back to our previous discussion; the advantages.
Silicon Baby Bibs Are Easy To Use
One of the best features of silicon baby bibs is that they are easy to use. They have adjustable neck straps, which are ideal for a developing baby. You can also fold them while storing them for your convenience. This feature makes them portable. So, you can easily carry them while traveling.
Silicon baby bibs come with an attached tray
No matter how careful you are, your toddler finds a way to spill the food on the floor. Well, you don't need to worry about that with silicone baby ribs. They come with wide pockets at the end to prevent debris from falling. Meanwhile, you can allow them to enjoy their mealtime adventure while minimizing your clean-up work.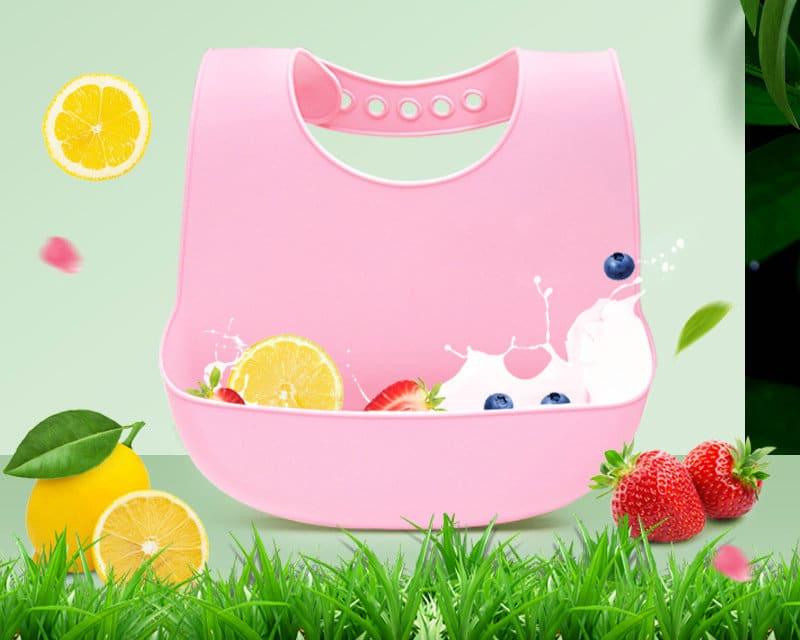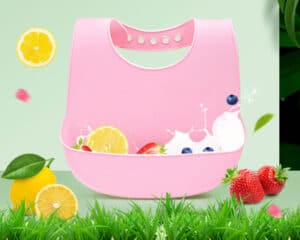 Silicon baby bibs are lightweight and secure
The silicone bib is of little value if it doesn't provide comfort, regardless of how nice and useful it is. Given this, the silicone bibs' weight and size were designed to ensure that they are lightweight and offer no discomfort.
In addition, with the help of the adjustable straps, you can easily tie them to your infant's neck. It is an excellent feature, significant when your child is growing.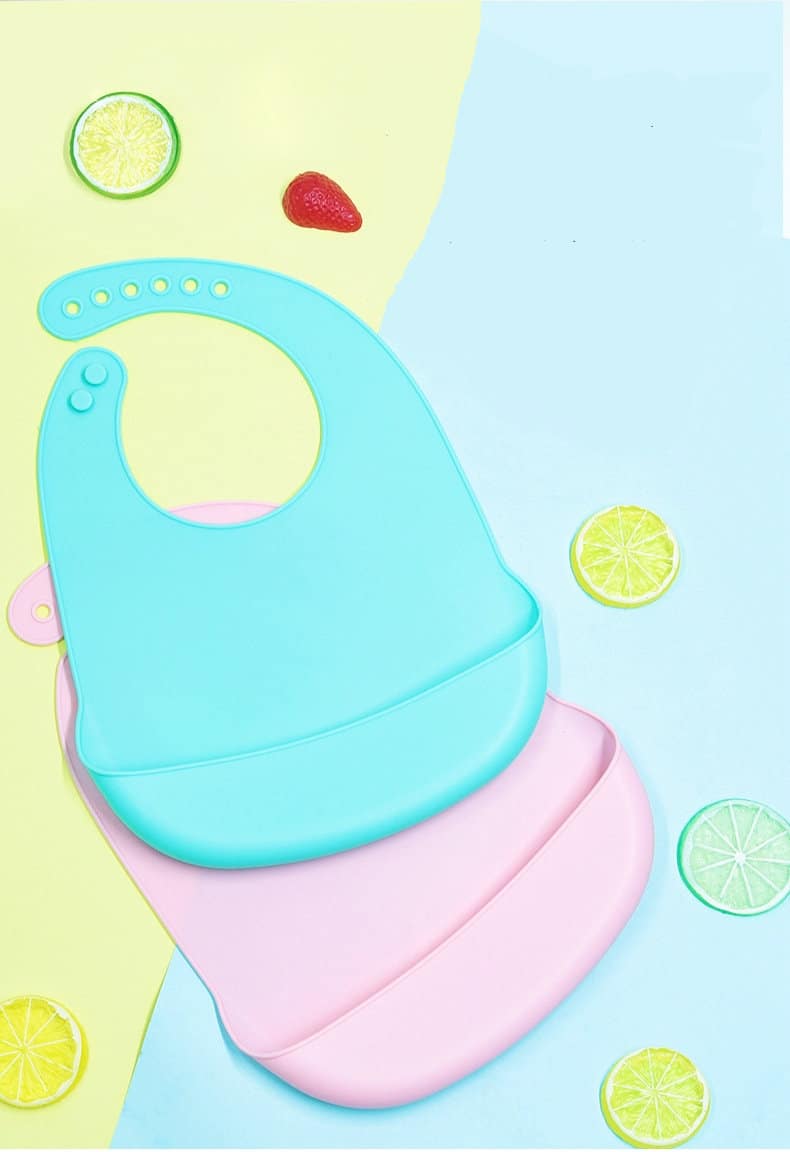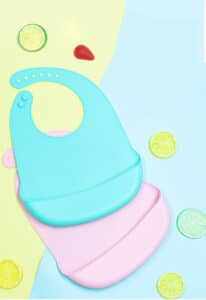 They are exciting and enjoyable!
Silicone bibs with patterns come in various vibrant colors to win your toddler's heart. They offer a variety of styles and forms. This allows you to play with different bibs until your toddlers choose the best one.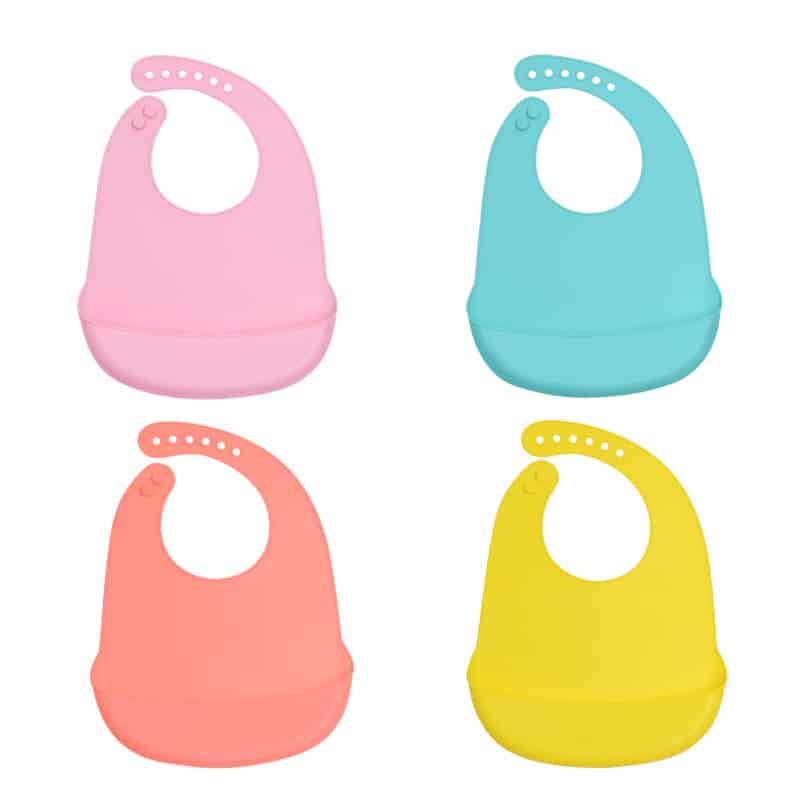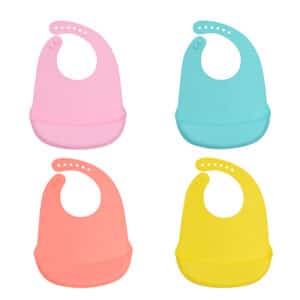 Silicon baby ribs are durable
Unlike cloth or cotton bibs, they are resistant to wear and tear. They offer high tensile strength, like rubber, and provide maximum flexibility. A little play with it won't hurt, and you can keep them longer.
Silicone Baby Bibs; Safety Concerns, Types of Silicone And Washing
There are a few questions that still need to be addressed. Including the safety concerns of silicone baby bibs, the types of silicone best suited to your needs, and the proper way to clean them. Keep reading to get answers to all these questions.
Safety
Although we've fully learned why silicone is a better alternative to cloth or cotton bibs, there are still a few things you need to check for the sake of confirmation.
The bibs should have a lab testing certificate. This lab testing is regulated by Consumer Product Safety on children's products. The test ensures that the product doesn't have toxic chemicals such as lead content, phthalates, or other toxins.
Types Of Silicone
Although silicone is considered food-grade, we can only qualify some types of silicone like so. For instance, tin-cured silicone is safe for babies, but parents are unhappy over the fact that they give off particular smells and become stiff over time.
That is the reason we offer platinum-cured silicone. It doesn't give off a smell and sustains its softness for extended periods.
| | |
| --- | --- |
| Normal Silicon | Platinum-cured Silicon |
| Food-grade | Food-grade |
| Gives off smell | Doesn't give off smell |
| Soft | Very soft |
| Becomes stiff | Doesn't become stiff |
Washing silicone baby bibs
The easiest and most effective way to wash your Silicon baby bib is to put them in the dishwasher along with other loads of dishes. You can also rinse them before putting them in the dishwasher to ensure they acquire no stains.
Additionally, you can use soap and water to make sure they are clean and stainless. Remember, there's no particular way of cleaning them. You can do it as you please.
However, note that you don't use any bleach or non-chlorine bleach additives, as they can damage them. Our silicone baby bibs are gentle, durable, and simple to wash.
Pros And Cons Of Silicone Baby Bibs
The ultimate goal of these bibs is to bring ease to your life by preventing food, drool, and other liquids from falling. It allows parents to develop strong bonds with their children and enjoy mealtime together. However, there are still two main questions all parents ask, and we address them.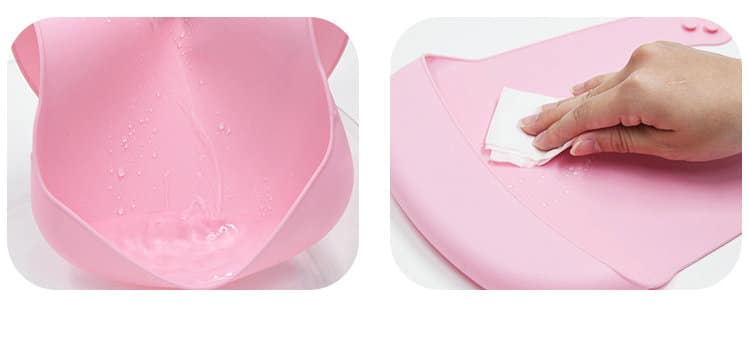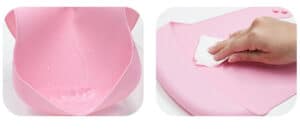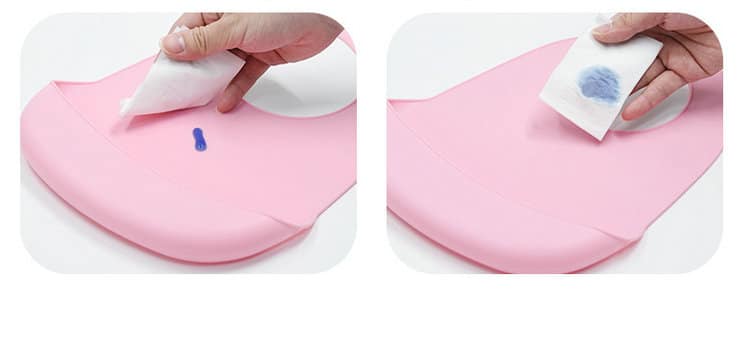 Reasons Why Baby Start Wearing Silicone Baby Bibs
Our silicone baby bibs are ideal for newborns. They can be a good helper during feeding time to keep your infants clean. You no longer have to worry about drool and breastmilk from falling off their clothes and vomiting. This keeps newborns dry and effectively prevents rashes. See how a simple change in mealtime accessories can ease your life!
Reasons Why Baby Stop Wearing Silicone Baby Bibs
The ideal age for babies to stop wearing these bibs is 3-4. By this time, children usually discover all new food items and can quickly go without wearing them. However, there are no standards here. If your little bundle of joy creates a mess while eating, you can continue to use them past this age. Remember, every child is different, and you will decide the age to discontinue their favorite baby bibs.
Wrapping Up
Cleaning up a mess created by our toddlers can be tiresome. Our silicone baby bibs offer a solution. I mean. who wouldn't want a bib that's waterproof and easy to clean?
Another best thing about them is that they are suitable for different ages. No matter if your little bundle of joy is an infant, toddler, or another age, they can still benefit from them.
Children are delicate, and for them, safety matters even more. Therefore, we followed all the cautions to develop a bib with no traces of harmful chemicals like BPA, PVC, and lead. With our baby silicone bibs, your child is safer than ever.
These silicone baby bibs come in a variety of designs and colors. Please, have a peek at our collection and grab the best ones for your child now!