In a world full of different shapes, sizes, and types of ice cream molds, which ones are the best? Not just in terms of shapes but also for your health. In simple words, how do you identify the best silicone ice cream molds for your family? Before discussing that, let's start with introducing these ice cream molds.
Basically, these are simple cavities helpful for pouring tasty liquids. It gives desired shape to the liquid, and when frozen, it turns out to be your favorite ice cream. But here's the deal: Unlike other cavities that release harmful toxins, silicone ice cream molds guarantee your safety. They are tested at extreme temperatures, so your ice creams are 100% healthy.
But this is just the tip of the iceberg; silicone ice cream molds are far more useful. It offers several other benefits. But here's the question: Which is the best silicone ice cream mold? Let's reveal this mystery together.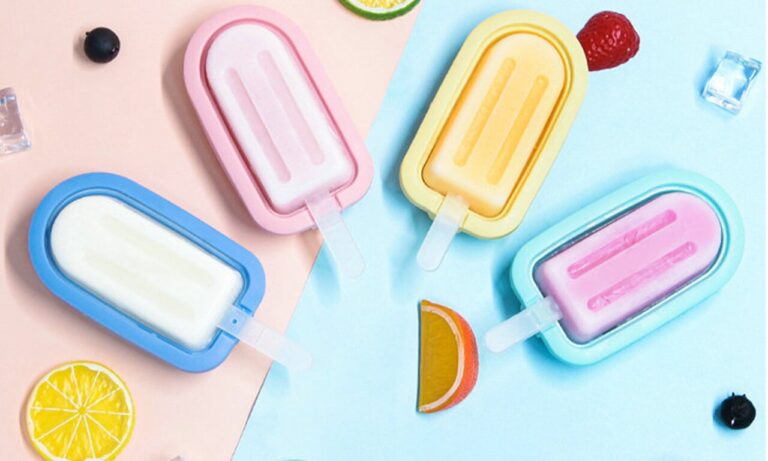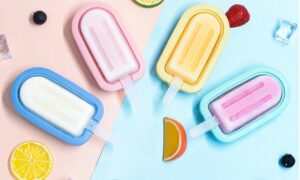 Best Silicone Ice Cream Molds
Best silicone ice cream molds are flexible, safe, and can be used in temperatures ranging from -40 to 230 degrees Celsius. They can withstand extreme temperatures without releasing harmful toxins like BPA. Plus, they are super easy to clean. These products have different types. Here are some of them:
Summer homemade DIY popsicle silicone ice cream mold
Mini oval-shaped silicone ice cream molds
Large oval-shaped silicon ice cream molds
Round-shaped ice cream molds with sustainable sticks
Rippled-shaped ice cream molds
Cartoon mouse-shaped silicon ice cream molds
1. Summer Homemade DIY Popsicle Silicone Ice Cream Mold
Nothing is better than a chilled ice popsicle made at your home. Introducing the best homemade DIY popsicle silicone ice cream molds to reduce the summer's heat. These are made of food-grade silicon, which means they are 100% health-safe. Do you know what the best part is? They come in different colors, so all of you can choose your favorite and unique popsicle.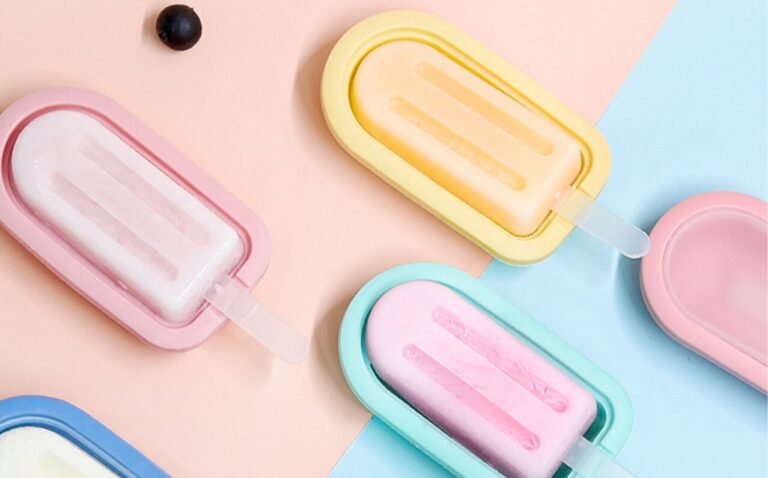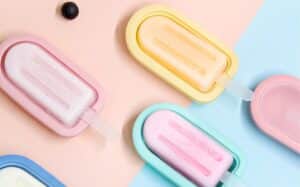 Want to know the best part of making homemade popsicles with a silicone ice cream mold this summer? Here are some features you get with these products:
Features:
Food-grade silicone is odorless, non-toxic, restless, BPA-free, and FDA-approved.
Friendly to clean, ice cream can be kept clean, melted, and kept from absorbing freezer odors with a high-quality silicone lid.
Easily cleanable from a simple hand wash.
Never sticks to your freezer's shelves.
2. Mini Oval shaped Silicone Ice cream molds:
Mini oval-shaped silicone bite-sized ice cream molds have a narrow 1.5-inch width and a 2.7-inch height. Don't let their tiny size deceive you; these molds still make perfect-sized ice cream treats. This set includes two silicone molds with four cavities each. As a result, you can make eight mini ice creams at once.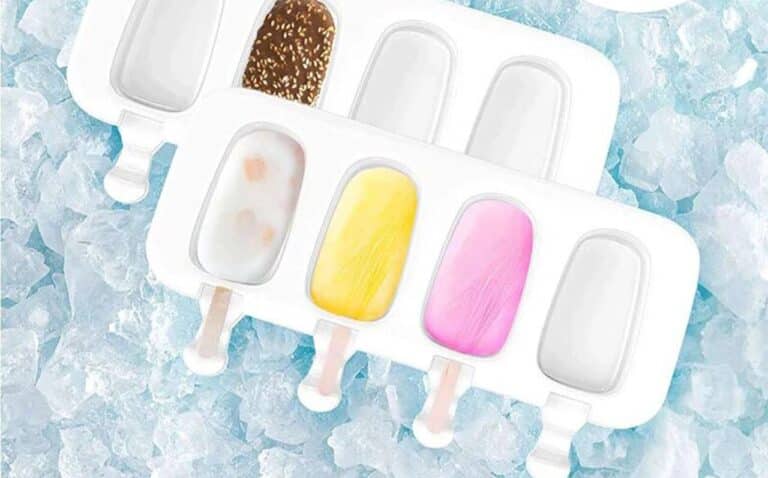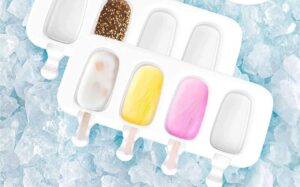 If you want to chill the food for more than an hour, you'll need cling wrap or a baking pan mat to prevent freezer burn. Fifty miniature lolly sticks and sealable package bags are also included in the bundle. The package bags will work for wrapping your ice cream pops differently, but they are more practical for non-frozen treats like cake pops.
Features of the mini oval-shaped silicone ice cream mold are:
Environment-friendly
Food-grade material
Portable
Ideal for use in the shop, store, or store.
Helpful for kitchen purposes
3. Large Oval shaped Silicone Ice cream molds:
Large Oval shaped Silicone Ice cream molds are more extensive and ideal for producing full-sized ice cream pops. This kit includes two trays with four cavities each, which is significant for making eight ice cream molds at once.
The ice cream popsicles will be 3.7 inches tall and 2 inches broad, with 40 regular-sized wooden popsicle sticks included.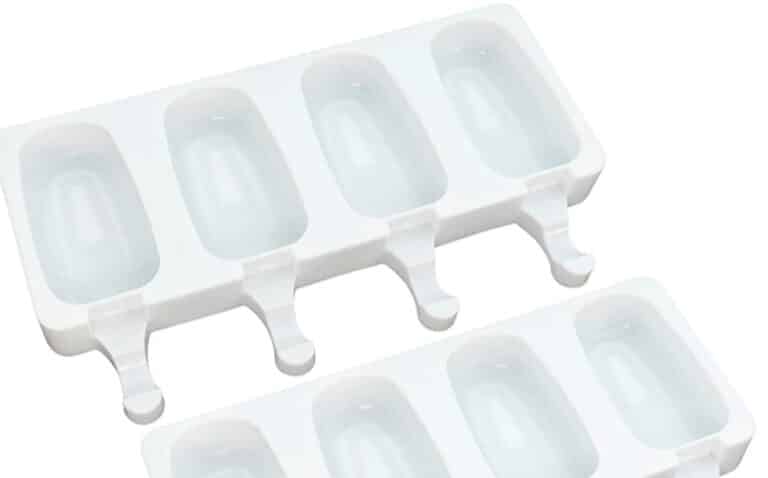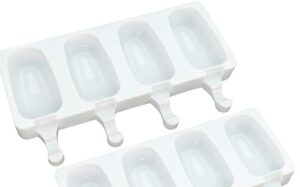 NOW! Come to the classy aspect of a large oval-shaped silicone ice cream mold. The elegant element of this set is the silicone coverings, making it simpler to press the ice cream into all the corners of the holes.
It also guards against freezer burn for the ice cream. The features of a large oval-shaped silicone ice cream mold are the same as those of a mini oval-shaped ice cream mold. In short, it is one of the best silicone ice cream molds.
4. Round-shaped Ice cream molds with sustainable sticks:
Another type of best silicone mold is the round-shaped ice cream mold that is round in shape with the distinctive feature of having sustainable bars.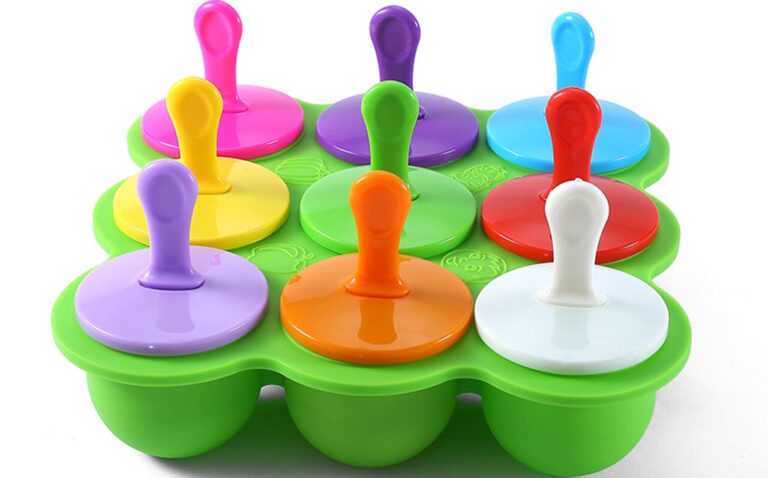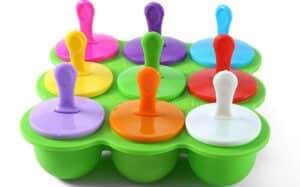 These round domed ice cream pop molds have reusable drip guard handles. Ideal for anybody desiring the traditional ice cream scoop form without the messy drips. Three silicone trays with nine cavities each are included in this package. Approximately two tablespoons of ice cream fit into each hole.
One silicone lid and seven vibrant, reusable popsicle sticks are included, allowing you to produce seven popsicles at once. You may make up to 14 ice cream popsicles at once by purchasing more bars that suit these molds. So, taking its place in one of the best silicone ice cream molds.
Features of round-shaped silicone ice cream molds:
Food-grade silicone construction.
Odorless and Non-toxic.
Easy to clean
5. Rippled-shaped Icecream Molds:
How marvelous are these big rippling silicone ice cream molds? Each one is 1.25 inches broad and 2.6 inches tall. They're not exactly small, but neither enormous – just perfect in size and shape.
This kit includes two trays containing four ice cream bar molds and 50 wooden popsicle sticks. You can make eight ice cream pops at once. Because it lacks a silicone lid, you'll need to cover the ice cream with plastic wrap or a silicone mat if you plan to keep it in the freezer for more than a few hours.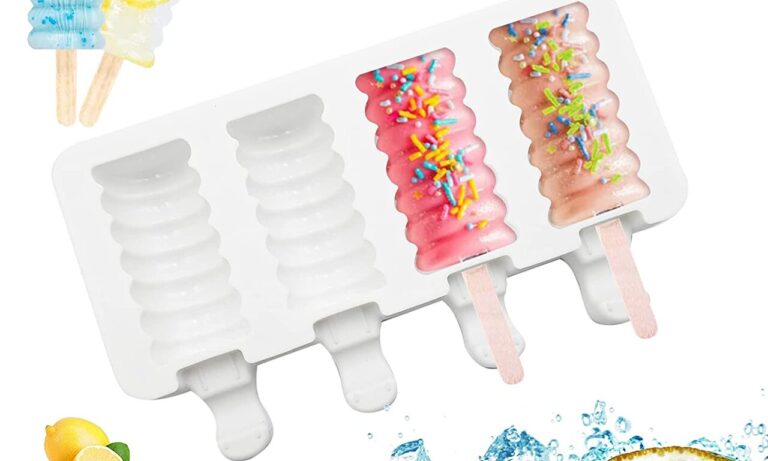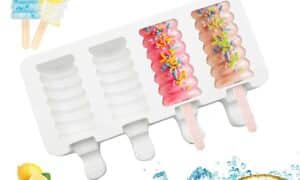 Features of Ripple Silicone Ice cream molds:
Made up of premium silicone.
Provide DIY experience.
Easy to disassemble.
Use for multiple purposes.
6. Mouse-Shaped Silicone Icecream Molds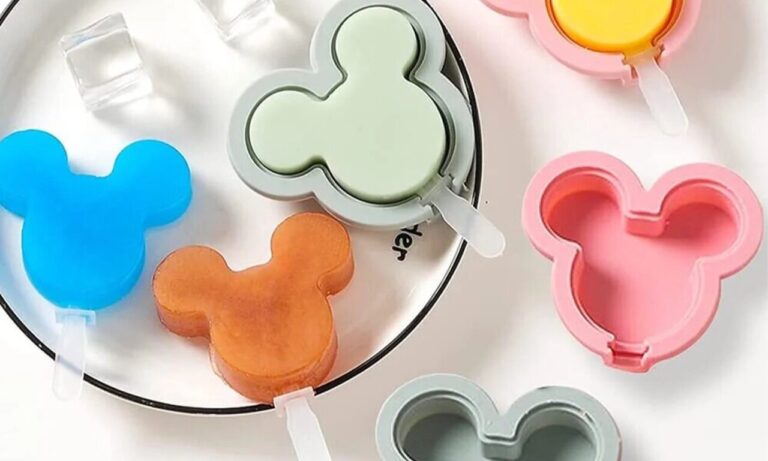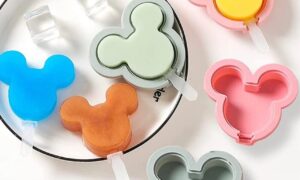 These mouse-shaped silicone ice pop molds are 3.8 inches from ear to ear and 3.2 inches tall. They're adorable, come with reusable small plastic sticks, and each mold has its cover to protect the pops from freezer burn in the freezer. The best part is their shapes. It allows children to play with their favorite character, jerry, which has turned into ice cream.
Coming to its specifications, this kit has four separate molds, sticks, and lids. The advantage of using individual molds is that you can store them separately in the freezer or leave the pops in the molds until ready to consume. The disadvantage is that you have more individual components that might become misplaced or separated.
How To Pick The Best Silicone Ice Cream Molds?
There is no general answer to this question because the best silicone ice cream molds for you will depend on your individual needs and tastes. But if you are really into it and want help choosing the best one, here are some suggestions. The following factors should be considered while selecting the best silicone ice cream molds for your family:
Make sure the product is 100% silicone-made.
Ask for a guarantee that the product is 100% safe, even at extreme temperatures.
Choose a shape your kids love to hold on to. It can be some character or a unique shape.
Check if the frozen ice cream can pop out without breaking. It's vital to get a perfect-shaped popsicle.
Make sure your kid chooses the shape and size. It's the best advice if you want to have the best silicon ice cream mold for your family.
Consider your budget.
Pieces of Advice on Using an Ice Cream Mold:
A mold's tiny entrance might make it challenging to get the components inside. A funnel that facilitates quick filling is included only in-store cream molds. They may even compress for simple storage if you aren't using them.
Popsicles can be made using ice cream molds that come in various shapes, animals, and characters. That can make the experience even more enjoyable for the younger kids.
Popsicle sticks need to be bought. Suppose your mold needs a built-in handle. For starters, some molds include a set of bars, but you'll need to buy some extras for future use.
If your silicone ice cream molds produce ten or more popsicles, you'll need a medium to keep them if your kids are only eating some at a time. A sealed container will only work if you only store them for a short period. But, for longer preservation, wrap them in cling film and then place them in the freezer.
Stick insertion might be brutal. They will slant and emerge further apart if you insert them too soon. You will only be able to attach them if you wait too long.
Pour the materials into the mold, freeze it for 40 minutes to achieve the best results, and then attach the sticks.
Here are A Few Money-Saving Tips For Buying the Best Silicone Ice Cream Mold.
When buying silicone ice cream mold, it is critical to consider factors such as pricing, quality, and selection. Department shops and cookware stores may offer a more significant assortment of things, but they are typically more expensive. Online merchants often have a smaller range but may provide lower costs. When deciding where to buy, evaluating these variables and choosing which are essential to you is critical.
Wrapping Up:
So, try these best silicon ice cream molds to cheer your kids with their favorite popsicles. To get better results, follow up on the tips and advice for using them. However, the most important thing in buying an ice cream mold is considering its material. Make sure its material is 100% safe for your family. As a matter of safety, experts suggest silicone molds. But you must make sure if the product is really silicone-made or if it's just the seller's words.