Great Valentine's Day Gift Idea
Remember the time when you would receive a warm Valentine's Day card from someone you loved, admired, or care for? It was a genuinely touching sentiment. Most people treasured those little tokens of love and affection throughout their lives. Well, even though the digital revolution has all but erased the mechanism for delivering such gestures, the revolutionary soft case Chocolate notepad is fighting back – and winning!
A case for the Chocolate notepad
We have grown so accustomed to smartphones and digital devices to communicate, that the "art" of showing affection – especially during occasions like Valentine's Day – has become a "science".  In effect, we have now relegated tokens of gratitude and affection to canned emails, corny text messages, and Cupid emojis. Well, while those tools are certainly "hip" in this digital age, the soft pocket notebook takes us back to an era of expressing tokens of appreciation – and yes, even love and admiration – and makes it more personal.
It's true that most retailers and marketers bill Valentine's Day as a "day of lovers". That definition often signifies "romantic" love. Typical gifts for expressing such love are a bouquet of red roses and a box of chocolates. A spouse, a girlfriend, or someone you find yourself attracted to would qualify for those types of gifts. But the manufacturers of the soft case Chocolate notepad have taken Valentine's Day gift-giving to a whole new dimension.
Today, Valentine's Day has evolved into a much broader form of expressing positive sentiments to people around you, including:
In-laws whom you love and respect
Childhood friends whom you adore
A friendly customer service rep that always offers service with a smile
A dedicated employee that always goes above and beyond to get the job done
Helpful work colleagues, who are always there to lend a helping hand when you need them the most
Customers that have stayed loyal to your business through ought the years
Business partners and associates with whom you share a common professional or social bond
Unlike a bouquet of red roses, which you obviously you can't send to many of the above (unless your bond was truly close – like a Mother-In-law), you can easily acknowledge platonic relationships, a term defining non-romantic affection or admiration, by giving gifts like a soft case Chocolate notepad.
Sure, during the Valentine's Day season, you could send a school friend, a college companion, or a next-door neighbor an e-card expressing how you feel. You could even text or IM an employee, office colleague, or a well-regarded co-worker or employee to express sentiments of admiration – not necessarily romantic ones – for the work they do for you. However, a more substantial – and longer-lasting gift might be a plastic cover notebook that they can use for many weeks, if not longer, after they receive it.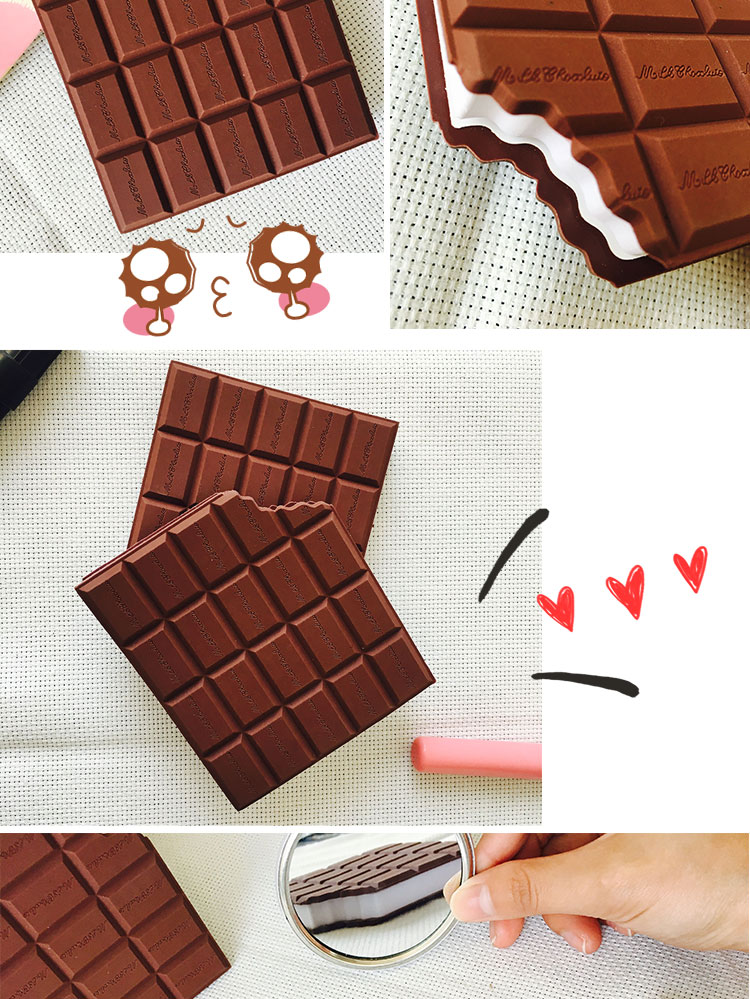 Does a soft Chocolate notepad make sense?
Whether it is in the corporate personal context, you may ask if giving a soft pocket notebook to someone as a Valentine's Day gift makes sense. The short answer: Absolutely!
Firstly, traditional Valentine's Day gifts – like candy and chocolates – are rather passé these days. That's because, where people longed for cookies and sweets just a few years ago, today, with the emphasis on health and fitness, sugar consumption is on the decline. Even if you do gift someone a box of the most expensive cookies – they'll probably regift it! Your investment in an (unwanted!) Valentine's Day gift goes wasted!
And then, there's the whole issue of allergies and side effects – something that a soft case Chocolate notepad doesn't have.  People give a gift so the recipient can savor and enjoy them. However, in today's corporate culture, there are too many risks associated with giving traditional Valentine's Day gifts – like candies and chocolates. The risks are broader than the image issue, and negative publicity that follows the sending of "unhealthy" gifts.
Unlike a softcover notebook, edible Valentine's Day gifts leave allergy sufferers susceptible to serious medical risks. In extreme cases, your company risks suffering a lawsuit for promoting gifts that produce allergic reactions in the recipients. The soft case chocolate notepad has no such risk.
In hindsight then, a gift of a notebook makes much better sense – doesn't it?
And there's more to why soft-covered writing pad gifts make sense:
They're easy to store – no chance of them melting or going stale
They're lightweight and easy to carry around
While a bouquet of roses might welter and wither away, the Chocolate notepad that you gift someone as a Valentine's Day gift will never lose its shape, bend, break or distort
Paper cards, electronic text messages, and emails are typically single-dimension (1D) in appearance. With today's manufacturing technologies, custom gift manufacturing companies, like OYI Gift, produce unique Valentine's Day gifts, like a personalized soft case chocolate notepad, in stunning 2D and even 3D images
Paper-based writing pads are no slaves to battery life or "secure" WiFi connectivity. If your gift recipient wishes to write Valentine's note to someone and leave it on their desk, or slip it into their pockets, he/she won't need an internet connection to do so. It happens individually, instantly, and in person!
Today, we're so used to using our smartphones for almost every task. However, as these clunky devices become "smarter", they also grow larger in size and dimension. The outcome: Our smartphones have become awkward to carry in our breast pockets – as their original design envisioned. So, instead of struggling to access them when a call comes in, why not use Valentine's Day-themed soft pocket notebook to put the device into? The pockets have dynamic engineering qualities to carry a range of contents – from writing paper to making notes, to visiting cards and credit cards, to cell phones of various dimensions.
Kids, who receive these handy notebooks may also use the pouches to carry photos, sticky notes, and an assorted variety of trinkets all year around. As such, even though the soft case chocolate notepad serves as a Valentine's Day gift, it also functions as a year-round catch-all carrying pouch as well.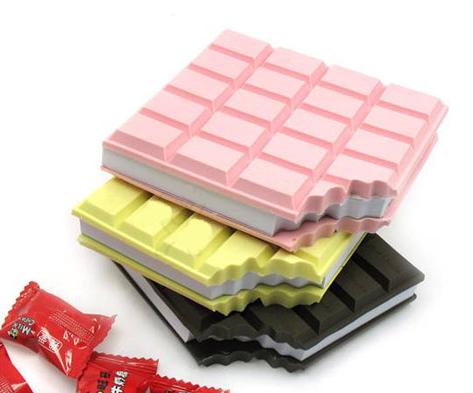 Gift ideas for a soft case chocolate notebook
Whether writing, drawing, or doodling is your "thing", the rubber cover notebook enables you to use all those mediums as expressions of affection. In fact, whether you wish to signal romantic love or platonic admiration and gratitude, a thoughtfully designed notebook is the perfect gift.
Here's how you can use it as an ideal Valentine's Day gift:
Choices: There are only so many ways you can compose an email or limited-word text message to send on Valentine's Day. But with an innovatively designed flexible cover notebook, the choices are endless
Innovative design: Heart-shaped candy boxes are so outdated that most Valentine's Day gift recipients don't really react favorably to them anymore. Plus, they seem so "retail" and "cold" – more like a cookie-cutter gift. But a soft pocket notebook, shaped like your Valentines' favorite chocolate or candy bar – is something innovative and fresh
Broader application: As a corporate sponsor of gifts, sending flowers and candy to customers and business partners is not something one typically does to mark Valentine's Day. However, there's nothing wrong with sending a universally-liked gift, like a notebook
Politically correct: Today, in a corporate setting, an intimate gift like a romantically-leaning card, baskets of personal-care items or cosmetics, do not fall within the ambit of politically-correct Valentine's Day gifts. This is especially true in today's "#MeToo" environment.
So, what can business leaders give to show respect and appreciation to employees and business partners? Well, a soft case chocolate notepad makes an ideal gift for the occasion. A well-thought-out and skillfully designed notebook can do both, mark Valentine's Day without being politically incorrect, and act as a token of appreciation
Branding: Today, manufacturing technologies are so advanced that they can take an ordinary-looking product, like a pocket notebook, and turn it into a powerful branding tool. The soft, flexible surface of a PVC cover notebook makes for the ideal brand recognition surface. Print your company logo on it.
Add a corporate slogan on the front, or put product branding information on the inside or back covers. Anytime a prospective client or business partner uses the book to jot notes or write a reminder, they'll remember your brand
Reminders: Some business relationships are seasonal – they take place only during certain parts of the year. Others are transactional – only when the other party needs your product or service, they'll reach out to you. So, how do you ensure clients and prospective customers remember your company? The short answer: Send a rubber cover notebook as a gift to them on special occasions like Valentine's Day!
So, even if it's not a specific season when your goods and services are in demand; Or even if the client is not in need of your support when they see that notebook of yours, they'll constantly remember the value you bring to their business.
Passive marketing: When someone is updating a To-Do list on his/her cellphone, no one takes notice. In fact, the privacy screens on today's smart devices make it almost impossible for anyone – other than the user – to peep at the contents.
But old-fashioned notebooks are different! The bright pink cover – the typical Valentine's Day color – of a Chocolate notepad, or an innovatively shaped pocket diary, immediately grabs attention and makes people turn to look at it. And, if the notebook or diary looks like your company logo – that immediately serves as a passive marketing pitch. You can even write discrete marketing messages on the back soft cover to ensure everyone else sees your message as the writer updates his/her notebook!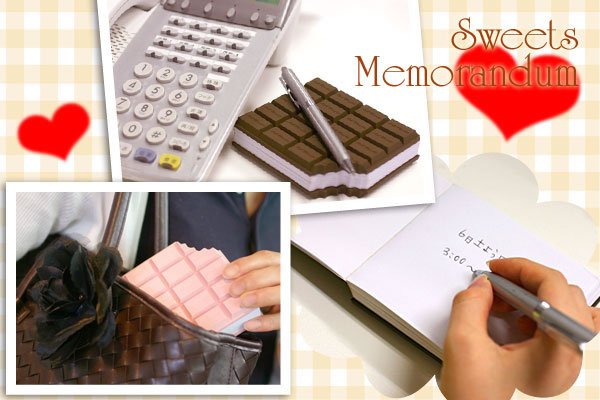 Getting a head start on Valentine's Day gift ideas
Whether it's for a special promo event, a sales exhibition you're planning soon, or your customary New year customer appreciation event – you'd do well to order a customized soft case chocolate notepad to give to your clients as this year's Valentine's Day gift. It'll be a unique twist on an old tradition. Your PVC cover notebook even makes a great employee appreciation gift idea. Employees may even gift it to their young kids to get into the spirit of Valentine's Day.
Contact OYI Gift to discuss your personalized, budget-friendly soft pocket notebook ideas.