7 reasons why the Push Bubble is so popular
The Push Bubble is a fidget toy that has a wide range of applications. Not only is this simple silicone toy lots of fun, it is a great way to relieve stress and can even improve concentration and calm. Health professionals agree that the pop bubble fidget toy can have numerous physical and mental health benefits.
Push pop bubbles are fashionable right now, so join in the craze and let's all start popping!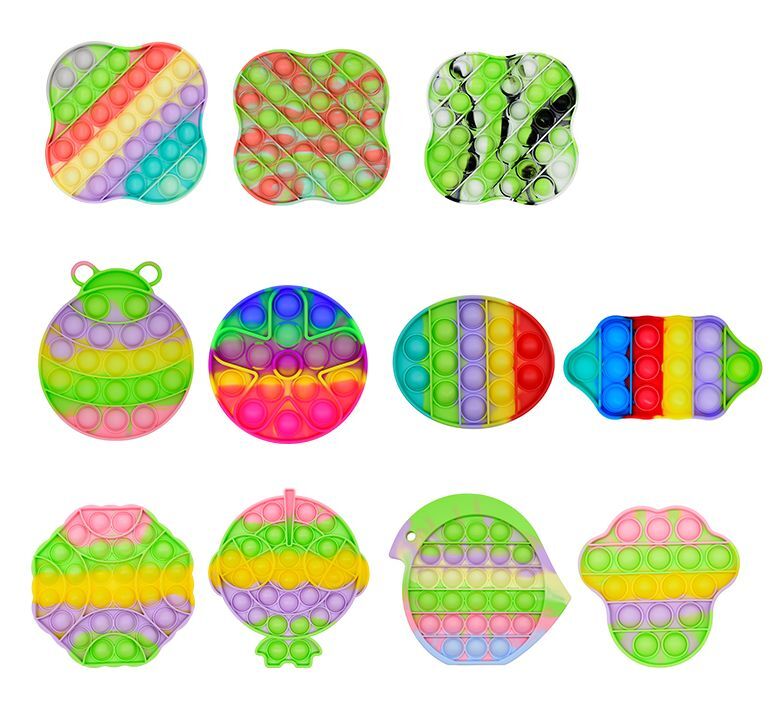 First up, what is the Push Bubble?
The push bubble toy is a silicon sensory fidget toy. Moulded from high quality silicon it comprises of a fun shape that features numerous air pockets in the design. These can be kneaded and popped in a similar way to popping bubble wrap. The difference is that the push bubble is far more satisfying than bubble wrap and can be used time and time again for a range of purposes.
When you press the bubble on a pop pop fidget toy, it makes a satisfying pop noise that is extremely rewarding and the tactile experience of pressing it makes it even more pleasurable. The push bubble is undoubtedly addictive. Play it once and you will become hooked on the feel and the sensory satisfaction of popping the air balls.
Because the push bubble is made from high quality silicon it can be used thousands of time without losing its shape or elasticity. Easily washable, you can clean it by running under a tap and using a mild detergent such as washing up liquid to restore it to bright new and clean condition.
Luckily the push bubble fidget toy is safe and can only cause positive physical and mental health benefits.  And although this is an incredibly simple idea, the push bubble has numerous real benefits.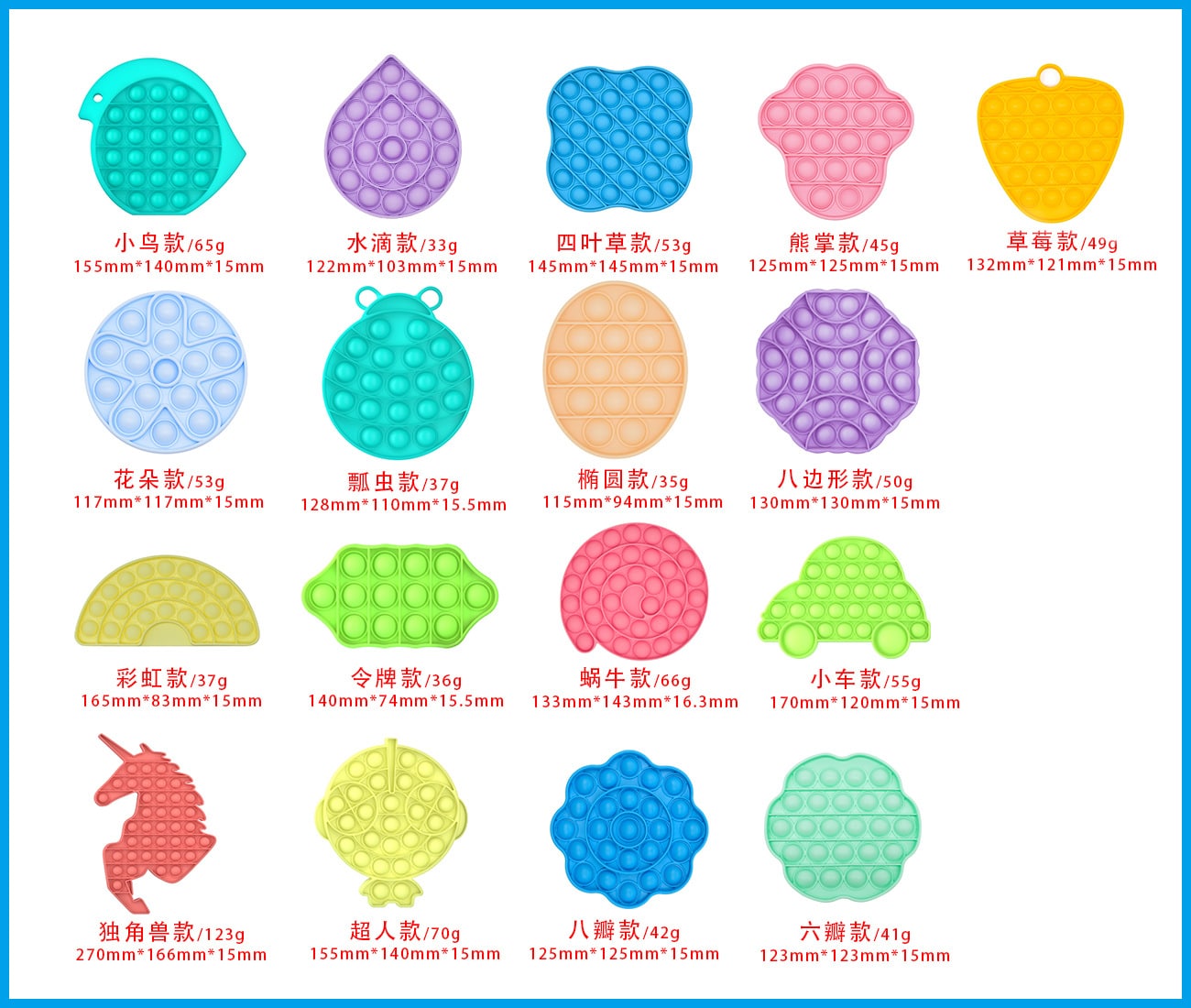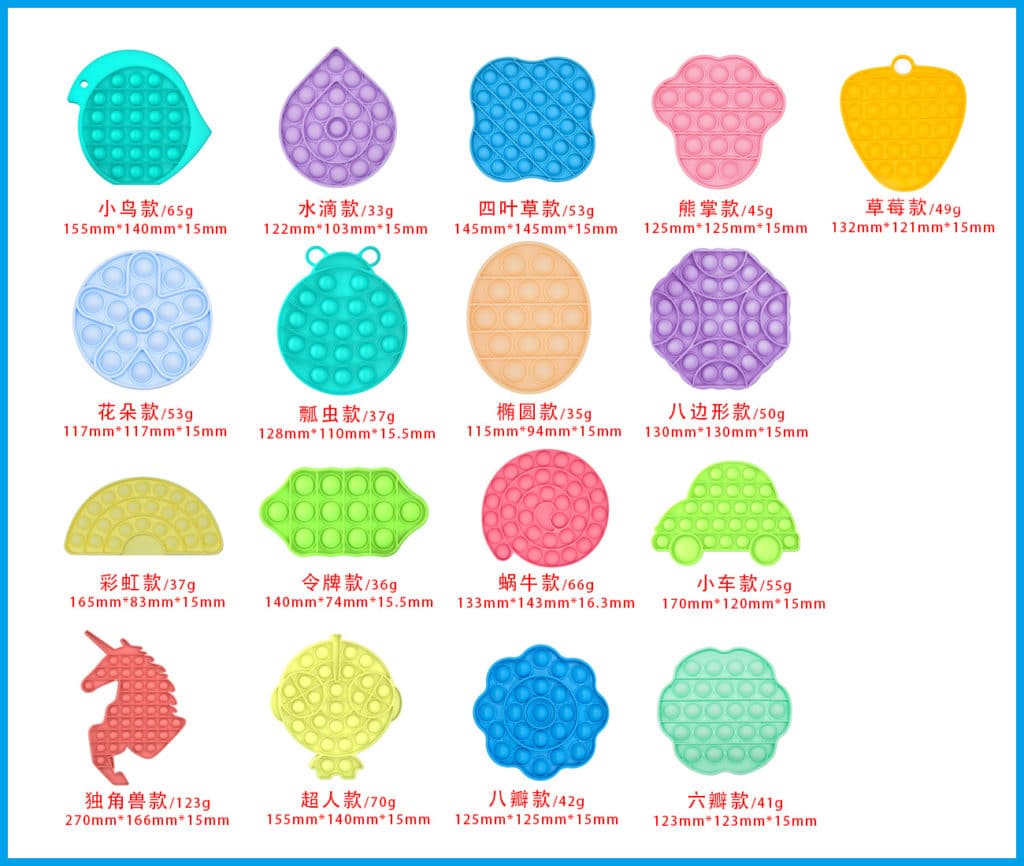 Here are 7 great reasons why a push bubble is so good for mental health.
1/ the push bubble is fun. Play games on your push bubble fidget toy
You can challenge yourself to play games with the pop pop bubble. Try popping the bubbles in order, and see how fast you can clear all of them. Once you have popped all the balls on one side, flip the toy and see how fast you can clear the other side.
Try popping a line of balls in a race against the clock or against another player. Alternatively pop a ball when a certain event happens or make up your own games or challenges.
This simple game is weirdly addictive and can be reused thousands of times. Whether you challenge other players, or just play it yourself, the push bubble toy provides endless amusement and fun wherever you happen to be.
2/ a push bubble releases stress at work
A push bubble fidget toy helps minimise stress at work. You can keep it in your pocket or on your work desk and the next time you feel stressed by that difficult call or meeting, popping the air pockets will help you keep your cool and your temper!
Finding a physical outlet for irritation and stress by enjoying a physical sensory distraction will improve your work performance and improve your mood when dealing with difficult customers or work colleagues.
We produce a range of designs for our patent protected fidget toys that fit in perfectly to the executive toy niche. Ideal for anyone who finds work stressful let the pop pop fidget toy help you keep your calm. A push bubble also makes a fun gift for a colleague. It sends a fun message that your workmate may need to calm down!
3/ a push bubble helps reduce anxiety and agitation
A push bubble helps reduce anxiety and agitation. Finding something to do with your hands helps reduce anxiety and improves inner calm without negatively affecting concentration. This is a fantastic psychological decompression tool that reduces anxiety and is suitable for all ages, including the elderly and children.
Fidget toys are often used in elderly care because this simple game is so pleasurable and easy to play. It gives the user something to do which feels rewarding and this in turn reduces anxiety levels and agitation.
For any elderly health care professional, the pop pop fidget toy is a great way to improve mental health of the residents in your facility.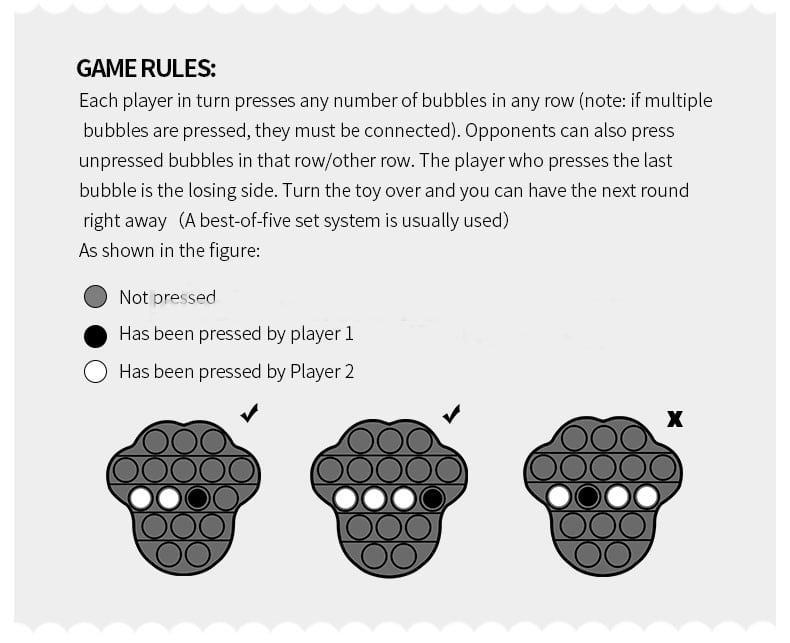 4/ the push bubble is ideal for people with ADHD or autism
The push bubble is a great way to improve mental health. Many children and teenagers with special needs find it difficult to keep still and keep calm because they require a lot of sensory input. This usually manifests in fidgeting and touching things in order to be able to organise their thoughts and think clearly.  Autistic people feel stressed or anxious because of sensory overload.  But not having enough sensory input also causes distress so sensory fidget toys such as the push bubble can really help.
The push bubble gives the over active teen or child something to do with their hands and is a medium that can soak up negative emotions like rage , anger and frustration  rather than taking to more dramatic action such as throwing things or breaking the furniture.
The push bubble is a sensory toy that can calm anger and reduce anxiety. Squeezable and with the satisfying pop noise, it will help create a more calming atmosphere and is a fantastic tool that can help an autistic person or child with autism or ADHD manage his or her condition.
5/ a push bubble can help reduce pain
According to clinical investigation into pain relief, carried out in an investigation of how to reduce pain and anxiety in children undergoing clinical procedures, the push bubble was found to help. The study concluded that the squeezing and popping a push bubble toy distracted the patients and that the pain of an unpleasant clinical procedure was reduced in comparison with the patients who did not have this fidget toy as a support.
So if you are feeling anxious about an upcoming medical appointment or a dental appointment, your push bubble may help make the process much easier to handle. A push bubble also makes a great gift for anyone nervous about an upcoming medical appointment.
If you are the manager of a hospital department, why not consider adding the push bubble as part of your daily equipment?  This inexpensive fidget toy can help reduce pain and anxiety in nervous patients of all ages creating a less distressing experience for everyone.
6/ a push bubble can safely improve concentration and focus
Sometimes we all find it hard to concentrate. When this happens we tend to turn to snacks, sweets, smoking, twiddling hair or chewing gum depending on our own habits and our age. The push bubble is a far healthier alternative. It gives our hands something to do and because it is so pleasurable and rewarding it can reduce the increase in stress hormones from interfering with your concentration and focus.
If you are trying to quit smoking or snacking, a push bubble toy can help you through the difficult days without creating another addiction. It is important to remember that although a push bubble toy is addictive, it is safe and will not cause physical harm.
7/ Have fun with a push bubble anywhere without staring at a screen!
A fidget toy is not a serious alternative to the power of the internet or social media, but it can be a good idea to switch off occasionally. Many of us instantly turn to social media in quiet moments, yet doing this can negatively affect our mental wellbeing.
We don't need to spend our time doom scrolling or stalking people on social media, although many of us do, but as we know from personal experience doing this can have an adverse effect upon our mental health.
By contrast playing with a push pop fidget toy, will help clear your mind of negative emotions and allow it to wander creatively. The simple act of popping the balls in order frees up your creativity and enables you to escape from the pressures of life for a while. The pop pop fidget toy is far better for your mental health than a social media addiction.
Why choose OYI Gifts
We produce a wide range of good quality silicon products and are a well known name in this industry. All our silicon products are manufactured from non toxic rubber polymer so are safe for all purposes. In addition our products are long lasting, durable and safe.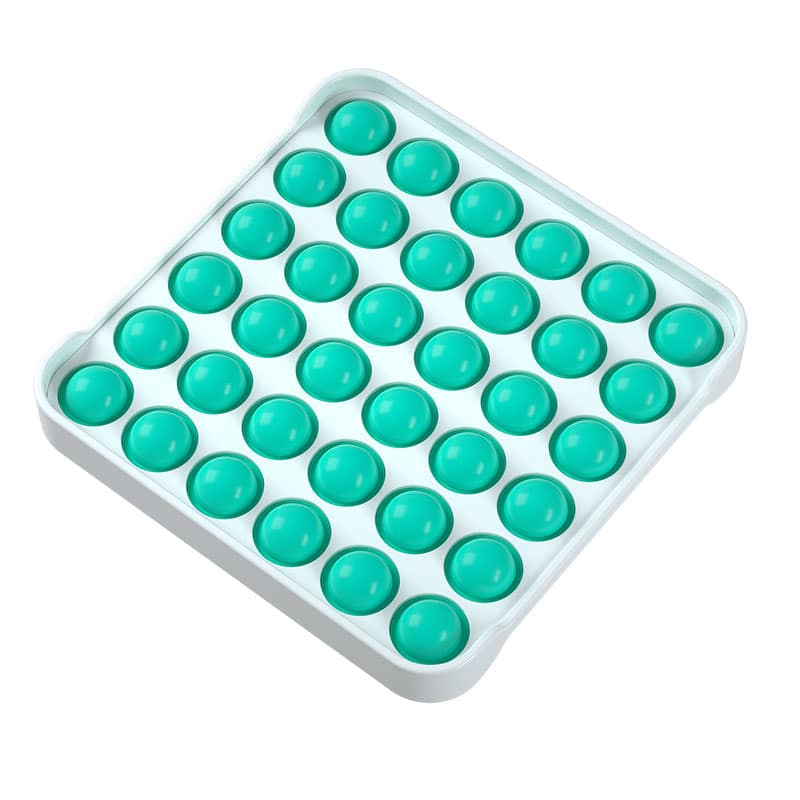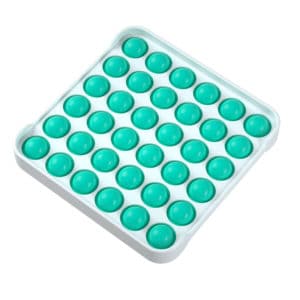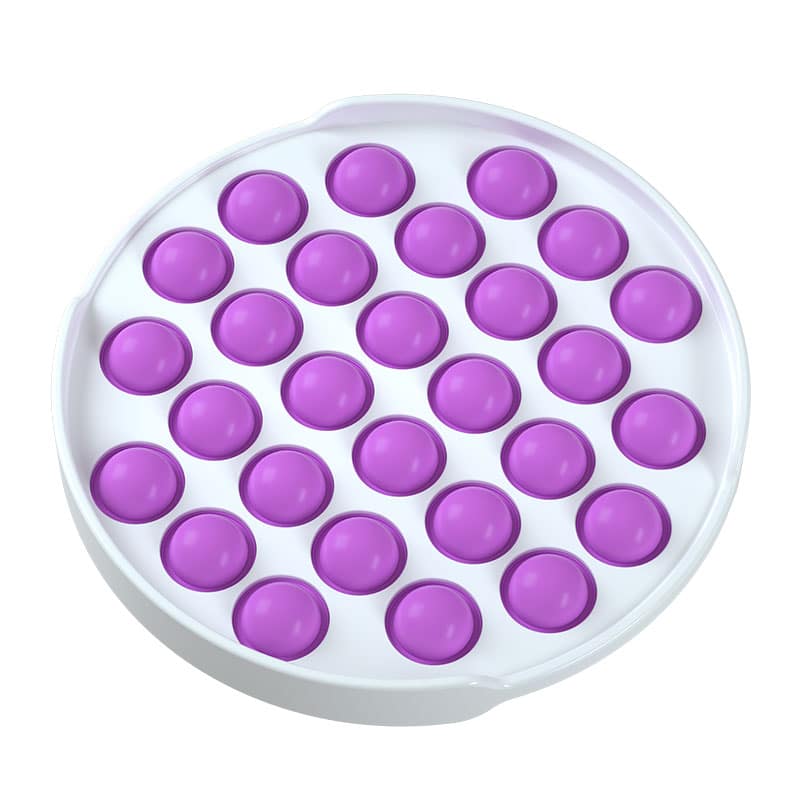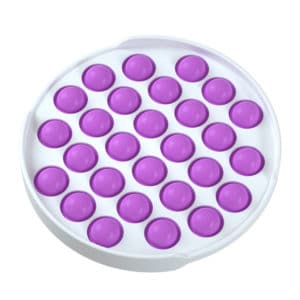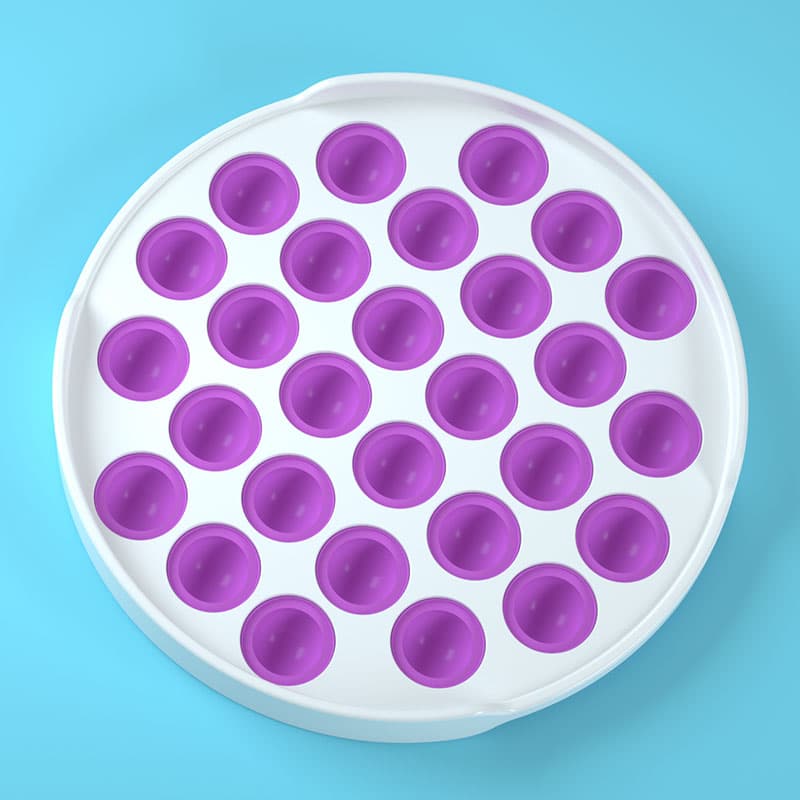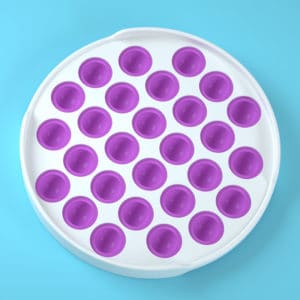 The OYI Range of Push Bubble Toys
Choose from a great range of designs and colours. We make multi coloured rainbow inspired push bubble toys, or single colour alternatives. Choose fun shapes such as a unicorn or a car, a spiral, a pineapple, an egg or a tear drop. Choose your favourite colour or go for a multi coloured model – the choice is yours.
All our push ball toys provide a satisfying tactile experience. They are manufactured from high quality rubber silicon that can be used and used again and can be easily washed.
Key features include:
100 % rubber silicon – providing the best tactile experience for bending and popping
Fully washable and long lasting
Environmentally friendly – manufactured from rubber and providing thousands of hours of use
Great range of original designs and colours
Fantastic low prices
Fast despatch
Any size of order available.
The OYI range is fully patent protected. You won't find our OYI push bubble toys on sale anywhere else
Great quality. Because we specialise in silicon you can rely on the fantastic quality of our products.