TSA Approved silicone travel bottles in bulk
Welcome to OYI Gift's guide on manufacturing custom silicone travel bottles. In this guide, we'll cover the top 7 benefits of manufacturing silicone travel bottles and delve deeper into silicone vs. plastic for bottle manufacturing. Silicone Travel bottles are portable and compact: They must fit inside the purse/backpack and be designed according to TSA standards.
We can manufacture 2 types of portable water bottles (based on size):
OYI Gift designs travel bottles that are TSA-safe and can be re-used hundreds of times. Want to produce your very own TSA-approved bottles in bulk? You've come to the right place! We can produce a range of travel-size bottles customized to your own shapes and designs – we can imprint your company design to the bottles as well.
Silicone bottles have become tremendously popular in recent years as the main alternative to plastic for travel bottles. Silicone is a safer and more 'eco-friendly' alternative to plastic because it belongs to the rubber family. Silicone is also used for bottle nippers, toys, coffee cup mugs, personal care products, and more. The material can even be found in industrial use as an insulator and filter in electronic components. Want to learn more about the advantages of silicone? Read on.
Why Manufacture Water Bottles In Bulk?
Water bottles are a travel essential and it seems that everyone's carrying a water bottle at the airport – this is the new norm. If you want to present a unique gift to your customers, you can manufacture custom travel bottles and hand them out for free. We specialize in the production of custom bottles (100% silicone-made) and they can be travel bottles (less than 100ml) or drinking bottles (more than 350ml). OYIO gift can imprint your logo on thousands of bottles. This helps enhance your brand and improves the lives of people who use the bottles.
The human body needs 8 cups of water per day and this is difficult unless they have a bottle at hand. The bottles we design are reusable and can also be filled with water and other beverages. Our bottles are designed for long-term use! Plastic bottles carry the risk of leaking plastic into the water while this is non-existent with silicone bottles. Silicone bottles tend to be smaller in size than plastic bottles which makes it easy to tuck them away in a purse or a briefcase. We design our bottles to be hand-luggage-ready; effectively making them usable for all travel purposes.
Replacing Plastic Bottles With Silicone
Why ditch plastic? The main reason: To save the environment. Silicone bottles are longer-lasting which means the same person could use the bottle for months or years at a time. Meanwhile, plastic bottles are immediately discarded. Statistically, there are 1M plastic bottles produced every minute worldwide and most of those bottles end up in the ocean eventually.
It is estimated that nearly 91% of all plastic bottles that were used eventually end up in the landfill – waste that ultimately finds its way to the bottom of the ocean.
What's more, the plastic manufacturing industry uses nearly in excess of 50,000,000 barrels of crude oil every year to manufacture plastic bottles. This increases the total waste discarded in the world's oceans and atmosphere. Do you need more of a reason to choose silicone?
Re-Usability Is The Main Concern
Plastic bottles wouldn't be a massive eco hazard if they could be reusable, but this is not the case. Let's analyze the way the average plastic bottle is made compared to a silicone bottle. To produce a plastic bottle, we need raw materials. The most common raw material used for the manufacturing of plastic bottles is PET (polyethylene terephthalate), a material made using a combination of gas and crude oil.
The average plastic bottle takes 450 years to naturally decompose. This process is harmless on a small scale, but not on the scale we're producing plastic bottles currently. Scientists claim that in as little as 3 decades from now, there will be more plastic material in the ocean by volume than fish. The repercussions of that will be horrific for marine life. The solution? Re-usable bottles. Silicone is the optimal material for producing reusable water bottles with filters.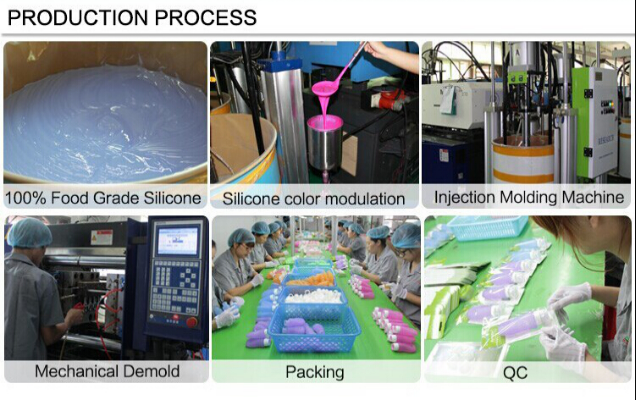 7 Reasons To Manufacture Silicone Travel Bottles
There are several reasons why the bottle-manufacturing industry is making the switch from plastic to silicone and other safer, eco-friendlier, and healthier alternatives. Silicone is the #1 choice for long-lasting travel bottles aside from stainless steel bottles. There are different types of silicone as well, but the ones we manufacture utilize the highest-quality silicone. Here's a list of the top 7 reasons you should manufacture silicone bottles for your business:
1) BPA-Free Material
BPA chemicals are deemed unhealthy and dangerous with prolonged exposure. Plastic bottles contain BPA chemicals. Silicone travel bottles are made from a material that contains 0% BPA. BPA stands for "Bisphenol A" and this is an industrial chemical that can be found in plastic bottles and other food appliances. Scientists claim that BPA chemicals can mimic the exact structure of estrogen.
With an artificial increase in estrogen and prolonged exposure to the BPA chemical, humans can experience a decrease in energy levels, slower cell repair, and a change in hormones. BPA can also affect the reproductive desire of people.
To sum up: BPA is a very bad chemical for the human body that is heavily present in plastic bottles. It is the main reason plastic bottles are one-use bottles and people discard them. Silicone bottles don't have any BPA. This means you won't have to worry about the health of the people you're gifting bottles to.
2) Re-Usable Silicone Travel Bottles
BPA is not the only hazardous chemical present in plastic bottles. If the bottle is exposed to the elements for too long and reused, there are other chemicals that degrade the plastic and can contaminate the water with even more harmful chemicals. There are health risks associated with the reuse of plastic bottles. There are zero health risks associated with the reuse of silicone bottles.
If you want to reuse a silicone bottle a hundred times, this is still possible without any health side effects. What's more – silicone bottles don't cost a lot more to manufacture than plastic bottles. The silicone material is safe for the storage of beverages and even food. It's possible to leave a silicone bottle exposed to the sun and the water inside the bottle won't be contaminated. Plastic bottles are the opposite and they will immediately release chemicals in the water as soon as they're exposed to high heat.
3) Higher Durability
Silicone bottles can be used for as long as glass bottles or stainless steel bottles – this is because silicone is sturdier than plastic materials. In effect, you won't have to replace the bottle every week or even every month. It's possible to use the same silicone bottle for a year or longer. If you want to manufacture bottles that your company can reuse for the long term, silicone is the go-to material.
Silicone even has advantages over other eco-friendly alternatives such as stainless steel because it can be customized to a higher degree. This makes it ideal for branding purposes and marketing. Last, but not least: It is recyclable. Silicone can be recycled in most cities. If you want to recycle hundreds of silicone bottles at once, you'll find it easy to do so.
4) Portable
Our silicone travel bottles are lightweight and designed for portability. The bottles should be small in order to fit in most handbags and not present a hurdle when you're at an airport. This is why we can design silicone bottles of different capacities, according to your needs. The TSA imposes strict regulations on which bottle sizes are approved and we design our bottles accordingly. This helps us manufacture bottles that are ready for international travel. The bottles must be less than 100ml – we make silicone travel bottles.
We can provide test designs and produce bottles at your exact dimensions if you want to abide by US and EU customs regulations. In general, we aim to produce very compact and portable bottles that can be carried by hand or stored. OYI Gift bottles are extremely lightweight and fit in the purse. They won't take up a lot of space and they allow people to use them even when they have their hands full.
5) Cost-Effective
OYI Gift's silicone bottles are extremely cost-effective. People assume that silicone is more expensive than other materials (ex: plastic) but the price is identical. Each manufacturer imposes its own MOQs (minimum order quantities) on silicone bottles and we can give you a great deal on a large number of silicone bottles. This is ideal if you want to buy silicone bottles in bulk and you want to get the most value out of your order. We can help you manufacture wholesale water bottles.
6) Save The Environment
Silicone bottles are the ultimate solution for the future of bottles. If we look 50-100 years into the future, the smart choice would be to switch from plastic bottles to "reusable" solutions such as silicone bottles which can be refilled and reused dozens of times.
Rather than piling millions of tons of single-use plastic bottles, we could manufacture fewer silicone bottles and use them longer. We're proud to say that OYI Gift is here to lead the silicone revolution and this is our eco-friendly alternative to the norm.
7) Easy To Clean
Silicone travel bottles are very easy to clean – meaning little/no maintenance work is required. There are a few advantages that silicone has in terms of maintenance. For one, it does not absorb smells and this makes the bottles very easy to clean.
All the person needs to do is rinse the bottle with water and re-fill it again. What's more – silicone can withstand heat and cold liquids and can even be frozen. It's one of the most temperature-resistant materials and the temperature has little impact on the safety of the material. This makes silicone bottles easy to maintain in all seasons.
If you are interested in silicone travel bottles, welcome to contact us, thanks in advance.