Custom Foldable Silicone Coffee Cups With Wholesale Imprints
It is said that humanity runs on coffee. The average coffee consumption in the US is 3 cups a day. Worldwide, over 2.2B cups of coffee are consumed daily. This makes coffee cups some of the most popular promotional products. Foldable coffee cups are some of the best gifts to give to people because the coffee is part of their morning ritual and it reminds them of the company that gifted them the coffee cup.
Foldable silicone coffee cups are some of the best marketing promotional gifts and this guide will focus on manufacturing bulk coffee cups and silicone coffee cup lids – the two most popular coffee household products. Want to manufacture custom-printed silicone coffee cups? You're in the right place!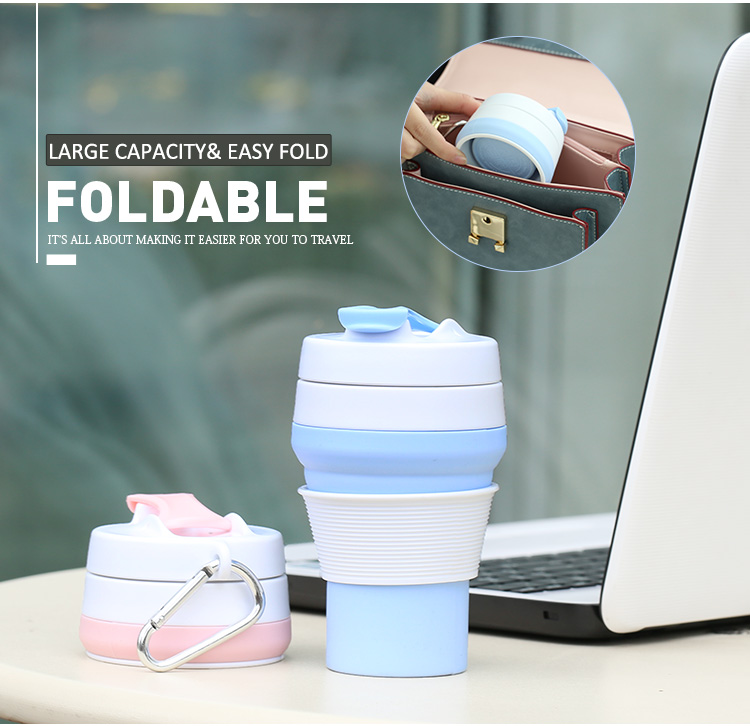 Benefits Of OYI Gift's Custom foldable silicone Coffee cups Mugs
The following are the main benefits of our custom-printed coffee mugs:
Foldable silicone coffee Cups. The main advantage of our coffee cups is that they're foldable/collapsible. The user can fold the cup when they're done drinking and save space – then unfold it and refill the cup again.
Customizable. We can imprint every kind of design on the cups, adjust the handles, and design the exact coffee cup you need.
FDA-Certified. Our coffee mugs are certified and safe to use, making them ideal for large distributors who want to import thousands of pieces.
Temperature-Resistant. Our coffee cups are designed to withstand high temperatures up to 230C and -40C.
Scalable. We can manufacture thousands of coffee cups on demand and we have a track record of producing millions of custom coffee cups for our clients.
Accessory Options. We can accessorize the coffee cups with custom silicone covers that go with your custom designs.
New Trends In Coffee Consumption
There are new trends in coffee consumption in the US. The public consciousness is shifting from single-use cups to reusable coffee bottles and cups. Partially, this is due to the shift to reduce waste in landfills and oceans – and partially because it looks cool. Surely there have to be environmentally-friendly ways for coffee enthusiasts to enjoy their coffee on a daily without sacrificing pragmatism and pleasure.
While recycling single-use cups is great, why not make cups with unique creative designs that people will want to use daily? OYI Gift can manufacture a range of foldable coffee cups that are suitable for home use and on the road/travel.
The trends in the coffee industry follow other beverage industries. For instance, most people now own at least one reusable water bottle and it won't be long before everyone has their own coffee bottle to bring to their commute to work. If you want to manufacture custom coffee mugs and bottles, you likely have a few design ideas of your own. We can help you make the kind of coffee cup you have envisioned – down to the exact dimensions you need.
We focus on designing foldable silicone coffee cups that go beyond basic imprints, but ones that actually keep the drink insulated and allow people to enjoy a warm cup of coffee without burning their hands. Whether you need a reusable cup that will fit into a car holder or one of those new sleek, sturdy, portable coffee bottles – OYI gift can help you make your dream a reality. We'll custom-sculpt the design you need and produce thousands of pieces at a cost-effective price. We use the latest insulation technology to design the perfect coffee cups for our clients.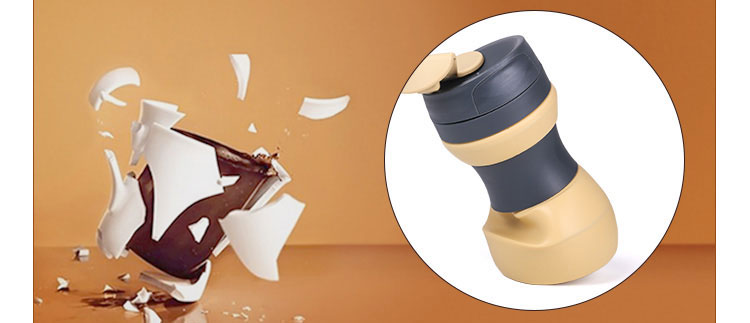 What Makes The Perfect Silicone Coffee Cups?
There are different factors that go into producing the perfect coffee cup. It's not just the design that you present to the factory. For one, the single detrimental factor between a quality coffee mug and a low-quality mug is the material used to produce the cup. At OYI gift, we use silicone to manufacture foldable silicone coffee cups. Coffee cups can be made from materials such as ceramic, porcelain, clay, PVC plastic, and others. Silicone is the best material for manufacturing foldable coffee cups.
In theory, the "perfect" coffee mug would have to be made from a material that can preserve the hotness of the coffee while insulating the outsides so the user can enjoy his/her coffee without burning their hand. This is why silicone is ideal – it's highly thermo-resistant which means it keeps the warmth inside the cup.
In terms of size, the silicone coffee cup would have to be big enough to hold a large amount of coffee: If it's too big the coffee will get cold fast, and if it's too small there won't be enough coffee to satisfy them. Size can be detrimental to portability – this is why we manufacture foldable cups that isolate the heat. In essence, you can fold the cup when you don't need it and unfold it when you're ready to have a drink!
We pay close attention to the way we design our silicone coffee cups down to the last detail. Example: We make sure that the lip of the cup (where the actual drinking is done!) is pleasing to the mouth. The coffee mug lip has to make it easy to slurp the coffee and the shape has to be clean around the edges without sharp corners. This is because sharp corners are harder to scrub and clean.
Most importantly: The cup has to be aesthetically pleasing. This is what separates a best-selling coffee cup from a bad-performing one. If you want to run a successful marketing campaign with your brand name/slogan on coffee cups, the design has to be top-notch and feel as if it's a part of the mug. OYI Gift's team can help you achieve this by trying out different designs until we find the perfect match. The aforementioned are the most important factors that go into designing the so-called perfect cup. We don't stop until we find the ideal solution for our clients and we'll assist you in getting started.
Personalized Coffee Gift Items: Make Your Brand Stand Out
Have you noticed how many businesses are now giving out free coffee cups to their clients and partners? Even political parties are getting in on the trend and manufacturing custom coffee cups to give away to voters. This is because coffee cups are great marketing! The average person consumes 2-3 coffee cups a day at home, and this means they see the advertisement a dozen times each day.
Coffee cups are even more effective than t-shirts at spreading awareness about products and campaign slogans than t-shirts because people see them multiple times a day. What happens when you want to manufacture your own coffee cups in bulk? The main problem is that certain companies will try to overcharge you by selling custom foldable silicone coffee cups at a higher markup. OYI Gift only produces and sells coffee mugs at factory prices and we're one of the world's biggest silicone coffee cup manufacturers. We can produce thousands of pieces at a fraction of the cost you would pay the local printing company next door.
If you have a few design ideas and you're not quite ready to get into production – reach out to us and we'll suggest ideas. We'll gladly help you out as you're getting started and produce a test sample to make sure you're satisfied before we go into large-scale production. The best part is that we have large facilities with the ability to produce millions of cups every year. This is a major advantage for distributors and companies that require large-volume orders that are customized differently every season.
One thing is for certain: People love coffee cups. They are arguably the world's most effective promotional products and if you're on the market for promotional products – you couldn't go wrong with coffee cups. The public loves coffee cups to such a degree that many of them are decorating their homes with coffee cups and have special shelves where they display their collection of cups.
How We Manufacture Custom foldable silicone Coffee Cups (With Imprints)
OYI Gift utilizes the latest technology to develop our own unique printing method for coffee mugs – one that can be felt in the quality of our products. We use a combination of green/eco-friendly materials in the interior and exterior of the cup. We aim to make our foldable silicone coffee cups unbreakable with high-quality prints that make your logo stand out.
We start the process by designing the silicone coffee cups 3D model and consulting with the client to make sure they're satisfied with the design. Then, we confirm the order. We start working on the foldable silicone coffee cups by preparing the silicone material and constructing custom molds. We fill the molds with silicone and imprint your custom logo in the factory. Once OYI Gift's products pass our processing facility, we package them and send them to our quality control department. Our dedicated QC staff then looks over each and every piece to make sure it's quality before packaging & shipping it directly to our clients. The final step is shipping – we deliver the final product to our clients.
Custom Coffee Cup Covers (Accessories)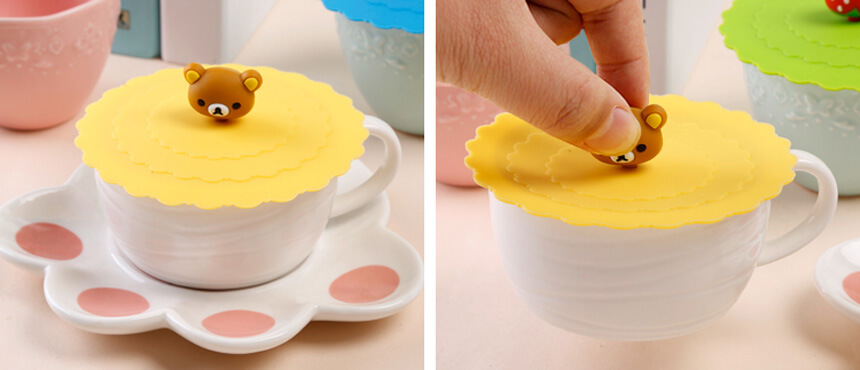 The main accessory people love to use with coffee mugs and coffee bottles is the cup cover/lid. Our clients request this accessory the most when they order coffee cups because we can also customize the lid with your own brand message/logo and we can make it an integral part of the mug. We use silicone material to produce the lid cover. The purpose of the lid is to prevent the drink from spilling outside the cup. This keeps the cup clean because it's nearly impossible to make a mess by spilling the beverage.
OYI Gift also offers the ability to manufacture custom lids without coffee cups – if you already have your own cups/bottles made. The lids are generally less expensive than cups and they don't require any maintenance. They keep the drinks warm and maintain the cleanliness of the cup. Silicone material is the most widely used material for lids and we use food-grade silicone (the highest quality silicone) to manufacture the lids.