Why People Like Custom Bar Mat
We see them used everywhere: Square, round, hexagonal or rectangular pieces of material on which people place their drinks and foods – and other hot and cold items. The purpose: To protect the surface on which those items rest. They're known by various names – Bar spill mats, Coasters, rest, and Beermats. But the most popular of names that everyone loves to call them is Bar mats.
And, like it or not, they're ubiquitous in their use, and everyone reaches for one if they have a plate, glass, or beverage in their hands. It's almost like second nature! So, why do people love their custom bar service spill mat so much? Well, here are 10 reasons that individuals and businesses love using these accessories:
1)    Universal usage
The term "bar mats" really is a misnomer for these little handy accessories. In fact, these mats are as universal in their usage, just as paper towels and coasters are. They're loved and sought after by anyone and everyone.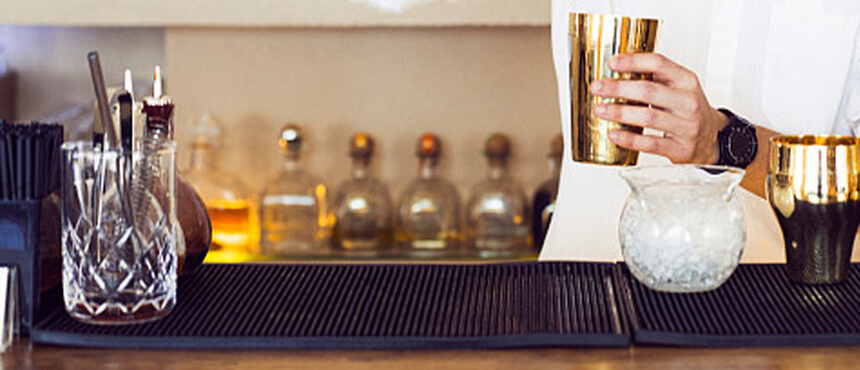 BUSINESS USE
You can find them used in so many different places, other than bars, that one wonders why they have the prefix "bar" in front of the name! For example, you will find them used in:
At homes
In entertainment places, like theatres and cinemas
Hotels
Hostels
Hospitals
Dance halls
KTV
School cafeterias
Airport lounges
Convention centers
Restaurants
Meeting halls
…and, of course, at bars!
The above are just a sample of the few places where you may find the ubiquitous custom bar mat in use.  Any business establishment, company, charitable organization, or industrial entity may have their gift manufacturer create a custom bar mat for their exclusive use. And of course, they're even popular in homes.
RESIDENTIAL AND HOME USE
So, how do people use them in homes and residences? Well, these home accessories have a number of residential applications:
They may be customized for a kid's birthday
You can personalize them for special family events, like anniversaries
If you have a large family gathering, like Christmas, New Year, Hannukah, or Lunar New Year celebrations, you can tailor-make these mats to mark the occasion – like "Happy New Year 2022…From the Brown Family"
If you throw a graduation party for your kids, print these mats in bulk with a graduation message and distribute them at the event: "Happy Graduation, Matt 7 Classmates – Class of 2022"
And then, there are the typical places where a PVC bar mat works best in the home. Keep them in the kitchen, the dining room, the basement, the party room, the garage, the workroom, the den, or the study. This is such a universal accessory to have around the home, that it can be used in almost any setting in the house.
2)    Extensive marketing opportunity
These mats have mass appeal because they offer massive marketing opportunities for companies looking for a cheap way to advertise their products and services. If there's one golden rule that corporate marketers follow, it is: Go where there is a mass audience! Following that rule means that, with just a little investment, your marketing message can reach the masses. And that's exactly the type of opportunity that these mats offer.
As you can see, this is an ideal substitute for the traditional coaster or spill mat. That's why businesses and commercial organizations have extensive opportunities to use them in their marketing campaigns. By using a custom bar mat as part of a marketing program, companies can penetrate so many places (listed above) and popularize their brand and image.
There are a lot of people in all those places mentioned earlier (Homes, bars, Restaurants, Schools…etc.)
Having a custom bar mat distributed in those locations means you have access to masses of people. This gives you the audience that marketers love!
Simply passing the mats around exposes your company, its brand, and its products and services to all the people in those locations
Unlike a TV commercial or a sponsored ad on a website, which usually appears only at specified times, these mats are always visible. For example, when there's a school function, a business convention, or a theatre performance, and lots of your mats are around, people will see them throughout the event – 3 or 5 hours, not just a few seconds like TV or web ads.  This makes these accessories ideal to capitalize on a marketing opportunity, unlike many others.
3)    Easy Personalization
The great advantage of working with a custom gift manufacturer, like OYI Gifts, is that companies have the option to design and manufacture a custom bar mat that fits well with your corporate imaging and branding. And that level of personalization is critical to gain maximum benefit from your marketing and publicity campaigns.
Without branding or differentiation embedded into your mats, they'll not serve as an effective marketing or advertising tool. So, what's not to love about the mates that make that opportunity possible?
4)    Broad marketing applications
They're universally loved because they can easily be tailored to fit any marketing strategy. Here are some examples of how you can use a custom bar mat for your marketing programs:
If your company is in the beer, alcohol, or other beverage business, you can have customized mats produced with the names of your drinks, and placed all around your establishment. You could even hand out those mats to patrons, customers, and visitors to the establishment
Another way to personalize your mats is if you design them in the form of your product. For example, an auto shop dealer may design car-shaped mats and distribute them at showroom events or auto shows
Are you a business that's launching a new product or service? If so, then you can use a custom logo bar mat to promote those products and services. Adding your company logo and marketing message to your mats is a great way to ensure everyone knows about the launch date and details of the product or service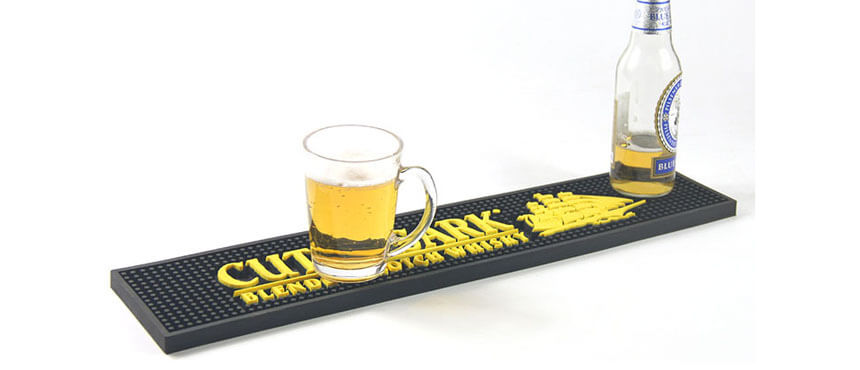 Just think of a marketing application, and a custom bar mat can fit the need perfectly. That's absolutely loveable!
5)    Extensive material choices
People love choices when shopping for products, and that's exactly what you get when you work with OYI Gifts to design and create your mats. No longer are you restricted to paper, cardboard, or fabric mats. There's now an extensive choice of materials from which these mats may be produced, including Rubber, PVC soft glue, and silica gel.
6)    Gifts with extensive features
Another "wow factor" that custom bar mats possess is the extensive list of features they come with. Unlike single-use gifts, these mats bring with them:
Flexibility
Compressibility
High Insulation
Natural viscosity
Storability
Transportability
Easy maintainability (quick and easy cleaning)
What this means to businesses and small enterprises, is that, along with a great marketing tool, you get an accessory that you can store, stack, stash, move, clean and carry anywhere, anytime, and anyplace. And what's not to love about that?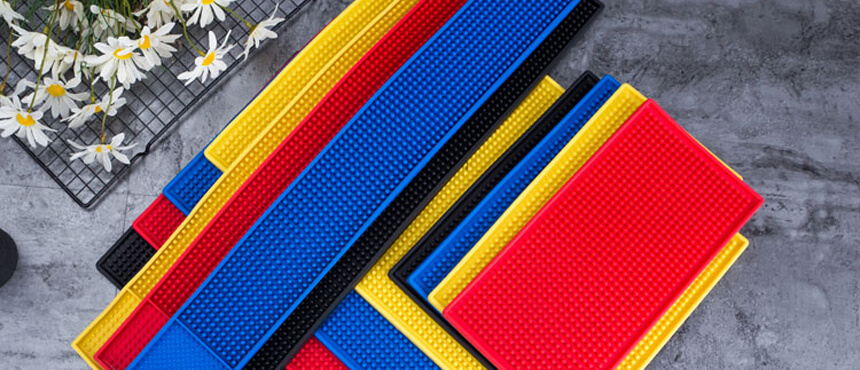 7)    Practicality and functionality
One great thing that people love about a gift is if it's practical to use and if it comes with functionality that addresses a real need. When you market your company by giving away a gift like a custom bar mat, your gift recipients will love your company, product, or service, because the gift they received has real-world application.
Everyone, whether at a residence or a business, can use a mat or coaster to avoid spilling liquid or edibles on clean surfaces. These mats also help prevent pesky rings on surfaces, like glass shelves, marble countertops, and varnished table tops. Sometimes, those stains can be hard to remove. That's why people love these mats that help save their property and time.
8)    Low cost
If you give away a Fitbit or a Bluetooth headset as a marketing gift, your customers will definitely love you! However, those are rather expensive gifts that require huge marketing budgets. On the other hand, a custom-designed and manufactured rubber or PVC custom bar mat can serve a similar purpose – but at just a fraction of the cost!
9)    Durable and long-lasting
Electrical or electronic giveaway gifts are susceptible to damage and breakage. Unless that Bluetooth headset is a high-end product, shockproof, waterproof, and well-protected, it can easily get damaged by a fall or in the rain. Luckily, there's no such danger to the mats that you give as your gift. You may spill liquid, place hot food containers on them, wet them, drop them or bend them – they'll still not get damaged.
And, because they are so durable and long-lasting, they'll faithfully continue to market your business, product, and service month after month. Simply wash them…and they're as good as brand new!
10) Multi-colored, pleasing to the eyes!
Your custom gift manufacturer can produce your custom bar mat in any color, tint or hue that you want. Why would you want that? Well, if your corporate color is Blue (like IBMs) or a shade of Yellow (like McDonald's)  – or any other color – then you can have these custom bar mats produced to represent your corporate colors.
You may also want different colored mats to match the paint of your walls, the décor of your room, or the coloring of your furnishing. Additionally, multi-colored custom bar mats are a great way to enhance the ambiance of a dull room – for example, a school or a hospital.