Introduction
Raising a baby can sometimes be exhausting. Imagine preparing a meal with so much care and dedication, but your toddler throws the bowl away the minute you serve it. Now you have a mess to clean! You must be familiar with these situations if you're a toddler's mother transitioning to solids. Especially if your baby is teething, mealtimes can become a nightmare.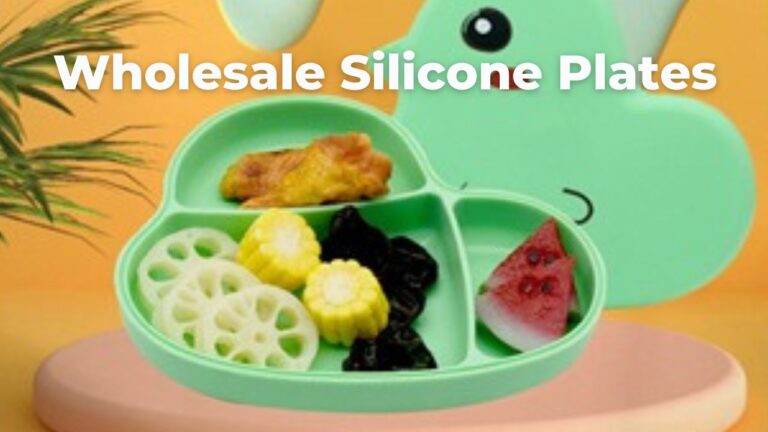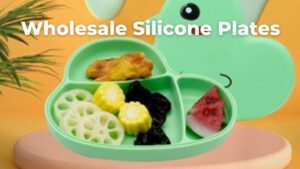 So many things can become daunting, let alone finding safe and healthy tableware for the child that doesn't harm the baby's teeth and gums. Silicone plates can save the day if you're looking for an easy way to turn mealtimes into a fun and exciting activity for your toddler. They can save you the time and effort of cleaning the mess.
Why? Because silicone tableware is much safer, healthier, and more durable than many alternatives (plastic, wood, stainless steel… you name it). Plus, silicone plates with their higher suction stick tightly to the chair, making it impossible for the baby to throw away the bowl.
Sounds interesting? Stick to the end to explore wholesale silicone plates, their significance, benefits, factors to look for, and more!
Significance Of Wholesale Silicone Plates
Wholesale silicone plates offer various benefits over other baby tableware, including plastic. They are better for the safety and health of your young one and are also easy to store and maintain.
Let's find out how!
Silicone Plates Are Hygienic & Safe
Silicone plates are far safer and more hygienic than plastic products. They have non-toxic and allergy-friendly properties. They are also BPA-free, a toxic chemical in plastic and resin products known to cause potential health effects on the human body.
Though BPA is equally hazardous for everyone, studies report infants and young children to be at higher risk of BPA. It can contaminate food or beverages stored in plastic containers (even if they are disposable plastic plates). What's more, it can disrupt hormone levels and harm the brain and prostate gland of infants, newborns, and children.
However, silicone products, especially baby silicone tableware, feature a hypoallergenic and pore-less surface. Because there are no holes in the surface, they attract no bacteria or toxins. They are also resistant to bacteria, mold, and fungus and free of any petroleum-based plastics or toxic chemicals, including BPA.
Silicone Plates Have High Temperature Endurance
Recent studies reveal that toxins like BPA can also leach from food containers. It happens when food containers come into contact with extreme temperatures and harsh alkaline detergents.
In comparison, wholesale silicone plates are microwave- and dishwasher-safe. They make providing your young ones with safe and hygienic food easier. Plus, children silicone dinnerware is resistant to high and low temperatures. They can also withstand sunlight and moisture.
Silicone Plates Are Flexible & Soft, Yet Sturdy And Shock-Resistant
The material used in wholesale silicone plates (silica) is soft but damage-resistant. It does not harden with time, and colors stay fresh even after longer use. Its higher shock-absorbance makes silicone plates sturdy and keeps them safe against tears or peels.
Moreover, the material provides a secure grip and maintains its place both on the table and in small hands. The soft silica is also gentle on the baby's gums and teeth, especially if they're sensitive to teething. It's safer than hard silicone, which can harm the baby's mouth.
Silicone Plates Are Easy To Maintain & Environment-Friendly
They are lightweight, space-saving, and easy to carry. When feeding the baby, parents often face a mess to clean later. But that's not the case with silicon plates. The silicon wholesale food containers bring quick maintenance because their smooth surfaces are easier to clean.
On top of that, silicone utensils are durable, stain-resistant, and odorless. They will last longer and won't turn yellow or develop a stinking smell over time. Finally, they are also easy on the planet with their recyclable material, making them eco-friendly.
In a Nutshell
Wholesale silicone plates feature the following benefits:
They are hygienic, non-toxic, and hypoallergenic.
They are BPA-free, and their pore-less surface is resistant to bacteria, mold, and fungus.
They are microwave- and dishwasher-safe.
They can withstand high and low temperatures, sunlight, and moisture.
They are soft and flexible, gentle on small hands and baby's teeth and gums.
They are sturdy and shock-resistant, do not tear or peel, or get hard or dry with time.
Their secure grip maintains its position on the table, resulting in no mess.
They are lightweight, space-saving, and easy to clean and carry.
They are durable, stain-resistant, odorless, and recyclable.
Different Types Of Commonly Sold Silicone Plates
Silicone plates are a healthy and safe alternative to other materials like plastic, wood, and bamboo. You can find these wholesale silicone products in many shapes and designs with different features and benefits.
Let's understand different types of commonly sold silicone plates in the following:
Silicone Plates
These are the simplest designs of silicone plates shaped like regular plastic plates. However, they are much safer than plastic as they do not release toxins when put in the dishwasher or refrigerator. You can use a silicone plate to get started on solids.
Silicone Bowls
Silicone bowls are an ideal alternative to silicone plates for serving saucy/soupy meals. They help the baby scoop out the food easily with their round edges and feature similar benefits to wholesale silicone plates.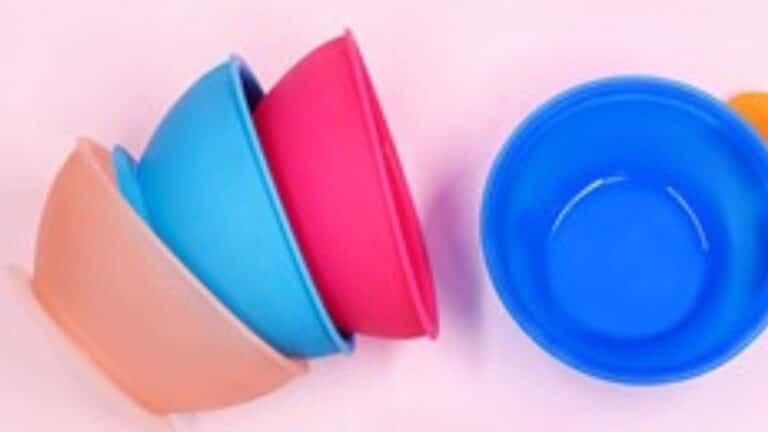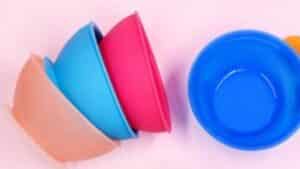 Anti-Spill Silicone Bowls
These silicone bowls are a game changer if your toddler is learning to eat food. They are also known as "stay-put silicone cups." These bowls have a unique design, featuring a safe edge/slope to guide the spoon and catch food. It helps the baby learn self-feeding by providing a safe and easy eating experience.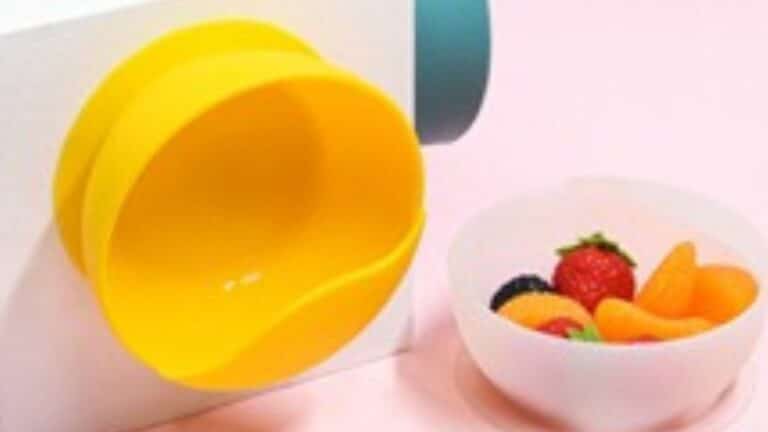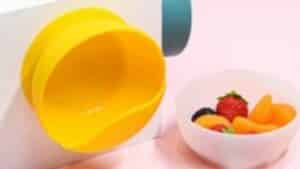 Divided Silicone Plates
If you want to serve your baby multiple meal portions, it's time to get your hands on divided silicone plates. These plates are handy and can assist you in measuring meal portions for the baby. You can also serve meals with variations without filling the space with many single plates/bowls.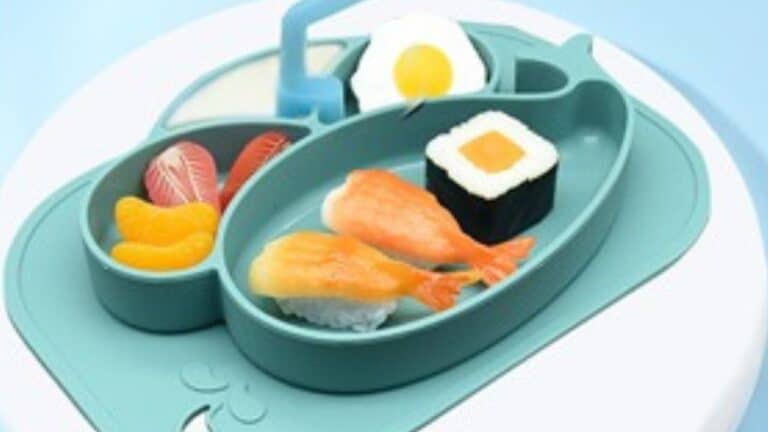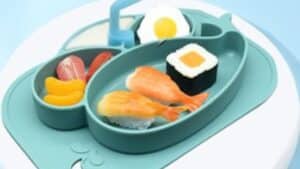 Silicone Dinner Plate With Cover
These silicone plates are divided but come with a cover to protect and carry the food. Plus, they are great for preparing meals for baby's daycare visits or when going on a picnic. The best part is that they aren't expensive. You can easily find them at low prices.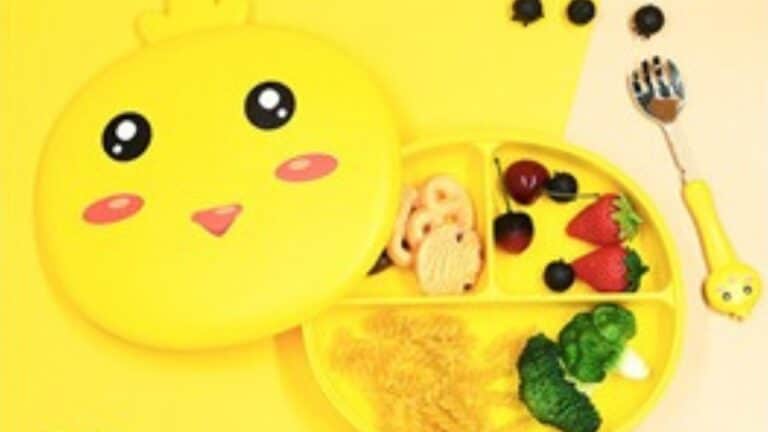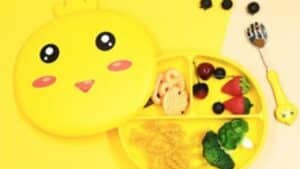 Building Blocks Silicone Dinner Plate
These silicone building blocks can change mealtime into a fun and exciting activity for your baby. Each plate comes with different parts that can be assembled and disassembled, helping your child develop motor skills.
These silicone dinner plates are also available in different color sets, turning eating meals into a fun play. Also, you can measure portion size easily with various building blocks in a silicone dinner plate.
Suction Mats
Suction mats aren't exactly a type of silicone plate but an important must-have for your baby's silicone plate. A suction tray is more beneficial than a plate stand as it grips the plate and protects the food if your toddler tries to move/throw it.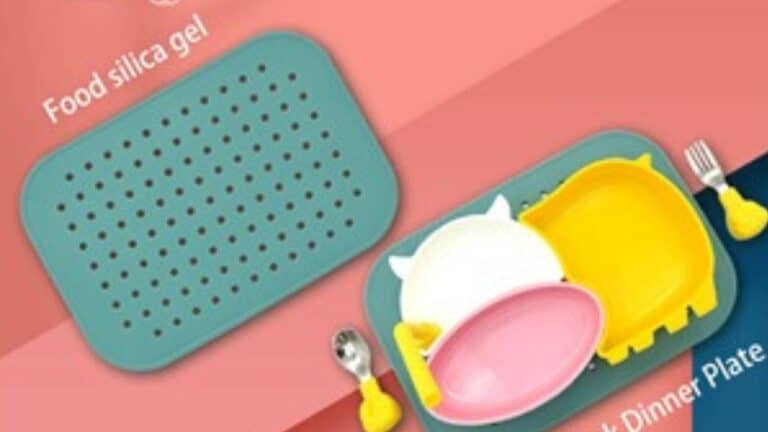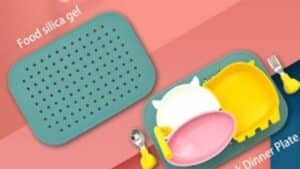 Comparison Between Soft And Hard Silicone Plates
Each silicone has a shore hardness number, indicating the flexibility and softness of the material. Shore hardness scales are used to measure the silicone's hardness or softness, primarily the material's resistance to indentation.
Sounds confusing? Think of indentation hardness tests as a process to measure the hardness of silicone against deformation. Typically, these tests include compressing the silicone gel using a Shore durometer. A shore durometer is a device to measure the hardness of a material like silicone. The durometer scale assigns each gel a shore hardness number.
The lower the shore hardness number, the softer and more flexible the silicone will be. Zero means the softer silicone ever. Yet, it also means the material is not sturdy and can easily tear or peel.
Silicone with lower shore hardness numbers does not hold its shape when pressed/squished. So, they aren't the best material for baby wholesale silicone plates.
Similarly, a higher shore hardness number is less flexible but more potent. Typically, the highest hardness for silicone goes up to 80, which is as hard as an average shoe heel or a car tire.
Silicone plates made with silicone of higher shore hardness are not comfortable to hold and may make it hard for the baby to scoop out the food.
Soft silicone plates are suitable for young ones with sensitive gums and teeth. While hard silicone plates can be used for children of higher age.
So, considering all this, a silicone plate with a medium (not too soft nor too hard) shore hardness number is most suitable to feed the baby. It will be flexible and soft but won't break easily in extreme temperatures. It will also be strong but not too sturdy on the baby's gums and teeth.
Key Factors To Consider Before Buying A Wholesale Silicone Plate
One search on the web can give you a hundred results, but how would you decide which silicone plate to buy for your baby?
The good thing is that we have listed below all the factors you should consider before investing in wholesale silicone plates.
Hygiene & Durability Factors
The first thing to consider when looking for silicone plates for your young one is hygiene, that is, buying BPA-free silicone plates.
It's because food containers made of material with BPA can infect meals. They release toxins (BPA) when the container goes through extreme temperatures. These chemicals can cause hormone disruption and damage the baby's brain and prostate glands.
Another thing to consider is durability. So, invest in tableware that is sustainable, sturdy, and resistant to wear and tear.
Microwave- & Dishwasher-Resistant
Silicone is resistant to extreme temperatures. But here's the deal: you should still verify the temperature-resistant rates of silicone plates. It's because temperature endurance can impact the quality of silicone utensils.
Safe wholesale silicone plates, like that offered by ABC, can withstand cold up to -20° C and heat up to 230° C. You can boil them (to sterile), put them in the microwave to heat food, or store them in the refrigerator. Either way, they are safe for your baby and do not release toxins or chemicals in extreme temperatures.
Soft & Flexible Material
Because your child is at a developmental stage, their safety is an essential factor to consider. So, make sure to buy a soft and flexible baby plate to protect the child against sharp corners and help them scoop out the food easily.
Enhanced Suction
Let's get this straight: feeding an infant or toddler is a messy process. A suction plate can reduce the amount of food thrown on the floor, but not when it has a loose suction. Your baby can easily pull the bowl off the table or drop it on the floor if the suction plate has a loose suction.
So, invest in suction plates with a higher suction tendency to save time cleaning the mess and preparing the food again. It makes the plate stick tightly to the chair and doesn't let the food plate move.
Divided or Not
You must decide whether to invest in a divided or undivided silicone plate. Divided plates allow you to prepare meals with variations. Also, they are useful for serving more than one food to your toddler.
However, divided plates can also make it harder for the baby to transition to a regular plate later, though it is only sometimes the case. On the other hand, a non-dividing silicone plate can create a mess as you would have to place more plates when serving a variety of meals.
Baby Portions
Consider baby portions if you are confused by divided or undivided silicone plates. Babies get sick because of incorrect portions, leading to refusing food, refusing to chew, or taking longer to eat food.
A divider plate is a great way to measure portion size for your baby. This wholesale silicone plate by ABC has three divisions. Its one section features 300 ml and two 100 ml sizes, allowing you to monitor the right meal portion for your baby. It is also shaped like a baby chicken, available in many colors to make mealtime fun for the child.
Multi-Color Assembly
Giving your baby meals on the same plate can be boring and lead to a disinterest in eating food. Now, adding more plates/bowls can be messy and spacious, especially if you plan on buying divider plates.
So, what should you do to make mealtime exciting for the baby without worrying yourself about incorrect baby portions? Here's the solution: invest in meal assembling blocks. These tiny blocks can stick together to make a meal plate, each with a different color, to turn the boring mealtime into all fun and interesting.
Easy Maintenance
Lastly, buy silicone plates that are easy to clean, stain-resistant, and odorless. These features make the silicone utensils last longer and save money and your baby's health.
In a Nutshell – You Must Invest In
When buying silicone plates for your baby, they must be:
BPA-free
Sustainable, resistant to any wear and tear
Higher temperature endurance to heat and cold (microwave- and dishwasher-safe)
Soft and flexible material
Higher suction tendency
Stainless, odorless, recyclable silicone plates
However, It's Up To You To Consider The Following
Divided/undivided plates
Baby portions divided plates
Multi-color plates
Assembly blocks
The Bottom Line
Wholesale silicone plates are a valuable investment for your baby. They are safe, durable, and a healthy alternative to other materials such as plastic or wood.
Moreover, you'll also find the baby silicone tableware handy and easy to maintain, for they are easy to clean, carry, and store. With enhanced suction, you won't have to worry about cleaning a mess every time your baby eats their meal.
In case you are wondering, you can find quality silicone plates at any reliable store, like ABC. Their silicone plates, bowls, and suction mats are BPA-free, soft, flexible, and high-temperature resistant (-20° C to 230° C).