Finding the best case for the Airpods
Apple's AirPods are a marvelous addition for hands-free audio lovers. But with a price tag of anywhere between $250 to $350 (with shipping and tax!), you're looking at a significant investment. And that's why you need a case for AirPods. Even though you might be extra careful in using them, given their small size you could lose them or they could fall without you noticing.
So, how do you protect your investment? A silicone-based custom AirPods case from OYI Gifts is the perfect solution!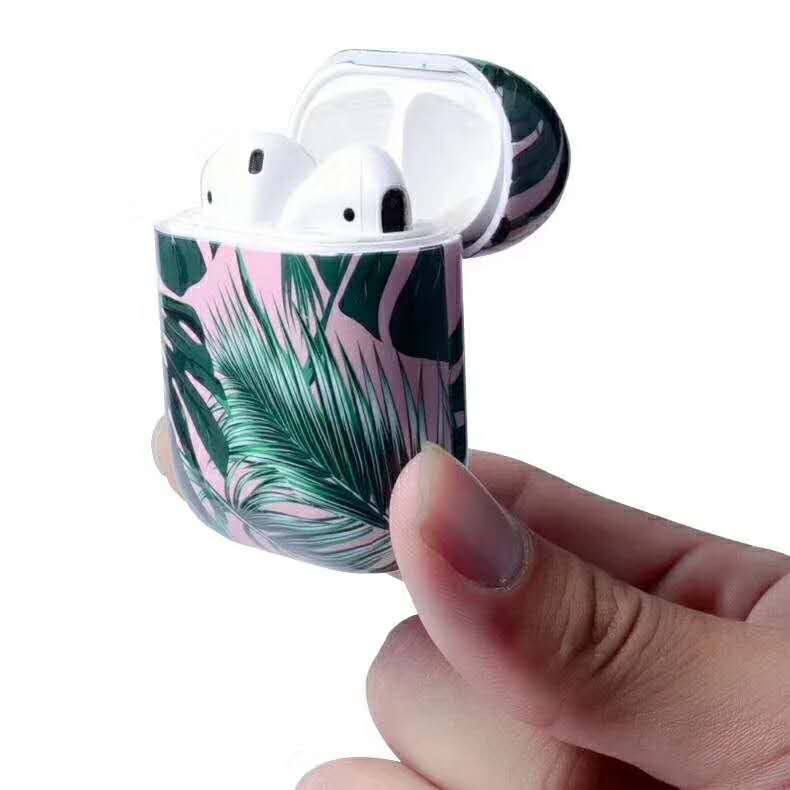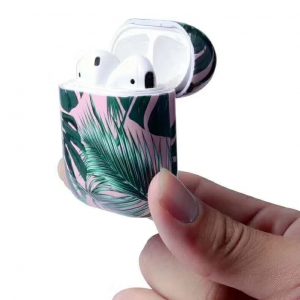 Apple already provides a charging case for its AirPods. The two ear pods fit nicely into their charging sockets, and the entire device – charger and pods – can easily fit in a pocket or handbag. So, the big question is, why would AirPods users even consider buying an additional case?
Well, while the Apple charging case is good at what it does – to hold and charge each of the two pods – your AirPods silicone case does more…much more! Consider the following points:
·         Apple has designed its AirPods case to be "functional", but in doing so, it created something that's bland and plain-looking. If you want to personalize your case, then you're out of luck – unless you opt for a custom AirPods case
·         As noted in the introduction to this post, there is a significant investment in owning Apple's AirPods. In addition to the price, you'll also be paying shipping charges and, in some cases, taxes too. Depending on where you live, your Apple AirPods can end up costing you anywhere between $250 and $350. Wouldn't you want some extra layer of protection for such an expensive device? OYI Gifts' Supreme AirPods case provides just that additional peace of mind
·         With such a huge investment made in AirPods, you'd always want to keep them safe. That's why most people prefer them tucked away in their bags, purses, or pockets. But that makes them harder to access in case of an urgent call or important voice broadcast you want to listen to. A customized Air Pods case, with a convenient carrying hook, makes the Pods easy to access without compromising security
·         The outer layer of Apple's AirPods is shiny and sleek. But with wear and tear, they can lose their shine and become dull and unsightly. Using the best case for AirPods, made from hardy silicone, helps protect your valuable charger from scratches and abrasions
·         The Apple Charging case is tiny – between 1.74 and 2.11 inches in dimension, and weighs around 44 grams (with Pods inside). And when you handle something that small and light, they'll invariably slip and fall – especially when accessing them in a rush. Use your silicone Air Pods case from OYI Gifts to provide much-needed additional protection against accidental drops and falls
·         And then, there's the issue of exposure to the vagaries of the weather. Even the best-designed devices, if left directly exposed to bright sunlight and rain, will eventually get damaged. Apple's AirPods are no exception! An exterior Apple AirPods silicone case delivers that extra bit of care and protection against rain and other inclement weather
Whether you own the 1st gen AirPods (Model A1523 and A1722), the 2nd generation AirPods (Model A2032 and A2031), or the latest AirPods Pro (Model A2084 and A2083), you need peace of mind. With so much invested in these devices, it's only right that you would buy a case for AirPods that you depend so much on.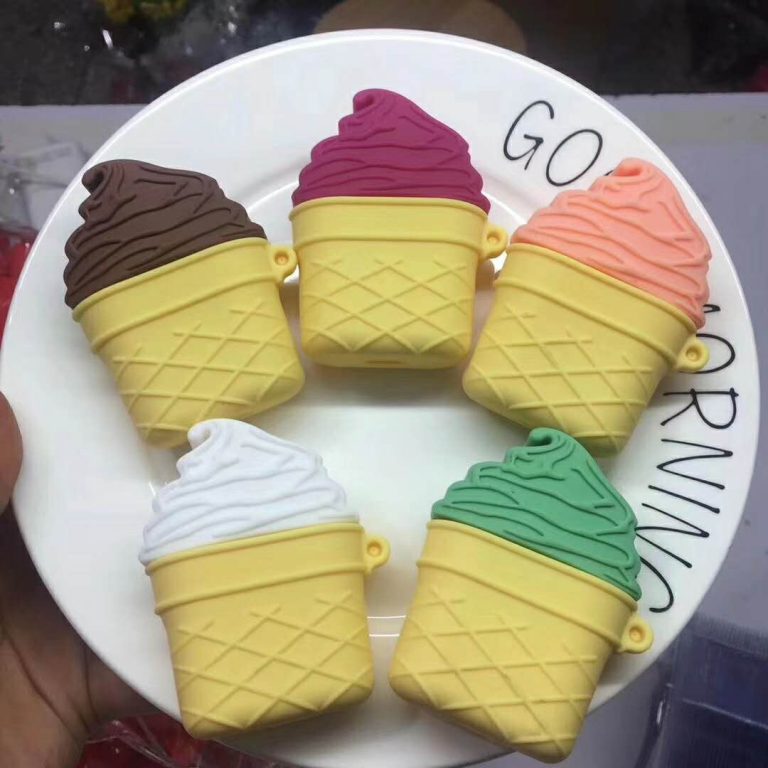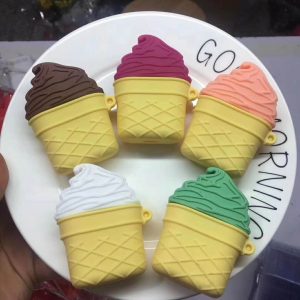 SILICONE – THE RUGGED MATERIAL OF CHOICE
Silicone makes a great material for manufacturing the best case for AirPods. That's because of the inherent properties of the material:
·         It is rugged, so the case will last for a long time
·         It is highly adaptive, so molds into any shape or design required
·         It is dirt and dust resistant
·         It is maintenance-friendly, which means you just need to wipe the product with some soap and water to clean it
Best of all, the custom AirPods case made from silicone is Bisphenol-A (BPA) free. Unlike many similar cases that contain BPA, these cases are non-toxic and chemical-free. That means that even if someone inadvertently puts the tiny case into their mouths – there's no risk of chemical contamination.
It is precisely these qualities of silicone that make it the material of choice for manufacturing many consumer products, including iPhone cases and covers, iPad cases, and a host of residential and commercial products.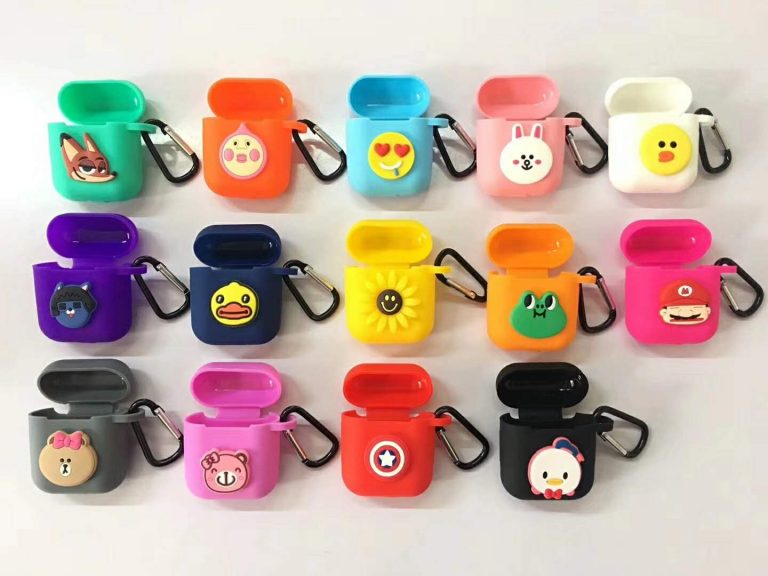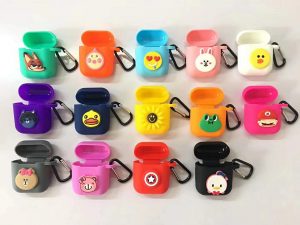 WHY BUY A SILICONE CUSTOM AIRPODS CASE
Now you get it! Apple's charging case is a great investment, but you also need a case to protect that investment. Without a case, your AirPods are susceptible to weather-related or handling damage or loss.
So, what kind of Air Pods case would be an ideal investment in order to protect your significant investment in Apple AirPods? Well, it's no use buying a case that looks bland or plain, something that lacks personality or style. As well, if you are investing in a case for your Air pods, it makes no sense to buy something made of cheap rubber or plastic. These will wear out or get damaged in no time at all.
The best AirPods case is therefore one that meets all the following criteria:
1)      Made from strong material: Because you don't want to buy a new AirPods carrying case every week, you need a case that's built from strong materials – so it will last for a long time to come.  OYI Gifts constructs its AirPods silicone case from one of the toughest materials around – Silicone! No matter what kind of wear and tear it is subject to, Silicone-made products won't easily get damaged or destroyed
2)      Colourful: In a household (or dorm room) with multiple Apple AirPods, it's important to have cases with multiple colors. That way, Jack's blue case is easily distinguishable from Jill's redone one. Customized silicone cases are easy to manufacture in many colors. OYI Gifts has cases that come in a wide range of colors of your choice   
3)      Ingenious designs: Each AirPods user has a unique personality. That's why each of us chooses different cell phones, cellphone cases, and even phone plans. A custom AirPods case must therefore be available to highlight the exclusive tastes and character of its owner. For example, if you love ice cream, then OYI Gift's Ice cream silicone AirPods cases are ideal for you. And if cartoon characters are your "thing", then you won't be disappointed with the unique silicone cartoon air pod cases either
4)      Snug fit: You don't want your air pods case to be like a large pouch – you have your pockets or handbag or tablet or laptop case for that! The best case for AirPods is one that allows for the device to fit snugly inside, without too much room to shake or slide. And that's precisely why a custom-designed case is what you want
5)      Easy to carry: OYI Gifts have designed one of the best AirPods case available on the market today. At 58×49 MM (HxW), and 26MM breadth, these cases are marginally bigger than the AirPods they cover. They, therefore, make for ease of portability
6)      Ease of use: It's a hassle to remove your charging case each time, from its carrying case, to access the charging port. With a perfectly well-positioned access slot at the bottom, the OYI Gifts Air Pods case makes using the charger easy and effortless
But one of the most compelling reasons for buying a custom AirPods case is precise because that: You can tailor it to meet any requirement. As a business owner or marketer of unique products or services, you can have these neat little gift items manufactured with custom logos or contact details on them. These tailored messages, with cases in your corporate colors – Red, Blue, Pink, Yellow, or any other hue – make the best case for Airpods to give away or retail to customers and guests.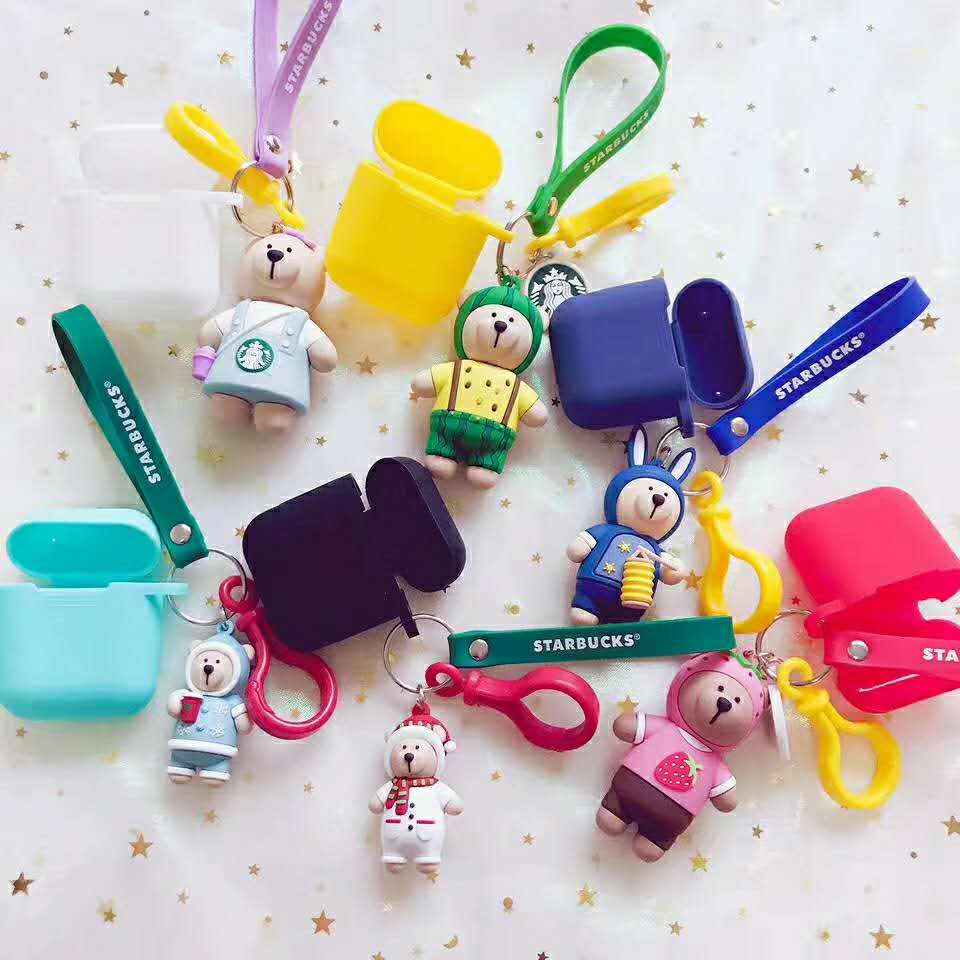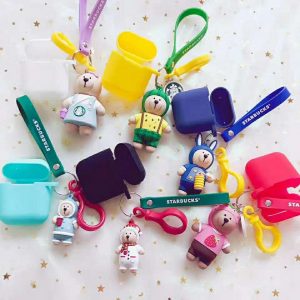 BEST IDEAS FOR THE BEST AIRPODS CASE
Air pod cases aren't truly versatile things. Because of their specialized usage, they work well for a singular purpose, i.e. to protect your expensive Apple AirPods charging case. However, even with this singular design, an Air Pods case has multipurpose uses.
Here are some great ideas for how individuals, businesses, and marketers can best make use of a custom AirPods case:   
·         Gift items: Even if you are in a business totally different from anything to do with Air Pods, a case for an air pod charger makes a great gift item. Whether you are in the manufacturing business, the service industry, or any other retail or commercial line of business, an Apple AirPods silicone case is a great gift to clients, suppliers, and business partners
·         Promotional item: Whether you have an upcoming new product launch, or whether it's a new service you are offering, promoting them is a huge challenge. You could spend vast sums of money on newspaper or internet ads – but prospective customers always wonder: What's in it for me? By offering the OYI Gifts supreme AirPods case as a promotional item, you will easily encourage undecided prospects to switch their existing brands and try yours instead
·         Branding opportunity: And speaking of brands, what better way to make your brand broadly recognized than to associate it with a ubiquitous brand like Apple? By creating AirPods cases in your corporate colors, and with your corporate logos printed on them, you can familiarize your brand with thousands of Apple product users
·         Freebies: Customer psychology is such that, if there's a "free" offering to be had, they'll likely gravitate to the product or service provider offering a "freebie". So, why not take advantage of this psychology and offer a FREE customized Air Pods case to any customer who buys a certain quantity of your product, or with each order of your service?     
·         Marketing list: To effectively market your business, you'll need to build a reliable marketing list of contacts and prospects. The problem with building such a list is that no one wants to give you their personal details – email, addresses, cell numbers, etc. The way to convince them is to offer them something in return. A custom AirPods case is a great way to make that offer stick. Not only will you get them to provide you with their contact details, but they'll receive an Air Pods case that has your contact details in return. Now, that's clever marketing!
·         Employee motivation: If you are part of a large company, chances are that many of your employees own and use Apple products, including AirPods. They'll appreciate receiving custom-made Air Pod cases as a gesture of thanks for the services they rendered to you and your clients
·         Giveaway items: At busy malls and sales and marketing events, you may find it hard to spend lots of time with eager visitors to your kiosks and booths. So, why not hand out an Apple AirPods silicone case, as a giveaway, to all visitors? With your company name, logo, and contact details printed on them, interested prospects will always have a way of reaching out to you when they need your product/service
·         Third-party marketing: What happens when you have given away hundreds of the best cases for AirPods? Well, soon, anyone that uses it will expose it to family members, friends, and colleagues. Others, on trains, airplanes, buses, and subways, may also notice your logo on your custom-made case. Once your brand gets exposed to networks of existing users of your cases, those others will become aware of your product and service. This is a cheap yet effective way to trigger 3rd-party marketing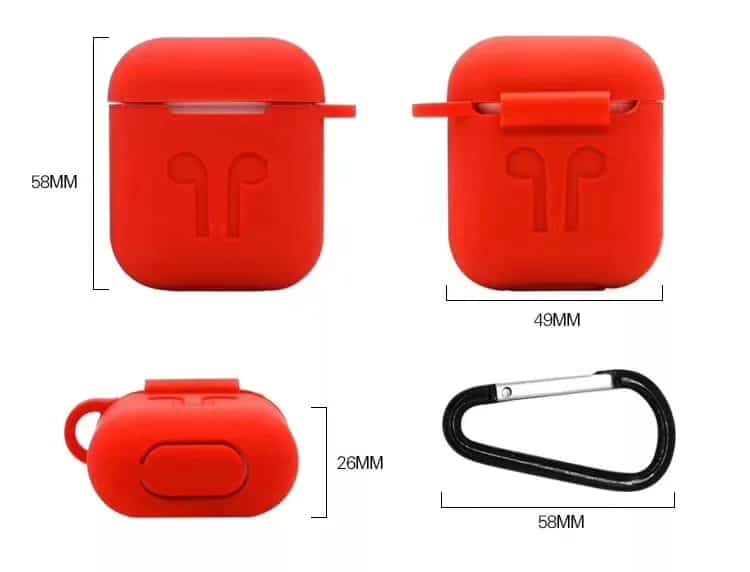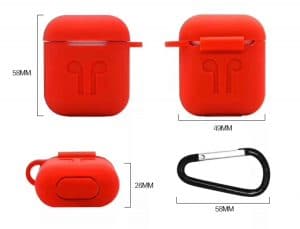 Business owners and corporate managers will find many other ideas to deploy a custom-made Air Pods case. All you need to do is think of a design, shape or cartoon, fictional character, or image, and consult with an OYI Gifts specialist. Chances are that we will be able to design and manufacture a custom AirPods case for you, in line with your requirements.  And even if we can't replicate your dream design 100%, when you contact us, our product specialists may have other ideas and recommendations for you.