Making the most of Children's gift items opportunities
When it comes to product, service, and corporate brand promotion, most marketing, and sales executives tend to focus on specific demographics: Adults who may potentially buy or use the company's products or services. While targeting that segment of prospective clientele is a great idea, many brand marketers might be missing out on a wide segment of the population. The use of children's gift items, as a powerful marketing and brand promotional tool, goes largely untapped.
Read on to learn how you might turbocharge your corporate gift-giving strategy by tapping into these largely ignored demographics.
Using kids' gifts items for corporate branding
If your company engages in manufacturing kid's products – like children's costumes or kid's footwear – it's easy to target children when drawing up a marketing and branding strategy. You promote those products through advertisements or sponsoring child-friendly events, where you then introduce your latest Halloween PVC masks or children's costume, for example. Such marketing strategies are very common.
But you might say: My company produces office furniture (or fitness equipment, or sports beverages), how might I use children's toys, costumes, and gift items to promote my company brand? At first glance, you would hardly think that bringing kids into the equation would be a smart brand promotion move. But you'd be wrong!
INDIRECT MARKETING for gift items
It's true that, in the above corporate marketing examples, children are furthest from a group of prospective users. But there is still a role for them to play in your corporate marketing plans. You don't have to use direct marketing tactics to promote your brand amongst children. By leveraging the use of gifts for children, marketing executives can tap into powerful brand promotional opportunities. And here's why:
Many prospective adult customers, of your products or services, have kids
These prospects typically engage with those kids on a continuous basis
Those interactions also include leisure moments
Such moments may also coincide with special events, like birthdays, schooling accomplishments, and other milestones that parents are proud of
And there lies the opportunity to indirectly introduce your brand to adults…through their children! Of course, if you already have a targeted branding and marketing initiative directed specifically to adults (parents of the kids) – that's great. But indirect marketing to adults, through gifts for kids, produces an even greater branding impact.
Let's look closely at how businesses may use children's toys and gift items to promote and sell their products and services to adults.
Children's toys and gifts items as marketing tools
We've now established that, because children play a pivotal role in the lives of adults – be they parents, grandparents, uncles, aunts, nephews, and nieces, or other relatives and extended family – you might leverage those relationships indirectly sway (positively) opinions about your products or services among the adult population. And, you could use children's toys and other gift items to accomplish that.
Let's look back at one of the examples we introduced earlier to illustrate this point.
Assume you are the Chief Marketing Officer of a company that produces sports beverages. Now that's hardly an item that you could market directly to children. In fact, many jurisdictions have stringent laws forbidding such marketing. If you indulge in such branding practices, your company (and even you!) may face huge penalties.
PROMO GIFTS items
So, how do you leverage children's gift items to promote your sporting drinks to their (the Childs') parents or other adults in their circle? Here are a couple of great ideas:
Work with an established corporate gift items manufacturer, like OYI Gifts, to create a range of children's toys or other products. For example, a child's plastic cup could serve as a great prop to place your marketing message on
Shape a kid's PVC beverage bottle in the image of your own sports beverage containers – but with kids' cartoon motifs on them, like Wonder woman or Spiderman. Include your company's logo and brand message on the bottle, so adults may see it
These are two simple methods by which you can strategically use gits for children to, indirectly, promote your company's brand, image, and products/services to an adult audience. When adults handle those products – for example, a parent filling up your gift bottle with water or juice for their child – they'll indirectly see your branding message. Even though the child, for whom you've primarily developed the gift items, might not comprehend product messaging, you'll expose adults in their lives to your marketing message.
Now, isn't that a great strategy for indirectly using kid's gifts to promote company products and services to adults?
Kid's gift ideas for today's world
The days of wooden trains, stuffed Teddy Bears, and colored balloons, as prized gifts for children, are gone. Today's children are savvier than their predecessors from just a few years ago when inanimate toys meant everything to them. So, what would make the ideal gifts for kids in today's world?
Well, the short answer would be "It depends" on several factors:
The age of the child
Their stage of development
Their likes and dislikes
What hobbies do they indulge in
What they're studying at school
When you put all these things together, you arrive at the perfect gift items profile that typical kids love. For instance, if you are a retailer of children's wear, you'll probably do well to watch for the types of cartoons and action figures kids these days watch and follow. One such trending series is the Fruit Fairy Force, and kids everywhere associate with the figures in that series.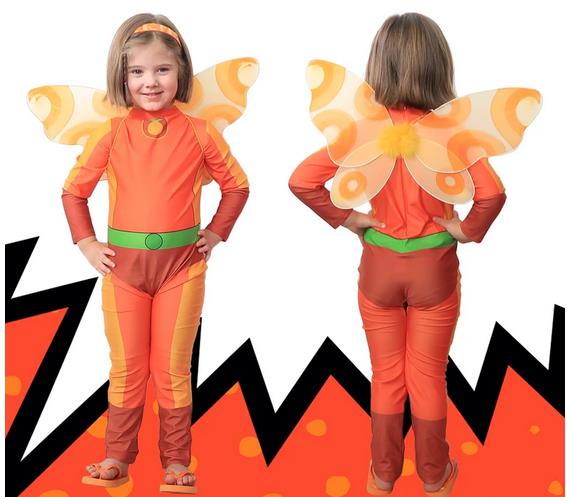 As a retailer of kids' clothing, working with a gift items manufacturer that creates custom gift items to create a unique line of gifts for children that feature Fruit Fairy Force themes would be a great idea. Parents of children, who are in the age group where such action figures influence them, would long to buy such costumes for their kids.
So, what opportunity would there be to market these and other similar costumes? Well, when you consider that children would wear these costumes for a wide variety of occasions, you can judge the massive appeal it could have:
Birthdays are a favorite time when parents may want their children to dress in these costumes. In fact, doting parents or grandparents might even buy a handful of Fruit Fairy Force costumes for a party for all the little ones' friends. Each friend ("Fairy") would have their own suit too
Fruit Fairy Force-inspired toys are yet another children's gift items to consider. Have your custom gifts items manufacturer produce a range of these gifts, representing individual Fairies in the popular series – Orange, Grape, Watermelon, Lemon, and Strawberry – to give them as gifts, not only to the birthday girl but to all her party invitees!
Retailers may even market Fruit Fairy Force suits as Halloween costumes. Who said that Halloween is all about scaring children with hideous masks and blood? You can work with your custom gifts items manufacturer to produce a line of these suits so children will have fun as they accompany parents and adults for Trick-N-Treat
School costume parties are another avenue to market your Fruit Fairy Force-inspired suits. Children of tender age don't particularly like to dress up in uniforms to go to school. Besides, most lower-grade classrooms don't enforce a uniform policy. Imagine if children had the opportunity to dress as a different Fruit Fairy Force member each day. Wouldn't that motivate them to go to school every day?
And what about special events, like the 4th of July, community fairs, and family gatherings? Costumes and suits are favorite gifts for kids on such occasions. If your kid's gift items manufacturer does a great job of producing these costumes, parents would love to buy them to please their young children
SOMETHING MORE
But what about older kids – ones that might also want other gifts to please them? Well, there are many other exciting gifts that parents and guardians can give to such kids. All that's required is to reach out to a professional custom gift items manufacturer, like OYI Gifts, and discuss an entire range of customized gift items suitable for kids of all ages:
A Soft case notebook is great, not just for kids attending higher grades in school, but even for children learning to doodle, scribble and write. Made of flexible PVC, these notebooks come in a variety of shapes, like biscuits and cartoon characters
Parents and guardians of older kids would love to give them a wireless Bluetooth speaker for school, a birthday or for any other occasion
Kids that hang out with friends their own age, traveling or going away to college, are yet another target market for gifts for kids their age. Custom silicone travel bottles are the rage these days, as kids can fill them with cosmetics, hand sanitizers, liquid soap, sunscreen – and much more – while they travel or are out and about
And of course, which kid wouldn't like to go out with a sleek custom silicone water bottle. This is a gift items product that's suitable for kids of all ages because parents and guardians love ensuring their children stay well-hydrated while outside
The gift ideas discussed above are readily available for both retail and wholesale purchases. Because of how popular gift-giving for children is, ordering any of these items, especially in bulk, offers an excellent marketing opportunity. The high quality of these products, along with exceptionally reasonable commercial terms, offered by gift item manufacturers like OYI Gifts, makes buying and re-selling them a very profitable venture.
Promoting your business
While gift items retailers will certainly benefit from placing orders of these children's gift products, each of these items also holds great brand promotional potential. For instance, if you are a company dealing in children's food products (biscuits, cereal, baby foods, etc.), what a great promotional opportunity it offers to customize a range of Fruit Fairy Force suits with your company logo and marketing message.
Clearly, parents and guardians will purchase suits to please their young children and wards. However, as the kids wear those suits on various occasions, they'll likely move around in circles where there are other adults. This gives your company logo and brand greater exposure to a large network of individuals – thanks to a handful of parents buying a kid's costume!
Running promotional schemes, featuring gift items for children as the prize, is also a great way to build brand awareness. For example, companies may capitalize on the annual "Back to School" wave of spending to promote and market their own products. A maker of kid's school gear – backpacks, crayons and pencils, parkas, gloves, hats, etc. – could have their gift items-making partner customize a Soft case notebook, with company logo and contact details, include it in a "Buy two sets of backpacks and get one soft case notebook free" campaign.
Merchandise-based brand promotion is the best way to capitalize on a free marketing network. For instance, think about what happens when a child receives his/her "Free" soft case notebook after his/her parent purchased two of your company-produced backpacks. They'll likely use that notebook within their circle of friends, which will expose your company logo and introduce your corporate brand to a broader network of friends.
Whether it's a Fruit Fairy Force suit or toy, a soft case notebook, a travel bottle, or any other electric gift for kids, the secret for using them successfully as brand promotion tools lie in your choice of gift items manufacturing partner. Choosing a relatively inexperienced producer could potentially result in poor, sub-standard items that have your company's branding on them. What a PR nightmare that could be!
When you work with OYI Gifts, you get a partner with decades of gift items-making experience behind them, and who owns state-of-the-art manufacturing facilities. If you have a specific gift idea in mind, why not contact us today, and let's talk about it?  With a large portfolio of satisfied clients globally, including many Blue-Chip clients, we're confident that we'll deliver some of the most popular gift items for children that you can use for your brand promo campaigns.