Collapsible silicone straws
While beverage and drink containers have undergone radical shape and design changes over years, the humble straws have remained the same – until now! OYI Gift's radical redesign of these ubiquitous liquid dispensers has changed how these "tools" are viewed, used, and reused.  It may even be fair to say that the freshly designed collapsible, folding silicone straws have undergone their most significant re-design since the concept of straws was first invented!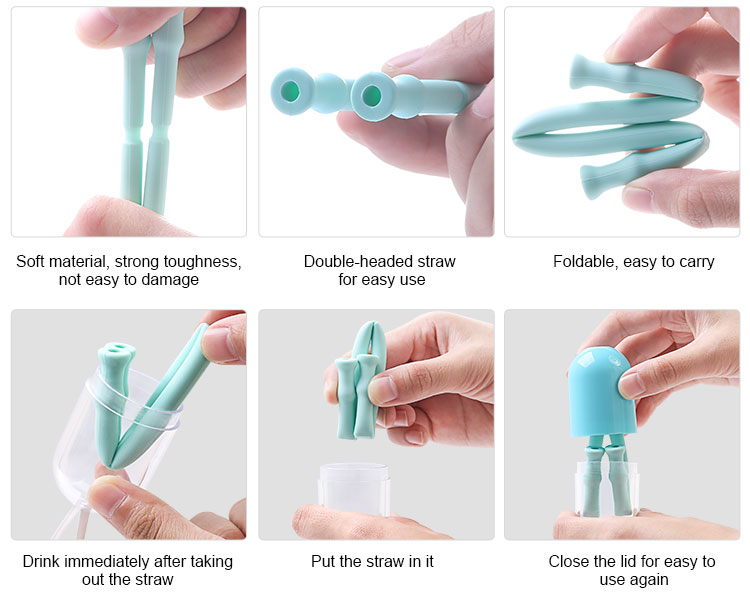 A long-overdue facelift
A trip in a time-tunnel would reveal facts about straws that we never really knew. The ancient civilization of Sumerians were actually the first ones to device the idea of the straw – over 5,000 years ago. Back then, these long cylindrical tools, devised from precious metals, were used to drink beer. Fast forward to the 1800s, and straws got a much-deserved facelift.
Although silicone reusable straws are a recent phenomenon,  the Smithsonian Institute traces the invention of the modern-day paper straw to paper cigarette manufacturer Marvin Stone in 1888. That's a long time ago – over 130 years ago in fact! Since then, the straw has not changed much at all. Over the ensuing years and decades, we've moved away from paper to plastic, glass, and stainless steel. However, other than that the familiar reusable silicone straws – those rigid, hollow tube-like devices – still remain the same in design and function.
Most modern-day bulk reusable straws are single-use products, and they've come under intense scrutiny lately:
·         500 million of these "devices" are used each day by U.S. consumers alone
·         An overwhelming majority of straw users dispose-off these liquid dispensers incorrectly, and they eventually find their way into landfills
·         It's estimated that 8.3 billion single-use straws pollute and clutter pristine beaches across the world
While nations around the globe waited patiently for a radical design change that would deliver some solution to the environmental crisis precipitated by the single-use straw, many have taken the action of their own. Countries like Australia, Canada, Taiwan, the U.K., Zimbabwe, Kenya, France, and Morocco have banned (or will soon be outlawing) the use of single-use plastic containers – including plastic straws.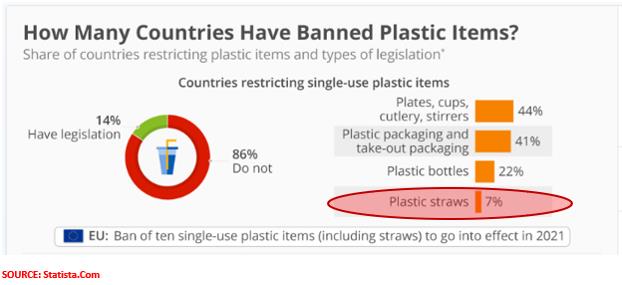 And in some countries where the single-use plastic straw isn't under a national ban, individual jurisdictions (States, cities, municipalities) have decided to go it alone. Cities/States like New Delhi (India), Hamburg (Germany), Malibu (California), Seattle (Washington), and the state of New York (U.S.A.) have either banned or are contemplating a ban of paper and plastic

straws

.
Clearly, after more than 130-years of serving as the go-to liquid and beverage dispenser, the single-use straw has become a real and present environmental threat. If that were not the case, they wouldn't have been banned in jurisdictions across the globe.  
Beverage manufacturers, retailers, consumers, and environmentalists alike have been waiting for the straw to get a facelift. And it looks like OYI Gift's collapsible, silicone-based folding

bulk reusable

straws

are the answer to that long wait!
Introducing OYI Gift's foldable silicone straws
The idea of a foldable, collapsible drinking straw is such a simple concept, but it took all these years for someone to come along and make it a reality. Various materials have been experimented with in order to produce reusable straws, but OYI Gift settled on Silicone for its design. So, why Silicone?
1)      It is one of the hardiest of materials around These properties of silicone make it a natural fit to use in a foldable straw. Even biting down on them with all your might won't damage, bend or get them out of shape!
2)      It is heat and cold resistant: Choosing silicone meant that these straws could be used to sip any type of liquids. A plastic, glass, and stainless-steel straw on the other hand can't function if the beverage is piping hot.
3)      These silicone straws are unbreakable – no matter how many times you bend and twist them. They won't crease, crack or puncture! Plastic straws get "squashed" under too much weight, while Glass ones will crack and break if they fall from even a short distance. Jagged-edged glass or steel straws can also pose a serious risk of hurting your lips.
4)      The use of silicone means that, unlike plastic or rubber, these bulk reusable silicone straws will be impervious to mold and mildew. Once again, OYI Gift's strategic use of silicone for their foldable silicone straws makes for a mildew-proof product. The characteristics of silicone are such that germs, mold, and mildew aren't attracted to its surface.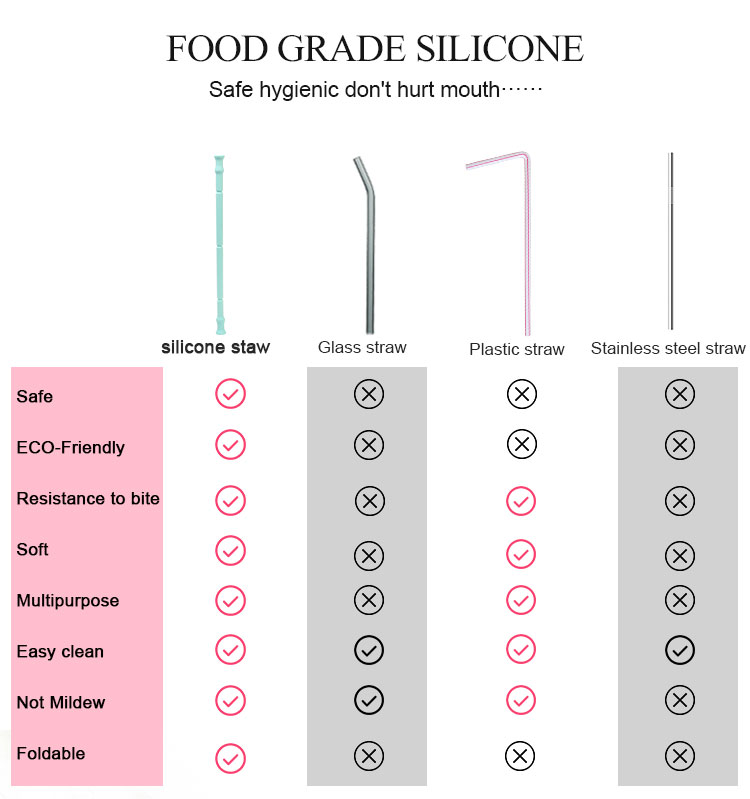 When you stack OYI Gift's collapsible silicone straws against those made from any other contemporary materials, you can easily see why the freshly designed product is a clear winner:
5)      No matter what beverage you are enjoying – a piping cup of Java, your favorite hot cup of soup or chocolate, a nice iced-tea or a cold smoothie – this silicone straw will serve you well for all your beverages.
6)      You'll never need to hunt around for a straw-dispenser. Because these silicone reusable straws are multi-use, you'll just need a single straw that can be used over, and over again!
7)      Sure, plastic straws can be re-used…but you need to be extra careful how you handle them when washing. AND…they won't retain their shape, form or functionality after one or two washes. OYI's silicone straws are low-maintenance creations. They clean easily and never get out of shape – even under the heaviest of washes! 
But more importantly, OYI Gift's foldable, collapsible straw is designed with a longer-term vision in mind.
8)      Firstly, over the longer-term, using reusable dispensers will save beverage producers, retail stores, and consumers a lot of money. Because bulk reusable straws are now an option, the fact that you won't buy and use as many silicone straws is going to show on everyone's pocketbook. Even tax-payers, who fund the cost of recycling the single-use straw in their communities, will benefit!
9)      And finally, OYI's long-term vision of introducing collapsible, reusable substitutes for paper or plastic straw, means it's good for the environment. With fewer single-use beverage-sipping tubes in circulation, there'll be less pollution of our streets, parks, and beaches! 
In short, when it comes to buying and using reusable straws in bulk, what's good for our pocketbooks is great for our environments too!
Low maintenance…they'll just keep on giving!
OYI Gift's re-usable silicone straws come in beautiful capsule-shaped packaging. You can be sure that the straw, once used, will have a place to return to, and safely stored until the next time you need a straw. They'll be there waiting to be used! The snugly packed straw will be protected from the external environment, which means there's even less chance of it attracting germs and bacteria!
And because these silicone marvels are designed as multi-use dispensers, they come with a handy, easy-clean straw brush. Unlike traditionally available paper, plastic, or rubber straws, which manufacturers typically design as single-use, OYI Gift helps you maintain their foldable straw so it can serve you time and again.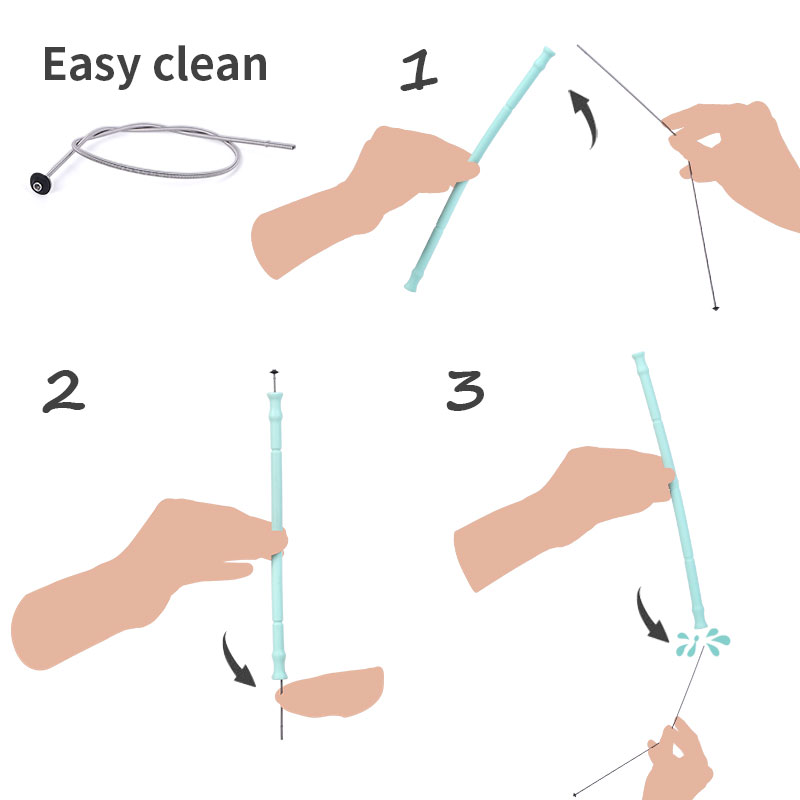 The cleaning brush, included in the package, can be used to quickly clean the reusable silicone straws after each use. And maintaining the straw isn't all that difficult either. You simply insert the easy-clean brush through one end of the silicone straws and pull it out the other. That's it – you're done! In three simple steps, your straw is clean and ready for the next use!
Specially-engineered, the double-headed foldable silicone reusable straws are designed to be used from either side. This means you'll never need to pause to try and figure out which side is right or wrong. Simply insert the straw whichever way you wish, and start enjoying your favorite drink – whether icy cold or scalding hot!
The well-contoured straw heads also serve to deliver a bite-resistant quality to these silicone straws. Plus, as you sip your drink from the straw, the curvy design of the straw head offers better lip-grip – which means they'll be no run-off of your beverage. "Flat" paper and plastic straws on the other hand are prone to beverages sliding down the outside of the straw after each sip.
Multipurpose application ideas
The OYI Gift collapsible, foldable silicone straw is a multi-purpose use creation. Sure, it lends itself well to hot and cold beverages alike. But its functionality isn't just restricted to a single audience – i.e. retail consumers. In fact, these bulk reusable straws have the broad application:
1)      They make great gift items for both corporate and individual users. You can gift them to friends and family members – regardless of the occasion. Because everyone – no matter what age they are – consumes beverages, a neatly packaged reusable straw will be welcomed with thanks!
2)      Environmentally-conscious companies can buy reusable straws in bulk and have them available at their in-house cafeterias and lunchrooms. Rather than using traditional one-use plastic or paper straws, employees can reach out and use these silicone beverage dispensers instead.  As an environmentally-friendly company, this single move will go a long way to show your commitment to the environment
3)      If you are having the event of a sale or a marketing conference, including foldable silicone straws in a gift bag, could be a great way to showing your environmental commitment. Inscribe your company logo or motto on the packaging to encourage recipients of this thoughtful gift to do their part for the environmental protection movement
4)      Communities and municipalities can also do their part in reducing their environmental footprints.  Dispensing machines at bus terminals, airports, hospitals, hostels, and hotels can switch to the silicone straw to ensure beverage consumers have a functional, reusable alternative to the one-time-use paper or plastic straw  
5)      Schools, colleges, and other educational institutions are great laboratories for cultivating environmental friendliness in young minds. Have OYI Gift's silicone multi-use straws available in school lunchrooms and near watercoolers and dispensing machines. If these are readily available and accessible to students, they'll openly embrace the reusable culture. Think of how much your institution can reduce its carbon footprint by this small gesture!
6)      Are you planning a corporate retreat or training session? Well, why not do away with ordering thousands of paper or plastic cups and straws to cater to the event? Having foldable, reusable silicone straws available for participants to use means that they can sip their beverages directly from the containers. And when they're all done – they simply pack the straw in the capsule container and use it at the next session break!  
7)      If your kid is planning a birthday party, he/she will invite a lot of friends to the event…and they'll receive a lot of gifts too! Why not do something different for his/her next birthday bash? Instead of serving beverages with paper or plastic straws, give each attendee an OYI Gift silicone foldable silicone straw. At the end of the event, encourage party attendees to take the straws home and reuse them. It'll be a gift from the birthday boy/girl to his/her friends!
The time to act is now!
At OYI Gift, we've been carefully watching the environmental movement highlight the terrible consequences that await us if we ignore our responsibilities to the environment. Everyday items, including plastic straws, contain microbeads that don't decompose easily once they hot landfills. As a result, these dangerous substances find their way into our lakes, rivers and other water resources.
They not only contaminate those sources but pose a threat to the marine life habituating those environments. The environmental movement has been warning us that the time to act is now! Any further delay could irrecoverably damage the environment and put humankind's food supply chain at risk. Already endangered marine life will soon become extinct – never to be enjoyed by humankind again. It's time for us to take our use of bulk reusable straws seriously.
We can – individually and collectively – do something to prevent that damage from spreading. As individuals, companies, municipalities, cities, and countries, we can switch to reusable silicone straws to do our part to solve this environmental crisis. And OYI Gift offers the perfect straw to help with this noble cause.
Contact us today and ask about how we can partner with your company or institution in making a difference. Our collapsible, foldable silicone straws are great for the environment and great for everyone's bottom line. But best of all, these freshly designed personal beverage dispensers are convenient to handle and pretty cool to the eye as well!