Professional Gift Customization
Did you know that your corporate gifts might not always be well-received by their recipients? That's based on polling data from ScienceDaily. While your marketing specialists and public relation (PR) agencies may choose certain promotional corporate gifts to hand out, the investment you make in those promotional campaigns might not be working out quite as you think. Why? Because your choice of the gift or your selection of the gift manufacturer might not be exactly what it should have been!
The Impact of Corporate Gift Giving
There's a growing awareness in the corporate world, that it isn't enough to show "appreciation" to your customer base simply with words. Words do matter – a lot! But increasingly savvy customers are looking for a lot more. That's why more and more companies are turning to gift-giving to say "Thank You!" to their clients.
By moving away from mere words to concrete gestures of appreciation, corporate gift-givers:
Demonstrate that they don't take customer loyalty lightly
Are listening to the concerns and preferences of their clients
Want to break with the traditional way of showing stakeholders that they care
More importantly, marketing specialists now use well-designed company promotional products to incentivize undecided prospects to become paying customers. When a potential customer weighs two sets of competitors, in a bid to decide on adopting products or services from one of them, corporate gifts act as the "great decider".
And that's where corporate gift-giving has a lot of influence. If a client has two equally priced offers for the same or similar product or service, how do you ensure they choose you over your competitor? The answer: Offer them something that your competitor isn't – a nice signing-up gift!
Corporate gift-giving also plays an important part in successful marketing and sales promotional events. For example, when your gift manufacturer can mass-produce corporate promotional products cheaply, you can afford to give them away for free at sales seminars, professional workshops, and other marketing events. If you have a sales booth at one such event, the impact that FREE gifts have is amazing: You may draw twice as many prospects to your booth than if you don't give away free gifts!
Human psychology – and therefore, customer mentality! – is such that gift-givers often receive overwhelming approval and respect from gift receivers. That's because any "negativity" there might be about the product or service provided by a company, often wears off if customers are showered with "free" gifts.
Whichever measure you use to assess gift-giving success, using customized promotional products to promote your brand really works. Corporate gift-giving initiatives not only serve to improve your bottom line. They also have a crucial impact on your branding and corporate image.
Think Beyond "Normal" Gifts
The challenge with companies' gift-giving strategy is that clients, customers, employees, and other gift receivers look for gifts that go beyond the "normal". Sponsors of promotional gifts in the USA and other developed countries can no longer seem genuinely appreciative of their gift recipients if they do "normal" gift-giving. Paper calendars, Thank You cards, and fancy stationery are no longer acceptable or appropriate.
Today, primarily because of higher than "normal" expectations, clients and prospective customers look forward to receiving gift items that are uniquely customized to their tastes. If there are two competitors (you and another company) vying for a customer's loyalty, your gift of a glossy company calendar will look rather "plain" compared with a competitor's offer of a flashy customized USB stick.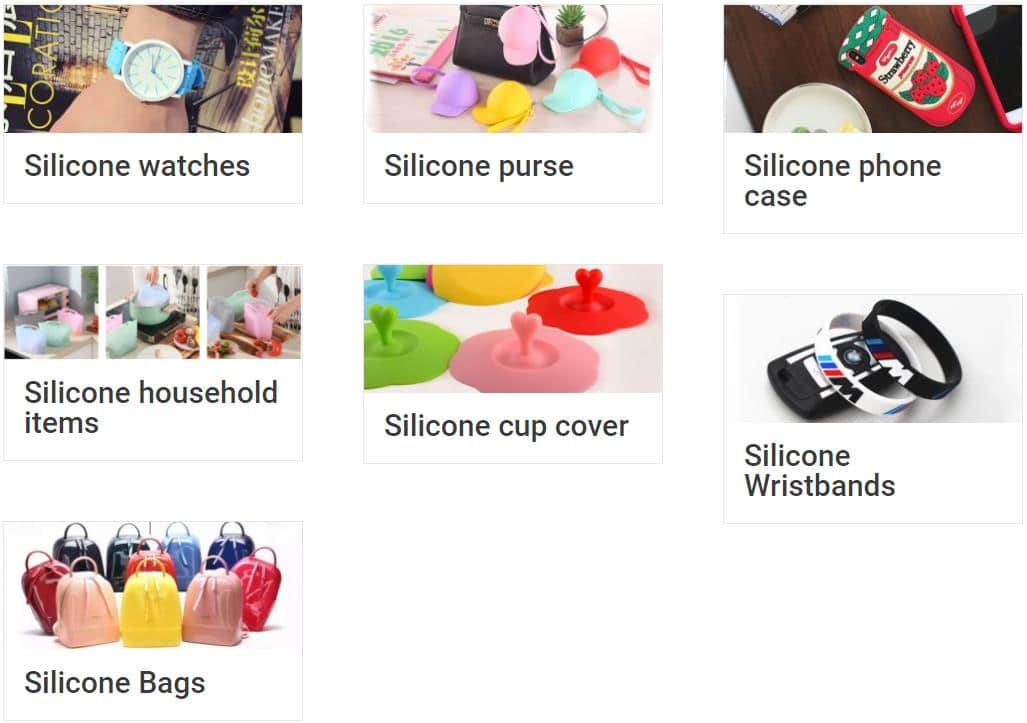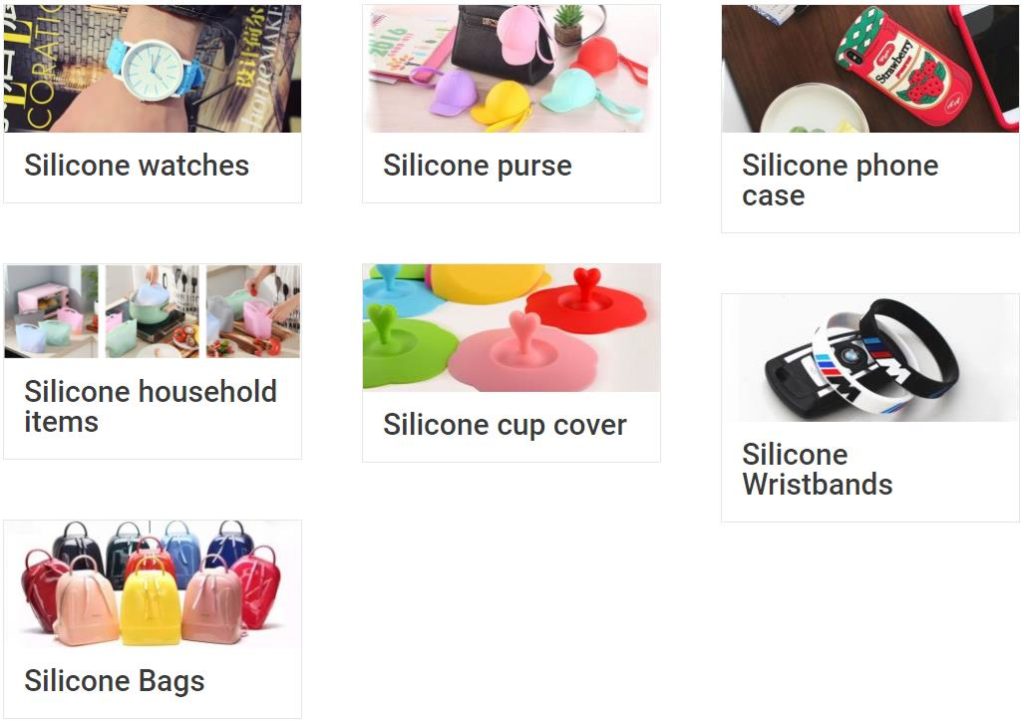 The good news is that "special" gifts don't necessarily mean more expensive ones. In fact, customized gift manufacturer OYI Gifts has earned a reputation for designing, developing, and supplying promotional products cheaply.  And all these gift items go way beyond the realm of "normal", including:
Silicone gifts, like bags, purses, and smartphone cases
Plastic gifts, including mugs, bar mats, luggage tags, soft case notebooks, and more
Electric and electronic products, such as USB sticks and soft case power banks
Many corporations also like to offer their clients a range of other 100% custom gifts, like air pod cases, travel bottles, and wireless chargers. These, and other similar custom-made gift ideas, are what differentiates "normal" gift-givers from the "special". And it is these bold and refreshing ideas, based on customizing gifts to meet audience expectations, that are helping corporate gift-givers get ahead of the competition.
Custom Gift Makers Are the Key!
It's great to have fun and novel gift ideas tailored specifically to your corporate clientele. In addition to pleasing the gift recipient, these customized promotional products help to set your company apart – differentiating your company from your peers and competitors. But the big challenge for gift-givers, be they corporate, retail, or wholesale enterprises, has always been:
How do you transform the vision for a truly spectacular corporate gift into reality? And the answer, rather unsurprisingly enough, is in finding the right custom gift maker! It is these professionals who:
Listen to client's requests for customized gift ideas
Brainstorm with client teams to enhance and improve on those ideas
Create powerful prototypes that bring those ideas to life
Work with corporate clients to review and refine those early creations
And, finally, transform the ideas into reality
All this doesn't come easily. It takes lots of investment – in terms of technologies, tools, and manufacturing facilities to create a custom gift manufacturing company. But, some of the best promotional products come, not from machines, but through the efforts of dedicated, hardworking professionals, skilled technicians, engineers, and designers. Without the team behind the tools and technologies, one can't really create truly inspirational custom corporate gifts.
The attributes defined above, are hallmarks of a truly professional custom gift manufacturer. They define whether any corporate gift-giving endeavor succeeds, or fails to meet corporate goals.  And because companies typically invest a lot of time and money in gift-giving strategies, it behooves corporate leaders to choose the suppliers of their promotional products wisely.
What to Look For In a Custom Gift Maker?
In acknowledging the role that custom gift suppliers play, in implementing a gift-giving strategy, the focus must be on identifying capable gift manufacturers. It's one thing to partner with a custom gift maker who promises great contract terms. But finding, and partnering with, a company with a proven track record is a whole different challenge.
Many gift suppliers use websites with pretty pictures and amazing "client testimonials" to convince corporate decision-makers of their credentials. However, a closer look might reveal that they haven't been in business that long – a definite red flag for any corporate gift giver!
When searching for promotional products manufacturers to work with, therefore, what should corporations look for? Well, here are just a few points to consider before signing on the dotted line:
How long have they been in the business?
Typically, it takes more than 5 years to create a truly reliable gift-manufacturing business. It takes anywhere between 8 to 10 years to establish a solid reputation.
So, when shopping for a partner for your corporate gift-giving program, look for a custom gift-manufacturing company that's been in the business for ten or more years. Anything less will open your program to failure!
What types of customized gift-making do they undertake?
Many so-called "custom" gift makers are gift re-branders. They'll buy gifts from the open market, and paint them in your corporate colors. Add your company logo to them…and charge you for a "custom-made" gift. But that isn't really what customizing corporate gifts is all about.
The ideal promotional products supplier is one that offers 100% customized gifts per their clients' requests. And that means producing truly company-specific gifts from concept to fulfillment. Simply buying coffee mugs from the open market – the same as your competitors – and painting your logo on them isn't "100% customization". Look for a company that listens to clients, designs the gift from the ground up, and manufactures the gifts from scratch.
Is owning their own manufacturing facilities essential for a well-customized gift maker?
The answer: A resounding YES! Custom gift makers, that do not own their own manufacturing facilities, typically subcontract their design and manufacturing processes to third parties. In doing so, they lose control over the quality and reliability of the product. Additionally, there's no guarantee that those 3rd-party outsiders will use the same standards and materials that your gift manufacturer committed to you in their contract.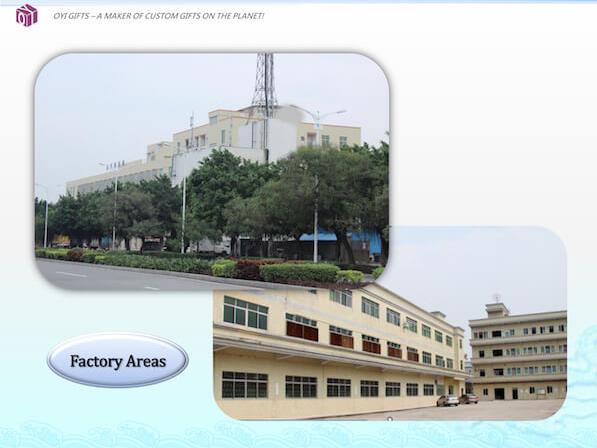 Therefore, when looking for a partner to produce your company's promotional products, insist on working only with gift makers that have their own manufacturing facilities. While the company may outsource some specialized functions and processes, you must insist on the primary gift maker having substantial investment in their own factories, plants, and production facilities.
Do formal, professional manufacturing processes matter? Or are they a waste of time?
Once again, the answer is: They do matter! The only way that gift manufacturers can ensure they produce products of the highest quality, is by following professional, well-designed (and proven!) manufacturing procedures. When your company gives gifts to your clients, suppliers, and other business partners, you have a lot more than client loyalty at stake. Your company's brand, image, and reputation are on the line.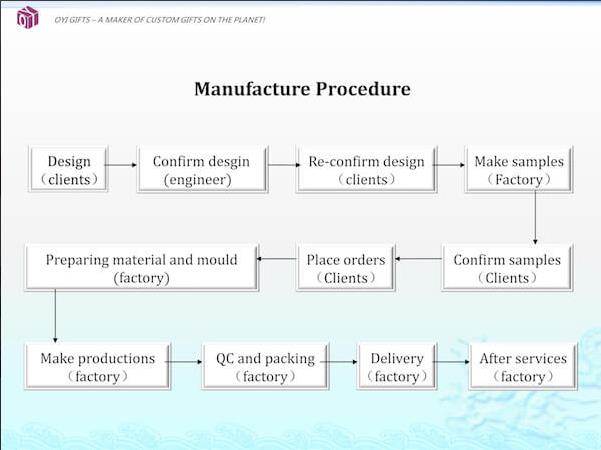 With so much at stake, wouldn't you want to only give them the best promotional products possible?
So, before you work with your custom gift manufacturer, make sure you ask detailed questions about their manufacturing process:
Do they work on the design with clients?
Will they help confirm design specifications?
Can they produce samples first, prior to starting production?
What type of QC do they have?
What if there are questions after delivery – can you count on them to support you?
Receiving satisfactory answers to these questions is important. Only once you assure yourself of their professionalism should you move forward with planning an order.
For what types of applications do clients use their gifts?
Whether you use these promotional gifts in the USA, or whether they are meant for your corporate offices anywhere else in the world; having the right types of gifts for the right purpose matters. It is important to know what types of gift projects the gift manufacturer supports:
Branding
Imaging
Product Promotions
Marketing
Product/service positioning
Brand differentiation
Customer loyalty
Employee recognition
Business partner appreciation
The type of gifts used, for each of these types of campaigns, differs. So, always look for a gift-manufacturing company that can support you through a whole spectrum of gift-giving initiatives – not just someone who only does mugs and cups!
Can you trust their confidentiality guarantees?
It's very difficult to ask for and receive such assurances. However, if the company has been designing and supplying promotional corporate gifts for more than a decade, chances are that confidentiality is a core principle of their business practices.
Typically, a trading partner who doesn't respect another's privacy and confidentiality won't survive too long. Word of their unethical practices spreads quickly. Pretty soon, they'll be out of business. So, if you find a custom gift manufacturer who has survived for over 10-years, and whose clients include a lot of repeat customers, then that's the company you should work with for your corporate gift ideas.
The OYI Gifts Difference
In more ways than one, it is your choice of promotional product manufacturers that make the difference between a gift that recipients love, and one that fails to make a lasting impression on your target audience.  With over 12 years of designing and manufacturing customized promotional gifts, for corporate, retail, and wholesale clients, OYI Gifts has a demonstrated track record of honesty, integrity, and professionalism. Best of all, we own and operate a wide range of our own plants and factories so our clients have access to the best tools, technologies, and processes.
We have collaborated with many of our clients on projects for developing customized promotional products for marketing, branding, and general promotional events. Because of our ability to produce 100% custom gifts, per our client's specific requirements, we enjoy a sizable volume of repeat customer business.
So, if you're thinking of a custom gift idea, why not contact us to discuss it with you?  We guarantee you complete confidentiality, and may even share some value-added ideas with you, based on our many years of custom gift designing and manufacture.