Silicone Bracelets rubber wristbands more information
The earliest silicone jewelry was a silicone bracelet. Silicone bracelets first appeared in the United States in 2005 and quickly became popular. The world's first silicone wristband is the yellow "Livestrong" silicone bracelet, people wear this silicone bracelet, mainly hope their health and anti-cancer.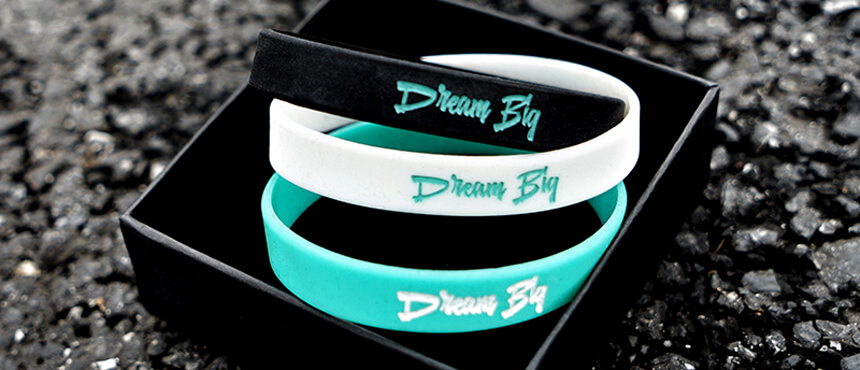 The Silicone Bracelets Story
LIVESTRONG WRISTBAND ORIGIN:
LIVESTRONG represents a spirit, a fighting spirit, a Gunbuster spirit.
Launched by Tour de France winner Armstrong, the bracelet is meant to give people the courage to live their lives and beat the global scourge of cancer. And Armstrong is launching with Nike to raise money for the Global Cancer Fund.
In September 1996, Armstrong, then 25, was diagnosed with testicular cancer that had spread to his lungs and brain, giving him a 50 percent chance of survival. However, he fought through his illness and returned a year later, winning the Tour de France title in 1999 and defending it every year. By July 25, 2004, he had become the first "six-time champion" in the history of the 100-year Tour de France.
In December 1996, Armstrong established a foundation in his name in his hometown to help all people with cancer find qualified doctors, appropriate treatments, and a sorely tested spirit of courage and optimism.
Before the Tour de France on May 2005, Lance. The Armstrong Foundation teamed up with a sponsor, Nike, to design the yellow wristband. They made five million yellow wristbands and sold them for a dollar each. It is made of silicone, a rubber-like material, and is emblazoned with the Armstrong Motto "Live Strong" (and a pun on "Feisty Anna Louise Strong").
By mid-July, the first batch of yellow wristbands had sold out, and more than half of the newly made 6 million had been sold. All the proceeds from the sale go to the Armstrong Foundation. During the Tour de France, thousands of spectators wore yellow wristbands, which became a symbol of Armstrong's Yellow Jersey. Silicone bracelets were first popular in the United States, the world's first silicone bracelet is the yellow "LIVESTRONG", all wear this bracelet is the common goal of people to fight disease and cancer, and make life stronger!
Since then, because silicone bracelet has environmental protection, non-toxic tastelessness, and good elasticity, is easy to wear and have other advantages, gradually developed into popular jewelry, deeply loved by young friends, now various types of silicone bracelet have been popular around the world.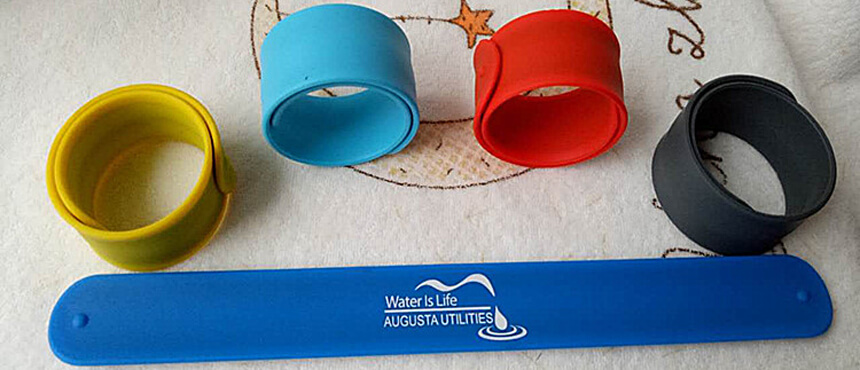 Culture
The silicone bracelet is made of 100% natural solid silicone rubber by a hydraulic press. The wristband itself has certain tension and flexibility, so it is easy to deform and recover immediately Silicone Bracelet with wear-resistant, heat-resistant, non-deformation, non-toxic tasteless, No side effects on the human body, while soft, non-cracking, long service life and non-irritating to the skin and other advantages, is a true green jewelry.
People begin to add some functional materials such as negative ions, Germanium, titanium, and far-infrared into the raw materials of silicone bracelets for processing.
Silicone bracelets are more associated with a variety of organizational activities, brand promotion, campaigns, etc. A good design can convey a very far-reaching significance. Over the past 2004,2005 we have seen its many successful uses: fast-food giant McDonald's inspirational silicone bracelet is a very successful use, as well as Puma, Nike, and other clothing brands.
Brief introduction of wristband
Common size
Universal size (adult) : 8″(l) x 1 / 2″(w) x 1 / 16″(h) or (202MM X 12MM x 2MM)
Women's size (adult) : 190MM X 12MM X 2MM)
Universal size (children) : 7″(l) x 1 / 2″(w) x 1 / 16″(h) or (180MM X 12MM x 2MM)
61 / 2″(l) x 1 / 2″(w) x 1 / 16″(h) or (165MM X 12MM x 2MM)
Maximum screen and engraving area for adults: 7.677″X 0.334″
Maximum screen and engraving area for children: 7.00″X 0.334″
Representational meaning
Usually, different colors represent different structures and words:
White: Make Poverty History
Yellow (LAF): Livestrong
Black + White (Nike): Stand up speak up
BBC Radio: Beat Bullying
BCC: Support Strength
Red (BHF): feel the pulse
Deep Blue / Blue-White: one world one cause/tsunami Relief
Blue + green: Say No to sectarianism
Characteristics
With a variety of fluorescent, luminous, a variety of color silicone bracelets, soft non-deformation, non-toxic, wear-resistant non-cracking, high temperature, long service life, does not stimulate the skin, fashion, and other features. In addition to the role of decoration, can also play a medical, health care, and mosquito-repellent effect.
Purpose
Silicone bracelets are used in all kinds of entertainment, and sports, and can be used as gifts, souvenirs, and promotional items, is hot fashion jewelry, but also low-cost, advertising benefits of high advertising promotional gifts. Most sports bands have no practical use, just a fashion accessory. The English words or phrases on the bracelet usually convey a message that reflects the wearer's beliefs and values.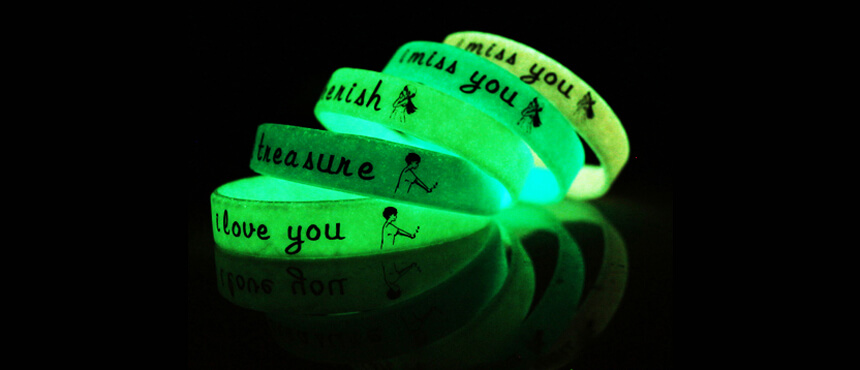 Style classification
INDENTED: The text of the logo on the bracelet appears to be indented.
EMBOSSED: The logo text on the bracelet appears as a protrusion.
MONOCHROME: The entire bracelet is in one color except for the logo.
Mixed Color: a bracelet made of two or more colors mixed in multiple colors.
Printing: The logo on the bracelet is printed in ink through screen printing on the bracelet.
Glow-in-the-dark: Usually a bracelet that glows in the dark at high temperatures. Also included is a fluorescent bracelet that emits low-energy light in the dark by absorbing radiation from high-energy light.
Transparent: A bracelet that has no color added and is as transparent as glass.
Color separation: Bracelet on the color is paragraph by paragraph, and the mixed color is different, several colors are not mixed.
Recessed fill: based on the recessed hand logo, add other colors. That is, the logo and bracelet are two different colors.
EMBOSSED FILL: based on the embossed logo, add another color, that is, the logo and the color of the bracelet are two different colors.
Double Ring: As the name suggests, refers to two bracelets are connected, ring-like.
Snap-on refers to a bracelet that has snap-on buttons at both ends.
WAVY: The edge of a bracelet is wavy.
National Flag: The entire Bracelet is printed with the national flag.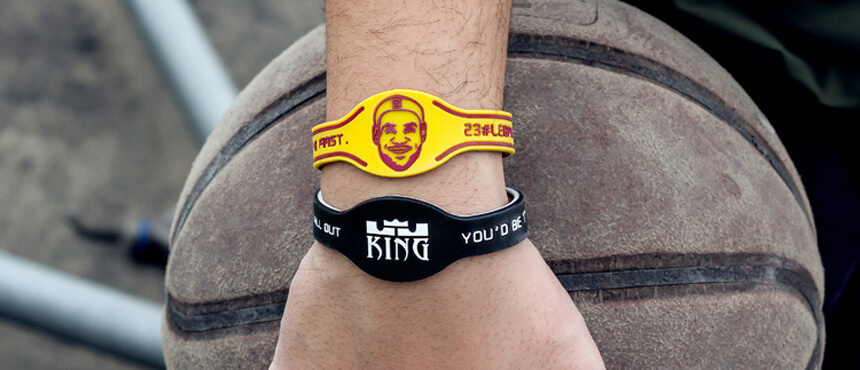 Asian Games Bracelet
The Asian Games silicone bracelet wristbands are a common gift in all major international games. Its environmental protection concept is very consistent with the spirit of the Asian Games. Asian Games athletes are very fond of silicone bracelets. It is not difficult to find out that More and more sports stars are wearing silicone bracelets to enter so that the audience seems to be full of energy, full of power.
Production process
First: The design of the artwork
Drawing design is usually based on the sample size provided by the customer for the production of drawings, and general use of Planar drawing software, such as CDR OR AI software production, if customers can not provide samples, we can according to customer requirements, free to cooperate with customers to complete the design and production of drawings.
Step 2: Open the mold
Open mold is the mold master according to the design of the manuscript open offset, and then use the offset engraving out of copper men, and finally use copper men carved out of steel mold. Some of the bracelet processes of mold production technology content are relatively high, the time is relatively long; generally calculated by five days mold opening period. The MOLD is ready, and production will be quick.
Third: Mixing Mixing Rubber
According to the color number on the international Pantone color card designated by the customer, our Color Mixing Mixing and mixing ratio alignment, the color difference is very small.
Fourth: approved materials
Each bracelet's required materials are weighed electronically, and the general weight of the Bracelet is about 5.5 grams.
Step 5: Mold Production
After the mold is done, it is produced on the machine. After the mold is installed, the machine needs to be warmed up. A 9-mold machine produces about 15,000 pieces per day.
Step 6: Quality Control
After the production of bracelets check, mainly to see whether the specifications of products, if not, will be scrapped
Step 7: Trim the edges
Each bracelet produced will have the residual edge, in the quality department after passing inspection, the product sent to the after-processing department for edge repair. The average number of edging per person per day is about 3,000.
No. 8: Inspection of finished products
When the edges are fixed, the finished product is ready. Also need to send the finished product back to the inspection department to check the quality of the repair edge, whether there are unqualified products if there will be scrap treatment.
No. 9: Packaging Department
Repair the edge of the product after passing inspection, according to customer requirements for packaging. PP bag packaging is divided into independent packaging and naked packaging. They're both 100-pack. Usually, 20 bales per case (2000 pieces) is the export standard case. Generally according to customer requirements packing.
Inspection before sealing
After the packing is finished, the quantity is checked by the quality control department. If there is no problem, it is sealed and sent to the warehouse for shipment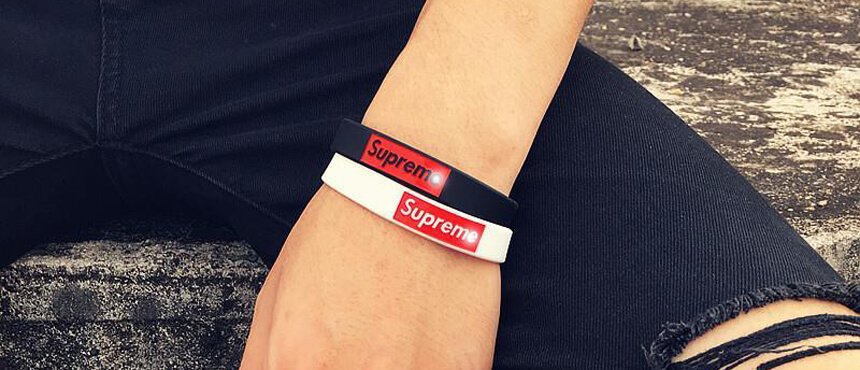 Process characteristic
The silicone bracelet is made of 100% natural solid silicone rubber and pressed by an oil press. The bracelet itself has a certain tension and flexibility, so it is easy to deform and recover immediately. The silicone bracelet has wear resistance and high-temperature resistance No deformation, is non-toxic, tasteless, has No side effects on the human body, and other features, is soft, non-cracking, has a long service life, does not stimulate the skin, etc.
Some functional materials, such as negative ions, Germanium, titanium, far infrared, and so on, are added to the raw materials of silicone bracelets for processing. Add the company, Enterprise LOGO more prominent, closer to people's lives, play a good publicity effect.
If you are interested in the silicone bracelets' rubber wristbands or have any questions, please contact us directly or leave a message, thanks in advance.