Who doesn't know the struggle of taking ice out of the trays? Smashing the tray a thousand times before getting the ice out is always a problem. Well, not anymore. Silicone ice trays promise to solve this problem as they are safe, flexible, and soft. Not just this, silicone ice trays are also a better alternative to traditional plastic and metal trays, which are harmful to your health.
But here's the real deal; how to buy the right one. This article will unveil the secret to buying perfect silicone ice trays. We will discuss all factors you must consider to get the best product.
So, without further ado, let's head straight to the discussion.
Considerations While Purchasing The Silicone Ice Trays
Now, consider a couple of factors before purchasing ice trays to ensure you get good value for your money. Here are the 4 critical factors of silicone ice trays you must consider prior to buying:
1.    Type of Material
The first factor has to be the type of material you select for your ice cube trays. You will ingest these ice cubes, so if it isn't 100% silicone, you are prone to health risks. Mixing other materials like plastics contain toxic substances such as heavy metals, BPA, phthalates, etc. It makes plastic a big no for ice trays, even if mixed in less quantity. Therefore, you should always consider products that guarantee 100% silicone guarantee. They are BPA-free and are not detrimental to your health.
If you need to figure out who to trust, know that we deliver 100% silicone-made ice cube trays. They are available at the best prices. You can check out our product page for further details. Just remember to purchase these products from reliable manufacturers, as there are chances of you getting scammed and getting poor-quality silicone trays.
2.    Design
As we discussed earlier, no one wants to spend minutes popping the ice cubes out. It isn't just time-consuming but also takes effort. However, that's not the problem with silicone ice cube trays. They are designed to make things easier. All you need is a finger to pop the ice cube out. These trays are so soft and flexible that it even allows you to pop just one ice cube! In comparison, metal and plastic trays make it impossible to take the cubes out, as they stick to the tray's bottom and take many smashes to come out.
3.    Difficulty Of Usage
Don't ever consider an ice cube tray if it takes time to pop it out. It's one of the factors in usage difficulty. The other is whether these trays are easy to clean. Most of the trays give us a tough time while cleaning. However, silicone ice trays are designed to make cleaning easier. They are even dishwasher-safe for your convenience. So, no more wasting time on ice trays; an easy wash will do the trick.
4.    Leakage
No one wants their freezer to be filled with flavored or simple liquid. Most of the time, the ice cube trays have a hole or cracks in the structure. It's terrible for your freezer. However, sometimes the trays are perfect with no leakage, but after using them for a few weeks, it starts to crack and leak the liquid. This is the case if you go for simple ice cube trays. Silicone ice cube trays are your best friend if you want to avoid leakages in the long run. They are robust and fully leakage free – until you break them.
Unique Shapes Of Silicone Ice Trays With a Variety Of Colors
The best way to make these trays fun is to have different molds with your favorite colors. You can customize these molds to spice up your ice cube game and choose shapes your kids love.
Some shapes that we offer include
1.    Diamond Shaped Models
The diamond-shaped models combined with a lid make these the perfect choice. Make your drinks and food storage more fun with these molds. Plus, they look like your favorite diamonds but at less price — one of the best shapes for baby girls.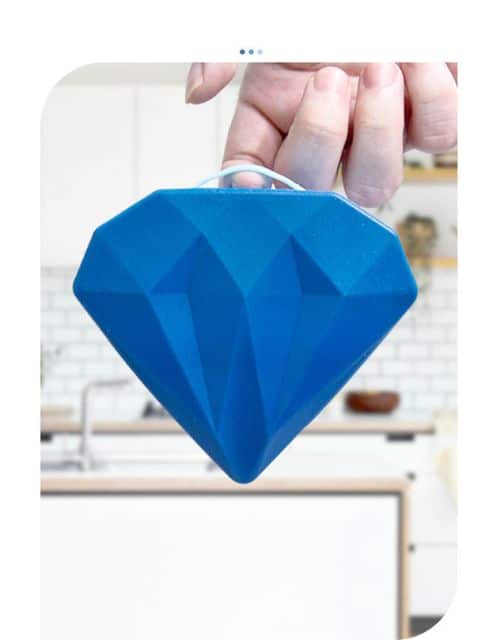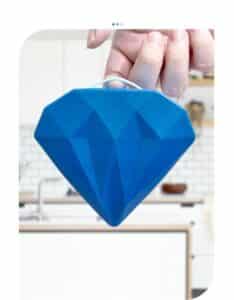 2.    Circle Shaped Models
The circular silicone ice cube trays offer space for six cubes in one tray. Plus, they have a lid to cover your ice. These molds aren't just space-saving but also ensure the liquid doesn't leak when tilting the tray. So, it's a perfect fit if your freezer has less storage capacity.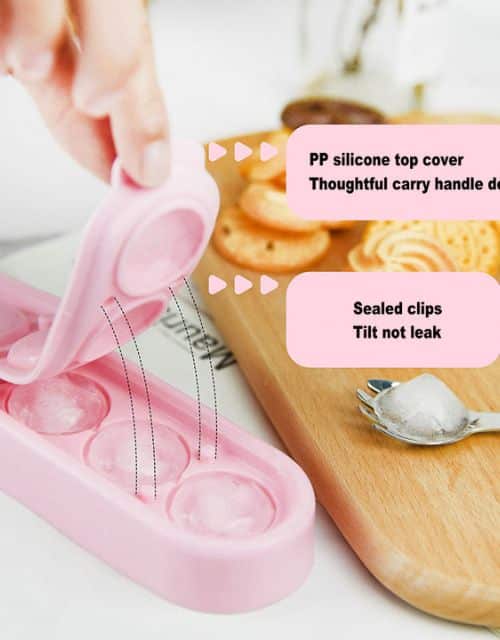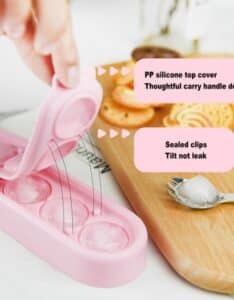 3.    Fruit-shaped Molds
They offer a variety of food shapes, such as strawberries and pineapple. Not just this, you can also customize these molds according to your needs. It's the best choice if your kid is a fruit lover. They will drink with fun – giving you time to relax for a while.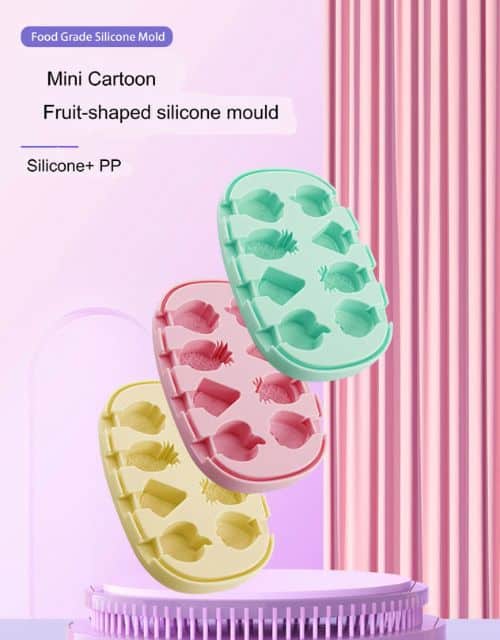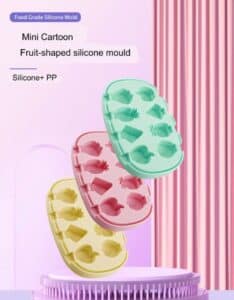 Functionality And Safety of Silicone Ice Trays
Silicone Ice Trays Are Safe
The biggest concern is, "are silicone ice trays safe?" Yes, you are 100% safe if your ice tray is 100% silicone-made. The biggest reason for this is that it's BPA-free. But materials like plastic contain BPA, according to FDA, and are known to leach out toxic chemicals when exposed to extreme temperatures. It explains why ice from plastic trays isn't ingestible at all. However, in recent years, plastic companies have claimed their plastic doesn't contain BPA. Still, you can't consider them safe as plastic poses threats of leaching chemicals into our food.
On the other hand, silicone doesn't leach out any harmful chemicals at extreme temperatures. It's 100% BPA-free. A perfect choice for your kid as their health must always come first, regardless of the trays' shape, size, or reliability.
You have heard about BPA from the very start of the article; let's give it a little touch to inform you about its threats to health.
Silicone Ice Trays Are Dishwater And Oven Safe
Other frequently asked questions are, "Are silicone ice trays dishwasher safe?" and, "are silicone ice trays oven safe?" Here's some good news for you. They are!
According to experts, the plastic ice tray can deform and lose shape. However, silicone ice cube trays can withstand higher temperatures of 500F. Hence, you can easily put them in the dishwasher and oven to remove additional odors.
Managing The Odor Retention In Silicone Ice Trays
You might wonder if silicone ice trays absorb the smell of other items in the freezer. Yes, it absorbs the scent only if its intensity is high. However, worry not; here's a way to fix it. Go for silicone trays with a lid. If your freezer has no covered spaces, you should buy trays with lids. It won't allow the smell to get into your ice. All the silicone ice trays offer you lids, whether diamond shape, circular or any other. It helps keep your food fresh for longer, shut off all unpleasant odors, and keep liquid from leaking.
If you have already bought one without a lid, here is a solution for you. Soak the tray in the water and white vinegar solution overnight. Once you rinse it, let it air dry to ensure the odor removes. If this is also not possible for you, here is the last and most effective way. Bake the silicone ice trays in the oven at 350 degrees for an hour. This method promises to remove all nasty odors.
BPA And Its Health Concerns
BPA stands for Bisphenol-A. A chemical used to make plastics and resins. Since it's found in most plastics, we've all been exposed to it multiple times. According to a study, it impacts fetuses, newborns, and children's prostate glands and brains. A possible connection between BPA and type 2 diabetes, cardiovascular disease, and elevated blood pressure has been suggested by another study.
Even though BPA is safe for adults according to FDA, steps should be taken to reduce its exposure. Therefore, choosing silicone ice trays are a great choice.
Functionality Of Silicone Ice Trays
Silicone ice trays are safe for keeping hot baby food. No matter how extreme the temperature is, the silicone won't release any toxins. Whereas plastic ice trays can leach out harmful substances if you put warm baby food in them. So, one more reason to go for silicone ice cube trays.
In addition, you can store various food items in these silicone ice trays, including juices and fruits. You can even freeze coffee to make easy iced coffee in the mornings. Furthermore, making popsicles in ice cube trays is a great additional use for them. All you need to do is pour juice into the silicone ice cube tray and insert a toothpick in the middle of each cube. You'll enjoy a delightful, sweet treat on hot days once it freezes.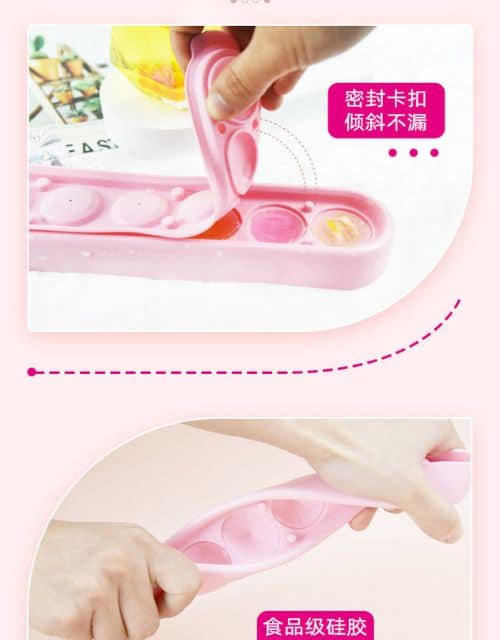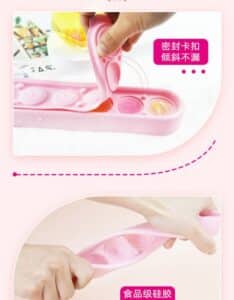 Takeaway
Silicone ice trays offer us an alternative to metal and plastic trays. They are eco-friendly and pose no threats to our health. Moreover, these are dishwasher and oven safe. The best of its features is that it is easy to release the ice. All you need is a finger to pop the ice out without effort and consuming time.
Since these silicone ice trays come with a lid, they rid you of worries about cleaning them frequently. They further help you store food for much longer. In addition, these silicone ice trays offer us various shapes and colors and provide broad functionality. Store your favorite food, including fruits, cocktails, coffee, etc. These features are just the tip of the iceberg; the silicone ice cube trays offer much more. Let's discuss those some other time.