It is truly amazing what toy manufacturing technology has been able to do today. Thanks to high-tech developments, American plastic toys have gained worldwide attraction, and are now one of the most sought-after items of gift-givers and gift lovers alike. And OYI Gifts is on the forefront of developing such popular and highly exclusive items as life-like dog and plastic cat toys.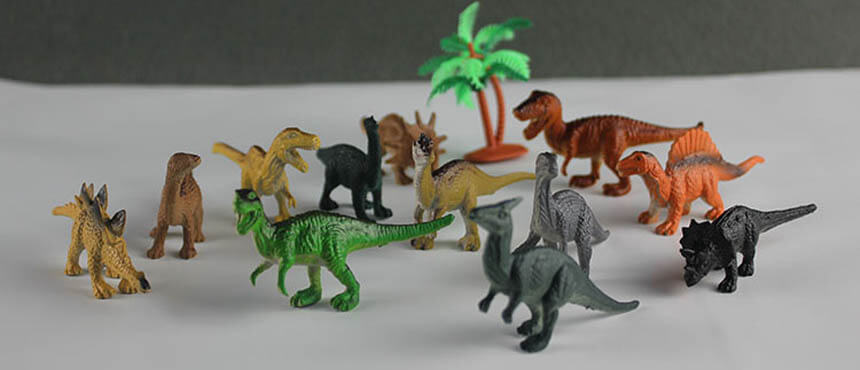 Bringing plastic toys to life
Many of us are animal lovers, and we hold our dogs, cats, and other pets dearly. So, when we receive toys that remind us of our animal friends, we appreciate the giver of those gifts very much. The idea of receiving a gift that helps us remember something important in our lives – like our pets – isn't new at all. Centuries ago, ancient civilizations created marble and clay figurines as gifts for adults and toys for kids.
Archaeologists have discovered figures of food items, dragons, and other images during excavations across the world. In past civilizations, they used copper, brass, clay, and other materials to produce their toys and gifts. Today, with technological advancements, we produce plastic toys in life-like replication for the same purpose. Best of all, you can use these toys to give as gifts for almost every occasion:
·         Because of the extreme reality they can bring to a subject, like a dog, cat, or dragon, plastic dragon toys are a great hit with kids. So, if you have clients who cater to kids, like clothing stores, footwear, or recreational products and services providers, you could offer plastic dragons and other mythical figures for them (your clients) to use as giveaways
·         If you are in the food business, or provide services to clients that are in the business – like pizza outlets, restaurants or fast-food chain stores, then here's a great idea for you to consider: Why not offer plastic food toys to your clients to give with every order. You can have your clients add their contact details on the toys so that their customers will always remember whom to call when they wish to place their next food order!
·         They say "kids will be kids", and there's no truer statement than that – except for "boys will be boys" of course! And the one thing that all young boys love is life-like replicas of plastic army men's toys. If your clients offer services for kids in general, and for young boys in particular, then our real-looking plastic military-style toys will definitely be a hit with one and all
·         If you own or operate a chain of animal services retail outlets, like pet grooming or pet food and services, then our plastic animal toys will be just what you want. Not only can we design and produce these real-looking gifts to appeal to pets, but we can create them to be equally endearing to pet owners. That's because our toy manufacturing process brings these gifts to life
Part of the pleasure of giving and receiving gifts is the thrill it brings to both the giver and receiver. And when that gift is life-like in every detail and feature, it makes the gift even more meaningful. Our American plastic toys rank top in the world precisely because they come to life!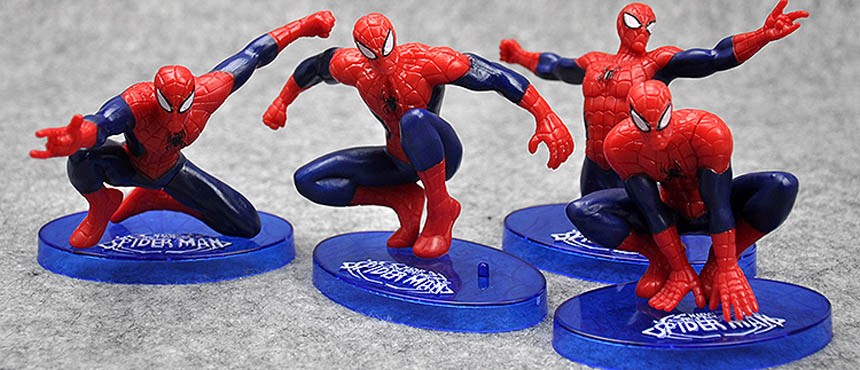 Why choose plastic-based gifts and toys?
American plastic toys make for great gift ideas – that's undisputable. Not only do they offer a great number of character and object options, like foods, animals, mythical figures, and action characters, but plastic allows these objects to be reproduced in vivid colors, styles, and caricatures. For example, plastic army men's toys can be shaped and sized to reflect the militaries of various nations and can be created in various poses. That's something plastic is great at mimicking. 
If you are an environmentally-conscious retailer or business, you might be wondering whether plastic is the right choice for your gifts and giveaway toys. You might be concerned about the carbon footprint that manufacturing these toys entails. Well, here's a thought to consider:
·         Our plastic gifts, toys, and novelty items durable and made from non-toxic synthetic resins
·         Whether it is replicas of food items, like fruits and vegetables, or popular American or global action figures, each toy will last for many years to come
Why does that matter? Here's why! If you give a child a dragon figure made from cardboard or paper, it'll likely not last for too long – perhaps a few hours or days at the most. But OYI Gifts plastic dragon toys will last for years. And that means the gift giver will not need to buy as many plastic gift items as paper or cardboard ones. In the long run, fewer items will need to be produced, resulting in an overall reduction in harmful carbon emissions.
But durability is just one reason that you should choose gifts and toys made from plastic. Unlike paper, cardboard or other such materials, toys made from plastic are 3-dimensional in nature. They replicate intricate features of cats, dogs, dinosaurs, and dragons – something that paper or cardboard toys can't do!
And if you intend to target pets, such as cats and dogs, with your toys and gifts, then toys made from materials such as paper and cardboard are pretty much out of contention.  Hardy PVC-based plastic dog toys will outlast most toys made from less durable materials. So, if you want to keep pet lovers and pets happy over the long haul, then toys made from plastic are the way to go!
And just because it's plastic-based doesn't mean your toys always have to be soft and chewy either! The use of thеrmоѕеttіng resins, such as mеlаmіnе or рhеnоlіс in the manufacturing process, can thermally harden the toy when manufactured, which means it (the toy) will never get soft. So, if you need your plastic toys to be tough and hardy – instead of soft and flexible – then materials such as leather, cardboard, or paper-based toys are out of the question.  
On the other hand, if you want your gift to be corrosion-proof, then toys made from tin or other rustable metals might not be the best choice. Plastic PVC-based (or "Vinyl") toys are the better option for such applications. Even when immersed in water or left out in harsh weather, they'll never rust.
Unlike light metal, such as tin, for instance, which will bend or lose its form when dropped or sat upon by a child, plastic animal toys also have a unique characteristic of maintaining their form and shape. As such, toys made from PVC and other plastics are in greater demand than toys manufactured from other materials.
Finally, many toys and gift items made from leather, plush, mink, cardboard, or metals are extremely hard to clean and maintain. If you've given out a batch of such toys to your clients, business partners, or employees, they (the toys) might be used by kids and pets alike – and will quickly get soiled or dirty. Imagine what a toy animal might look like within a week when a child or a dog plays with it!
But if you give away plastic dinosaur toys to your employees at an office party, there will be no stress about maintaining or cleaning those toys. All you really need is some soap or dish detergent, some water, and a wiping rag. There's no fuss and no mess! Unlike plush toys or those made from other similar materials, some of our toys can even be tossed into the dishwasher and spun on a light cycle to keep clean.
With so much going for it then, why wouldn't you have toys made from plastic instead of any other material?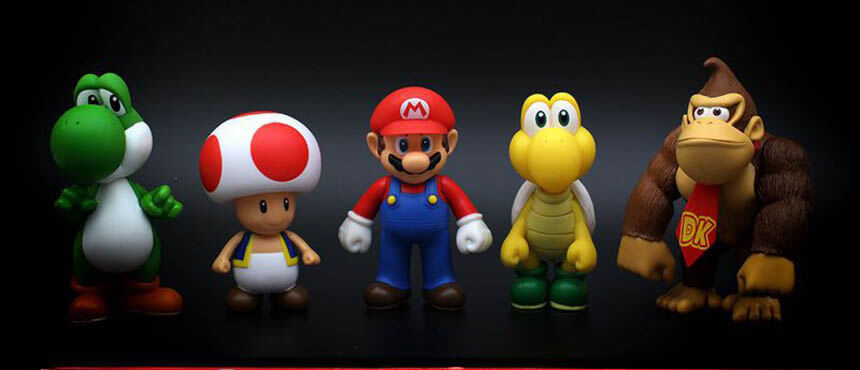 Leveraging plastic opportunities
You don't need to be a kid to love plastic toys. Because the toy gifts made from plastic by OYI Gifts are so versatile and life-like, they present a broad spectrum of opportunities for personal, commercial, retail, and industrial customers alike.  Almost every spectrum of life – business, personal, professional – can use gift ideas based on our toys:
·         If you are holding a marketing drive for your service – for example, a dog grooming spa – you could create a powerful marketing campaign by using plastic dog toys in your messaging.  Whether you want to appeal to pets, their owners or the kids of pet owners, these toys can serve as a powerful incentive for repeat customers to visit your store over and over again!
·         And what better way to conclude a "Thank You Customer" or an "Employee Appreciation" event than to hand out plastic models of things that represent your company's mission? For example, action toys and cartoon figures made from plastic can be great gimmicks for active lifestyle businesses
·         And if you are in the food business, then your customers will love plastic food toys that remind them of their favorite foods and snacks. Include a free giveaway of one of our food toys for any orders above a certain value, and see how your business thrives!
·         If you operate a family-friendly business, like a game arcade, candy store, or kids clothing retail outlets, tempt parents to bring their kids to shop by offering free plastic animal toys for anyone who comes in by a certain time of day.    
In fact, when it comes to using our toys as gifts or marketing props, the sky's the limit! Best of all, because our toys are made from high-grade plastic materials, you can have your company contact details or any other sales pitch inscribed on them. That way, anytime a gift is seen in public by others, they'll instantly recognize your name and logo. The next time they need a product or service similar to what you provide – they'll know exactly where to go!
Making a safe choice
Here at OYI Gifts, we have perfected the art of manufacturing some of the most sought-after American plastic toys to be given as gifts and mementos. They're safe, and durable and they look almost real-life-like. From kid's favorite images like dragons and dinosaurs to well-loved food items and action figures, we rank as number one in our niche market. Our state-of-the-art production processes mimic every detail of the items they represent.
Whether your audience is kids between the ages of toddlers to young tweens and teens, or if your gift-giving target is customers, clients, suppliers, and other business partners. We have exactly what you need. All the materials we use to produce our toys are industrial grade, which means your gift will last for a long time.
We take great pride in ensuring that the finer details of the animals, food items, action figures, or other objects are represented in each toy that we produce. And best of all, when kids receive our plastic dinosaur toys or other action toy figures, they'll love them! Sometimes, they may even put them in their mouth or tuck our cuddly, lovable toy gifts in their beds. Don't work – our toys are built from extremely safe materials, are BPA-free, and are safe in every respect.
And if you're planning on giving a gift to a dog or cat-loving client or customers, our cat and plastic dog toys are pet safe too! Not only will your pet-owning gift receiver thank you for giving such a thoughtfully-developed toy; even their pets will love and treasure your gift. The durable material used to fabricate these toys means that everyone will enjoy their gifts for many years ahead. And your company logo, contact details, or corporate slogan printed on each toy, means your company will always be remembered for a long time too! 
If you have a need to offer memorable plastic animal toys or other mementos like food items or technology-themed plastic gifts to your retail, commercial or industrial base, then contact us today with your request. Our highly resourceful team of advisors will be pleased to discuss your needs, and might even be able to suggest a range of plastic food toys, or other animal and object toys to meet your unique needs.