Everyone loves a good gift. But when it comes to giving someone a gift, we often wonder what to buy as a gift. Well, how about a silicone phone case? These nifty smartphone add-ons seem so "ordinary", but if you choose them well, and source them from the right place, they can make a great gift idea.
Let's explore why that is so!
Why give a custom silicone phone case as a gift?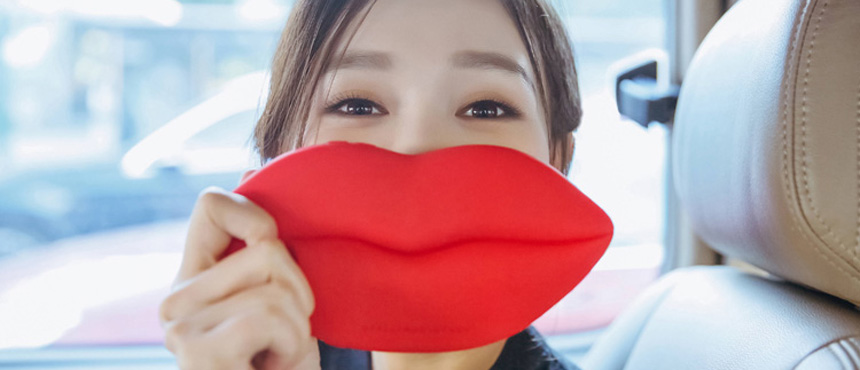 Cell phones are almost ubiquitous these days – you find them on everyone! Moms and dads have them. Young working adults have them. High-flying executives and busy corporate managers have them. And cabbies, bus drivers, and airplane pilots too – all have cellphones today.
And when it comes to kids – teenagers just can't live without their iPhone or the latest Samsung device. In fact, children as young as 8 these days have a cell phone to stay in touch with mom and dad – and their friends on the internet! With so many cell phones on the go, a custom silicone phone case is just the right gift that anyone would want!
Gifts are meant to show someone how much the giver appreciates the receiver. And the receiver shows their appreciation for the gift by using the gift as often as they can. If someone takes your gift and stashes it in a drawer – you'll know it wasn't a good gift to give in the first place. So, the best way to show appreciation on both sides is to give gifts that someone truly likes and will use.
Unlike a high-end jacket or an expensive sweater, that'll probably be worn once and then put aside until next winter, a silicone phone case is something that'll be used every day – perhaps even multiple times a day! And what better gift to give someone than something that he or she will actually use – and remember the giver (hopefully in a nice way) each time they use it!
Choosing an expensive wallet or a $100 iTunes gift card might be a great gift idea. But what if that someone special you are buying the gift for is not a music lover? And what if they use eWallets and ApplePay instead of carrying credit cards or cash in a wallet? A gift of a phone case of silicone material won't go wasted!  Since almost everyone has a cell phone these days, it's unlikely that your gift won't be treasured and appreciated.
What makes a custom silicone phone case a great gift idea?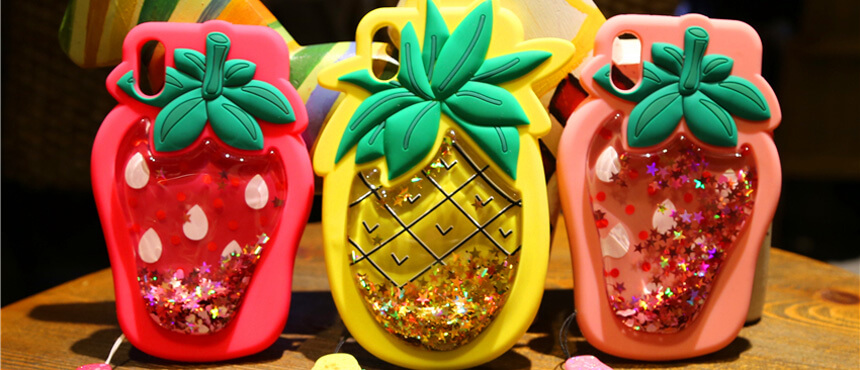 In one sentence: You can't go wrong with it!
Cell phones today may be "smart" – but they're by no means "sexy". Even the most diligently built iPhone looks just like many of its competitors. The reason is that the design of most cell phones hasn't fundamentally changed in decades. That's why a well-chosen silicone phone case for iPhone 6 users, with just a few customizations, will transform how their cell phone looks.
While a custom silicone phone case can be transformational to the gift receiver, that's not the only reason that these handy gadget add-ons make for great gift ideas. There's a lot more behind why cell phone users love receiving a cellphone case:
Durability: Unlike a decade or so ago, where cell phones were specialty products built to last, today's phones are consumer commodities. Manufacturers use cheap plastic or low-grade aluminum to make the device affordable to the masses. Unfortunately, the slightest of bumps or falls could spell disaster for the phone. They're just not durable enough to withstand major trauma!
A phone case of silicon construction can bring that added degree of durability that most device users long for. So, when someone receives a gift that'll make his/her cell phone last much longer – how do you think they'll feel? Grateful. Thankful. Appreciative!
Attractiveness: What's so attractive about a shiny piece of a rectangle that allows you to make calls, surf the internet and take pictures? Nothing really – Especially if that shiny piece of metal looks a lot like something that every other person around has. It lacks attractiveness!
If only there was a way to take someone's "ordinary-looking" iPhone 6 or Galaxy and turn it into something really cool and sexy. Well, how about a personalized silicone phone case for iPhone 6 or Samsung lovers? The simple silicone cell phone sleeve is a gift that can quickly turn the ordinary into something extraordinary!  And which gift lover doesn't love that?
Investment protection: Any "normal" gift receiver will love getting a gift that saves them money – that's a fact! But giving a gift card or a magazine subscription is so "old school". A silicone phone case on the other hand makes for extraordinary investment protection. Here's how.
While cell phones today are built from low-grade raw materials – especially their glass and outer covers – their pricing is astronomical. Ask anyone who has paid a thousand dollars plus for the latest iPhone, or over eight hundred quid for a Samsung device, and they'll readily admit: Their biggest nightmare is not losing the device – but dropping it! Using a custom marble phone case can help protect their investment for many years to come!
Functional: You could give an avid golfer a pair of embossed golf balls or a golf hat – but he/she will only use it while out golfing. How functional is that? A leather binder might make for a great gift for a busy executive, but with so many of us taking notes on our tablets and carrying electronic documents to meetings – how functional is that?
A silicone cell phone case gift on the other hand has universal functionality for the receiver. For one, that gift will always be used – even when the device is in a coat pocket or in a dresser drawer. It performs its function 24×7, 365-days of the year!
And when the device is in use, the silicone phone case for iPhone 6 users will also be functional – protecting the device from dust and environmental impact. Best of all, when they're in a gathering of dozens of iPhone 6 users, their gift of a silicone marble phone case can actually make their device uniquely stand out. Now, how functional is that!
Variety: A pair of gloves or an expensive set of sun shades may make a great gift idea. But after using them a dozen or more times, the gift receiver will find the novelty of the gift wearing off.
They say variety is the spice of life, and a custom silicone phone case has the power to add that spice to any gift receiver's life! How? Well, because these add-ons aren't uber expensive, you can give several of them as a gift to someone you love or admire. So, whenever the gift receiver feels like it, they can change from a plain one into a silicone marble phone case and add spice to their life! Because the styles and designs of these accessories are so varied – there's no end to the variety one can bring into the use of a cell phone.
For these and a dozen other reasons, more and more people are turning to give a personalized phone case of silicone as gifts, rather than the traditional gifts typically given on every occasion.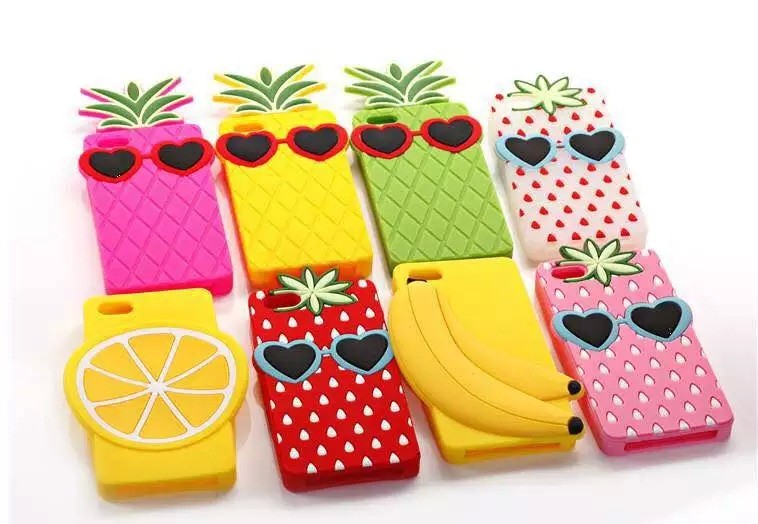 10 silicone phone case gift ideas you'll love!
So, you're finally convinced that a custom silicone phone case really does make for a great gift idea. Good for you! But…who would you give it to? When does it make sense to give a phone case as a gift? Well, don't worry – we've got you covered!
Read on to learn about 10 ideas for giving a silicone cell phone case as a gift:
First things first! When you give a child their first cell phone, why not add a custom silicone phone case with it? Firstly, they'll be overjoyed at receiving their very first cell phone. But more importantly, by customizing the phone with a case from their favorite color or cartoon character, you'll literally send your child over the moon!
Is there a birthday coming up for an iPhone user you love, respect, or care about? Well, what better way to tell them that you're thinking about them, than by giving a silicone phone case for iPhone 6 to a lover of that device?
Anniversaries make for great gift-giving occasions. You know that your spouse or partner loves a great perfume or winter boots. But make this year's anniversary gift extra special. Make it a silicone marble phone case that he/she will carry with them all year long – for many years to come – and not just use it on snowy days or for one special occasion!
Parents, siblings, and friends love to give gifts to someone when they land that first job. The "usual suspects" include a necktie, a leather belt, an office bag, or an embossed fountain pen – so old school! By customizing a silicone phone case with a special phrase, image or color, and giving that as a gift, you'll always "be there" during your loved one's workday – inspiring them to be the best at work!
What about a special milestone? Graduation? A promotion? Your favorite couple having their first child? Unlike most other gifts, you can customize a silicone cell phone case for almost any occasion – including "New Dad" and "New Mom" versions for new parents!
We all know that business thrives when you say "Thank You" to special customers. Chances are that you have many "special" customers who also use an iPhone 6 or other similar devices. Why not personalize a phone case of silicone material with a "Thank you" motif, and hand it to your clients at your next meeting?
Businesses don't run by themselves – it takes people to earn success. So, if you have a great team behind your success, then why not show them how much you appreciate their contribution? And what better way to do that than by creating a custom silicone phone case for each of them? Each time they venture into a meeting or go to close a deal for you – they'll see their phone cases and remember how much you appreciate them. They'll do their best to show their own appreciation in return!
Is your best friend or the favorite neighbor next door moving? Well, just because someone is "out of sight", doesn't mean they should also be "out of mind"! A customized silicone marble phone case would make a great going away gift. Every time they whip out their phone to make a call or send a text message, they'll surely remember you and the loyal friendship you share with them!
Is your business launching a new product? One of the best ways to publicize a new product launch is by offering free gifts to customers and patrons on product launch day. A silicone phone case, customized with your company name, logo, or contact details will make an ideal gift to ensure people don't just patronize your product, but that they also remember your business long after launch day!
Teenagers and young kids are very easily motivated with the thought of earning "free points" in video games or online contests. Why not motivate them to accomplish something more tangible by offering a personalized silicone phone case for iPhone 6 users? If a child gets good grades, does their chores, or completes a set of tasks, there's nothing more exhilarating for them than to "earn" their free reward!
A silicone phone case is a simple and cost-effective add-on, but by customizing it for almost any occasion, it can make a powerful gift for people of any age – from nine to ninety-nine. So why not have your personalized phone case idea come to life and gift it to someone you love and care about?
Where to get the perfect silicone phone case gift?
After reviewing all the fun gift ideas we've offered here, are your creative juices flowing? Do you have an occasion for a gift idea that you'd like to bring alive? Well, the challenge is always finding a place where a custom silicone phone case can be turned into something memorable!
You could buy a phone case of silicone material from a novelty store, and take it to a local screen printer and ask them to etch something on the back – but that will certainly destroy the essence of gift-giving! Poor quality construction and semi-professional screen printing will turn a perfectly great gift idea into something cheap and "ordinary"!
One great way to really make that gifted silicone phone case for iPhone 6 lovers stand out, is by having a maker of custom gifts provide it to you. Since they deal with nothing else but custom gift ideas, they'll not only turn your idea into something out of this world, but they could also offer you some great added suggestions – for free!
At OYI Gifts, you'll not only get the silicone cell phone case that you're looking for, but you'll get peace of mind knowing that the materials and craftsmanship behind the product are authentic and guaranteed to last. After all, when you gift a custom silicone phone case to someone you love or admire, you'd want only the best for them – wouldn't you?
So go online and start personalizing your very own silicone phone case now, and wow that someone special for many years to come!