Silicone household items kitchenware products
Silicones are a diverse family of specialty, high-performance materials that includes reactive silanes, silicone fluids, and silicone polymers, which are widely used in a variety of consumer and industrial products. These materials provide essential benefits in key segments of our economy, including health care, aerospace, personal care, electronics, transportation, and construction.
Uses & Benefits for silicone household items
Silicones impart a number of benefits to the products in which they are used, including enhanced flexibility and moisture, heat, cold, and ultraviolet radiation resistance. Silicones can be manufactured in many forms, including solids, liquids, semi-viscous pastes, greases, oils, and rubber.
Personal Care Products for silicone household items
Silicones used in personal care products reduce the white residue and tacky feel of antiperspirants in deodorants. They are also "long-lasting" and help to retain the color and luster associated with cosmetics, shampoos, and conditioners, as well as impart better shine, and allow skincare products to be made with stronger SPF. Wetting and spreading qualities provide for smooth and even application of cosmetics, lotions, sunscreens, and cleansers.
Silicone household items kitchenware products show:
Silicone Food pouch/silicone food storage bags containers: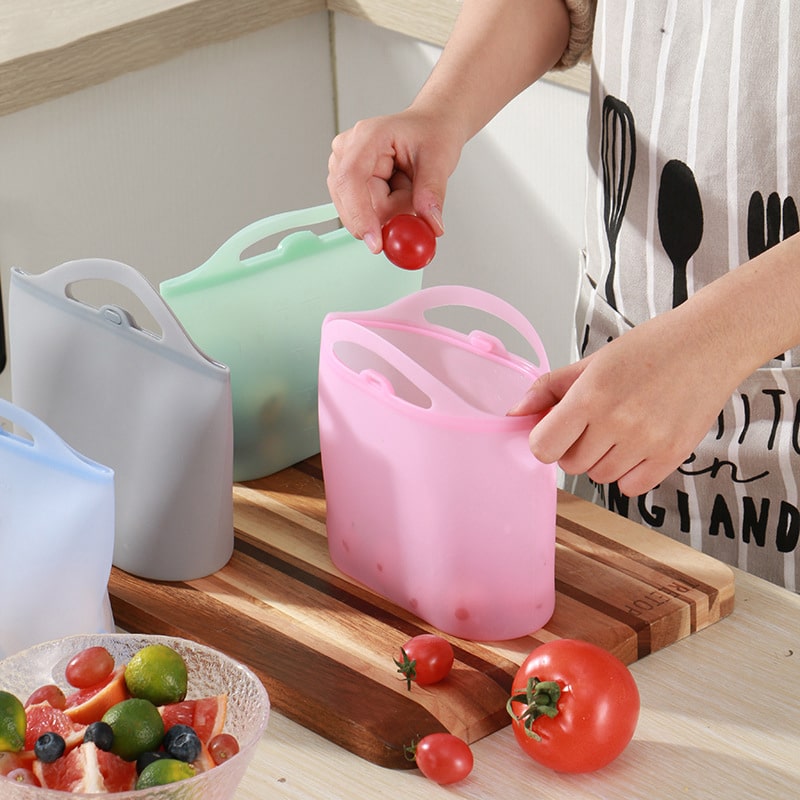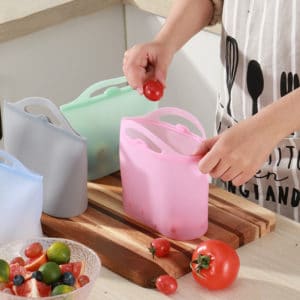 More about silicone food bags articles pls visit:
Silicone household items|Kitchen set silicone stretch Lids:
Silicone household items|Silicone massage Bath/body wash Brush: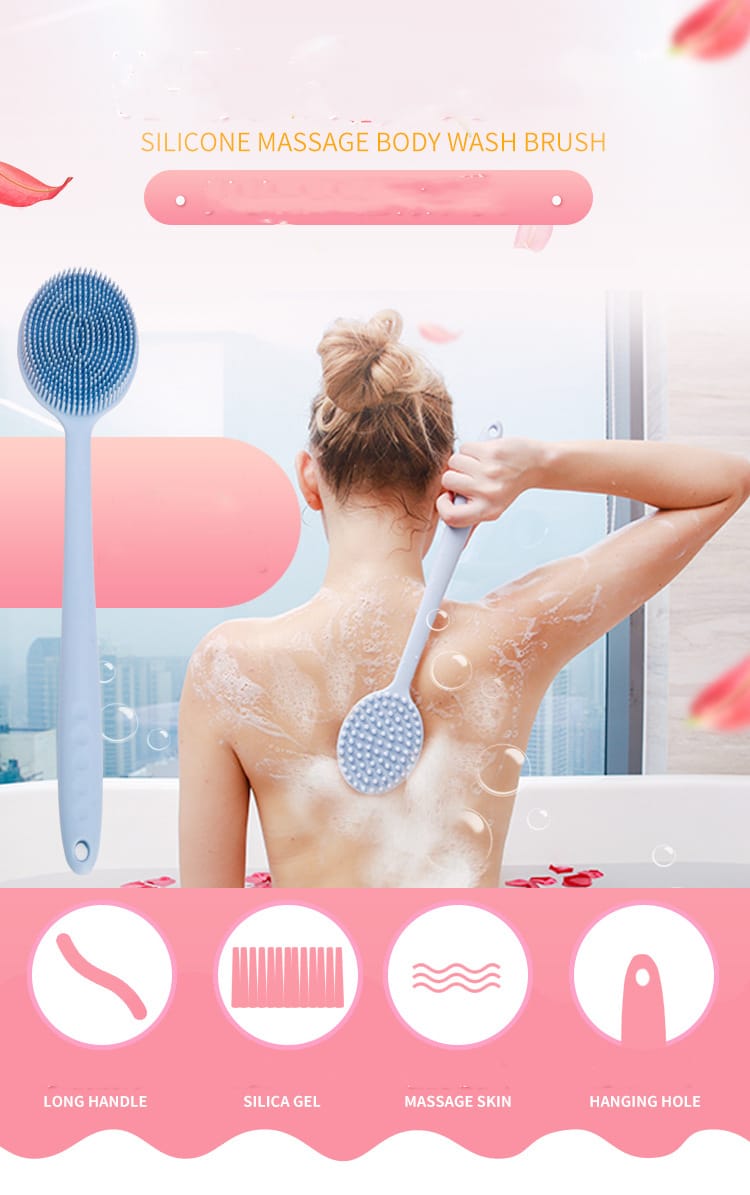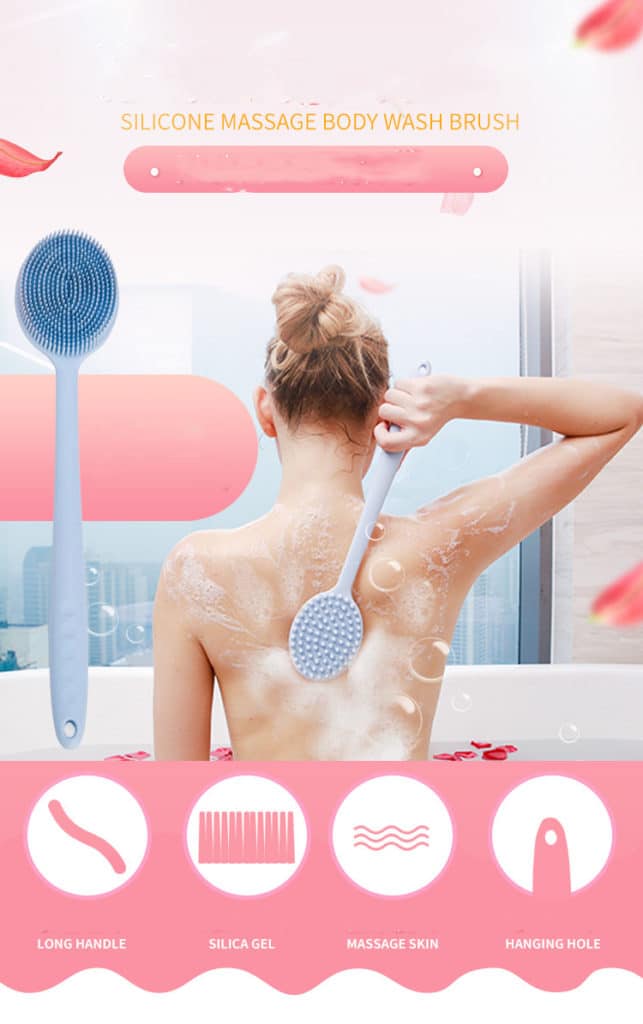 Silicone household items kitchenware products list: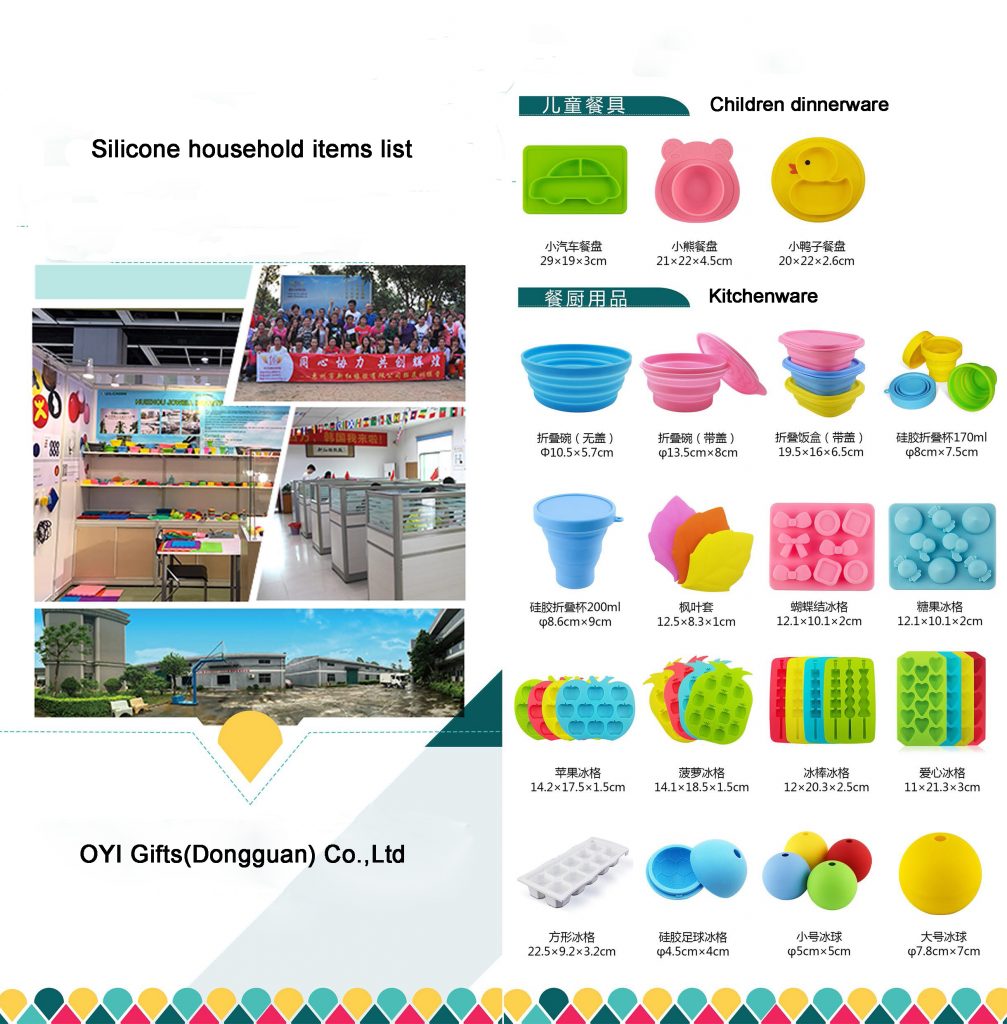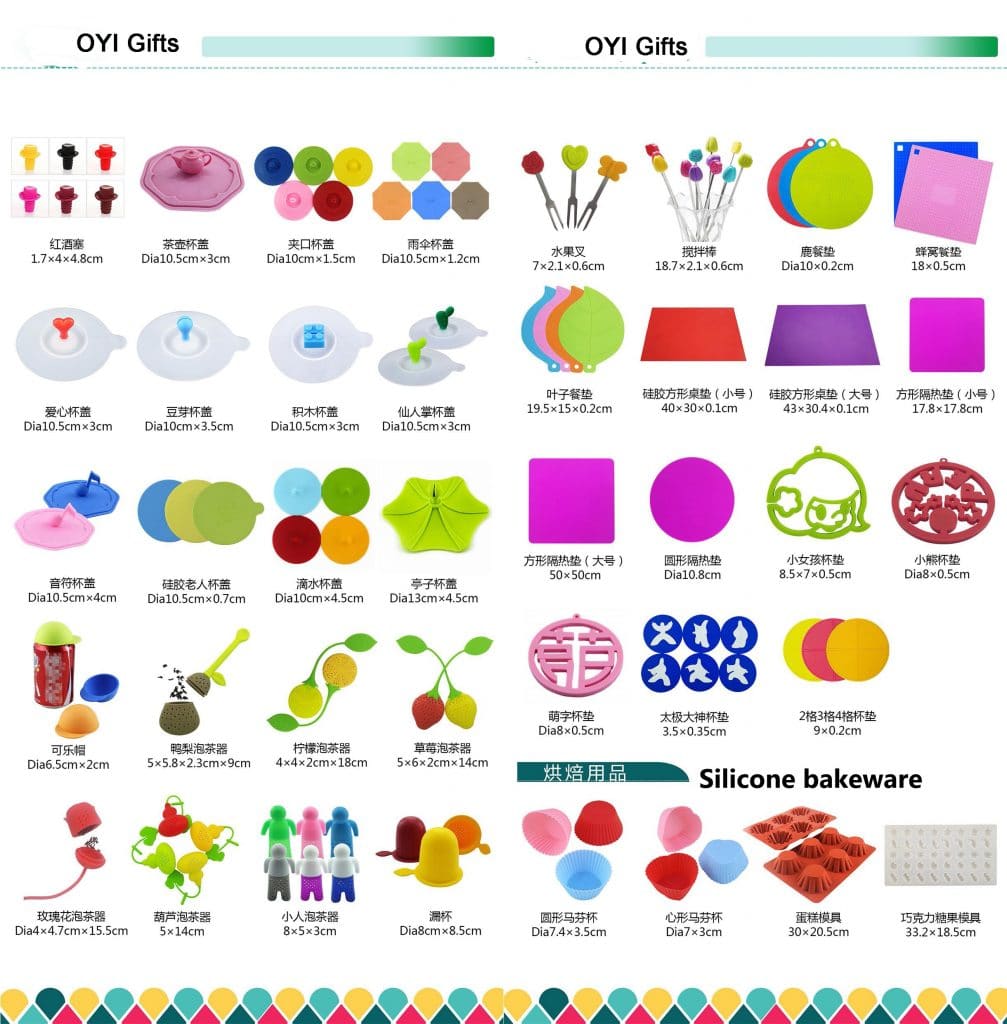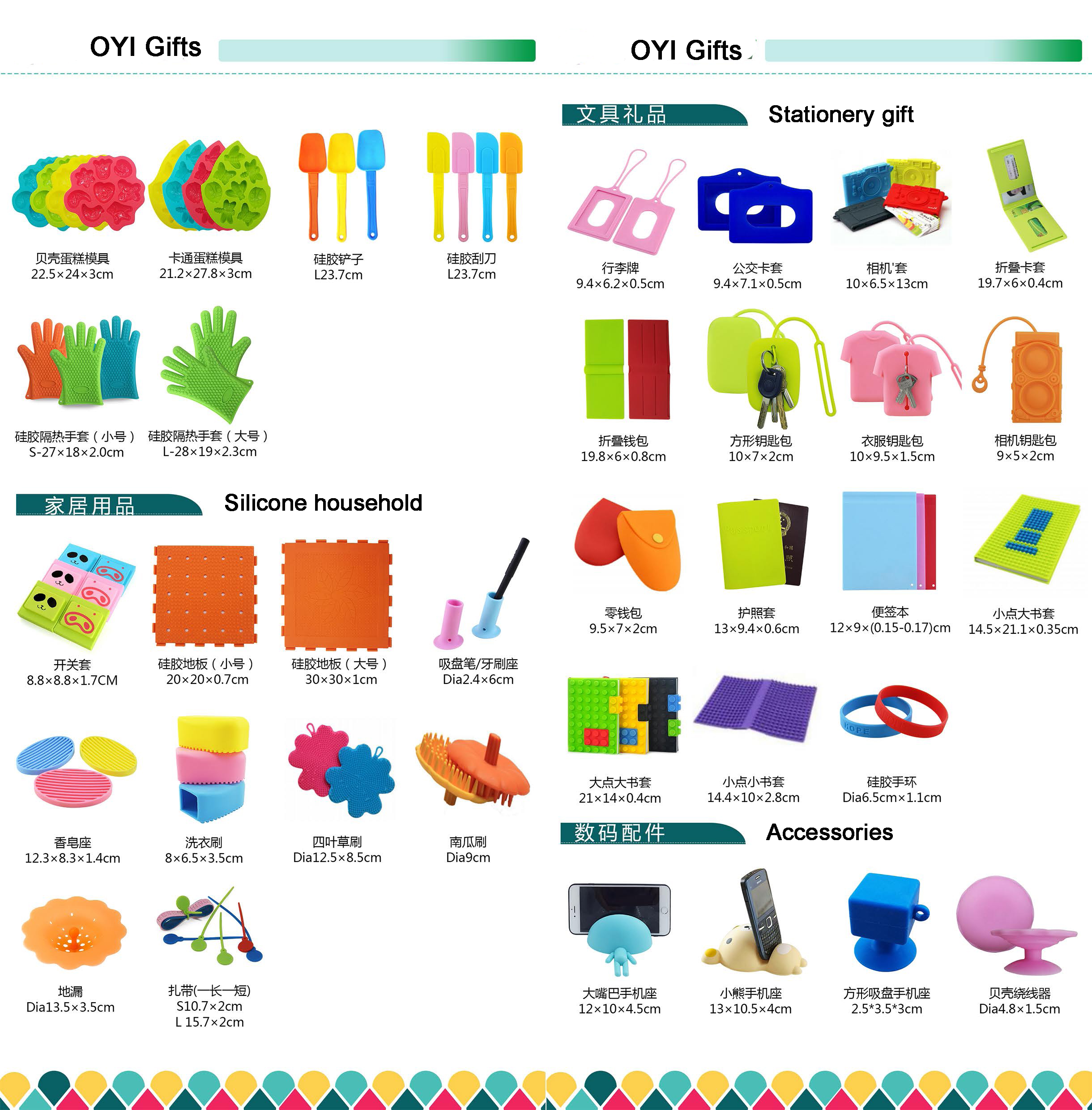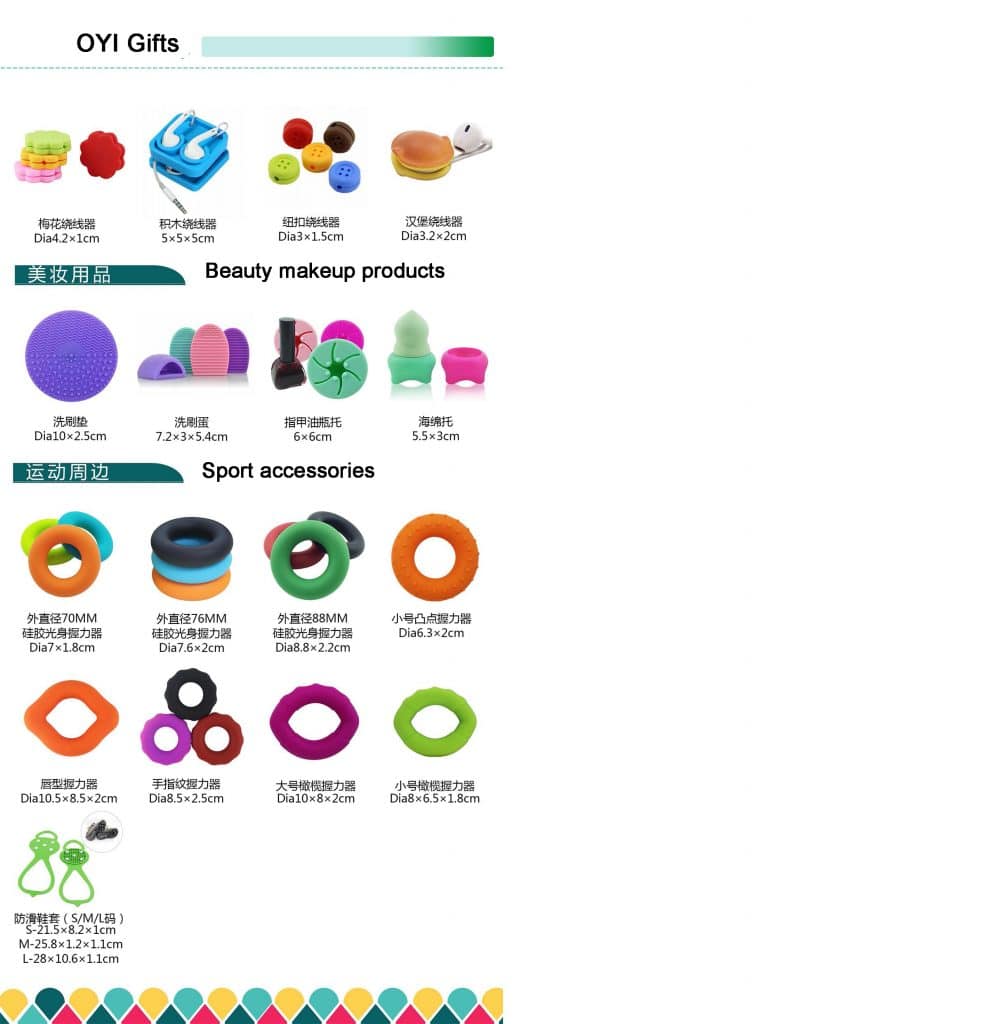 Silicone household items products process:
Energy
Silicone improves the efficiency, durability, and performance of solar panels and photovoltaic devices, making them more cost-effective. Because they can withstand the sun for years, silicones are ideal materials for solar panels and photovoltaic applications.
Electronics
Keypads, keyboards, and copier rollers are made with sturdy, durable silicones – as are many components of computers, mobile electronics, and home entertainment equipment. Silicones also play an essential role in enabling LED lighting technology. Silicone's high thermal stability and excellent dielectric properties allow for use in a variety of electrical transmission applications.
Aviation
Because silicones can withstand stress and temperature extremes, silicone adhesives and sealants are used to seal and protect doors, windows, wings, fuel tanks, hydraulic switches, overhead bins, wing edges, landing gear electrical devices, vent ducts, engine gaskets, electrical wires, and black boxes.
Construction and Architecture
Silicones are key to the construction and renovation of commercial and residential buildings – from enabling glass-walled skyscrapers to enabling energy-efficient architecture. At home, silicone sealants and caulks are used to reduce energy usage and prevent damage from moisture and bacteria build-up.
The flexible, non-stick surface of silicone bakeware and cookware is easy to clean and does not impart flavor or odor to food. Cake pans, muffin molds, and baking mats can go from the freezer to the oven, microwave, or dishwasher without affecting food taste or quality.
Paints and Coatings
Newer silicone-enhanced paints keep the exterior coatings of houses, bridges, and railway cars flexible so they withstand freeze and thaw cycles without cracking. Silicone coatings on the highway, oil rig, and road surfaces are less likely to corrode due to exposure to oils, gasoline, salt spray, and acid rain.
Sporting Goods and Apparel
Silicones seal out water from goggles and diving masks. Silicones enable new techniques to design sportswear that is lightweight, durable, water repellent, and high performing while allowing the fabric to maintain "breathability."
Safety Information for silicone household items
The global silicone industry and independent scientists extensively study the human health and environmental impacts of silicone products. The following studies and regulatory assessments support the safe use of silicone materials in a wide variety of applications:
Regulatory agencies in Canada have extensively reviewed significant amounts of scientific data and have concluded those silicone materials satisfy regulatory requirements for human health and the environment.
Federal government agency Health Canada assessed silicones commonly used in consumer products and concluded that they "[are] not entering the environment in a quantity or concentration or under conditions that constitute or may constitute a danger in Canada to human life or health."
Taking into account all of the available scientific information, the Report of the Canadian Board of Review concluded that the "Siloxane D5 does not pose a danger to the environment. There is no evidence to demonstrate that Siloxane D5 is toxic to any organism." The Board also states that Siloxane D5 "will not accumulate to sufficiently great concentrations to cause adverse effects in organisms in air, water, soils or sediments."
EU's Scientific Committee on Consumer Safety (SCCS) is of the opinion that silicones do not pose a risk for human health when used in cosmetic products.
An expert scientific panel – Cosmetic Ingredient Review (CIR) – has concluded that silicones do not pose a risk to human health from their use in cosmetics.
Is Silicone household items kitchenware products food-safe?
When manufacturing high-performance O-rings and custom sealing solutions for the food process industry, safety has to be the number one priority. Precision Polymer Engineering manufacturers from a wide range of elastomeric materials – including silicone. But how safe is silicone sealing, and how can the health of the end consumer be protected?
At Precision Polymer Engineering, our sealing expertise combines not just compliance with an assortment of regulatory standards, but a deep understanding of our consumers and the critical performance of our elastomer products.
From those without specialist knowledge standing outside of our industry, the safety of silicone in food applications is often called into question. With a firm commitment to minimizing risk in the food process chain, our professional sealing engineers share their knowledge of silicone, its properties, and what this means in regards to food safety.
Silicone
Silicone (or polydimethylsiloxane) is a man-made polymer and the product of Silica and Carbon when heated together at high temperatures. Silicone is a completely synthetic rubber and a relatively hybrid material as it formed from organic compounds of Hydrogen and Carbon, known as hydrocarbons.
Silicone-based rubber products are characterized by a number of key properties, including;
High and low heat resistance
Chemical Resistance
High Compressibility
High Elasticity
Water Repellency
The temperature resistance and performance of silicone can be a highlight in two everyday household products introduced for the food industry – cupcake molds and ice cube trays. Silicone can be transported from the temperature of a freezer to that of a hot oven without undergoing any structural changes which may affect its performance as a mold.
The number of silicone applications encountered in everyday life is incredible. From airplane engines to swimming goggles, silicone seals and coatings are found in just about every corner of consumer life. The impressive chemical, thermal and mechanical properties of silicone makes the material highly durable and so it is little wonder that it has been widely adopted by a range of industries, not least the food industry.
Food Safety for silicone household items
The FDA (Food & Drug Administration) is responsible for the regulation of the food and pharmaceutical industries, in order to protect the public from food and drug hazards. Although the FDA is a body of the US government, and its jurisdiction only applies in the United States, its principles and regulations are adopted as a recognizable worldwide standard.
Silicone's resistance to temperatures and chemicals ultimately means that it does not react with foodstuffs or any other media encountered in the process line. The use of silicone sealing, therefore, does not result in any hazardous byproducts which could adversely affect the health of the workforce or end consumers. This is important when considering silicone as a 'food-safe material.
However, according to their Food Code, a material is only considered 'food-safe' if it is FDA-compliant, which means 'acceptable to the regulatory authority [FDA] based on a determination of conformity with principles, practices and generally recognized standards that protect public health'. Whilst the characteristics of silicone make it highly durable and resistant, there is no automatic universal 'approval' of all silicone products or manufacturers.
Silicone Oven Mitts and Its Importance in Home Safety
A large percentage of accidents happen at home. From minor cuts to severe burns, the kitchen is the one place in your house where you can expose yourself to all these accidents. To minimize these dangerous incidents, household appliance manufacturers incorporate user- and eco-friendly materials into their products. Less combustible materials such as silicone oven mitts and food storage products are now introduced into the market to help consumers be aware of their own safety. It is with safe products that manufacturers can help consumers in dealing with safety issues at home.
Silicone is a polymer that is a heat-resistant material that appears like a rubber substance. Because of its inherent characteristic, it found its way into many mainstream applications, specifically for household use. It is used as the base material for cookware and other kitchen items, in motors, medical applications such as breast implants, and now even in our undergarments. Originally, silicone was developed to insulate electric motors and generators. But as its properties are discovered, silicone is now generally used in most household items.
Silicone oven mitts, for example, can withstand extreme temperatures between -55 to 300 degrees. Using lesser heat-resistant materials will instantly result in scalding and burning. It would even be impossible to take the pot or pan from the oven without the risk of burning your skin. Silicone oven mitts are rubber mittens that make it possible for you to handle cooked food, making you more efficient in the kitchen. The material is also non-toxic so contact with food poses no contamination problems. You can even pull corn cobs straight from the broiler. This is also the reason why most cookwares are also generally made from silicone substances.
Their general acceptability and usability have made these silicone-based oven mitts a must-have in anyone's kitchen. They form the first line of defense against possible burning and scalding. Many online home depot shops and standing stores are now offering the product as one of the kitchen essentials of today. They may not be as colorful as the regular mittens but your safety and that of your family are guaranteed. With silicone oven mitts, you can handle extremely hot dishes and pans. Otherwise, when you accidentally hold hot surfaces or cookwares filled with hot food or water, you can instinctively throw away the stuff from sudden pain caused by the heat. It is human nature. However, this could be a very terrible scenario especially when there are kids around. We do not know when or where an accident may happen. But we can avoid a greater risk of figuring in one if we exercise precaution and use the right items in our activities at home. Enter the silicone oven mitts.
Silicone household items Cooking Utensils - The Way to Easier Cooking
New silicone household items cooking utensils are invented all the time. How can one improve the common spatula and spoon? There are as many different kitchen utensils as there are stars in the sky, each with a claim that may or may not is proven. There are however reasonable benchmarks that can assist in the process of determining the usefulness of a kitchen utensil. Silicone cooking utensils certainly fill the gap in some areas. However, as the case should be, each cook or chef will determine what is best for them!
Silicone household items of Silicone utensils have been available for a few years and the following list of benefits have been experienced by users:
Ability to repel water - so that they do not make a mess when taken out of the saucepan
Resistant to oil, solvent oxygen, and sunlight - less mess
Non-stick - less mess
Heat Resistant - able to be used in almost any household cooking situation
Flexible and strong - does not break easily
Poor conductor of electricity - good insulator
Low toxicity and chemical reactivity - no reaction with foodstuffs
Microwave safe - can be put into the microwave
Dishwasher safe - can be washed in the dishwasher (or washing machine!)
Withstand temperatures up to 270 C or 520 F - normal maximum cooking temperatures
Reputable manufacturers create products that not only have the above benefits but are useful as well. Oyigift is such a supplier and their range fits into four categories
Utensils such as brushes, spoons, etc. with silicone heads and comfortable stainless steel handles - easy to use and no worries with heat.
Oven mitts and mini mitts - easy to use and easy to wash
Trivets - light and flexible, can be used almost anywhere
Pop items. These are unique and innovative items that collapse for easy storage and space in the dishwasher, such as funnels, drainers, strainers, and sieves. The pop items are the real point of difference.
The silicone household items kitchenware entire product range is
Color-coordinated - choose red or grey
Price competitive - all items
High quality - warranty
Practical and heat resistant - as detailed above
They are a tried, tested, and a better way of enjoying the cooking experience. Silicone products do make things easier.
Silicone cookware was only mass-produced from 2004, and new products are coming onto the market regularly. The silicone brush and the collapsible products are the most popular. Try some when next you need one or give it as a gift to someone you love.
Conclusion
Silicone household items kitchenware manufacturers voluntarily support health and environmental testing to provide a greater scientific understanding of silicone materials used in consumer and industrial applications. The goal of the research is to communicate relevant research and safety information to regulatory agencies, employees, and customers.
Silicones' versatility stems from their performance and protective qualities. Silicones are used across some of the most strenuous and yet some of the most sensitive applications. They add "industrial" to the "strength" of coatings, sealants, and joints in skyscrapers, bridges, highways, and ocean vessels. Used in personal care products and health care, they make lotions, topical medications, and skin adhesives easy to apply and less irritating.