Custom Silicone Ice Molds
Taking the cubes out of traditional ice trays is indeed a struggle. You have to smash the ice molds a hundred times before getting the cubes out, which isn't fun. However, with silicone ice molds, it's no more a struggle. Their softness and flexibility allow you to bend the mold to get the cubes out easily and enjoy your favorite drink.
It's not even the best part, you can also replace your boring ice cubes with these customized ice molds! This includes round, diamond, fruit, and all other shaped molds that you can easily customize to elevate your drinking experiences.
However, before we jump into the discussion, let's first discuss why you need silicone ice molds instead of plastic and metal ones.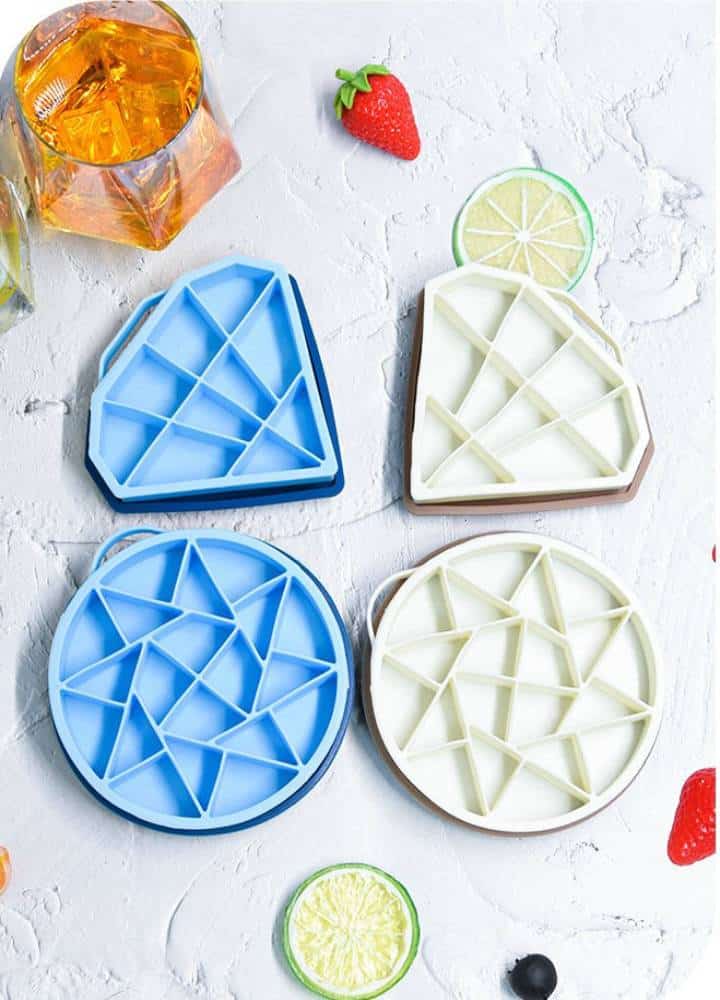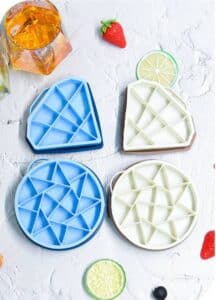 Why You Should Use Silicone Ice Molds
Silicone Ice Trays Are Safe and Healthy
The best part about silicone ice molds is that they are safe. They don't leach out harmful chemicals like formaldehyde, polyvinyl chloride, phthalates, PVS, nitrate, or other toxins that might contaminate your drinks. While all plastic molds contain BPA harmful to your body, silicone ice molds make their place by being food-grade and BPA-free.
BPA And Its Health Concerns
Bisphenol-A is referred to as BPA., a substance used to produce resins and polymers. It's a harmful toxin present in almost all plastics.. According to a study, it's harmful because it affects fetuses, newborns, and children's brains and prostate glands.
Another study has revealed that there may be a link between BPA and type 2 diabetes, cardiovascular illness, and high blood pressure. Although the FDA has concluded that BPA is safe for humans, you should still take precautions to minimize exposure. As a result, selecting silicone ice trays is a wise decision.
Silicone Ice Molds Are Dishwater And Oven Safe
The silicone ice molds promise to help you with their handling and washing. Not only do these silicone molds are flexible, but they also are dishwasher safe. Hence, you can easily put them in the dishwasher and be carefree about their cleaning.
Another thing you'd love about these molds is that they can withstand extreme temperatures. The temperature ranges from 80C to -20C. Meanwhile, these molds retain their shape even when you put them in these temperatures.
Silicone Ice Trays Are Safe For Storing Baby Food
The silicone ice molds are designed to serve all age groups. As mentioned earlier, the silicone used here is food-grade, and it doesn't leach out harmful chemicals even when you put warm food in it. This makes them the perfect mold for storing baby foods. To improve your experience, use a custom silicon ice mold tray with an airtight lid to better and longer preserve the nutritional value of meals.
Personalized Silicone Ice Molds For Your Perfect Drink
After discussing how preferring silicone ice molds to plastic and metal ice molds can help you in many ways, it's time to think about the shapes you can get to level up your drinking game.
Customized Diamond-Shaped Molds
If you're looking for something different than ordinary cube shapes, customized diamond-shaped molds are your perfect fit. They give a cool look to your beverage and take longer to melt because of their big size. The next best thing about them is that they come with a lid. So you don't have to worry about odors ruining your cubes.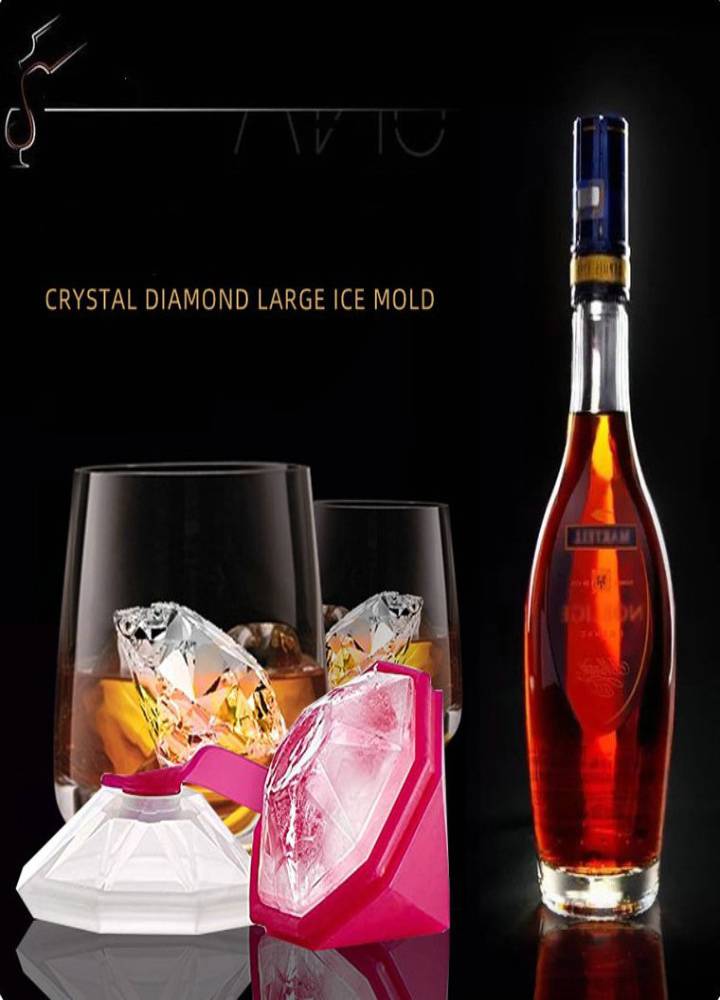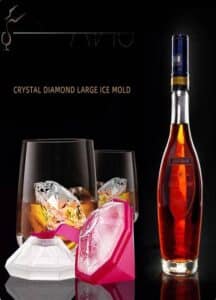 Circle-Shaped Molds
If you're keen on saving your freezer space, circle-shaped molds are your go-to choice. Also, some people believe that circle-shaped cubes take longer to melt, so if you're one of them, I'm sure you'll love these molds. Here again, lids will provide you with extra benefits.
Fruit-shaped Molds
You can choose different fruits shapes to make drinking more fun. The options available include apple, strawberry, and pineapple. However, if you're a mango or pineapple fan, you can always customize them. The best part is you can customize any shape you like. The only condition here is to satisfy the MOQ limit, as your order will open the new mold.
Monogram
While other customized ice molds will make your drinks unique, custom monogram ice molds will add a personal touch to them. These 3D-shaped molds are a perfect addition to your drink. You can customize your initials or even the initials of your favorite beverage.
Furthermore, these personalized ice molds can be perfect for every occasion, including birthdays, weddings, and anniversaries.
Brand Name
Talking about business, custom silicone ice molds can be an excellent way to increase your sales. You can use your brand name for the cubes to attract customers. These customers will post the pictures on their socials, leading to more customers. Additionally, you can also give these custom molds to your employees. Meanwhile, with the help of silicone custom ice molds, the brand name will have a greater reach to increase sales.
Features Of Custom Silicone Ice Molds
Custom silicone ice molds offer you a wide array of features, Some of which are mentioned here.
Easily Release Ice:
Silicone ice molds are soft and flexible, saving you the effort of smashing the tray to get the cubes out. In addition, the ice doesn't stick to the mold, unlike metal and plastic trays. You just need to pop the cube with your finger and get the cube out in a matter of time.
Trays With A Lid
The reason why lids are a must element to your ice molds is that they prevent odors. Since your freezer contains different food items, there is a high chance that these cubes take in the smell and end up tasting bad. The solution is to use a lid, and that's what these custom silicone ice molds offer you.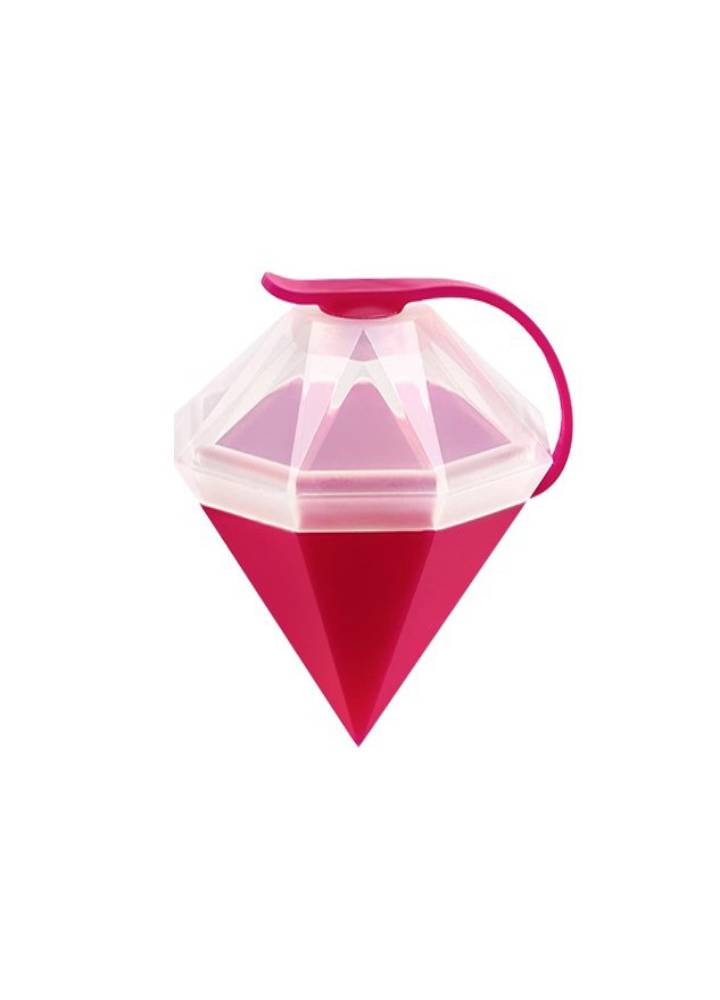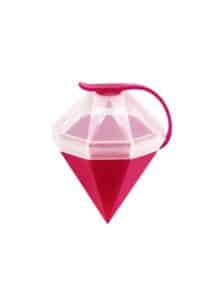 Pleasing Aesthetics With A Variety Of Colors
The word custom doesn't only refer to the shape. It also refers to the color of the molds. You can order whatever shape you want and in whatever color you desire. There are absolutely no restrictions on the matter.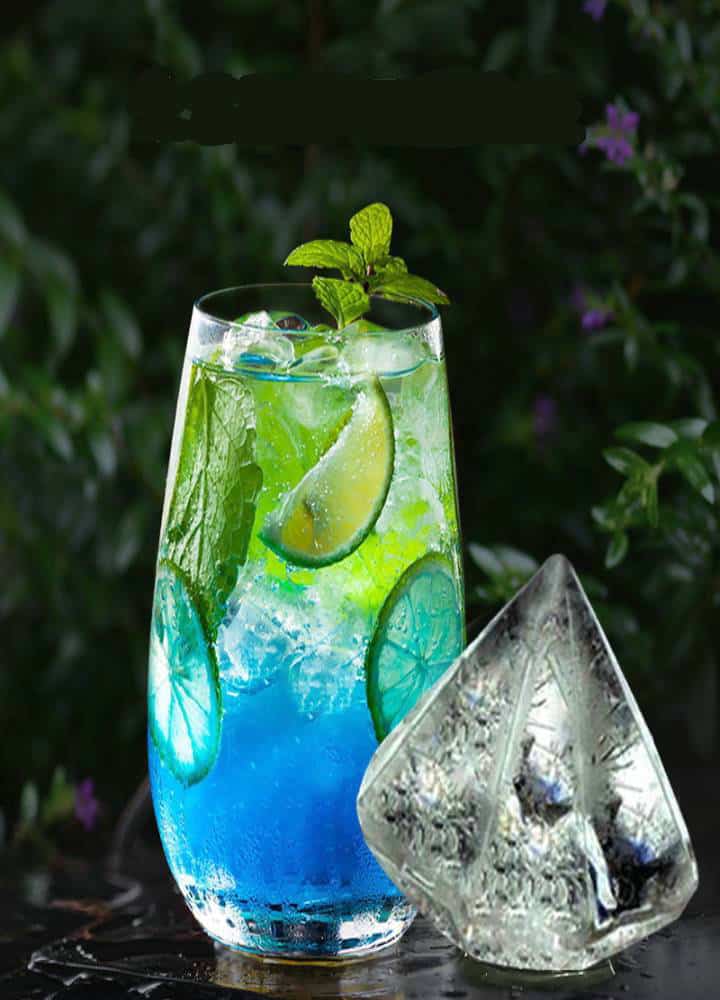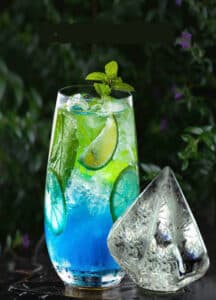 Wide Functionality
This is probably the best feature of custom silicone ice molds. These silicone ice trays are great for storing various foods, such as liquids, alcohol, and fruits. You can even freeze coffee for quick iced coffee in the mornings.
Additionally, a fantastic additional usage for ice cube trays is making popsicles. Simply pour juice into the silicone ice cube tray, and then place a toothpick in the center of each cube. Once it freezes, you'll have a tasty treat to enjoy on warm days! Besides, these molds are perfect if for storing baby food. You can keep small food portions in them and save time and energy for other tasks.
Easy To Clean
Lastly, custom silicone ice molds are easier to clean than you think. Since silicone is heat resistant and doesn't lose shape in extreme temperatures, you can put it in dishwater and even boil or microwave it without worrying.
Considerations while purchasing the silicone ice molds
Usage Difficulty
You've probably already realized that it takes a lot of work to remove the ice cubes, even one with striking looks can't be ideal for you. Without question, this is a major deal-breaker.
Furthermore, this is the point at which silicone ice trays become necessary. You want to enjoy your favorite drink without struggling for ice cubes, and this does that for you.
The ease of cleaning these trays is another consideration. The majority of trays are difficult to clean. However, silicone ice trays are made to be simpler to clean. To make things easier for you, they are even dishwasher-safe.
Leakage
To start, make sure your ice trays don't have any holes in them. Only purchase them if they don't. However, the issue still needs to be resolved here. The material you purchased can later lead to leakage problems. The advice, in this case, would be to choose more robust materials. In this manner, they avoid cracking or getting holes over time. Again, silicone would be ideal because of its excellent strength and tolerance to high and low temperatures.
Conclusion
Silicone is an excellent alternative to traditional metal and plastic trays as it's safe, soft, and flexible. It is a food-grade silicone that's BPA and other harmful substances free. When it comes to customization, you can customize the shape as well as the color of the cubes. As for the custom silicone ice molds, there are various options available.
You can go for diamond or circle-shaped molds. Depending on your preferences, you can even choose a monogram or brand name for your molds. Lastly, silicone ice trays offer features like broad functionality, easy ice release, and even trays with a lid. These factors make silicone ice molds the best in the market.