Custom Promotional Soft PVC luggage tags
1.Material: Soft PVC
2. Size: Different colors and sizes are available
3. Products amendment acceptable
4. Packing change acceptable
5. OEM acceptable
6. We can do it as per your design.
7. Can emboss/deboss various logos.
8. MQO: 1000PCS.
Disclaimer:
The picture relevant to this product has been provided for reference only.
We do not have any intellectual property rights over the trademark(s) displayed and are not selling any products containing/these marks.
PVC luggage tag use for promotion gifts, festival gifts, business gifts, advertisement products, souvenirs, etc.
More information custom promotional Soft PVC luggage tags
PVC Luggage Tags are a perfect way to label and ID your luggage or to promote your company. Use branded inserts or custom printing of your logo to highlight your company. Please call us for more information about how to get custom printing, fill colors on PVC luggage tags.
Clear Worm Loops are a great addition and the perfect way to attach PVC luggage tags to our luggage.
A luggage tag could not only be a practical label but a fun accessory for traveling.PVC luggage tag is a good helper to identify luggage and belongings. Business professionals and seasoned travelers may prefer the simple and attractive look of soft PVC luggage tags. Our PVC luggage tag could be 2D,3D, or multi-level made to make your design lively. If soft PVC material is not your style, there are plastic bags, aluminum tags, and embroidery tags available as well.
Travel with ease with reliable luggage tags you can count on. Our soft PVC luggage Tags eco-friendly and unique designs that keep name tags secure and safe. These tags also work great for gym bags, backpacks, totes, wedding destination favors, and luggage branding. Loops and name cards are sold separately.
The last thing anyone wants is to lose a piece of luggage. Our soft PVC luggage Tags[LUGTAG] work great for protecting luggage identification cards and for anything else you may want to personalize, these tags won't break or tear, and hold cards firmly in place. Add a logo to name cards to promote your luggage brand or to personalize gym bags, diaper bags, backpacks, and totes. These tags are also popular for wedding destination favors or for creating customized tags for the bride and groom. Affordably priced and ideal for bulk ordering.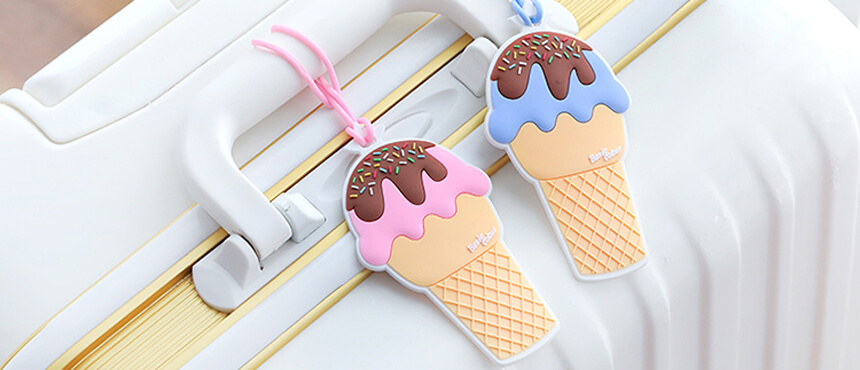 Features & Benefits:
Unique design
Easy to take.
Protects identification cards and keeps them firmly in place
A punched hole is provided to attach a strap or worm loop
Durable, thick plastic works holds up well with frequent handling
Provides an easy way to label, ID or personalize bags and totes
Works great for customized luggage branding
Uses:
The primary use for LUGTAG is to hold luggage name cards
This product works well with the following:
Luggage
Briefcases
Gym bags
Backpacks
Diaper bags
Bookbags
Badges
Totes
Wedding favors
Branding/promotion
…and more!

Boost Your Brand Exposure with Promotional PVC Luggage Tags
During these days of intense competition, consumers are exposed, actually bombarded, to several promotions and ads all day long. Companies need to find innovative ways to reach people if they want to get more sales or even survive in some cases.
Your marketing plan or strategy should include efforts to get people to know your brand and your offer and to remember it when the time of purchase arrives.
Some experts say that a person needs to be exposed to your ad or brand at least seven times in order to remember it in the future. It sounds a lot and difficult to achieve at least for me.
Some traditional advertising methods like newspapers or billboards are quite expensive but it's undeniable that they give you big exposure and the possibility to reach a lot of people. However, if you take into account that a person needs to see your ad seven times or more to be able to remember it, the cost starts to go up becoming impossible to afford especially for small and medium businesses.
A very popular and less expensive alternative is to give away promotional products with our logo and basic info.
When talking about promotional products, the idea behind them is to give your prospective customers something that they'll keep and not throw away. What is more, in an ideal world, it should be an item or object that they'll need to use or to look at several times increasing the exposure of your brand.
Table calendars are a very good example of a promotional product that people would probably like to keep and will look at it over and over. However, the main problem with calendars, and many other items as well, is that they've become very popular and many companies will use them as promotional items, therefore, people end up with around five or six calendars not knowing what to do with them. If you're lucky your calendar will make it to the table, however, most of the time quite a lot of promotional products end on the trash can.
If you don't want that to happen to you, you need to find a promotional product that besides accomplishing the characteristics mentioned before, it will stand out and people will have a motivation to keep. You need to find a different idea, something not usually done by other companies.
It's in this scenario that I would like to talk about promotional PVC luggage tags.
Promotional luggage tags are perfect to put your service or product into the public eye. Everyone from frequent travelers to kids needs one from one way or another to label luggage or bags. You can put your logo or company name on the front side and leave the backside blank for people to fill up their own information.
Soft PVC Luggage tags and bag tags have become a very useful accessory for people who are traveling, especially for frequent travelers, such as executives, salespeople, or sports teams. Alternatively, they have other uses, for example, they can be used on backpacks, sports bags, instrument cases, computer cases, gym bags, golf bags, strollers, and diaper bags.
If you do it right, people will keep your promotional luggage tags for a long time, that's why it's recommendable to do them in a durable material such as PVC or plastic. Furthermore, if you want to go one step further we would recommend including a fun, unique, or catchy design so people will have more incentives to keep them.
So, why not give away promotional luggage tags in your next trade show or event or send them to existing customers as a gift? Word of mouth is an excellent way to promote a business, and personalized soft PVC luggage tags with your logo simply take it one step further. They're a worthy addition to any marketing plan.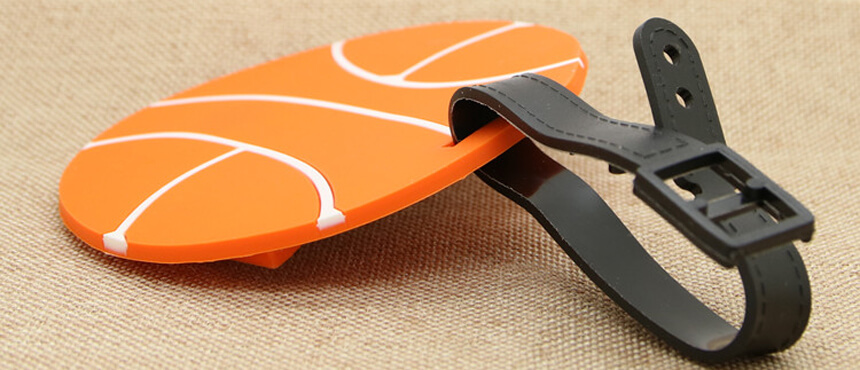 PVC Promotional Ideas for Your Business
Are you a thriving business owner who is looking for some creative out-of-the-box ways to advertise your products or brands to expand your business and increase sales?
There are many unique and creative ways for you to do so, and one of them is by taking full advantage of soft PVC promotional products.
Soft PVC products can work great as promotional items because they can either be made in 2D or 3D, moreover, they can be made in any color and they're weather resistant. This means that they won't fade or get discolored in the sun or hot climate. For that reason, PVC labels for examples, are commonly used to label outdoor gear such as boat covers, tents, backpacks or any products made of canvas that is designed to be used outside.
PVC products are for the most part perfect for the purpose of product advertising and company promotion. The shape and size can be customized at your specifications, and among the most popular you can include PVC labels, patches, dog tags, soft PVC luggage tags, key chains, lapel pins, and PVC magnets.
For instance, soft PVC magnets-PVC patches with magnetic backing-can are used to be displayed on the fridge, cars, or any other metal surface. They are a subtle way of advertising your business without being too obvious. Plus, these products have a high degree of resolution which gives a sharp, crisp, and colorful message that everybody will notice.
If you don't have the slightest ideas of how to start using PVC products to advertise your business, you can begin by having a really original and pop-up logo and a message or slogan. It's advisable to have your logo properly designed and make sure that your message is catchy enough to grab people's attention. If you aren't good at this, consider asking a friend or hiring a professional graphic designer or marketing professional to help you in these tasks. This will be the most important part of your venture, as your logo and message are what will make people take notice of you and your product.
Next, find a really good manufacturer of soft PVC products that can help you with your project. You can provide them with our needs and specifications and have them assist you in generating ideas for your campaign. finally, be sure to allow enough time for your promotional products to be done, you don't want to rush the process, and usually the standard production time can be three to four weeks.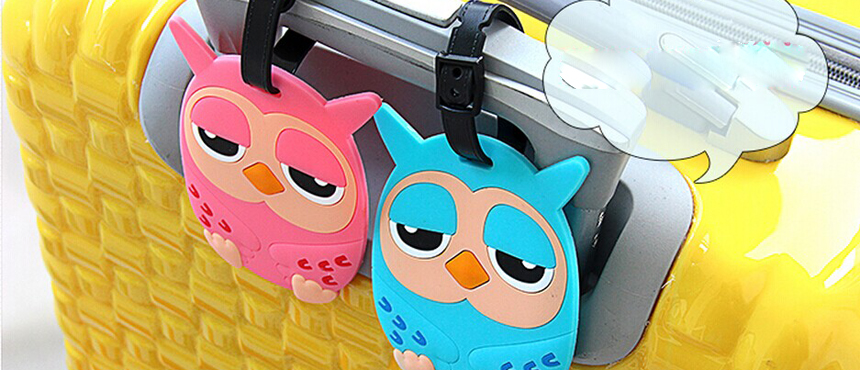 School Soft PVC Luggage Tags
If you are going to have school Soft PVC luggage tags then the obvious choice will have to be made. Out of any of the material that tags can be made from there are just no two ways about it. You are going to have to choose the PVC ones. Children and soft PVC really go very well together for some strange reason. If you are a parent then you know exactly what I am talking about here. There are many advantages to having these PVC luggage tags but the advantages far outweigh anything else.
The advantages of having PVC luggage tags are as follow. They are disposable and there are always more of them. This means if one is ruined or one is lost you can just throw it out and attach another one after filling it out. Another is that children get into all sorts of mess and spill all sorts of drinks on everything they own. They are generally clumsy people. If their tags are in need of a good clean then that is all you have to do. Clean them with soap and water and they are like new again. There are also all sorts of cool and popular designs and colors for children so they will enjoy having these PVC luggage tags on their things.
Having soft PVC luggage tags for your child's school things is generally a great idea. These look really great and children love to have them because of this. They can also be replaced quickly and easily. You just need to be aware and remember to always clean your child's tags. They are plastic after all so it will not be so hard for you to do. Have a look at what is out there and maybe get our children involved in choosing what they would like to use when they go to school.