Custom Silicone cup cover
Special Features:
Tasteless, non-toxic, anti-dust, non-sticking, impermeable, and easy to wash
Used in ovens and microwave ovens
Dishwasher and freezer safe
Environment-friendly
Available in various colors and shapes
Size: Approx Ø10.5cm
OEM orders are welcome
Customized sizes, logos, and materials are accepted
Seal: gently place the cup lid on the cup (the cup should not be broken) and press the cup lid, then the cup is sealed
Unseal: bring up the cup lid from the edge of it
Silicone cup cover, use for the cup, bowl, etc, it also can use for promotion gifts, advertising gifts, etc.
MOQ: 1000pcs for exist, 3000-5000pcs for customized design.
More about Silicone cup cover
Silicone cup covers are becoming popular nowadays they are used by almost everyone. If you notice you will see that you use these silicone cup cover in your daily quite a lot. You use them while having juice, tea, coffee or any other type of beverage. These cups cover are convenient, easy to use and easy to dispose off as well. You can find various types of silicone cup cover with various designs. It becomes very difficult to choose from such beautiful designs. A popular type of silicone cup cover is one with a lid. It helps keep the hot beverage insulated for a longer period of time so that you can enjoy it longer.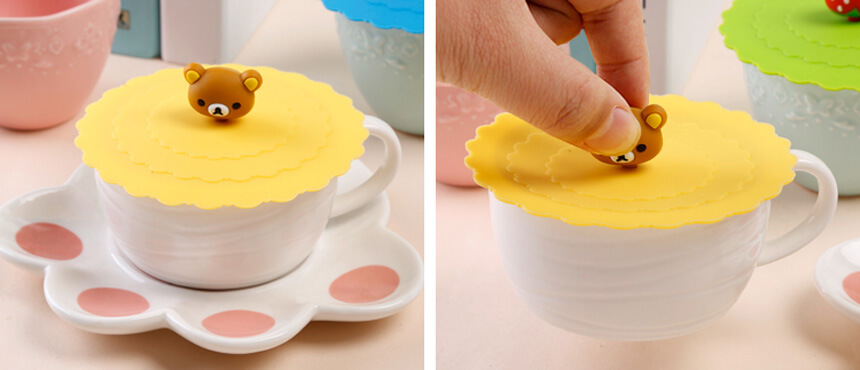 You should drink your coffee or tea when it is hot or else it loses it flavor due to dropping in temperature. These cups cover help to keep them hot for a longer period of time. You can take your time to drink your hot beverage to savor its flavor. However if you are running late for work you can use these type of cup cover to cover your drinks while you are on making your way. These cup cover are made of doubled wall durable silicone material which keeps the drink from getting cold too quickly. On an average it keeps the beverage hot for about 4-6hours.
Silicone cup cover also keep the drink from spilling. Once you place the lid you will be able to avoid creating any kind of mess by spilling the beverage. These cup cover are ideal for home, office or when you are going for shopping or a picnic. You can carry your hot drink and put the silicone cup cover without the fear of spilling. These cup cover are cheap and do not require maintenance at all. They also save money as they are cheap than the expensive porcelain glasses. The lids help to keep the hot drinks insulated for a longer period of time so that you can enjoy it longer. The biggest benefit of using these types of silicone cup cover is that they can be easily disposed off once you have finished your beverage. Another advantage is that they do not break and are easy to use.

Durable and Cost Effective Silicone Cup cover
With silicone being the mandatory material of manufacturing industry today, what really makes it so popular is its variety of usages. Silicone is being a part of almost every product we use in our day to day lives today, so when it comes to party arrangements, you can separate silicone off the itineraries you use. Right from a simple cup cover you use to cover  your served beverages to the food plates and the decoration items, everything comes in silicone and the best thing is that they are adorable, attractive and durable, indeed.
Cover made of silicone material can be found in all colors and they are made with very unique and attractive shapes and designs. Kids love the fun of enjoying their favorite drink with a cute and attractive silicone cover and drinking made easy for them. Silicone are easy to handle and they don't get broken, so kids have the freedom to enjoy handling their cup cover on their own. Colors are the next best part of using silicone cup cover, because they come in vibrant and dazzling colors to impress the users. Having such beautifully colored and attractively designed silicone cup cover to cover your cup in party will surely make your guests get impressed. You can surely be the trendsetter of party arrangements among your peer group. Sizes, yet another perfect trait of silicone cup cover, you get to have them in all sizes, very big for those who love to hold their coffee very hold and bright and small tiny ones for the kids to enjoy, while the drink inside the cup will be ideal for their size.
Silicone cup cover can be customized to meet your personal choice of designs, so you can be as creative and crazy in making unique designs on your cup cover and enjoy sip you have in it. The best part about using silicone in any product for that matter is its real cost effective quality. Compared to any other material cup cover you go for, silicone are cheap, yet more durable than what you buy for more costly budget. They are also safe and comfortable to use, so you can enjoy hanging around with a cup of coffee filled up in your beautiful as well as durable silicone cup cover. They are handier and effortless, also so stylish to use.

Using silicone Cup Cover for Promotional Effective Brand Marketing
The concept of business promotional gifts has been in the business world for many decades now. But there is a huge difference between corporate gift ideas then and now. In earlier days, promotional gifts were usually showpieces or other exclusive items that people used occasionally. These days, both the giver and recipient prefer practical utility items so that customers can use the promotional gift again and again in their daily life, promoting the brand name constantly. While searching for good practical items many companies opt for silicone materials for brand awareness.
Now, the question arises-in this modern age where a click of a mouse can help a person do a lot of work sitting in one place, will promotional gift really be effective for a company? It is true that computers have reduced the amount of travelling than people used to do earlier, travelling is always essential for businesses as a face to face clientele meeting is more effective for a business than a virtual one. Besides business trips, people also need to travel for personal needs. So, gifting these products will always be a great corporate gift idea.
A variety of styles and designs are available and this wide range of attractive and eye-catching designs have made these business gifts more popular. Moreover, for today's coffee loving generation they are a great promotional item that makes travelling more enjoyable and exciting.
Cup lid are generally silicone material that can maintain the optimum temperature of the beverage stored inside for many hours, quenching the thirst of the traveler with a sip of this preferred drink from time to time.A high grade insulating system is designed in between the outer and inner walls of this cover that holds the heat inside. Apart from their insulating qualities, these promotional gift grab the attention of customers due to their different designs, stylish handles and excellent functionality. Some of these cup cover are perfectly designed to fit in a car's drink holder. Moreover, many feature lids with an airtight system to ensure additional insulation as well as to avoid spillage. Some of these lids are provided with a sip cover for easier access.
This variety of silicone cup cover is durable, long lasting and perfect for regular use. Plastic ones are also of good quality and their basic difference from silicone materials is that their outer wall is made of high grade and food grade compliant. Apart from this feature, all the other features are quite similar in there two varieties. These lid cup are available in different rich shades and these are ideal for promotional giveaways because sometimes the color of the cup lid complements the business perfectly.
Whichever type a company chooses as its business promotional gift, customization is very important because the brand logo or the company name that is custom imprinted on these promotional lid cup will send the business message of the company across. When a company offers a custom printed promotional cup cover to its clients, customers and employees, recipients will definitely use them at various locations and this will help in promoting brand awareness effectively.

Features:
The unique soft silicone material has a good anti-skid effect, product flexibility is good, not easy to change the shape and very solid;
Easy to carry, easy to clean, bright and beautiful;
The use of food grade silicone material, very flexible and durable
Heart resistance up to 230 ℃,cold resistance up to -40℃
With FDA certification
Functions:
The product can be used when you buy the favorite cup without cover.
Can replace the original lost or broken cover.
Can replace the original cover that is not beautiful.
Can also be a gift for friends or relatives?