Custom fashion silicone watch
Material: 100% silicone bands with the digital watch
Shape: square or round shape
With adjustable silicone strap for children, women, and men
Printing: silkscreen
Color: any Pantone colors
The materials With EN71, CE, SGS, and RoHS standard.
Easy to wear and read time
Elastic and flexible
Eco-friendly, non-toxic, lightweight, waterproof, and durable
Dialy life Water-resistant
Suitable for advertisement, promotion, gifts
Package: one OPP bag or polybag for each item
OEM orders are welcome
MOQ:  1000pcs for exist design,3000-5000pcs for custom design.
More about custom fashion silicone watch
We provide different styles of LED silicone watches for your options; Print your logo on the open-designed silicone band watch is an economic way to promote your business or event. The LED sport watch is made of 100% silicone material which is green and novelty promotional giveaway. All of this silicone wrist watch is designed with stylish and exquisite appearance, suitable for both women and men, girls and boys. The silicone strap design is soft and comfortable to wear, whether in sports or at leisure.

What are Silicone Watches?
Light and fashionable or sporty silicone watches are watches that are made with a band of silicone. Often, the material the face of the watch is set in similar to the silicone band. Silicone is a rubber-like compound that is very durable, which makes this type of watch a popular one due to its long-lasting qualities.
Silicone watches come in a rainbow of hues. Their colors range from white to neon colors to traditional, conservative fashion shades. These watch bands can even be found in multi-colored varieties. These watches come with detachable bands and in a bracelet form as well that can be easily be slipped on and off for added convenience.
The bands for Silicone watches are often treated with different substances. For example, one popular treatment for these watches is for the rubber to be infused with tourmaline. This infusion is said to cause the wearer to feel an increased sense of concentration and to feel more energized when wearing the watch than when not. The positive effects of the tourmaline are said to be activated by the heat generated by the body of the person wearing it.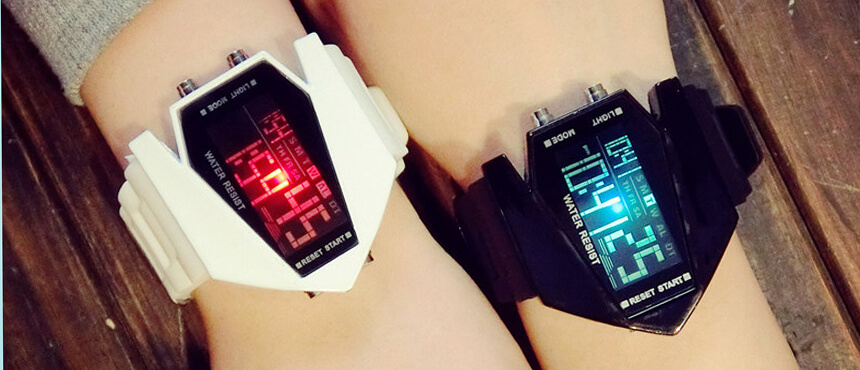 Often diving watches are made from silicone. The reason silicone watches are often preferred by divers is that they are light in weight and water resistant. The strap of the watch is less likely to get caught while on a dive, as the silicone creates a smooth, non-porous surface that bracelet bands do not offer.
Silicone watches are considered a popular choice for people with allergies. Many people are allergic to nickel, an alloy used as a firming agent in many pieces of jewelry and in the bands created for watches. These watches are also considered a popular alternative for people with latex rubber allergies. Silicone is considered to be non-toxic.
Silicone watches range greatly in price. They can be as inexpensive as less than $10US dollars(USD),or they can be found to be in the thousands of dollars. The price difference is largely dependent upon the manufacturer of the watch, the features found on the watch, and the maker of the timepiece itself. While the price may range from one watch to another, the fact remains the same that these watches provide a long-lasting and durable watch that are lightweight and can be either highly stylized or quite sporty.

Silicone rubber
Silicone rubber was the result of the efforts of various chemical companies across the world searching for a material that could handle extreme temperatures. The first appearance of the silicone elastomeric came in 1943.It was made available for mass consumption worldwide in 1947.In the decades since its debut, this silicone material has been popular for use in automotive, food handling, electronic, medical, and construction applications, among others. This is primarily because silicone rubber has a broad working temperature range that allows it to handle high and low extremes. Silicone products also exhibit good levels of weather and chemical resistance, making them ideal for a host of outdoor and industrial uses. Oyigift offers a variety of different types of silicone sheets that are meant for specific purposes. The strengths of this synthetic silicone elastomeric are hard to ignore.
Oyigift offers different grades of silicone material that feature unique characteristics. The difference between these "classes" of silicone lies in their specific application, texture, and appearance. Silicone rubber is used in great variety of projects, such as food handling and construction. Such applications require specific qualities and capabilities from their rubber. Oyigift offers silicone sheets in commercial grade, premium grade, translucent, and FDA grade versions. Commercial grade silicone rubber is the standard of this type we offer. The others feature specific enhanced traits that make them ideal for their respective uses. The premium grade version differs from its commercial grade counterpart in the way it features enhanced physical properties like elongation and tensile strength. Translucent silicone material is similar to commercial grade silicone rubber, but is a translucent white in appearance. Its appearance is ideal for aesthetically sensitive applications. The FDA grade silicone elastomeric is commonly used as seals in food handling applications because it is made with materials that conform to the standards set forth by the Food and Drug Administration(21 CFR 177.2600).Despite these different types of silicone sheets, they generally feature some similar strengths.

Choosing the Best Silicone watch
A silicone watch is a light fashionable watch made with a band of silicone(a rubber-like compound with a long lasting quality).
Silicone watches are designed using accelerometer technology which is more accurate than the pedometer technology. They are available in different varieties like pocket watches, casual watches, sport watches, LED watches, and so on. The Anion negative ion silicone sports bracelet watch combines style with elegance. It has an elastic design for comfortability and the silicone rubber is very friendly to the skin. It doesn't fade, has no odor, is water resistant, displays time electronically in hours, and minutes, and can be used by both male and female.
Another silicone watch that will captivate you is the Big Cool the Beatles soft silicone watchband quartz movement wristwatch. It is a stylish product designed with the four members of the Beatles in its dial. Its strap is made of silica gel which makes it to be durable and fit to weather all storm. It has a dial width of about 3.9cm,a bandwidth of about 12cm and a watch length of about 25.6cm.
The Fashion Weave silicone quartz wristwatch is another amazing latest product you should be aware of. Made of die-hard weave-shaped silicone band with a case made with stainless steel, the watch is definitely a luxury to own. It is water resistant with a measurement of 24.7cm in length and 4.2cm in breadth. In fact, putting on this watch in a special event will make you to stand you out among the crowd.

How to Wear a Silicone Watch
The silicone watch has been the latest buzz in the fashion industry, with numerous famous personalities and Hollywood celebrities spotted showing off their jelly watches. Yes ,most popularly known as the jelly watches, this is a perfect fashion accessory for kids, men and women at par. The unique rubber-like material and heat-resistant, lightweight, anti-allergen features make this watch most comfortable to wear for longer period of time, especially for sportsperson and while being on the go. The essential characteristic of being anti-allergenic in nature makes the silicone band watches ideal for people who face allergies or other skin troubles from materials like metal, plastic or some kind of rubber. These significant qualities make these jelly watches just the perfect timepiece to incorporate in your wardrobe.
When worn as a fashion accessory, it is important to consider the color and design of the silicone watch. These watches come in a wide range of trendy designs and vibrant colors that provides you the opportunity to easily choose the color that best defines your mood and style. To add more to the delight, these watches are customizable too, and can be worn particularly as a trendy accomplice that best matches your attire in a particular occasion. Be it a formal office party, a sports activity or simply adorned to exude a cool look, you can easily change the strap of the watch with some other design depending on your mood and the place you are planning to visit. Most amazingly, unlike most other watches, you can even match the colors with the shades of your attire, and the silicone watch will make you appear all the more sophisticated and elegant. And you do not always need some special occasion to sport this stunning timepiece; just get it on and get going in making a bold fashion statement that is unique and appreciative.
You can wear the silicone watch in all occasions, all time. The unique rubber material, being most flexible, heat-resistant and water-proof in nature, provides utmost comfort and eases to the wearer, and can be worn for a prolonged time period without any discomfort or skin allergies. Whether you are a sportsperson, a fashion geek, or while on the go, these watches can be extensively worn under all environmental conditions. And for all the environment conscious people in the world, having made of pure silicone material, these watches are most eco-friendly in nature. Thus, it is not just the aesthetics and trendy designs that have been alluring people to these watches, but also the contribution towards being eco-friendly, and taking good care of the health. Yes, the silicone watches are generally infused with negative ions as well, which boost the energy level in you by promoting blood circulation and reducing stress and fatigue. Thus, these watches are much in demand by the sportspersons these days.
So, what are you waiting for? Go Oyigift.com, and start purchasing your favorite jelly watches right now at great discount prices? No wonder, the silicone watch is a classic combination of fashion, health and affordability.

Benefits of Silicone Straps
What's the deal with the silicone straps? In addition to the obvious fashion benefits there are several other reasons to choose silicone to showcase your watch bling. Silicone is a durability material that helps fashion meet versatility. Here are just an few of the benefits of silicone straps.
Officially speaking, silicone is a lightweight, on-absorbent, rubber-like material. Combine that with the water resistant, and you've got a sweet custom watch. You're good to go. It doesn't matter if you get your watch wet or spill since the silicone doesn't absorb liquid, you'll have no issues wiping it right off. Forget about going through the entire day wearing a soggy leather watch. And even better it won't smell. Also, you can sport the look of the bigger watch face without having it weigh our entire arm down. Both the Classic and Mini sizes are lightweight, flexible, and easy to wear. The band is easy to adjust so you don't have to worry about finding time to go into to a jeweler to have it sized or links removed.
Oyigift watches are also more comfortable to wear than a metal watch. The silicone strap is silky smooth and doesn't pinch or dig into your arm like metal watch links. Many people have allergies to certain metals and the silicone strap definitely cuts down on metal exposure making it a great choice for its anti-allergy properties. The back of the watch face is made of stainless steel, which is a durable metal that is even used in some medical applications.
Those are some of the functional benefits why use of UV coated silicone to create watch straps. Silicone also has fashion benefits since it can be created in a huge variety of colors giving you the option to pick the watch that fits you. Having an interchangeable watch strap makes it fun to find new ways to mix and match your collection and there are four awesome new silicone straps you won't want to miss. Black Glitter, Robin's Egg Blue, Orchid, and Mint are all ready for you to customize.
The bright colored Mod sets are a way to showcase your personality through your watch. You can go with bold colors that are sure to be a conversation piece, or tone it down with something more neutral. If you haven't tried on a silicone watch, you'll love the difference. Go ahead, be a showoff.

WHAT MAKE SILICONE WATCH WATER-RESISTANT?
As summer approaches, it's a great time to drink about whether your watch is ready to take you through the season. Swimming, beach trips, water parks, lazy tubing rides down rivers-there are a lot of chances for your watch to get wet this summer.
Understanding water's impact on your watch is key to taking care of your timepiece. But exactly what makes a watch water-resistant? We dive into the details below.
Water-resistant vs. waterproof watch
"Waterproof" is a term that gets thrown around a lot, but the Federal Trade Commission banned its use in advertising in the watch industry in the late 1960s.This was because no watch-or most other items, for that matter-can truly claim to be unharmed by water in all cases. At some point, and at some degree of water pressure, water will leak through a watch's intricate mechanics and cause damage.
However, water resistance is a very real concept. It measures how much water pressure a watch can handle before it breaks. This measurement is important to know for the proper care and keeping of your watch.
Oyigift and water-resistant watches What makes a watch water-resistant?
Inside your watch is a network of complicated mechanics, each of which must work in tandem to enable accurate timekeeping. Water seeping into these mechanics will break your watch or affect timekeeping accuracy-sand, perspiration, and soap can also cause damage to your watch. To make watches water-resistant, product designers add a special type of gasket that seals the entryways to the core of the watch and helps keep water out. These gaskets work up to certain water pressure levels. You can also minimize water damage by not pulling out the watch crown or pressing buttons while underwater, offering protection from water damage and allowing the watch to be labeled as "water-resistant."
Many of Oyigift's watches are water-resistant. Our timepieces go through a rigorous testing protocol to assess their water resistance levels.
Our watches feature various levels of water resistance, from 30 meters to 200 meters. Here are the guidelines to help you know which types of exposure your Oyigift watch can tolerate:
30 meters: Watch can have an occasional slash of water.
50 meters: Watch can have repeated exposure to moisture and can be used occasionally for swimming or similar activities.
100 meters: Watch can be used for swimming, snorkeling, and similar activities.
300 meters: Wearer can press buttons of the watch while underwater.

Check out some of our water-resistant watches:
IRONMAN Essential 30 silicone strap watch
Important considerations
Remember that using watches in ways that exceed their water resistance limit can cause damage. In addition, bear in mind that water-resistant watches from Oyigift are not certified diver's watches. Finally, know that salt water can harm watches, so be sure to rinse your water-resistant watch with fresh water after exposure to it.
Enjoying your water-resistant watch
Now that you know the basics of water resistance in timepieces, enjoy the summer activities you love such as boating, kayaking or fishing with peace of mind.
Conclusion
Silicone watches are fashioned with rubber-like material bands that are light-weight, flexible, water and heat resistant, and recently discovered to be anti-allergic. These cool wrist watches are ideal for fitness and on the go lifestyles because of their comfortable wear. Many watches tend to become itchy and scratchy when sweating, which renders these watches useless. The added quality of being anti-allergenic makes silicone watches ideal for people that have trouble wearing watches made of other material. Silicone watches are the perfect watch for people on the go, or who lead an active lifestyle. Silicone is all-day, everyday.