Blind Spot Monitoring System 24G V2 English MANUAL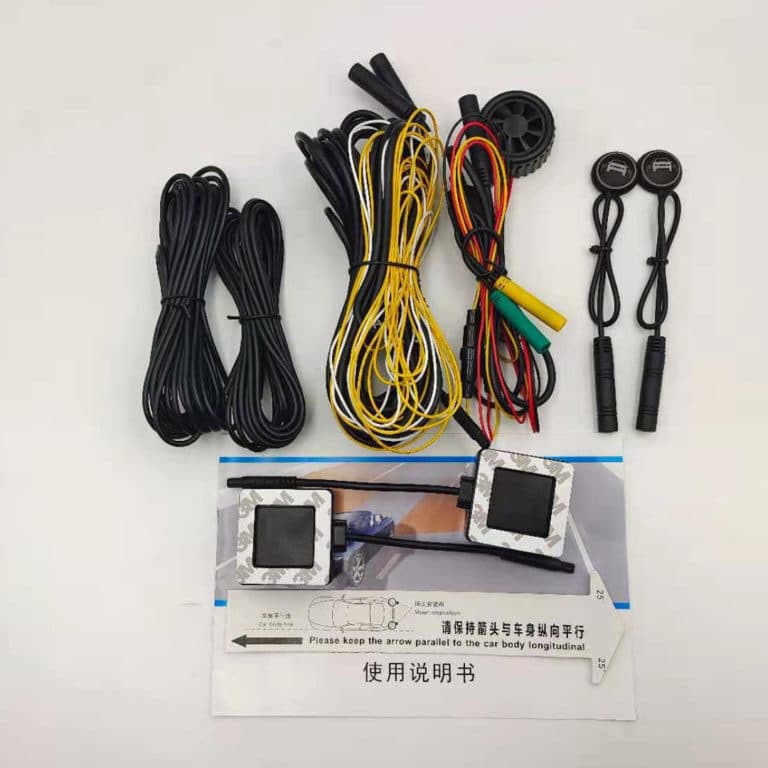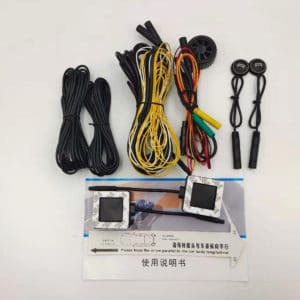 CONTENTS(Blind Spot Monitoring System 24G V2)
Product Introduction
Product Contents
Technical Parameters
Installation and operation
Microwave Sensor Installation
Installation diagram
Wire connection
Ways of Installation
After the completion of insìallaìion and restore of vehicle parts
Instruction for use
General Troubleshooting
Thank you for your choosing our Blind Sport Monitoring System (BSM). This system is a vehicle assistance device that helps driver lane changing safely during driving. With the aid of a 24GHz microwave sensor probe the side I rear of the vehicle for those moving 0ects into the blind spot of the detection zone. The system works in two microwave sensors two LED lights (or blind region monitor) a buzzer and a wire harness which is the perfect connection between microwave and computer.
There is a blind zone at the rear of the vehicle which is easy 10 endanger driving safety! When you installed BSM into your lovely car, no matter i1's day time night time or even in the snow
you can be alert  d whenever there is a moving object pop into the rear of the vehicle with the aid of LED lighting on a blinking buzzer  sound so that the driver can be cautious when lane
Changing to avoid the possibility of a side crash accident. This system is easy to be installed no need to punch, nondestructive car appearance. Installed at the plastic bumper left I right side of the rear of the vehicle will instantly improve the use of the original car performance.
"Lane changing has warning make driving safer". Sincerely thanks for the choice of this system.
2.Product Contents(Blind Spot Monitoring System 24G V2)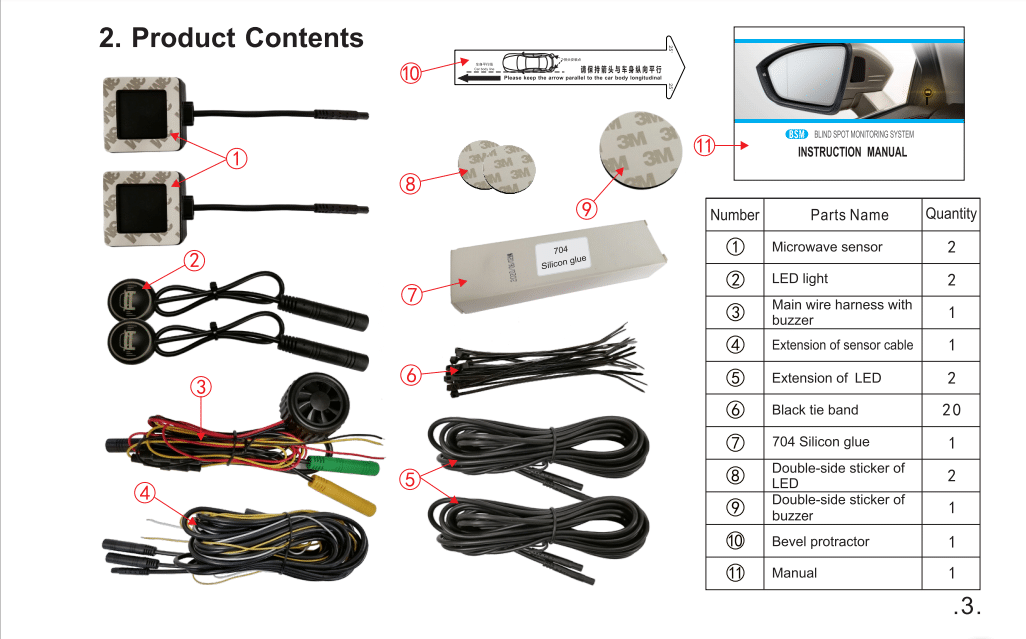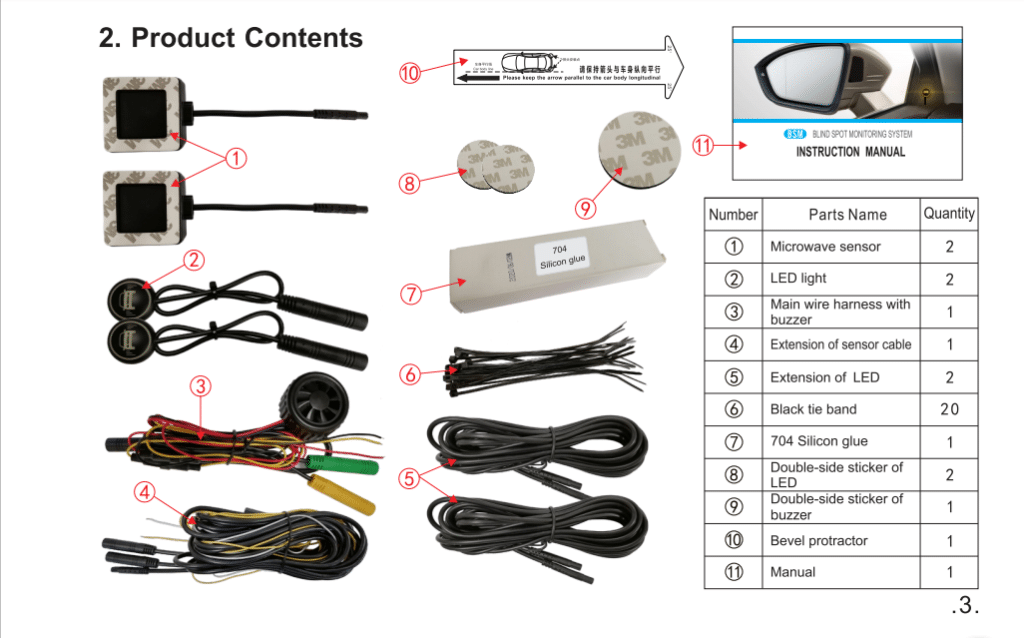 3 . Technical parameter(Blind Spot Monitoring System 24G V2)
| | |
| --- | --- |
| Number | Project specification |
| 01 | Electricity Voltage: 12V |
| 02 | Maximum Power:5W(max) |
| 03 | Working Temperature: -40'C+85'C |
| 04 | Storage Temperature:-40'C – +85'C |
| 05 | Waterproof level: IP67K |
| 06 | Detection Range: Lateral Distance: 0.3m -4m; Rear side Dis n : 0.3m -10m. |
| 07 | Detection Range Accuracy:                96% |
| 08 | Alarm Range:.3m-10m |
| 09 | System Alarm Accuracy: 96% |
| 10 | Alarm method: Methods 1 => LED light turn on.               Method 2 => LED f1ash and buzzer sound |
4.Cautions points during installation(Blind Spot Monitoring System 24G V2)
1. Please prepare the necessary disassembly tool and protective bumper painted sponge pad or cloth
2.When you disassemble the connector, MUST NOT pull the wire harness in footherwise11 broken the harness. Please plug-in the connector until it practically tightened (you can hear the sound of . Click").
3.The wire harness should be fixed with the car cable harness by tie band. Neither droop nor abnormal sound. Cut off, excess tie band.
4.Disassemble and assemble procedure, please strictly follow our installation manual. Try not to break parts as carefully as possible. In case of Breakage, please change the parts immediately.
5.Microwave sensor installation cautions points. (Blind Spot Monitoring System 24G V2 BSD)
1.Microwave sensor (signal launching surface) can only penetrate the plastic bumper case.
2.Microwave sensor (signal launching surface) in the front, must be no metal intervention.
3.Should not install microwave sensor opposite to fluorescent light.
6.Overall diagram of the installation(Blind Spot Monitoring System 24G V2 BSD)

Wire connection(Blind Spot Monitoring System 24G V2 BSD)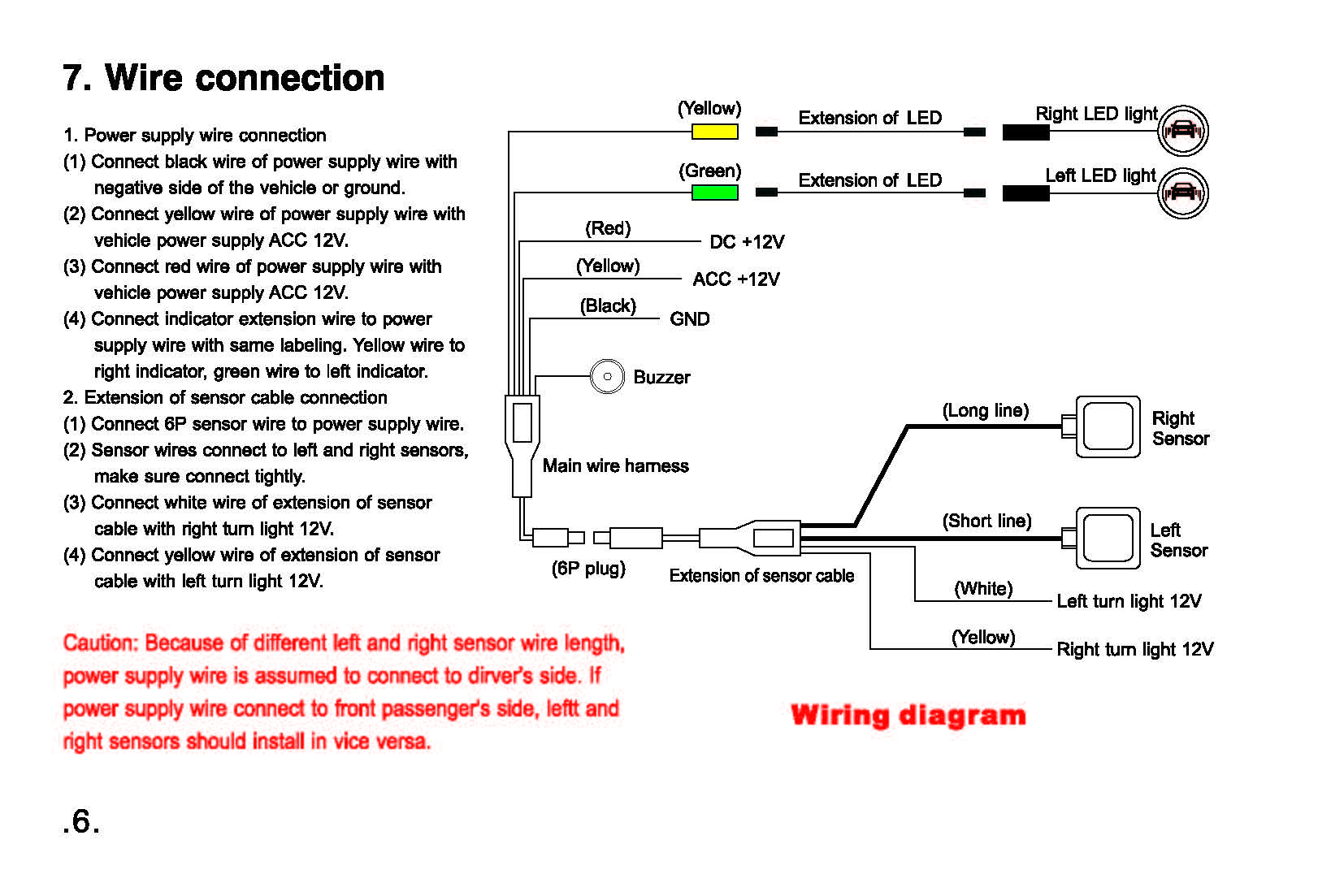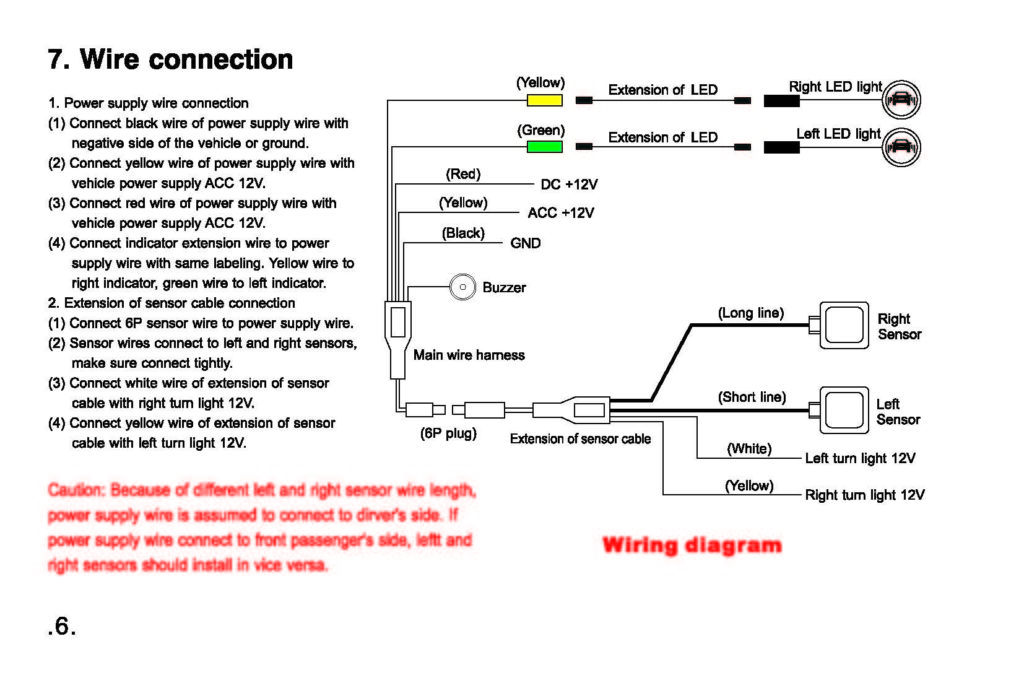 Method of Installation(Blind Spot Monitoring System 24G V2 BSD)